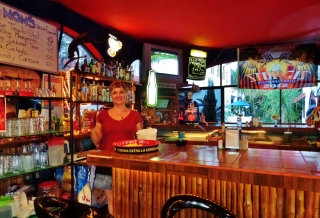 15 signs you are an old-timer in Playa Del Carmen
Have you been in Playa Del Carmen for a while? Have you seen things change over time? Here are some signs that you might be an old-timer if you do these things.
You lament the good old days when Playa was more of a small beach town and had places like Wah Wah and Mom's.

Wah Wah Beach Bar back in the day.

You are familiar with all the crazy people that are in Playa and know who someone is referring to just by the description.
You know how and where to get the local discounts. Plus, you don't have to ask how they will know you are local. See our guide on what discounts locals can get here.
You know how to identify almost all the creepy crawlers in and around your house. You know the sound of geckos and you don't mind sharing a space with them (after getting used to them and learning how they benefit you). You have also a new superpower that allows you to see shapes that might be scorpions and you zoom in on it to check.
You have conquered all utilities and how to pay for them with ease. No more searching Facebook groups for answers to where to pay and what cards are accepted. Life has become a little easier for you.
Your thinking of downsizing your condo so you only have one bedroom. You are over that whole "I moving to Mexico, come visit me" phase. Now guests can just stay at a hotel.
You have personal stories of where 5th Avenue ended and what parts were not paved.
You have accepted there are some mysteries of the universe in Playa, like how is it possible the gas trucks always smell like they are leaking gas but never explode?
You walk on the shady side of the street, and you know when to go out to avoid the hot sun and crowds.
You don't swim in the ocean or cenotes from about October to April because it is too cold. Even though tourists come all year and swim, you have become a local.
You avoid taxis but have all your own tricks to get charged close to what is fair.
When you have small bills, you save them and use them only when necessary. You are always thinking where to use those 500's. Usually is the grocery store.
You have finally figured out what brand of sandals you like. Plus, you have your going to the store sandals, beach sandals, and fancy sandals.
It is super easy to give snide remarks in Facebook groups that ask questions about Playa, but most of the time you hold back and sometimes give something back to the community.
You have learned all the slang and how to pronounce local places. The easiest among them "Playa", the short version of Playa Del Carmen. Then there is "the other side of the highway", "the ejido", "Quinta", and "Colonia Hollywood". Probably the hardest name is the park of "Xoximilco".
Thanks for reading our list of things that identify old-timers in Playa Del Carmen. Do you have more to add to the list? Let us know in the comments below.