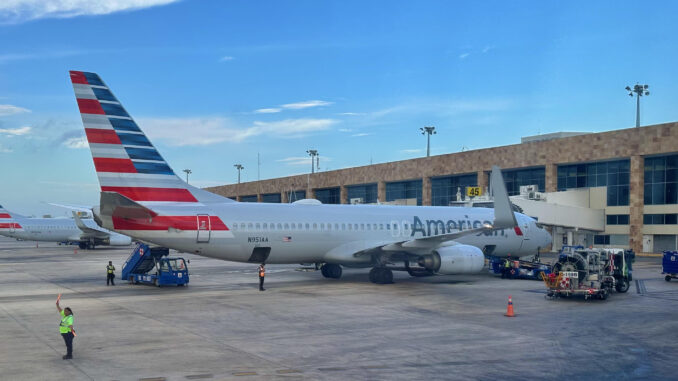 What is the safest way to get from Cancun to Playa del Carmen?
If you are trying to get from Cancun downtown or from the Cancun Airport to Playa Del Carmen here are your best options. It is a fairly a straight ride down the highway and in general, the Riviera Maya is a very safe place to visit. There are just a few things we will comment about that will give you safer options and a few things to watch out for. Since some readers want to know how to get from the center of Cancun to Playa Del Carmen or from the Cancun Airport to Playa Del Carmen, we have these two options separated below with instructions and our recommendations for the best options.
Cancun Airport to Playa Del Carmen best transportation options
Here is an overview of the safest and best options to get from the Cancun Airport to Playa Del Carmen. The main options are:
Private transfer direct to your hotel. (This is the easiest, safest and most direct route).
Renting a car at the airport.
Taking the ADO bus to Playa Del Carmen.
Taxis from the Cancun Airport.
Private transfers from Cancun Airport to Playa Del Carmen
This is the best option for most people and the one we recommend. If you want to get to your hotel in the fastest way and not have to worry about driving, renting or haggling with a taxi driver, this is the best option. The prices can be comparable with the bus if you are traveling with your family. Plus, the private transfers are faster than the ADO bus. One of the most recommended transfer companies from the Cancun Airport is listed below.
Tip: Booking round trip saves you between $10 and $35 USD off the transportation.
You can book this service for one person and up.
You ride is fully insured, and you will have a bilingual driver.
These transfers are just for your group and not shared. They can take you to any rental or hotel in all of the Riviera Maya and Cancun area.
Click below to see prices and book your destination.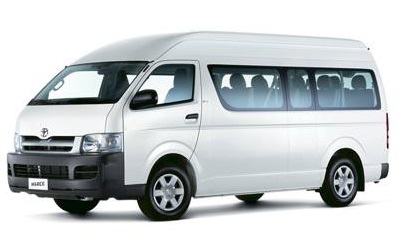 Shared shuttle to your hotel from the airport
Shuttles that are shared are good for one or two people that are looking for an affordable way to get to their hotels. These shuttles make stops at hotels along the way. If your hotel is not in Playa, a shuttle or private transfer is best because ADO buses do not stop at all-inclusive hotels and only stop in Playa Del Carmen. If you want to take a shared shuttle to your hotel, here is a company that our readers like. the link below will take you to their official website where you can book.


Renting a car at the airport
If you are going to be doing some day trips and driving around, a car can come in handy for your trip. There are car rental places inside the airport and those with shuttles to the off-airport locations. If you want to rent a car for a week or longer, here is a great local company that rents and will pick you up at the airport. If you want a car for a shorter time, check out this car rental booking website that compares rental agencies for the best price.
Note on safety for car rentals: Driving in the Riviera Maya is pretty safe, but there are a few things to note. There are police checkpoints in Mexico (usually two along the way to Playa Del Carmen from the airport). These are mainly for checking safe driving conditions for vehicles, drunk drivers and the like. It might be a little nerve wracking to pass through these, but, in general they are there for your protection. The other main thing to look out for is scams at the gas stations. There are many and you need to read our guide to make sure you will not be scammed.
Taking the ADO bus to Playa del Carmen
ADO bus is the only bus company that services the Cancun International Airport. The buses leave from each terminal and have buses that leave for Playa Del Carmen. It takes about one hour to get to the ADO bus station on Juarez Avenue in Playa Del Carmen. If your hotel is not close by, you will need a taxi to take you the rest of the way. Buses leave about every 30 minutes from each terminal. To check the ADO schedules, check their website here and search for the terminal you will arrive at for a general feel for when it will be leaving.
We recommend waiting until you arrive to buy your ticket if you plan on taking the bus. Tickets are timed and you do not know how long it will take to go through customs and immigration. There are both booths inside and a stand to buy tickets outside. They accept small USD bills and Pesos and cards. For more about taking the ADO bus from the Cancun Airport to Playa Del Carmen, see our guide here.
Safety note: The ADO bus is very safe and comfortable. However, the only note is there are no luggage tags on bags, so make sure you keep your bags locked and do not use storage facilities at the bus stations due to theft.
How much are taxis from the Cancun Airport to Playa Del Carmen?
Taxis at the Cancun Airport are not metered and there are no set prices for distances. These means that you need to negotiate the price before getting in. Most of the time people pay too much for the ride. There are also some disadvantages to taking a taxi. You cannot get a discount for round trip since you will be taking a different taxi back to the airport (the private transfer company we recommend gives a discount for booking round trip. You will also have less space since the taxis are small cars, which for the approximant one hour ride, it can be nice to spread out after your flight. People also like booking the private transfers for the safety of having a record of payment and who is driving you.
Does Uber function in Cancun to Playa Del Carmen?
Uber normally is an easy way to get around, but Uber does not offer sufficient service in this part of Mexico. Uber has had two launches in Cancun but has not taken off. Between taxi unions, competition, and tax laws, it has kept it from taking off. Uber is not an option for airport transportation in Cancun.
Can you take the colectivos and get off at the airport?
No. Colectivos only run on the highway and service points between Cancun and Playa Del Carmen. Even if you asked the colectivo to stop on the highway by the airport, it is over two kilometers to the terminals. There are no sidewalks, and you would be completely sweaty by the time you reached the terminals. Plus, colectivos do not have space for luggage. These are only for transport between cities and stops for workers to get off at different locations.
Cancun City to Playa Del Carmen transportation options
If you are looking for how to best get from the downtown of Cancun or the Hotel Zone of Cancun to Playa Del Carmen, then here are your options.
The cheapest and fastest way from the center
There are two options for fast service to Playa Del Carmen. Both of these have no set schedule. They leave when full. It takes about 15 minutes to fill and then they take off.
Playa Express bus. These are large vans that make limited stops between Cancun and Playa Del Carmen. These vans are more comfortable than the colectivo vans. Playa Express busses leave just outside of the ADO bus termina in downtown Cancun.
Colectivo vans. These are the Toyota\Nissan passenger vans that go between cities. In this case between Cancun and Playa Del Carmen. These vans are a little more crowded and make more stops when requested. These vans will go along the 307 Highway and end at the colectivo depot by Juarez Avenue on the south end of Playa near the Chedraui supermarket. Note: If you are looking for the safest transport between Cancun and Playa Del Carmen, this would not be the best option. The sheer amount colectivos going up and down the highway and the speed at which they drive, means you hear of more accidents with these cans.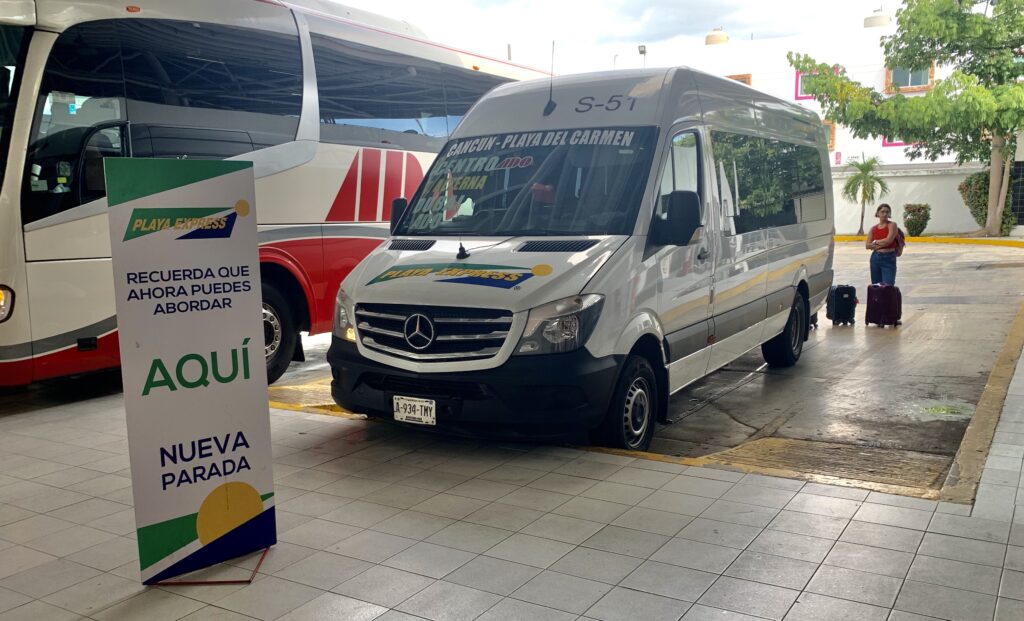 ADO Bus to Playa Del Carmen
The ADO bus company is the most used public transport company. ADO is the largest bus company locally that offers first class service. There are some other bus lines that offer second class service and much slower service. These other bus lines are for locals that need to get off in random spots or going to small towns that only second-class buses serve. We only recommend taking ADO bus company unless it is to a destination, they do not service.
ADO has busses leaving the Cancun bus station almost every half hour or less. You can check the schedules here on the website of ADO. ADO buses go direct to Playa Del Carmen and do not make stops. The cost of the ADO bus between Cancun and Playa Del Carmen is about 100 pesos.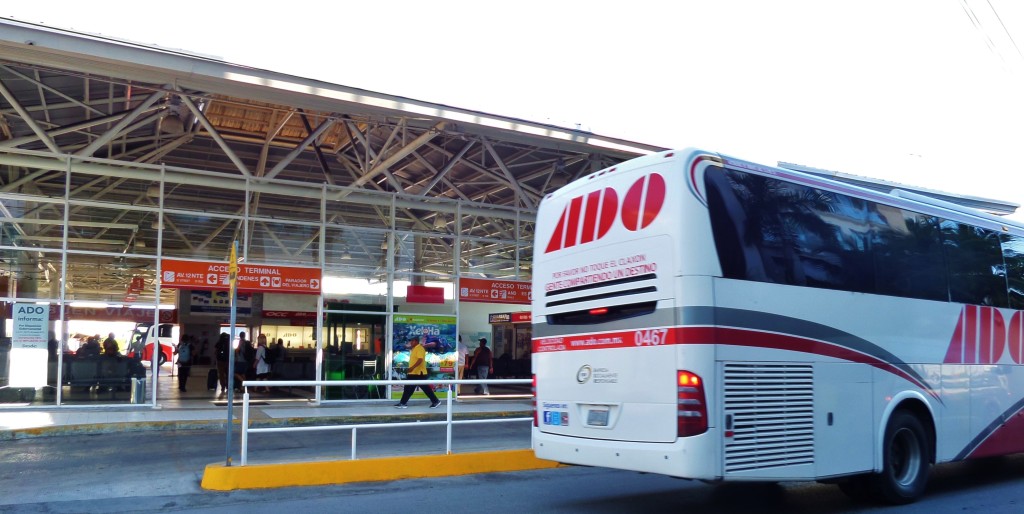 Hotel Zone to Cancun bus station
If you are staying in the Hotel Zone of Cancun and want to get to the Cancun bus station, you have two options.
You can take a public bus R1 to the center of Cancun and can get off by the bus station. It should be noted that buses take a while to reach the downtown of Cancun. It depends on where you stay but it can take at least 20 minutes up to 40 minutes for this ride. This will be the cheapest option to get to the bus station and take a bus, van, or colectivo to Playa Del Carmen, but it will take more time.
The other option from the Hotel Zone is a taxi. Taxis in Cancun do not have meters, so it is important to ask the price before getting in or ask at your hotel how much the taxi should cost. Taxis at hotels cost more than the ones you flag down on the street. The reason is they wait for customers, so there is the wait period of the service you are paying for.
Best option for Hotel Zone to Playa Del Carmen
Another option that will work for people that you might not have thought of is the private transfer companies that usually pick people up at the Cancun Airport and take people to and from their hotels. Many people do not realize that some companies will do point to point transportation anywhere in the Riviera Maya. Below is a link to a company that our readers really like. On their website you can book point to point and if you need help, there is a chat. If you book a round trip there is a sizable discount of about 20%. The service is not super cheap, but it is over an hour of transportation and is per van and not per person and can cost less than a taxi.

The other good thing about this option is that you can reserve the times and will have a driver that speaks English. These vans will also give you more space for your ride.
We do not recommend taking a taxi from the Hotel Zone to Playa Del Carmen. It might be easy, but it will cost you. Number one, there are no meters on taxis, number two, the taxis waiting at the hotels are more expensive than hailing a taxi on the street. You will be at the mercy of the taxi drivers and will most likely overpay.