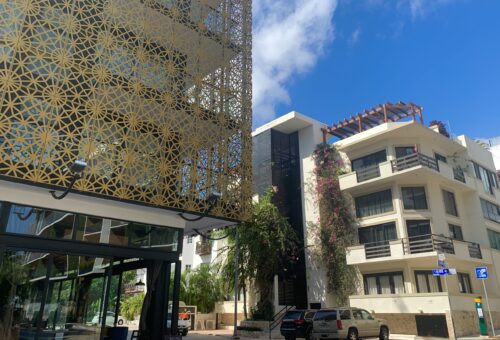 Furnishing your property for renting or maybe living
For most people, buying a property in Mexico, it is for an investment, not only for the property but also for renting it out. Most people want something that they can visit a few times a year and rent out the rest of the time or rent and eventually live there. Since most people buy condos or new construction, this means setting up your property with furnishings and decorating it. The vacation rental market has been growing both in popularity and the shear amounts of units available, so this means there is competition. The market is always changing and it is good to keep alert to changing dynamics of the rental market. In order to keep ahead of the competition and guide people away from making some common mistakes, we are providing this article with some tips and ideas for furnishing your property in Mexico.
An important note to remember is the clients (renters) you attract are often a reflection of what you have done with your place décor wise. For example, if your place looks youthful and a good place to party on vacation, well, you just might be getting a lot more young party people as renters. So design and furnishing your place is important on many levels.
Note: This is mainly targeted for the Riviera Maya, but the information can be informational for all of Mexico.
What are the common mistakes made in decorating a condo?
We have seen a lot of basic and cheaply decorated condos that look like a minimum effort on the side of the owners. The owners might think they finished the job, but renters might just vote with their bookings and go somewhere else. This is often the problem when people are having a hard time renting their condos. It might not just be the location and services in the building that are not giving people the confidence to book.
Some of the worst things we have seen for décor are:
Going to Home Depot and buying colored plastic mirrors for the wall.
Getting cheap furniture from Walmart that will show wear and tear in now time.
Plastic plants.
Soft pine furniture and over stuffed large pieces of furniture.
Going overly Mexican and making it feel like theme bar.
Trying to do a style that is not related to the location.
Decorating with lots of prefab cheesy beach décor like "Life is a beach" signs for the wall.
So if you don't want to make some of the common mistakes and want you unit to look good, keep reading for options.
Options for not doing it yourself
If you want help or you just don't want to do it yourself, you can hire an interior designer. There are a few interior designers in the Riviera Maya, but not as many as you would think. Normally these are not cheap, but it can pay off with their expertise on design and what works in condos.
Tips for hiring an interior designer
Ask to see recent work by them and ask how long they have worked in the area.
Get referrals from your realtor or by other people who have bought in the area.
Ask if they are doing other units in your building ad if so, how they will make your project special?
Some of the better interior designers have furniture makers that can do custom pieces. This means they are not just buying your furnishings and putting them in your place. See if the decorator you are talking to does this.
Buying a property completely ready
Often, if you are buying a new condo, there are packages for furniture based on what level you want. This option an make it very easy for you, especially if you have limited time in the area. There are often three categories of setup. They are:
Just the appliances included. This would be a stove, refrigerator, air conditioners, and possibly washer and dryer.
Basic furnishings. This would include the above and things like beds, tables and chairs.
Full packages of move in ready apartments. Everything is included right down to the silverware.
So what are the costs of these packages? It will vary on the size of your condo, but to give you an idea, studios or a small one bedroom would start at about $10,ooo-$12.000 USD for full package. For a two or three bedroom condo, you are looking at about $15,000-$20,000 USD. This might sound like a lot of further investment, but does save you time and hassle. If you want to do it yourself to save some money or to just put your personal touch on the property, here are some tips for you and sources where to buy furnishings.
One thing to consider is that all of the people that buy a package are pretty much going to have the same things as you. This will make it harder for your place to stand out, but some condo buildings are rented out as a hotel and the profits are pooled. In this case, having a place stand out is not as important.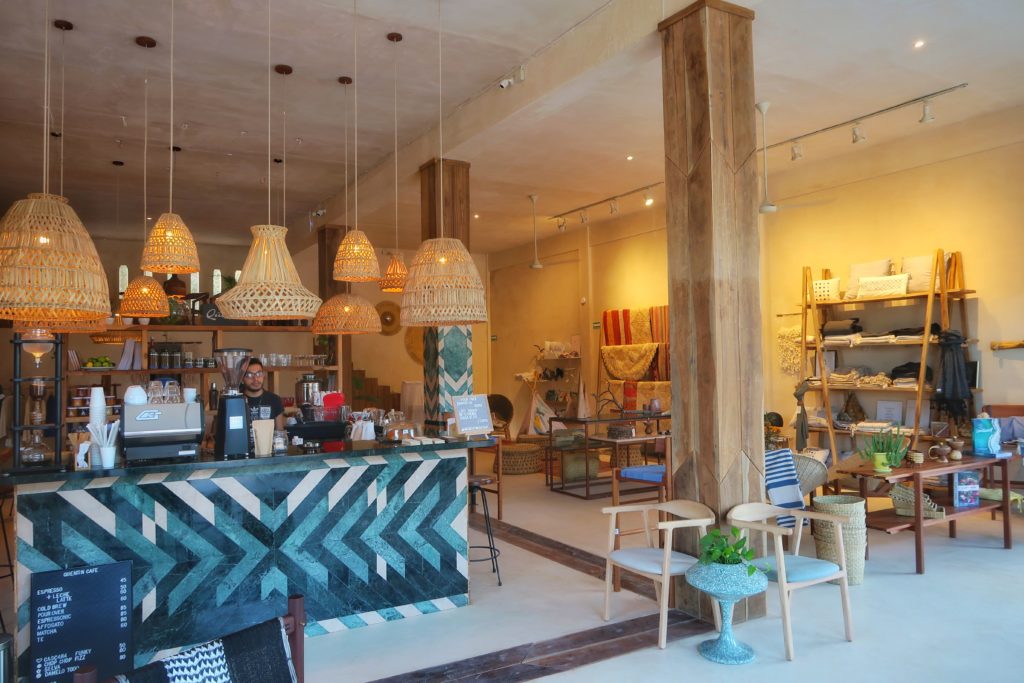 Where to start in your design process
This perhaps is the hardest part for many people. It can seem overwhelming and frustrating trying to do something in another country and not knowing where to source things. It also could be the first time setting up a rental property, so the dynamics of the project are different than just buying what you would want in your home in your home country.
To begin with, take something as the inspiration for your design or the basis of your design. It can be the name of the condo building or a color you like. Then work with the one idea into a theme. This will give your condos a uniqueness to it and also a concept that will be different from the other units in your building. Since many condo buildings have between 10 and 100 other condos, it is important to stand out in a good way.
Use your theme to decorate each room. For example, if you chose hues of blues close to turquoise, build on that. Look for bedspreads, décor items like vases and bowls, curtains and perhaps a paint color for one wall. Having an idea for the theme will make it a little easier shopping and even using search terms to look for the décor you want.
Second step, think like a renter or a tourist
What makes a good place to stay? The first thing most people see is your photos on a booking website. This means you need at least one photo that wow people. Normally this is the living area or perhaps a view from the unit. This does mean that you will need to think hard about at one focal wall or room for your condo that is designed well and presents itself well.
Depending on what price point you are renting at, you will want to adjust the level of comfort and details to your décor. Having a clean place is pretty high on the list of things people look for no matter the budget. So not getting too detailed with lots of little things that need to be dusted and easy to clean furnishings are key.
In Playa Del Carmen and the Riviera Maya, many people gravitate toward modern looking places. This means decorating in a modern style as well. This means clean lines, calm colors and stylish furnishings.
Tips to think like a tourist
Many people like to watch TV in the bedroom so including this is a good idea.
Most people don't actually cook or use kitchens that much because of the amount of good restaurants. Unless you are going to rent more long term, you can get away with breakfast nook or bistro table and chairs for smaller rentals.
Comfortable places to sit are important. A good sofa or sofas in the living room is something good to plan on having.
Window coverings are not only good to regulate temperatures inside, they also make guests feel cozy. Blackout curtains and options for how much light they can let in is important to think about.
Having a great place to take photos is a good idea. The term Instagramable comes to mind. People often will choose a place because they can imagine a cool photo while staying there. This can mean a good view with seat, a cool wall or unique piece of furniture.
Think about wear and tear
Just as important, if not more, think about how materials will hold up with a lot of people passing through on vacation. Cheap furniture often wears out fast and there is no good option to fix or repair them. This will only make your places look cheaper and create more work for you.
Things placed on the walls often is not touched, so you do not have to worry so much about this. It is more furniture, linens, towels, and things people come in contact with.
Tips for wear and tear
Check fabrics for furniture. Choose a thick upholstery fabric. Patterned or a color can be easier to hide wear than white or beige fabrics.
Most condos are cleaned by sweeping and mopping. This means chair lets, tables and furniture will get occasionally wet. Cheap stools or metal legs on furniture can start to rust easily.
A big trend in our area is the use of vines and furniture. It can be for a woven chair or sofa. These can look nice as an accent piece or on a patio. It should be noted though that these pieces only last about a year and do not hold up well over time.
Being close to the ocean means salt air as well. Use metal sparingly in your design.
When looking at a unit, If good materials are going to be used in places, for example marble, this can be part of the design of the condo. Not only will it last a long time, it will look classic. If you buy presale, sometimes you can select finishes or upgrade them.
Most paint in Mexico is acrylic. This means it is a softer and more easily markable paint. It does have its advantages though. It is breathable for the humid climate. You still might want to use an oil based paint in high traffic areas. This type of paint is easier to clean and more resistant to scratches.
Sound absorption for all the hard surfaces
One thing that is significantly different in Mexico is the building materials used in construction. Buildings are concrete, tile and lots of hard surfaces that don't absorb sound. This can leave you with echoes and a not so cozy feel. So how do you eliminate this without adding a lot of things that will make your life harder with cleaning? The top things that can be used are:
Furniture that is upholstered.
Curtains.
Pillows (if hard furniture is used).
Some of the other things to think about are:
Lampshades or hanging lamps that are cloth or fibers.
Plants in pots.
Wall hangings of absorbent fabric or other material.
Area rugs. This can be hard in a rental because cleaning much harder with rugs. We would only suggest this if you have a low traffic luxury property that can be cleaned well.
Tips of where to buy items
Rugs and henequen lamps– people always ask this question. You can get area rugs from Home Depot and stores like Liverpool. We will say that most people do not use rugs for several reasons. The humid climate, sand and they are difficult to clean. However, there is a local material that has been used for centuries that is durable and easier to clean. Henequen rugs are a rougher fiber, but very durable and easier to clean. There are still a few haciendas that still produce henequen, like Sotuta De Peon. A good place to buy products is Izamal, Yucatan. There are some good stores for both lamps and rugs on Calle 30 between 29 and 31.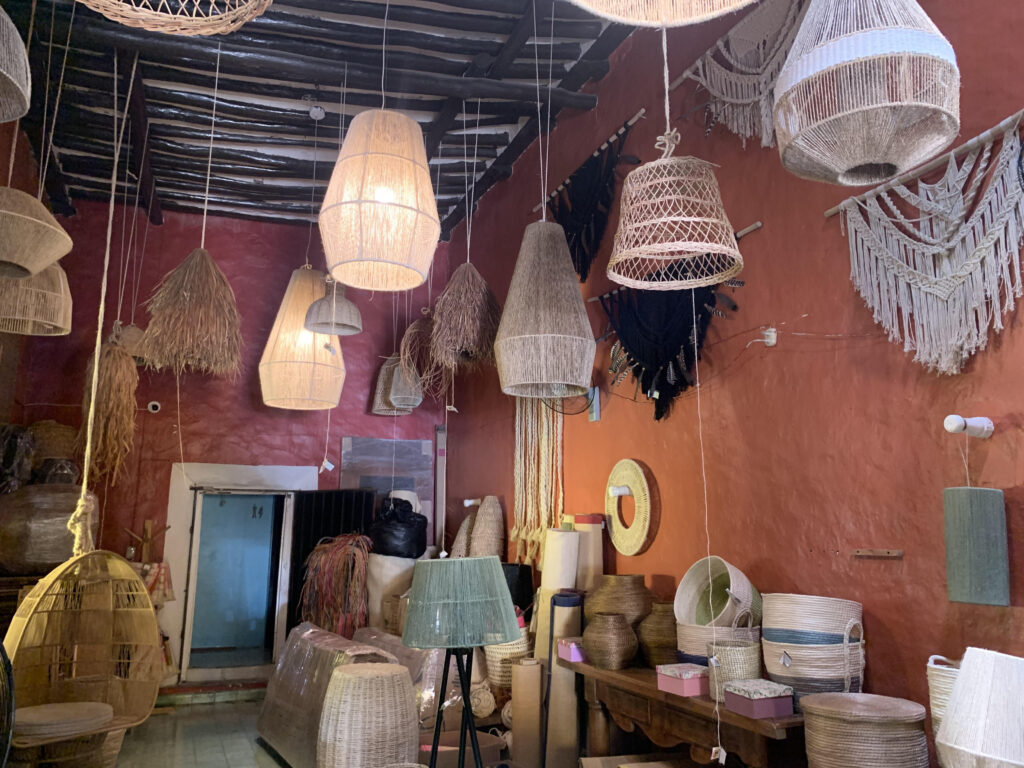 Shopping online
You might not be as accustomed to buying things online because of the amount of places you can shop in person where you live currently. In Mexico, you will find a lot less places and a lot less selection of items available. You might start to think "where are all these people getting things from for all the new condos?". To substitute driving around and visiting multiple cities, shopping online opens up a lot more options and can make your place seem a little more unique.
Amazon is a good source even for furniture. Amazon has a good reputation with deliveries. Just make sure that items are either from Mexico or the United States. Items in other countries (especially China) can take a while to arrive or don't make it as all.
Liverpool is a large department store in Mexico. It offers everything from bedding to TVs. You can shop in person, but they have more things online and they have a good reputation for deliveries.
There is Facebook Marketplace and Mercado Libre, both sources for buying things online. However, we will say that things sold second hand in Mexico are often very expensive and you don't save that much. This can be true about many of the prices on Facebook Marketplace. You find one cool older piece of furniture that works, but, overall, this is not a good resource. Mercado Libre is kind of an Amazon/Craigslist website. It is not as reputable as Amazon and some people have problems with using a foreign credit card or not having a tax number for purchases.
Getting local made items
One big perk of being in Mexico is the fact that so many people are artisans, or rather just have kept working in a lot of jobs to make stuff. You can find carpenters, welders, and seamstresses locally. These people can be a great resource for building some tropical wood furniture, making a wine rack or legs for furniture out of metal, or making custom made curtains. It is hard to put resources here for each of the above mentioned professions because people move around a lot. It is, however, good to ask around for recommended people to work with. This is where Facebook groups come in handy.
Furniture stores
There are more and more stores popping up. Here is a list of places in Playa Del Carmen to go furniture shopping. In the past few years, Tulum has been growing so much, there are some good stores there to shop at. If you want to do a little road trip and explore some while shopping, this route is a great place to pick up some unique pieces.
Just remember that local tropical hardwoods are not only resistant to insects, they last longer than some soft woods. Tropical hardwoods are used in many places not only because they look beautiful, but their functionality.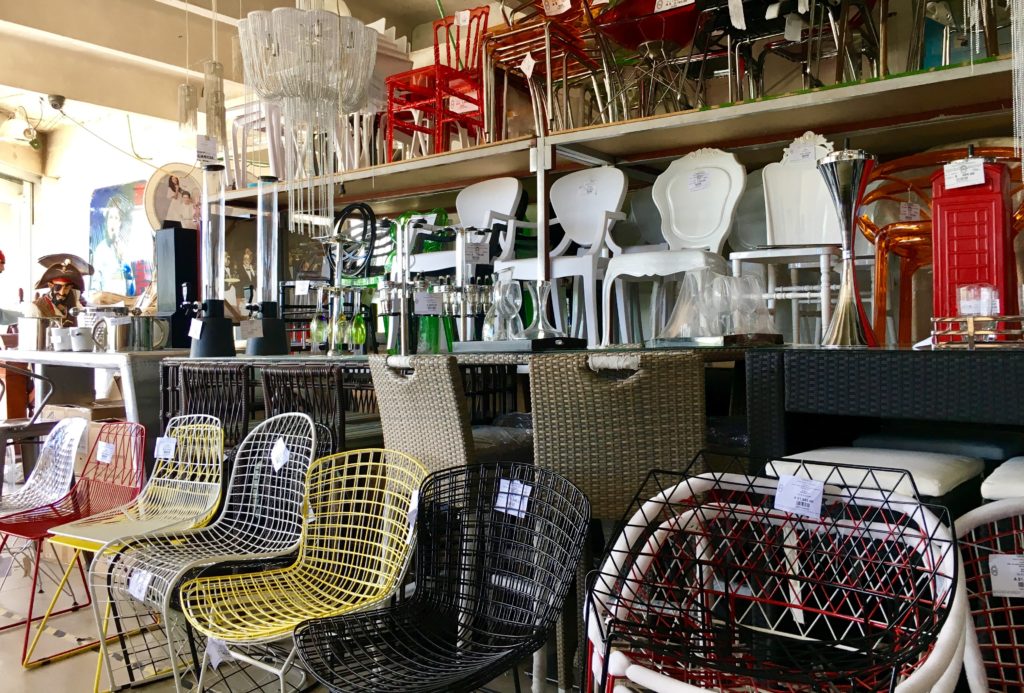 Decorating your new place can be a challenge, but also a rewarding mission if you stick to it and do it yourself. We hope this article helps to give you some of the basics about setting up your new place. If you have further suggestions for other readers, feel free to comment below.
For further reading, check out these articles: