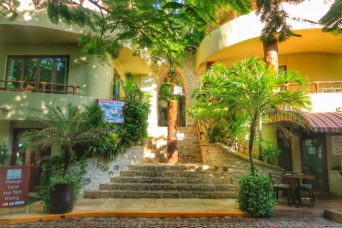 Welcome to the Maya Villa Condo Hotel
Tucked away on quiet 1st Avenue in the center of Playa Del Carmen you will find the Maya Villa Condo Hotel. At first you might think this is a luxury apartment building but in fact it is a hotel that you can stay in for your vacation. This small condo hotel has 17 condos that can be used for your stay in Playa Del Carmen. Here is our review of what the hotel is like along with a special booking link just for our readers.
Our video of what the Maya Villa
Like everything on our website, we visit it and stay there so we can tell you what it is like. Here is our video review of this hotel.
What is this hotel like?
From the moment you walk in you will feel embraced by the lush garden and hear the sound of the waterfall that splashes into the pool. The courtyard is intimate with a jacuzzi  and slender pool snaking it way through the center of the hotel. There is a small seating area next to the pool for guest.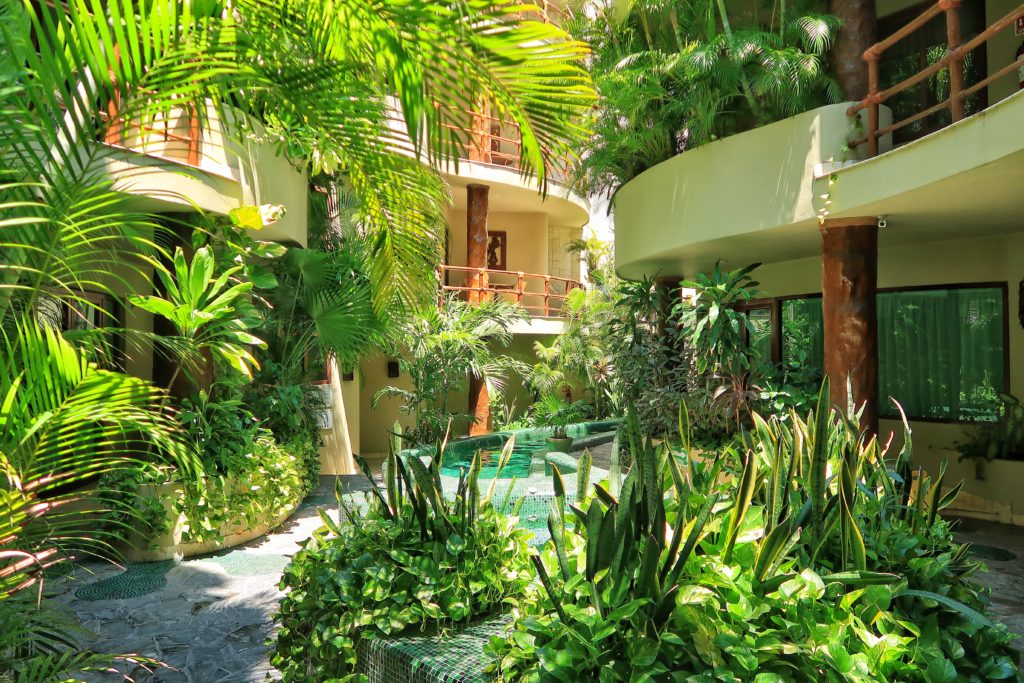 If you do rent a penthouse here you can get some views like below. Penthouses have a private rooftop terrace with jacuzzi, sitting area and BBQ grill. There is a lot of outdoor space that comes with the penthouses.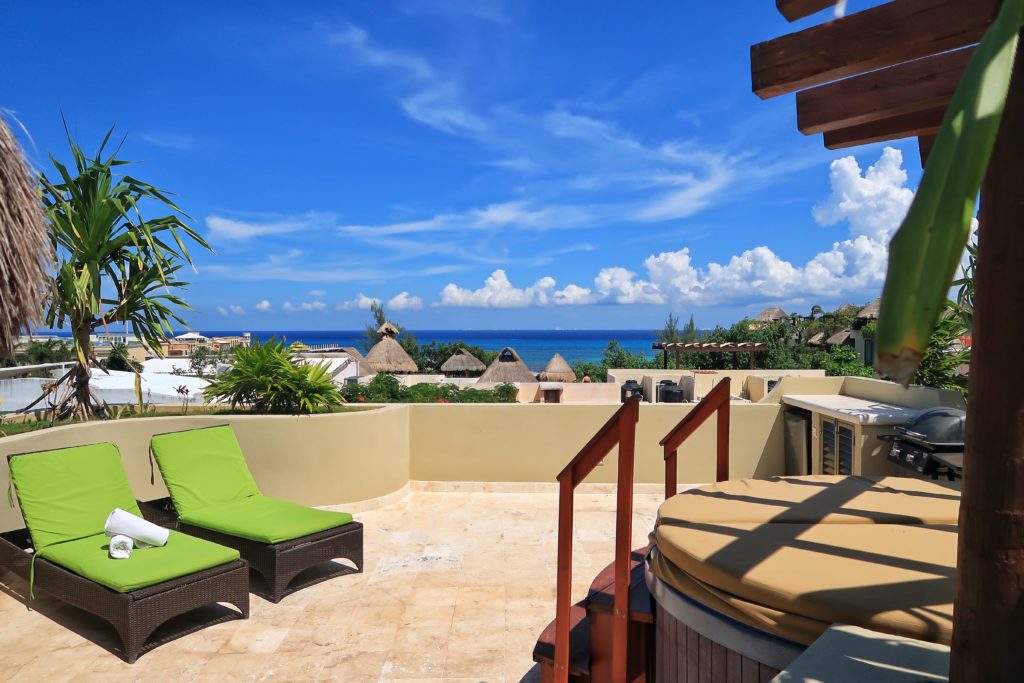 Features of the rooms at Maya Villa Hotel
Since this is a condo hotel you can expect everything you need for a stay. There is a full kitchen, living room, bedroom(s) and bathrooms. Details are apparent with quality bedsheets, electronics and finishes to the condos. All of the units are air conditioned, come with TV's and good WI-FI.
Amenities that come with a stay here
This is an area where this hotel excels. Compared to just staying at a hotel or rental this hotel has a lot to offer. It is very nice to have a concierge/booking service on call for example. In fact there are many "extras" when staying here.
Here are some examples of what "extras" we are talking about:
Beach club access two blocks away.
Discounts to local restaurants and businesses.
A spa at the front of the hotel.
Off street parking (which is very nice in the center of Playa Del Carmen).
Daily housekeeping if desired.
A pool with jacuzzi in the courtyard.
Snacks and liquor stocked items in room for minibar.
Fully functional and equipped kitchens.
Our recommendations for this hotel
This hotel is great for a couple or small family that wants a quiet hotel in the center of Playa Del Carmen. Since there are one, two and three bedroom units this hotel can be for couples traveling together or for families. The pool is smaller here so it might be more for mature families.
Since this hotel is close to everything it makes it easy to dine out and walk 5th Avenue. You will be within walking distance of most things in Playa Del Carmen.
The BEST way to book this hotel
We are always on the lookout for the best deals for our readers. We have a special link for you if you want to reserve this hotel. You will save a lot over regular booking websites. We compared them for the same dates and same room and you can save enough to pay for a few dinners out! Click below to check out rates and availability.

Where is the Maya Villa Condo Hotel?
You can find this hotel on 1st Avenue between 14th and 16th Street. This means it is in the downtown of Playa Del Carmen. If you stay here you will be centrally located to access 5th Avenue and everything it has to offer.
Have you stayed at the Maya Villa Condo Hotel before? What did you think? Let us know in the comments below, we would love to hear from you. 
If you like this hotel but want a larger pool, see our article on the Porto Playa Condo Hotel here. If you want something beachfront see our article about El Taj Condo Hotel here.