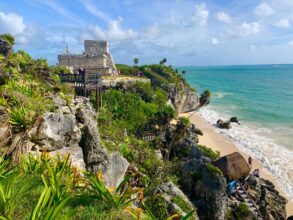 More things on the peninsula are opening!
Since early June 2020 the state of Quintana Roo, where the Riviera Maya is, has been opened under a traffic light system. It has been gradually allowing things to open. As we progress further into this year, we are getting updates of what will be opening, offering more options for tourists and locals.
One of the most common questions we get is about entry restrictions for tourists arriving in Mexico. There are NO restrictions for quarantining or test for entry. The only restrictions are your home country and if flights are available. Only land border crossings to Mexico currently have restrictions, but normally all tourists arriving to our area are by air.
Update on exact days for Mayan ruin sites opening
Some of the archeological sites will have limited capacity per day for the foreseeable short term. If you are planning to take a tour to these sites, it is best to book your tours well in advance. Normally about 10,000 people go to Chichen Itza daily. Now this is limited to only about 30%.
Tulum ruins– opening September 14th
Coba ruins– opening September 14th
Ek Balam ruins – opening September 14th
Uxmal ruins– opening September 14th Open 8am-5pm with limited capacity of 250 people per day.
Chichen Itza ruins- opening September 22nd. There will be no light shows at night as of now. Open 8am-5pm daily. Limited to 3000 people per day. See our article about tours to Chichen Itza here.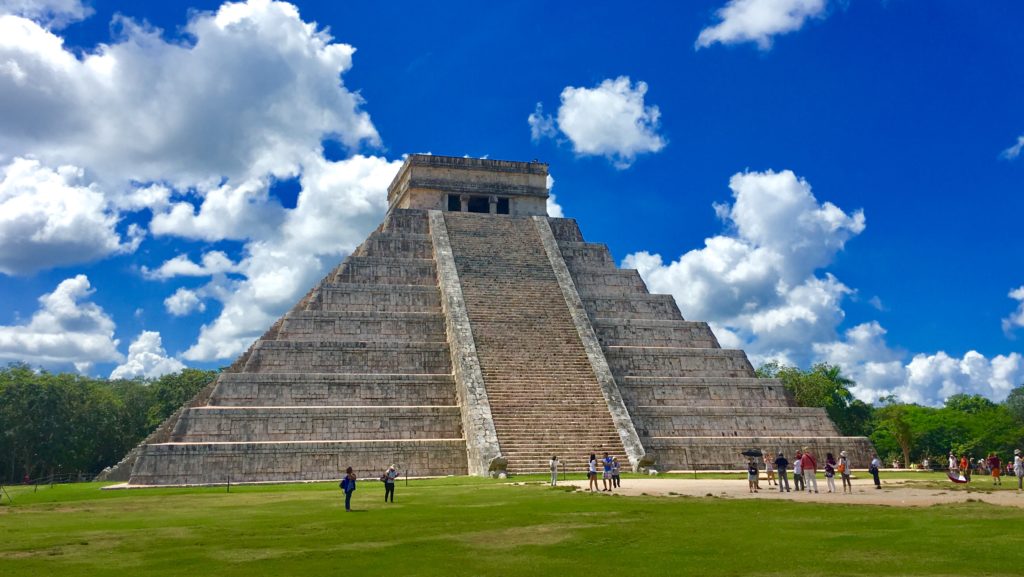 Things that are currently open
Almost all of Xcaret parks, including Xplor and Xel Ha.
Cenotes in the Riviera Maya.
Public beaches are partially opened now but will further open September 7th.
Many ruins in the Riviera Maya
Many tours are available, including catamaran tours, snorkeling and cenote tours.
The Riviera Maya moves to a new phase
Things are continuing to open here in the Riviera Maya. This is good news for everyone. We have a traffic light system that moves from red to orange to yellow and then to green. Each stage has a different set of opening guidelines and restrictions. The northern half of Quintana Roo, where the Riviera Maya is, is going to yellow on September 7th, 2020. Here are what this involves changing.
Transportation now will allow 4 people per private car and 3 people per taxi including driver. Public transportation at 50%.
Gyms can open at 50%. Outdoor facilities will be open for fitness.
Hotels, historical sites and tourist activities can open at 60%.
Beaches and public spaces can open at 60%.
Still closed are bars that don't serve food and clubs.
There will always be a few questions for all the details, but this is a general guideline to go by. We are now are about 35% for tourism and going up about 10% per month. The Riviera Maya is in a very good place for this fall/winter season as many precautions have been taken and we have not had a significant increase in cases due to increased tourism. As many places in the world that are normal tourist destination go into winter months, we will continue our warm weather year round and look to welcome many visitors.
This does not mean that the pandemic is over, it is just more contained and manageable. We realize that all guidelines and numbers have to be taken with a grain of salt. We are also not pushing people to come on vacation, we just report what things are opening and what things are like on the street. The overall feeling is that we are over the peak and in a much better place than a few months ago.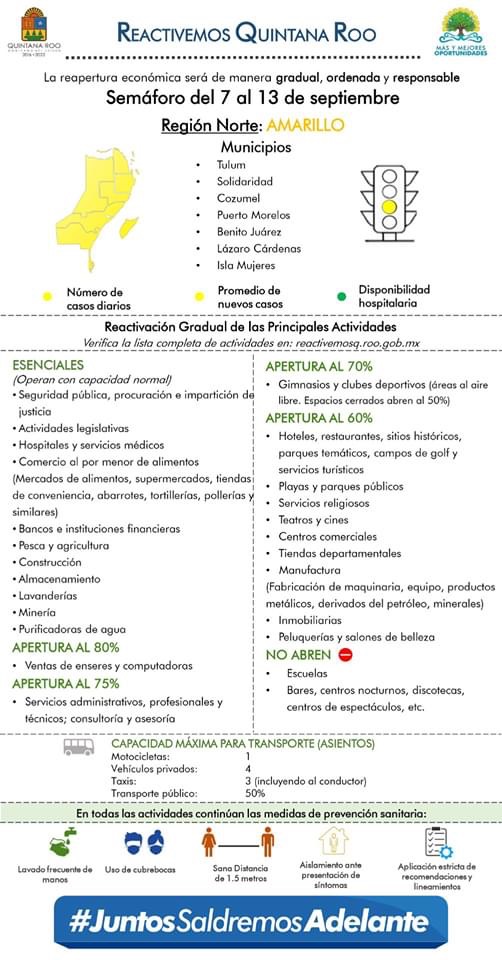 Yucatan state opening in September
Yucatan state, is basically the other half of the peninsula. It does offer many people that visit the Riviera Maya great day trips. In Yucatan state you can find Chichen Itza and Ek Balam Mayan ruins, both popular day trips from the Riviera Maya. There are also many cenotes that are often included on tours to the area, and these will be opening. Yucatan state also offers some good colonial architecture in the form of towns and cities that many appreciate visiting.
Yucatan state is one step behind the Riviera Maya in opening and this is the first month things will start to open for tourists. There are some important differences that should be noted. Here is what and when things will be opening.
Things opening related to tourism
Mayan ruins and cenotes will resume operation between September 1-7th. This includes guides, tours and transportation for tourism.
If you are looking for a tour to these ruins. see these articles here: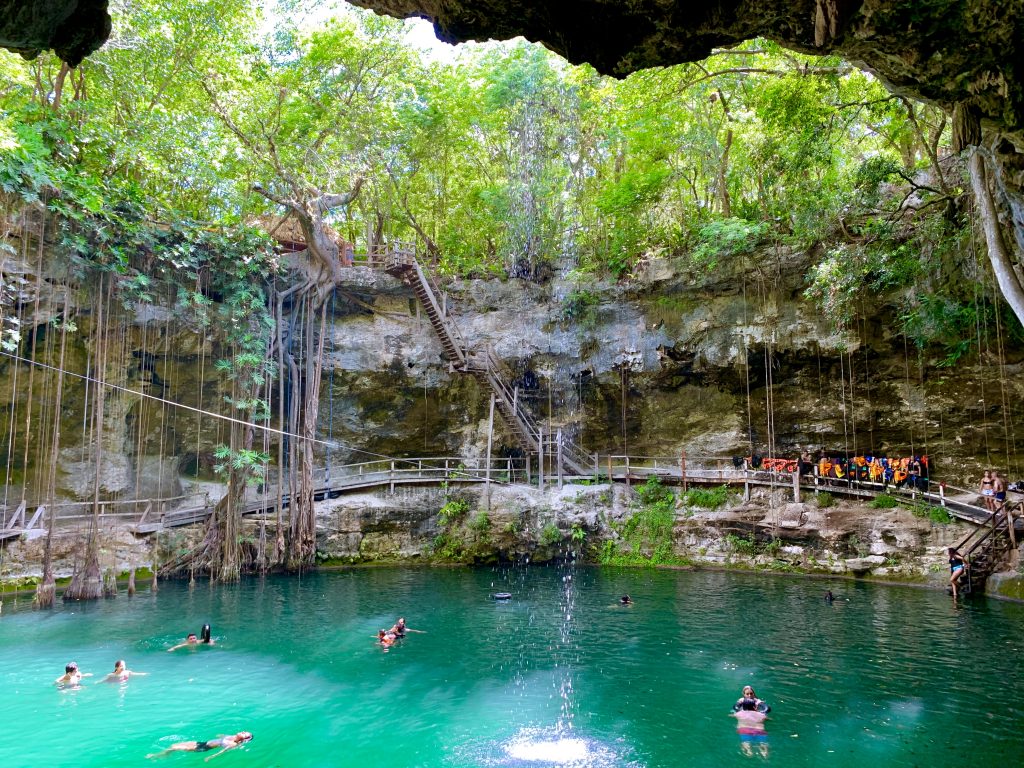 Things to note in Merida and other towns
In the past few months we have recommended that tourists not plan to visit Yucatan state. Not much was open and there were more restrictions. Even as things open, there are more restrictions that might not give the same experience as before. As things open, it gives people an opportunity to visit some of the marvels of the area. It will take more planning than before, though, to make sure things are open and to take note of schedules.
Shops in the center of Merida have limited hours. Monday-Saturday 10am-7pm.
September 14th is the opening of private museums and galleries. Open from Monday-Friday 10am-6pm.
Restaurants have limited service in all the state now and will expand service after Sept. 15th. From September 28th restaurants can continue opening more. From September 18th restaurants outside of Merida can open Monday-Sunday 8am-10pm.
Alcohol in the Yucatan is only being served in restaurants or by home delivery. Take note of the times on the chart below.
There is a driving curfew from the hours of 11:30pm-5pm. Some towns have more restrictive hours. The general rule is just no driving late at night until early morning. This is to prevent parties and late night activities.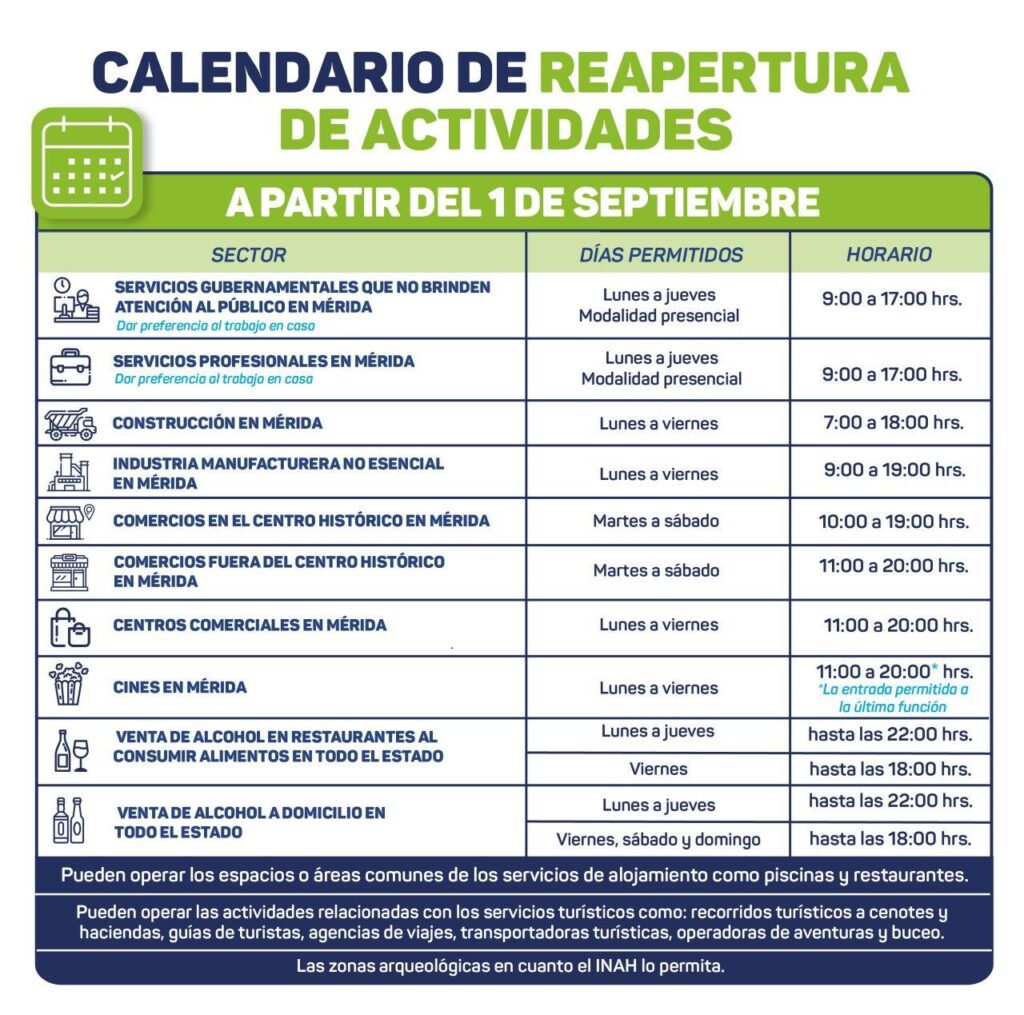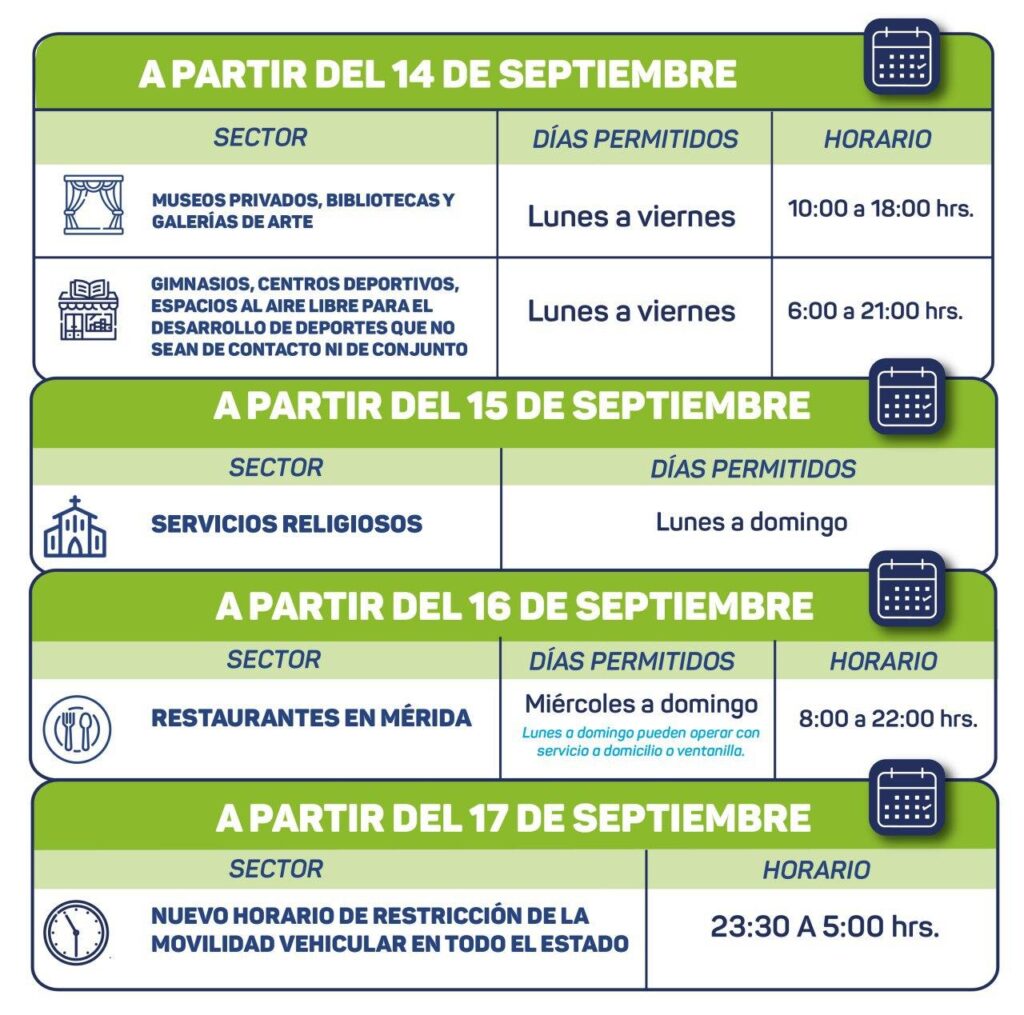 What this means for you as a tourist
As the entire world awakens from a long pause in tourism, the Riviera Maya and surrounding areas are preparing for visitors again. For about 5 months very few people visited the area. Gradually people are coming back, but still some might not feel comfortable traveling yet. We understand this. We laid out some details about should you travel to Mexico now in this article.
For those that are arriving soon or this fall, there are many things that have opened. We will continue to announce the details of what things are like and what is opening. You can follow our Facebook page as we post articles or bookmark our website and check in from time to time. We are all glad that things are moving in a positive direction at this time.
For many locals, tourism is a way of life and provides incomes for their families. Communities like Piste, Yucatan have been especially hit hard (the town nearest to Chichen Itza). Many small towns next to Mayan ruin sites are almost entirely supported by the tourists that visit. It has been a hard year for many, but little by little there is light at the end of the tunnel.