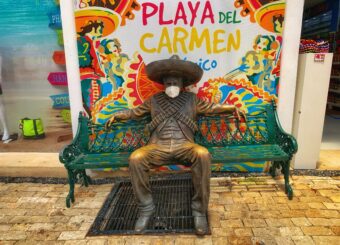 What it is like to travel to Playa Del Carmen now
After a break from tourism, Playa Del Carmen is gradually opening and people are arriving. What is it like now to travel in the Riviera Maya? Have you been waiting to travel again? What things are open and what is it like? Well, we will discuss all this here.
Arrival and transportation
Cancun Airport actually never closed and has been receiving flights all year. Since June 2020 the Cancun Airport has increased in flights. There are no restrictions for tourists arriving by air to Mexico. This means not quarantine or test are required.
Arrivals at the Cancun Airport pass easily through customs and immigration and all is working normally at the airport. Just check the terminal of your departure as some terminals have been changed temporarily.
Cancun Airport transportation
Since there has been a reduction of the amount of people arriving at the airport, the ADO buses have been using a limited schedule. If you want to take the bus, be sure to check the current schedule here on the ADO website.
One of the best options this year for getting to and from the airport is a private transfer. These are just for your family. This private van service is one we recommend. They offer discounts for round trips and are fully prepared to offer a clean and sanitary service.
Transportation in and around the Riviera Maya
The ADO bus company is operating on normal routes between destinations. Mask are required for riders. Some schedules have changed due to decreased demand.
Colectivos are running between Playa Del Carmen and Tulum and Playa Del Carmen and Cancun downtown. This also applies for the Playa Express service between Playa and Cancun. We do recommend not relying on these services as much since they are not as frequent and currently used more for locals commuting to work.
Public transportation in Playa Del Carmen is running normally. This includes the busses and combi services. Taxis are also readily available.
Hotels and accommodation in Playa Del Carmen
The trend this summer is divided into three sectors:
All inclusive hotels. These have gotten more popular this year as they offer everything in one place. People feel they don't have to worry about finding restaurants open and can just relax.
Long term stays, mostly monthly vacation rentals or Airbnb. These have gotten popular because some people just want to chill somewhere for a while. Perhaps they work online and want a different place to stay after being in quarantine or stuck at home for a while.
The last is hotels in Playa Del Carmen that are a little larger and more mid to upper end. Most people this year are not looking for the cheapest hotels. People are looking for comfort and cleanliness. Plus larger hotels can offer more services like a restaurant.
Hotels and all inclusive resorts are as prepared as they possibly could. Everything from wiping down luggage at arrival to handing out packs of mask and hand sanitizer, hotels have been certified and are doing everything to welcome guests. We recently stayed at a 120 room hotel in Playa Del Carmen that has a person that goes to rooms between guests and sprays everything down. They are equipped with a full body suit and look very professional. All staff have been trained at hotels and just about every sanitary measure is in place to make guests feel at ease.
Most hotels including all inclusive resorts have mask wearing policies in public areas.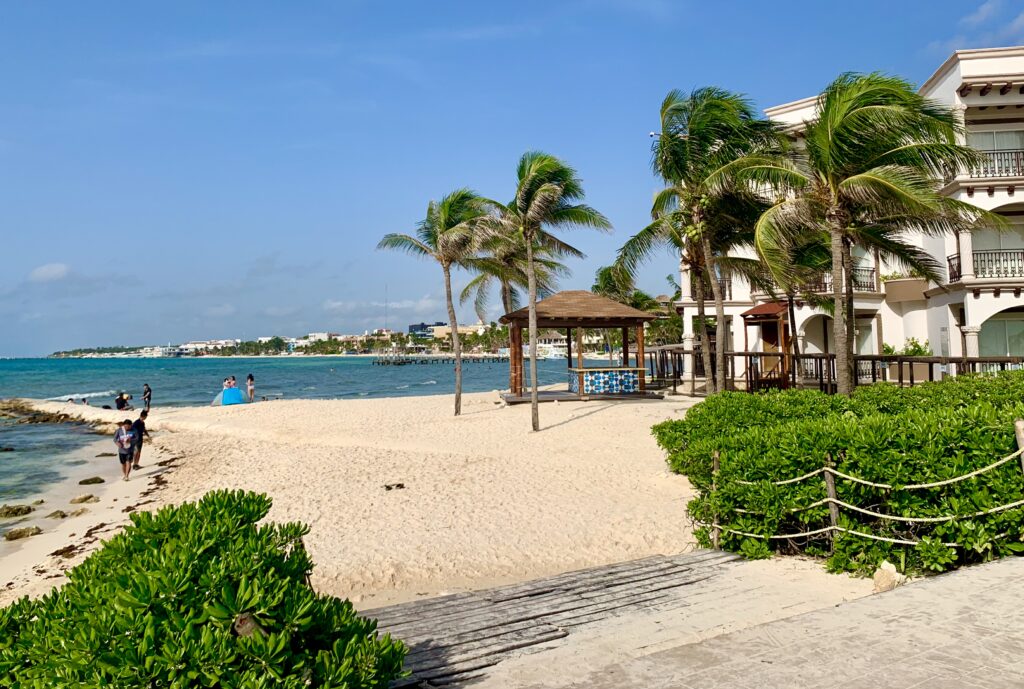 Booking hotels in 2020
Not all hotels and resorts have opened. Some went into remodeling and some that have multiple resorts, are opening in a staggered fashion. Here are some tips and recommendations for booking accommodation this year.
Book one place for your entire stay. Not only will you feel more comfortable, but there are extra check in requirements and more cleaning when people move around. Normally people book different hotels for side trips to other destinations around the Riviera Maya. Some of the popular destinations have different restrictions and might not be as open as the Riviera Maya. For example, Yucatan State is not as open as Quintana Roo, where the Riviera Maya is.
There are some deals, but not as much as you might expect. Hotels are operating under a lowered occupancy requirement. This means hotels can only offer so many rooms per night and this limits income. This does not mean you cannot find any good deals out there.
You will notice that there are many more condos and apartments on booking sites. These can offer attractive pricing and nice looking places. However, we generally recommend hotels more because of the services like being able to check in all day, more standard rooms, and services that you expect a hotel to have. Many Airbnb type places re in residential buildings and vary in quality. We have never really been more impressed with an Airbnb upon arrival. Hotels tend to be in good locations and you can do more research about them online before arrival.
If you want to book an all inclusive, we highly recommend talking with and booking with Lori. She is a great local travel agent that stays at all the hotels and helps many of our readers book the right hotel for their stays. Here is more about Lori and how to contact her.
Restaurants and eating out
Here are some new things you will see at restaurants in Playa Del Carmen now.
Scan code menus. You can use your smartphone to scan the code and open the menu. This allows people to read the menu without passing one menu to all the customers.
Hand sanitizer and temperature checks at the entrance.
More spacing between tables (although this varies a lot between restaurants).
Playa already has many outdoor restaurants, so this is great!
Staff with masks and many have face shields.
In general, we felt very comfortable eating out in Playa. Most everywhere are up to standards. If you don't feel like eating out, there are some great deliver services like this one. You can get almost anything delivered, alcohol, groceries or order from restaurants.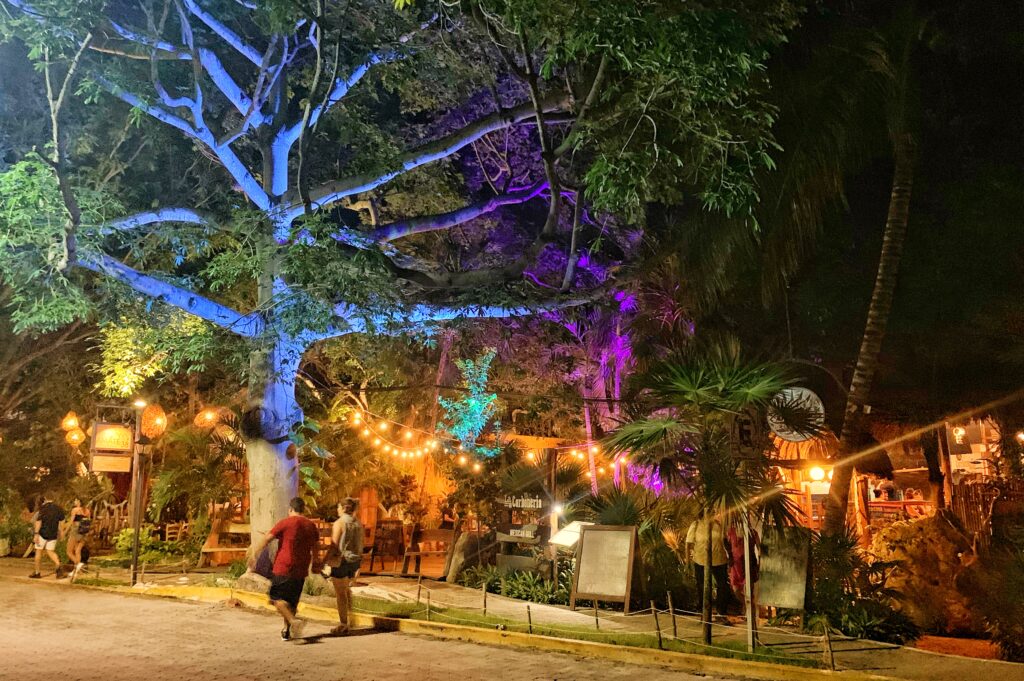 5th Avenue and stores in Playa Del Carmen
Back in June the renovation work on the lower end of 5th Avenue started. We have a recent article on the progress of this work here. Things are coming along and people are coming back to stroll this famous street. The upper end of 5th Avenue is still the same and is not under construction.
You will find that besides the renovations, there are some changes and things missing. Due to the economic impact, many businesses have closed. We would estimate about 15% of stores and restaurants in the downtown of Playa have closed for good. This does not mean it is a ghost town. There have always been tons of places to shop and eat, and with about 22 blocks of options, you still can find what you want. We will note that some stores do not have as much merchandise. About 25% of some shelves are missing items as shipping and production have been interrupted. This is true especially in clothes stores and non tourist souvenir shops.
Some stores and restaurants have not opened yet, but even now, there are enough places to keep anyone happy. Most stores require masks to be used when entering. Some small stores require only one person to enter of a family. This is especially true of grocery stores.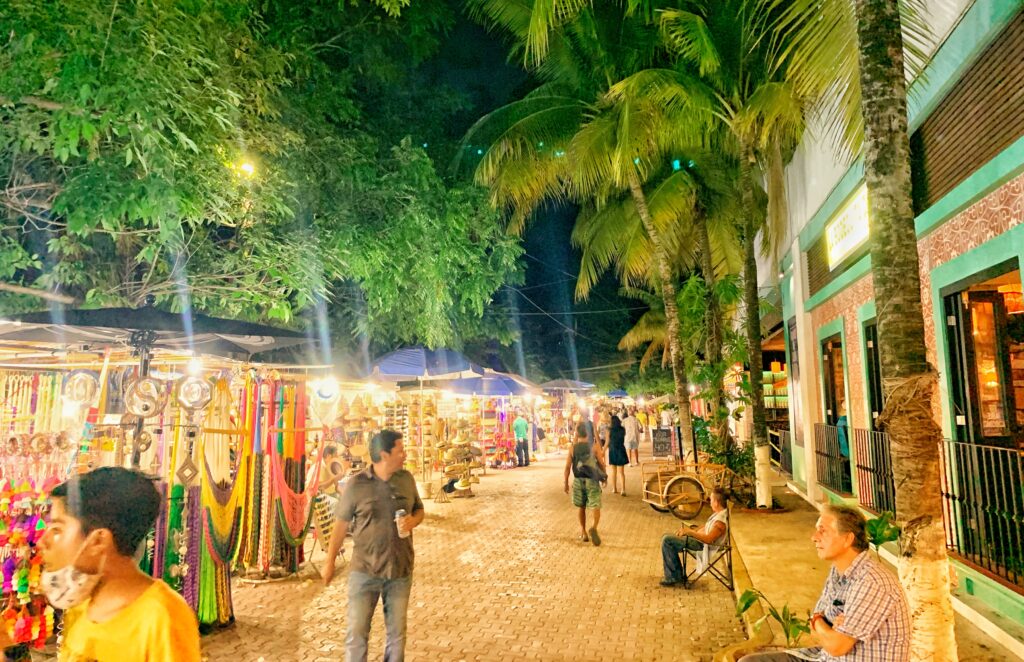 The Beaches
Beaches in front of all inclusive hotels are open for guests in Playa Del Carmen and the Riviera Maya. Technically, there are three beaches open to the public in Playa Del Carmen. These are the blue flag beaches. In the center of town there are Punta Esmeralda and Call 88 Beach.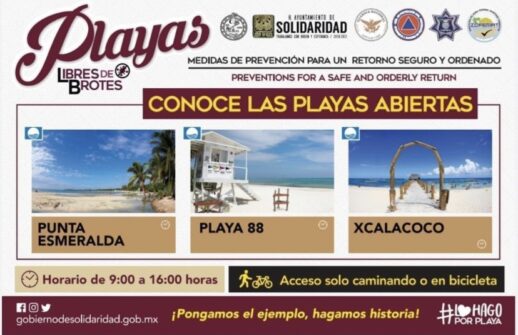 More and more people are going to the beaches up and down the coasts, although it is up to the mood of the police to tell people they are limited to only the official beaches open. We do predict that all beaches will officially be open soon.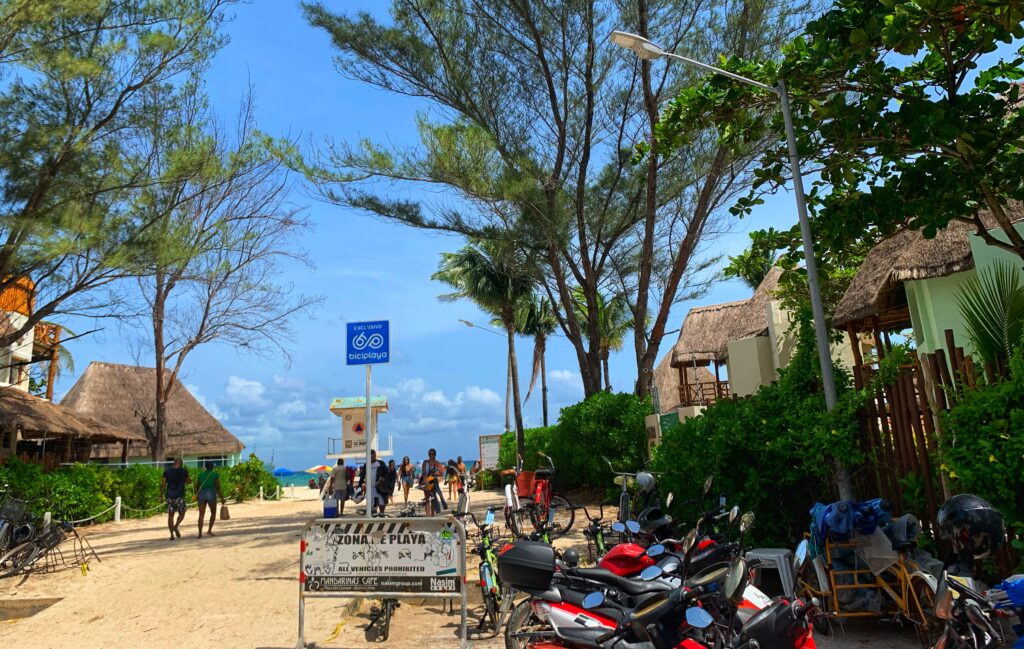 What things are open for tours and things to do?
Everything that is the normal activities for tourists has been opened in a staggered manor. Here are some things that are open or are opening soon.
Almost all of Xcaret parks are open. These include Xplor, Xel Ha, Xoximilco and Xenotes.
Cenotes are open to the public in Quintana Roo. A few of the more remote ones are not open yet.
Mayan ruins are opening in Quintana Roo in a staggered format. These will include Tulum ruins and Coba.
Tours and private tours are operating. It is random as to which ones are open and offering services, but most of the main attractions and tours are available.
Yucatan State is opening things in September. This means Mayan ruins and some tours will be available including Chichen Itza.
Conclusion
Some people that come on vacation now enjoy themselves and practically have a normal time here. Some things are very normal feeling and other things feel different. It is a strange time in all the world and we are all trying to adjust to it. The local people of Playa and businesses are working hard to make people feel welcome and safe. We are sure as we progress into this fall and winter season, more things will open and we expect to see more and more tourists arriving. So far we are seeing about a 10% rises each month or new arrivals. We predict by December to see about 65-70% occupancy rates.
You might not want to travel soon to the area, but when you do, we will be here with information for you to help you plan a great time here.
Stay tuned to our Facebook page and our website for more updates on traveling to the Riviera Maya and surrounding area. Things are opening every month as we return to some sort of normalcy.