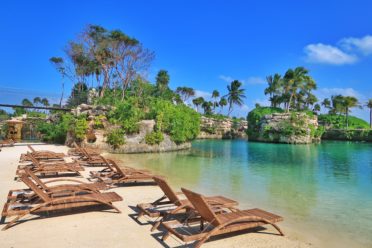 A look inside of the amazing new Hotel Xcaret Mexico
Xcaret has outdone itself with the new Hotel Xcaret Mexico! Spoiler alert, this is one of the best resorts in the Riviera Maya now! That was easy for us to say because we enjoyed our stay there immensely. Not only is this one of the best hotels in the area, it also sets a standard in the world. Hotel Xcaret Mexico is a world of it's own with great design, attention to detail and great service. We hope you get to stay here to experience everything we are talking about. See if this hotel looks good to you for your next vacation.
Our video overview of Hotel Xcaret Mexico
Like everything on our website we go to experience it so we can tell you exactly what it is like. Hotel Xcaret Mexico was a completely wonderful experience and we wish we could of spent more time exploring because there is so much to see and do there. We hope this video gives you a good feel for what the resort is like and why we love it so much!
Why the design of this hotel is going to delight you
Many large all inclusive hotels are blocks of buildings that face a pool or ocean and are landscaped nicely. That is nice but what Hotel Xcaret Mexico does is beyond what you will find most places. Asymmetry if the rule here and everything flows with nature or they have bent nature into a really cool hotel.
It is actually hard to describe without you being there but you can expect something new around every corner. Swinging bridges, tunnels, restaurants carved into solid rock , waterfalls and so much more is yours to behold at this hotel. It is as if someone created a whole little world and you get to be a guest there. The whole layout of the hotel can be confusing at first because it is not a grid pattern but getting lost and finding things will be just part of the fun of staying here.
Because this hotel is so interesting and has so much to see and do, it would be a shame to just stay for a short time here. You will only be learning your way around and then you will have to go home.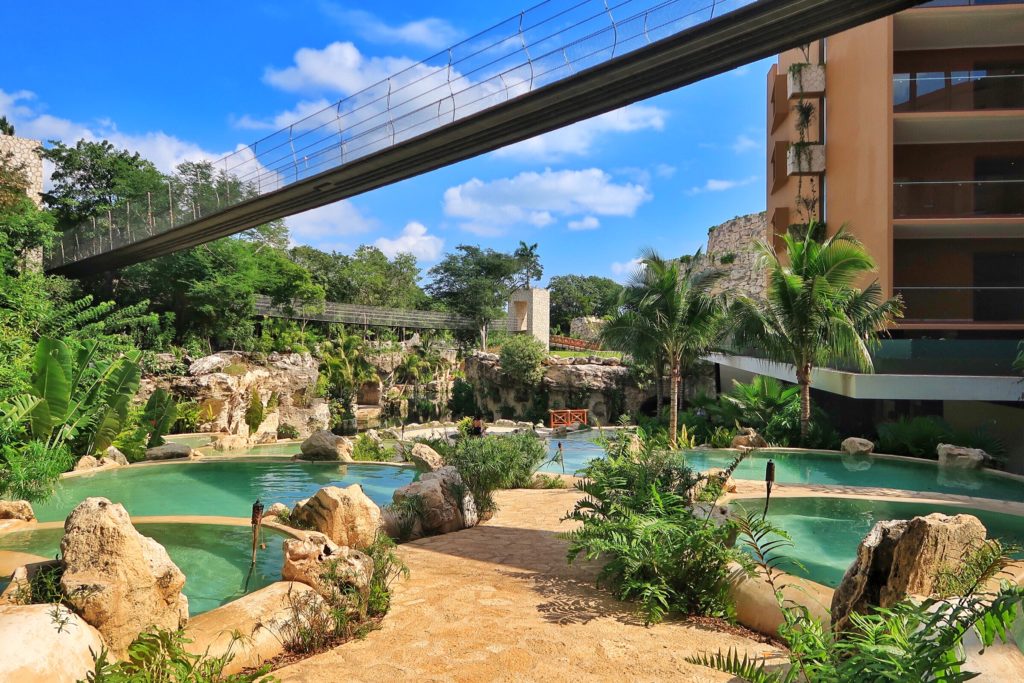 Design of the rooms at Hotel Xcaret Mexico
The rooms are very comfortable with lots of little amenities that will make your stay comfortable. One of the things we liked most was the attention to detail. There was a lot of thought that went into the rooms here. Xcaret worked with local craftsmen from around Mexico to bring items into the room. This not only shows their care for the design of the room but the skills and traditions of Mexico. You can feel like you are somewhere special here. To make it feel more special be sure to watch your TV and the channel that features all the stories of the things made for your room.
Best of all it really does not matter which room you book at Hotel Xcaret Mexico. Because the design of this hotel is so creative, there are rivers, large pools and ocean views. Each area of the hotel has something special to offer so you don't have to worry about a "bad room".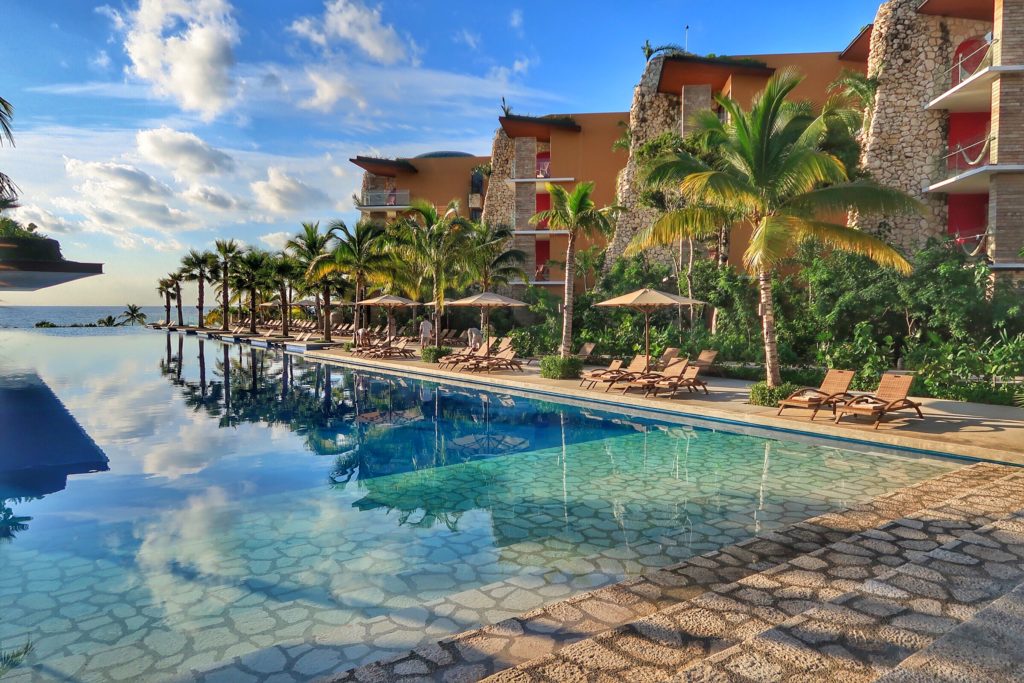 Dinning, drinking and the joy of food at the resort
With seven restaurants open to everyone and two others that are restricted to only some guests, you have a lot of options for dinning. There is also the Ha Restaurant that is an additional cost. There are also seven bars throughout the hotel property.
We were very impressed with the options and surprises at each restaurant. From make your own ceviche to top shelf tequilas, you will be getting very good food and drink. We were also happy to see many local specialties and Mexican dishes done correctly. You really do get a good representation of Mexico cuisine here. Many resorts dumb down Mexican food and go for more generic recipes. Even if some of the dishes are not your favorite things, you can appreciate the care that goes into the menu.
If you are looking for fresh seafood, authentic Mexican cuisine or just something tasty you are sure to find many things you like. Here is a list of the restaurants at Hotel Xcaret Mexico.
Mercado de la Merced
Xin Gao
Restaurant Ha (additional cost)
La trajinera
Fuego (only for guest in Casa Fuego)
Teatro del Rio (the dinner theater)
Cantina Los Faroles
Chibali
Cuevas
Las Playas (for guest of Casa Tierra, Agua and Fuego)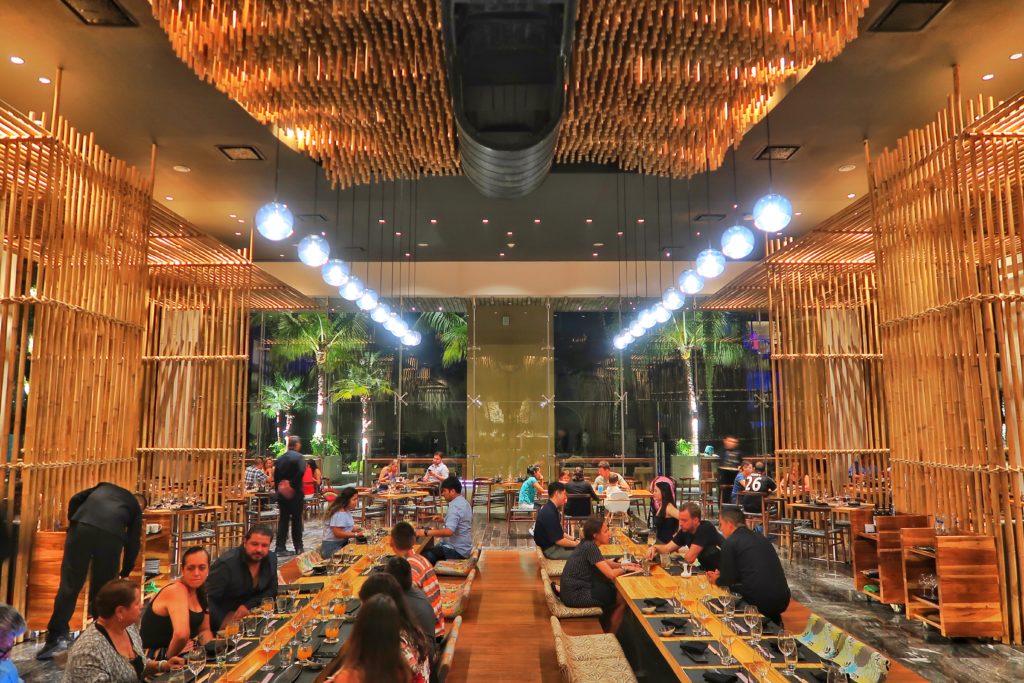 What is there to at Hotel Xcaret Mexico?
With one gorgeous pool after another, you could just swim and relax here and take amazing photos. But you should visit some the other features of this hotel.
The beaches?
Yes we say beaches because there is the main beach on the ocean but there is also a secondary beach. This second beach has soft sand and calm water. There are also beaches on the rivers that run by the hotel. All of these areas have been carved out of the stone and give all sides of this hotel something to look at. Even when there is seaweed in the ocean, this hotel has great beaches for it's guest.
Paddle boarding and kayaking
Get out and enjoy the calm waters and beautiful islands, waterfalls, and views from a kayak or paddle board.
Biking and Tennis
There are bikes for use at the hotel to explore some of the trails. Tennis and paddle tennis are also available.
Gym and fitness
You can enjoy a state of the art gym if you are looking to workout on vacation. The main gym is about as nice as any big city gym. If you don't like to be inside working out you can visit the jungle gym in the woods.
Daily yoga and meditation are also available at the hotel.
The Spa
The spa will remind you of a Grecian palace with fountains and flowing curtains. It is however very Yucatan Peninsula feeling a well since it is carved into the limestone. Each of the massage rooms is unique. Some of them even have a personal cenote in them.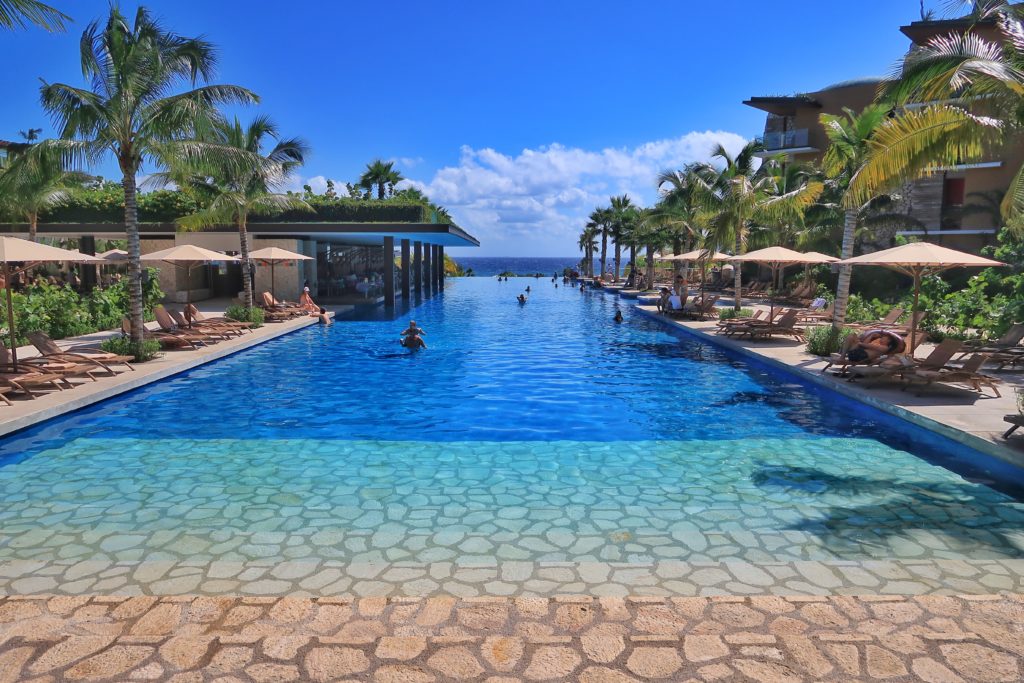 Why do we recommend this hotel for almost all our readers?
With the exception of singles looking for singles resorts and celebrities looking for more privacy, this resorts is pretty perfect for most people! Here is a look at some categories and what makes Hotel Xcaret Mexico a great option!
For families with young children
On the hotel property you will find play areas for young children, activities for kids, natural areas for exploration, and shallow pools. Xcaret did not forget about young ones with their design. Not only are parts of the hotel very family friendly, your kids will love the secondary beach with no waves and soft sand.
Included in your stay at Hotel Xcaret Mexico is access to the parks. These include Xcaret, the largest park which has a special area for small children called Children's World. Besides that section of Xcaret there are many animals and attractions kids would like. For young children be sure to check out Xenses as well. This is a half day adventure park. For more on Xenses including our video, see our link here.
Families with teens
There are many things your teens will like at Hotel Xcaret Mexico. The family club offers games and activities like air hockey, billiards, ping pong and more. Paddle boarding or kayaking should be of interest to teens as well.
If you are going out of the hotel to one of the parks, Xplor should be high on your list. This park really appeals to teens looking for adventure. Also Xel Ha for those that like to swim and snorkel.
Adults and romantic getaways
For adults Hotel Xcaret Mexico has an entire adults only section of the hotel. This area has it's own restaurant and amazing rooftop pool among other things. You just might find yourself spending most of the time in this part of the hotel. Of course there is so much more to see. If you are looking for romantic ideas, well the Cuevas Restaurant is a very special place with all the candles. There is also all the other places to dine as well including the add on Ha Restaurant.
During the day you can find a lot of hidden spots to relax in a hammock or stroll on the beach and find yourselves all alone. A little tip for you, during the day many families go to the parks and you practically have the hotel to yourself. You can see in the photos and video that there are not too many people and everyone finds there spot at the hotel. We were even there when the hotel was full and you don't feel it crowded at all.
Added reasons for staying at Hotel Xcaret Mexico
As if you needed any more, there is a whole list of reasons why you should stay here.
Value. You get luxury accommodation, gourmet food, great service and all the things included in your stay. It is well worth the price.
Live performances. In your room you will get a schedule of live events around the hotel. These can be small band to a lively D.J.
Access to all of Xcaret's Parks. With about an average entrance price of $100 USD per person, you are getting a good deal with all of the parks included in your stay. Three of the parks are next to the hotel, so it is easy to visit them.
Great food and beverage service. We have been to our fair share of all inclusive resorts and the food is usually "get them in and out". That means food can be average. At Hotel Xcaret Mexico we were constantly impressed with the options and quality.
Beautiful property. Xcaret always does an amazing job working with nature. You will be able to walk around this property and get lost in the imagination and creativity.
Need help booking this vacation with a travel agent?
If you want to talk with a travel agent we have an excellent one to recommend to you. Her name is Lori and she lived here in the Riviera Maya. Her experience of knowing the area and helping people with travel planning is a great fit for most peoples needs. You can read more about this travel agent here or just email her below.
Have you been to Hotel Xcaret Mexico before? What did you think? We would love to hear from you in the comments below.