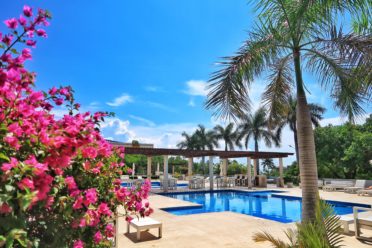 What a stay at Magia Playa Condos is like
Magia Playa Condo building is in the center of Playa Del Carmen and can be a great base for your vacation here. This modern condo building offers good location, large units, pools and more. Here is what you can expect if you stay here. At the end of our article we have a special booking link for our readers that can save you money over other booking sites.
Our video introduction and tour of select Magia Condo units
Like everything on our website we stay there, experience it and report back to you. This way we see all the details and can compare them to other places and help you pick the best place for your vacation. Here is our video from staying here.
What are some of the condos like here?
Large, modern and bright come to mind when thinking of these condos. Each one has a little different feel but overall they a lot of space and room for everyone. The condos are centrally cooled with large screen TVs, Wi-Fi, and comfortable living rooms. Units come in a range of size from 1-3 bedrooms.
Since Condo Hotels has select units in Magia Playa you can expect the same high standards of the ones they manage. This includes comfortable beds, good linens, stocked utensils in the kitchen and fully functional units ready for your stay.
All of the condos face out on the courtyard as you can see below. The building is a "C" shape and this allows for nice light to come in if you like.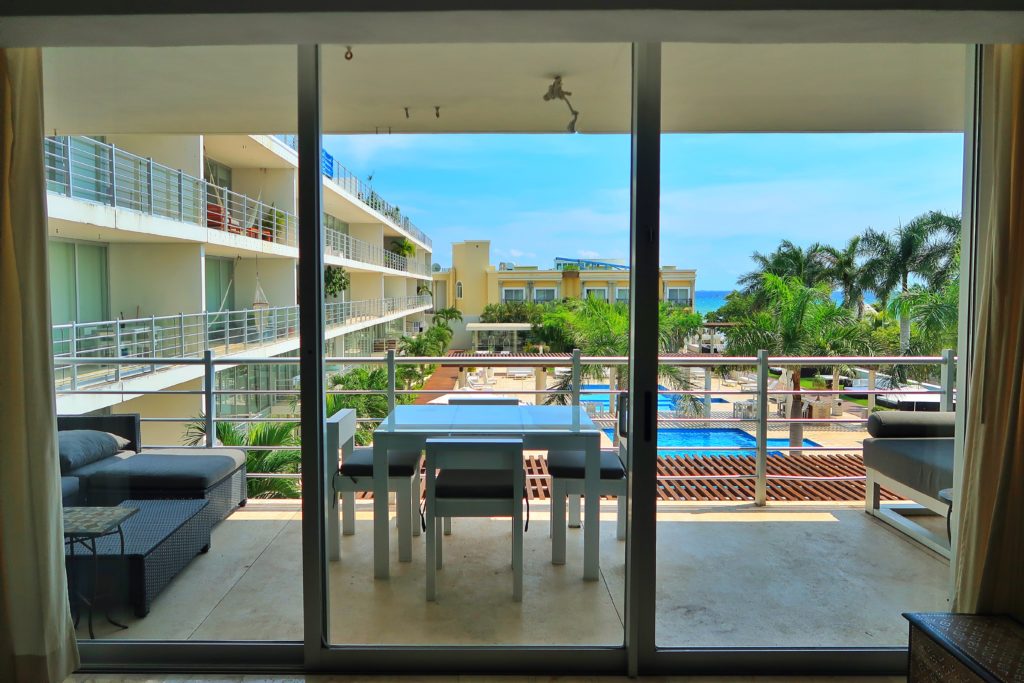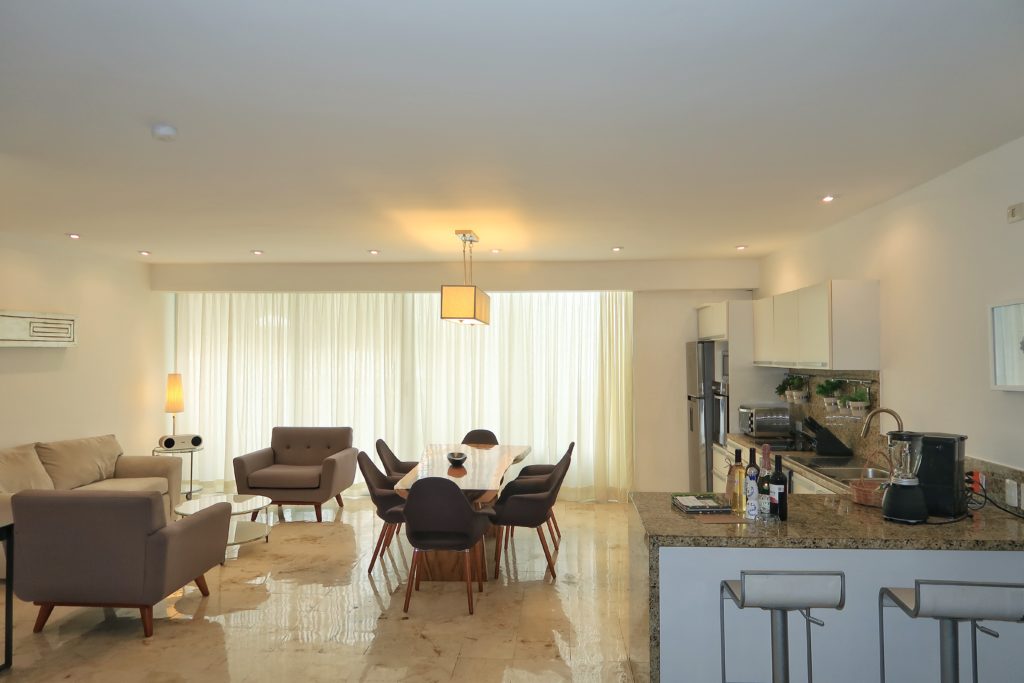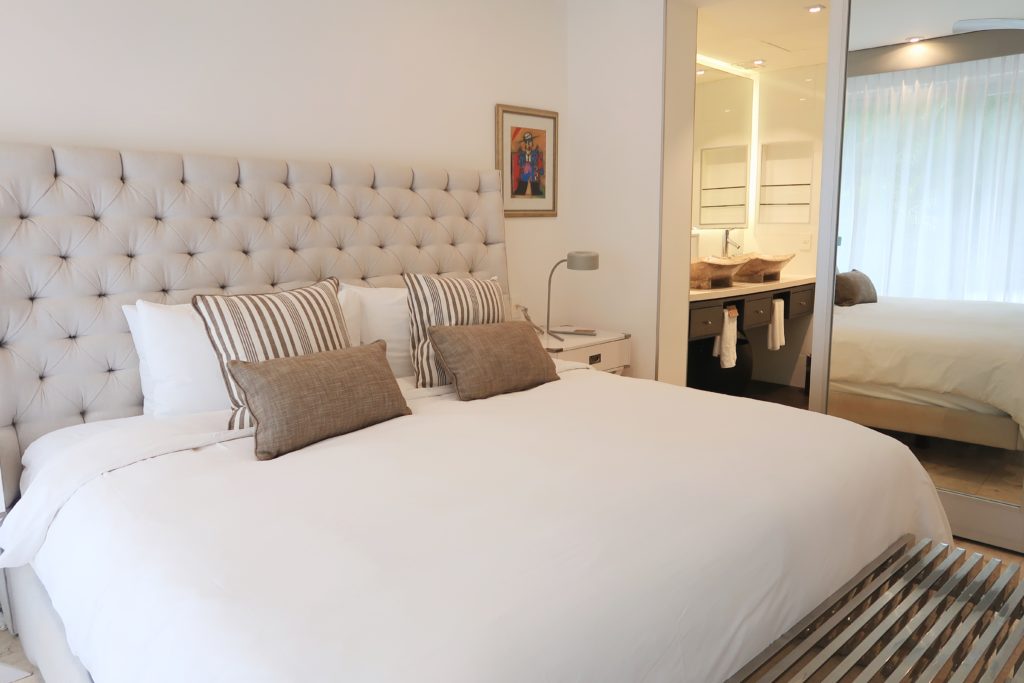 What services are there to enjoy?
The courtyard boast a spacious pool and outdoor lounge area. There are actually two pools of the same size. The pools have shallow area which is good for younger children. Around the pools there are sunbeds and loungers and on the side of the pool area there are outdoor sofas. There is plenty of room for sunbathing and enjoying this courtyard.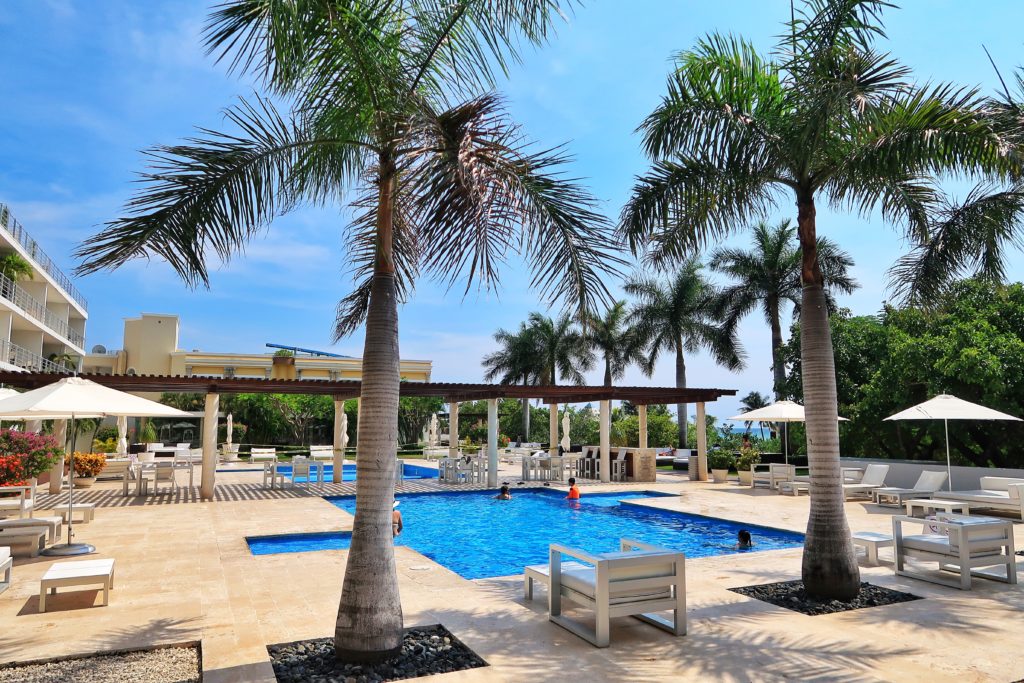 The gym is at the end of the courtyard and has a nice view. The gym is air-conditioned. There is a good mix of cardio equipment and weights.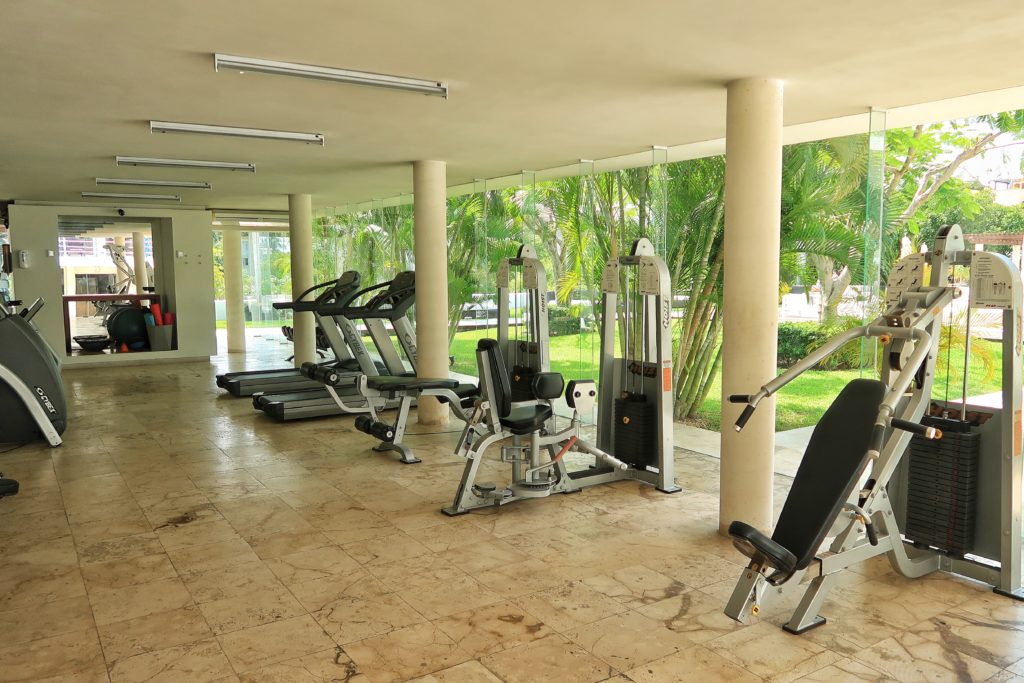 Why book as a condo hotel option
Condo hotels offer some perks and services that you will not get if you just book other ways. Remember that Condo Hotels only has select units in this complex for you with services.
For one you get a check-in desk with receptionist where you can get all the details for your stay. This is a 24/7 service.
Discount VIP card for local restaurant discounts.
Daily housekeeping if you want.
Stocked items in the condos.
Access to a beach club.
Available concierge for tours and booking help.
How to get a discounted rate over other booking sites!
We are always on the lookout for our readers and how to get the best deals. We have arranged to give our readers a special booking link! This link will save you considerable money over other booking sites. With the saving you will get you can take yourself out to a nice dinner or two!

Where is the Magia Condo building and what is nearby?
The Magia Playa Condos are on 16th North between 1st Avenue and the beach. This is just south of Constituyentes Avenue which is the central avenue in Playa Del Carmen. From the condos 5th Avenue is a block and a half away. This is the main pedestrian street that has many shops, restaurants and entertainment. You will also find the shopping mall Quinta Alegria on 5th Avenue which is where we mention in the video where the best liquor store is in Playa Del Carmen.
Restaurants that are close to this condo complex are many. There is Plank,and the bakery Carlota just to name a few. There are many more just a few blocks away.
Other condo hotels nearby that you also might want to check out (plus get discounts!)
If this place does not look perfect for you, you might also like to check out these nearby condo hotels that offers something different.
Have you stayed at the Magia Playa condos before? What did you think? Let us know in the comments below. We would love to hear from you.
If you are coming to Playa Del Carmen on vacation you might also like to read what are the 6 best things to do here!