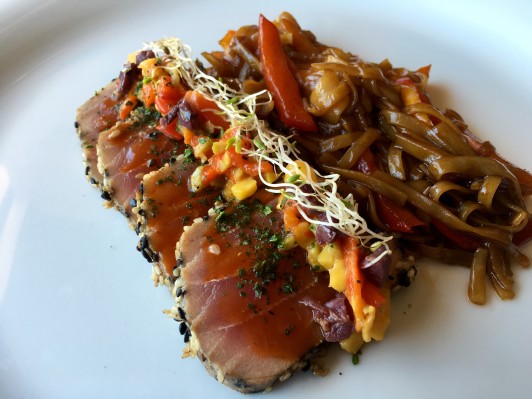 Looking for the best seafood restaurants in Playa Del Carmen? Here are all the places we recommend. We hope you have a great meal at one and if you liked it, let us know in the comments below.
Here is how to use this guide. Select the category you are interested in and read the review. See if this fits what you are looking for and then you can click on the link to each restaurant for hours, a map and more information. We hope you have some great seafood while here in Playa Del Carmen.
Note: Like all our guides, we update them often. When a new restaurant in Playa Del Carmen opens or one closes it is reflected in this guide. We also remove or add restaurants if the quality changes.
Best Seafood Restaurants in Playa Del Carmen (High end category)
Oyster Mixologia Del Mar is the place for oysters and more. Located on charming 38th Street, this seafood restaurant offers a modern take on some very fresh seafood brought in twice a week from the Pacific side of Mexico. Here you can mix and match plates and enjoy great Mexican spirits. Although we put this in the high end category, it is more for the feel and quality of the food. The prices are actually pretty reasonable.

The Oyster Mixologia Del Mar seafood restaurant.

Catch Restaurant This Playa Del Carmen restaurant is on top of the Thompson Hotel and features a stunning view overlooking the roof tops of Playa Del Carmen and out over the ocean. This is a seafood and meat restaurant that is upscale. It basically comes down to it if you can afford it, check this place out, you will have a good time and a good meal. You can expect to pay 300-1000 pesos per person for a meal.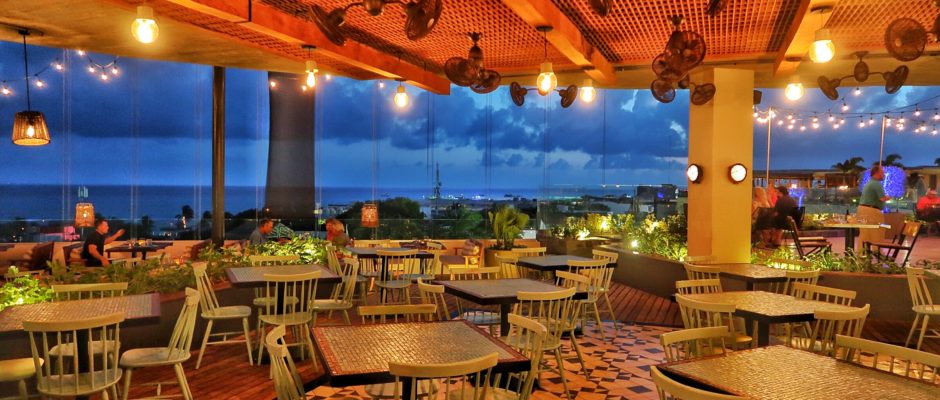 Best Modern Take on Seafood
Los Aguachilies This was one of the original restaurants that veered off the traditional taco and tostada recipes. While still good and popular, the newer restaurants have taken some of the wind from their sails. There are two locations for this restaurant but we prefer the location on 34th Street because it is more calm and seems to be better. They have two casual open air restaurants in Playa Del Carmen.
Los Hijos de la Tostada This place has rocketed to the top because they have great tasting tostadas and good value (aka good prices). For about 40-50 pesos you can get a nice gourmet tostada and two can fill you up. From the small original storefront they now have opened right on 5th Avenue! This is a youthful and casual place and they have put on notice the old standby restaurant, Los Aguachilies. The new fusion of modern seafood taste on a tostada is a winner with most people. Try the Tuna Sellado tostada and Camaron Roca tostada! Their tuna burger is great as well!
La Fisheria is a restaurant designed by a famous Mexican Chef. This restaurant is a little more corporate than a boutique standalone restaurant. This restaurant is right on 5th Avenue and poised to allure tourist in. It is a decent place with some menu items better than others. This is a large restaurant with a good amount of seating. This is an easy place for tourist to come to and get a full meal of seafood. Also this is the best seafood restaurant in Playa Del Carmen for a large group due to their seating capacity.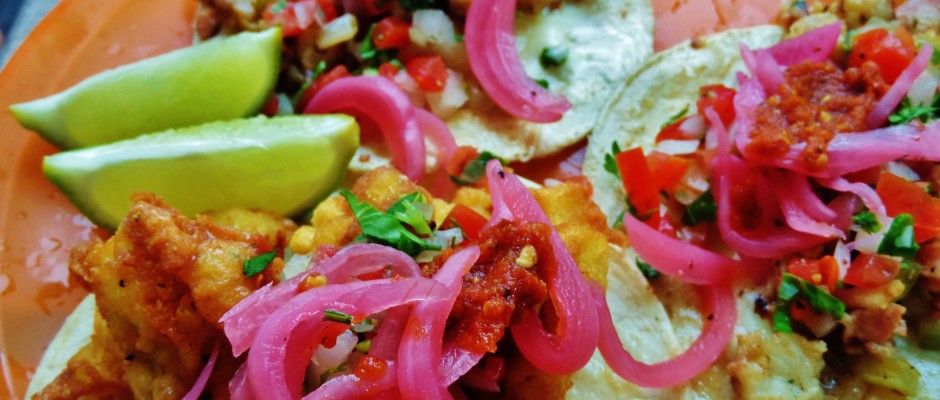 Best Seafood Restaurants in Playa Del Carmen (local restaurants)
Do you like going to places where there are lots of locals? Does this give you a feeling that it is well liked and has a good reputation? In general, this can be true of restaurants in Playa Del Carmen, but there are other factors. Many basic local places can also in part be popular because they are affordable, familiar, casual, serve beer and a traditional place for the family to go eat on the weekend. Most of these local restaurants cook up seafood the local way with no new gourmet twist, but that is how some people like it.
Chiltepin Restaurant is local feeling and their location on 34th Street will almost make you feel like you are eating at someones back yard. There is a small pool here for kids. The menu goes great with beer and is a casual restaurant. This is a lower mid priced restaurant. This is the perfect place to get a michelada (a beer with lime juice, chili and Worcestershire sauce). We much prefer the location on 34th over the location on Constituyentes Avenue.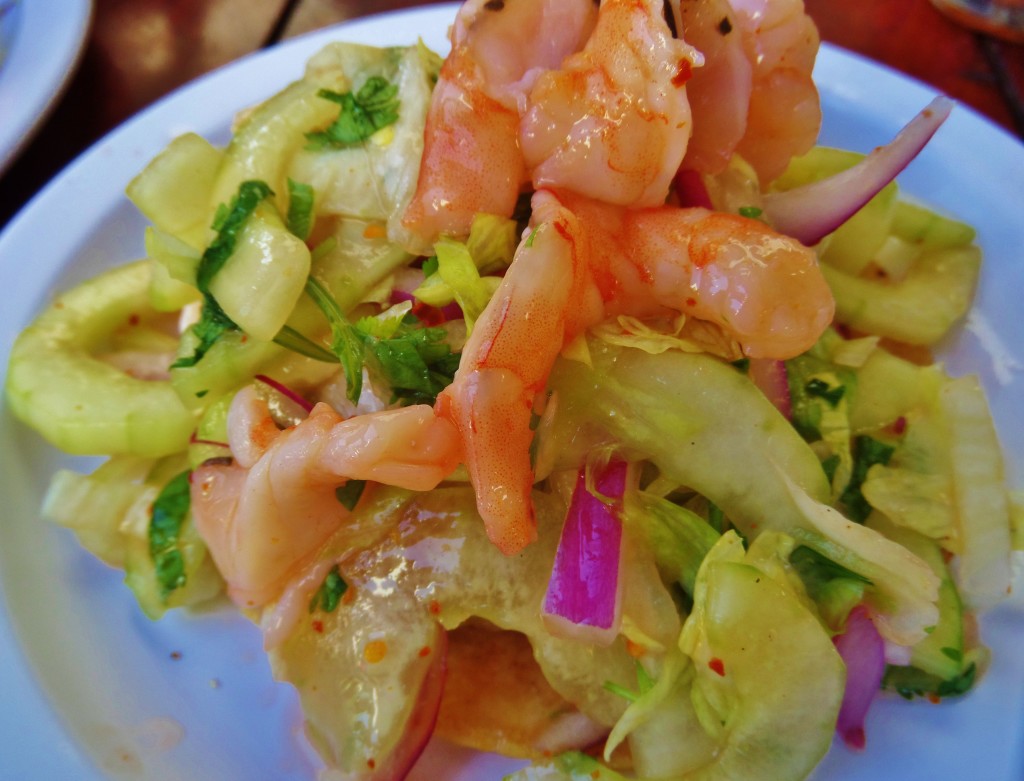 El Doctorcito is a small corner ceviche restaurant with a few other options. It is too bad it is kind of hidden from street passerby's and traffic. It is close in the center and have one of the best ceviches in Playa. They cook in the style if Sinaloa, Mexico. This is a vey casual restaurant with benches and plastic tables but the focus is on the food. This is a low mid priced restaurant.
El Pirata is an old institution in Playa Del Carmen. It is a seafood restaurant that is always busy. This seafood restaurant is not gourmet but old school fried fish and beer type of place. It is not necessarily the most fancy but does have fresh fish and locals like it for the consistency. Go here for a casual local feel. Plastic chairs and sometimes live music. This is a mid priced restaurant.
El Oasis is a seafood taco and seafood restaurant on the highway. This is similar to La Floresta Restaurant so if you had to choose one, we recommend this one. There is a bigger menu at El Oasis and a slightly more cheerful and fun atmosphere in the open air restaurant. The food is decent with a local traditional way of making the seafood. Think fried shrimp tacos and fish in garlic and butter. That is the style of seafood here. This is a very casual restaurant. It has lower mid priced food.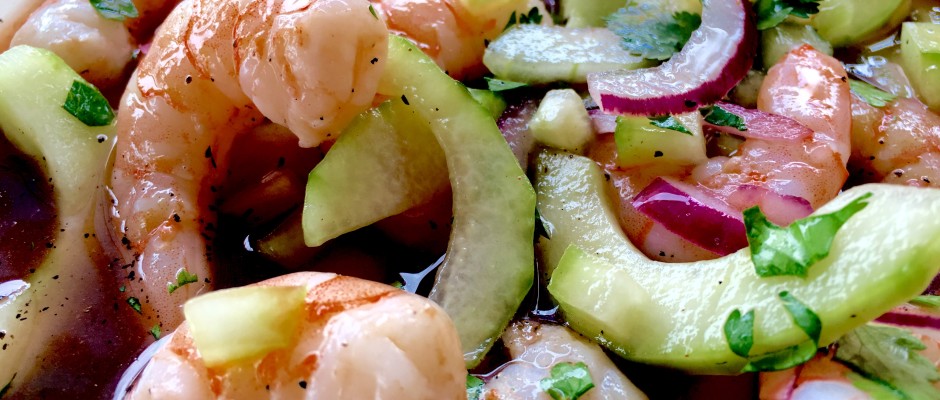 You might also like to read our article on just ceviche restaurants in Playa Del Carmen.
Do you have a favorite seafood restaurant in Playa Del Carmen? What do you think is the best seafood restaurant in Playa Del Carmen? Let us know in the comments below.