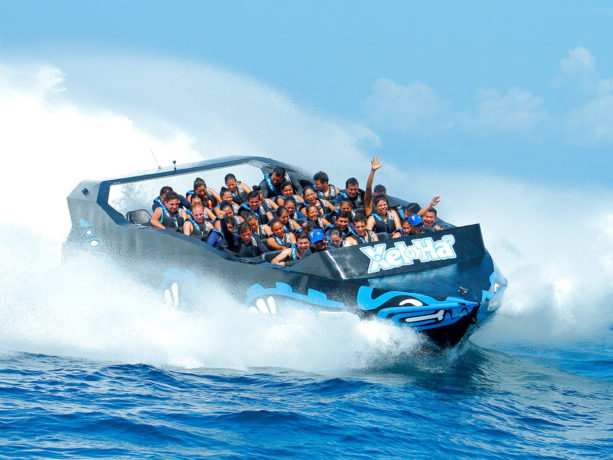 Xel Ha Speedboat Tour
If you are going to visit Xel Ha park you might be interested to hear about this optional activity you can participate in. This is the Xel Ha speedboat tour that just might be the adrenaline pumping activity you are looking for while on vacation!
Imagine taking off on a boat that has so much power you can push though the water and go at speeds of 90 kmh/56 mph. We thought that this was going to be a little nauseating (seasick) in the waves but it was not. It was pure power and you don't feel the waves, the boat is in control. You just have to hold and enjoy the ride!
This experience will take you speeding across the ocean and doing 360 degree turns. There is also what they call "immersion". This is where they have the front of the boat  go down into the water and a gush of water rushes over the boat and you. There is so much water it practically fills the boat, but don't worry, the boat is designed to drain the water out so you can do it all over again!
What is involved with this tour
The dock for the Adenalina boat is near the ocean entrance to Xel Ha water park. Here you will meet at your reserved time and get a safety briefing. After leaving things in a locker here, you will take off in the boat for the open ocean.
You will experience the speed, control and power of the Adenalina speedboat. The two captains that take you out will perform turns and the immersion technique.
The total time for this tour is about 30 minutes.
Two captains will take you out. There is space for 35 persons on the boat. There are timed spaces during the day that the speedboat goes out, so it is important to reserve.
Restrictions for this optional activity at Xel Ha
Since this boat is very powerful and you will be doing some vigorous turns and moves in the ocean, there are a few restrictions for who can go on this activity.
Minimum age of 12 and height of 4.6 ft.
Passengers under 15 must be accompanied by an adult on the boat.
Children 16 and 17 must have guardian sign release waiver at time of entry.
People that suffer from asthma, hypertension, epilepsy, diabetes, heart or back problems should not go on this optional activity.
Women that are pregnant or might be pregnant should also not go on this speedboat.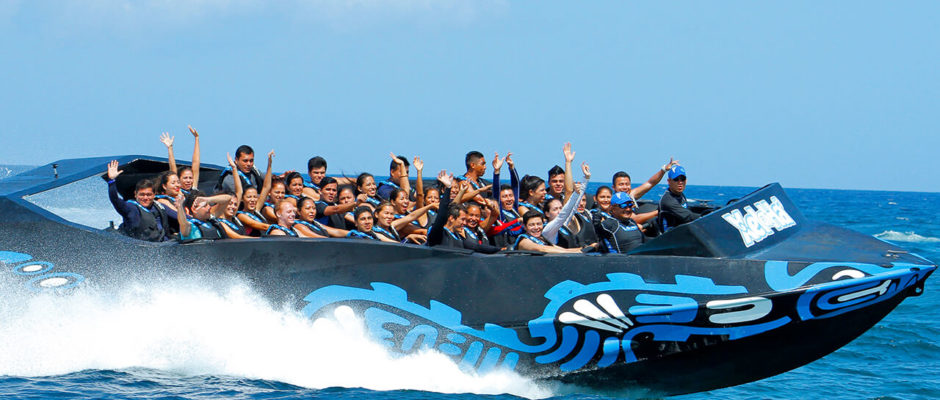 How to book this speedboat tour
You must first buy your ticket for entry to Xel Ha. You can do both by clicking the "Reserve Now" button below.
Since this speedboat tour has limited space and times per day, it is good to reserve ahead of time. You can also save both on your entrance to Xel Ha and this tour by booking more than 7 days in advance.
After you reserve, you will take your receipt with you to Xel Ha. After you enter the turnstiles to the park, you will see the desk for optional activities. Here you will show your receipt and they will give you a time and printed receipt for the boat.

We hope you get to try this optional activity if this interest you. If you are going to Xel Ha you might also want to read our article and see our video about another optional activity. It is the Zip-bikes at Xel Ha that go through the treetops on a cable.
Also be sure to see the new attraction at Xel Ha. There is the new observation tower and waterslides.
Have you been on the Adenalina speedboat at Xel Ha? What did you think? Let us know in the comments below.