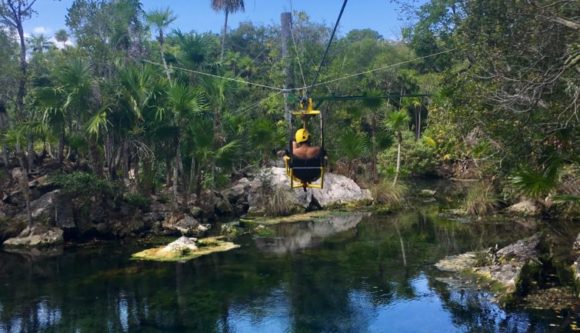 Try the Zip-Bikes at Xel Ha
Have you ever wondered what it is like to bike through the tree tops? This one of a kind activity in the Riviera Maya can only be found at Xel Ha park. This is the zip-bike optional activity at Xel Ha. We love this tour because it is a tranquil way to see the natural beauty of the area. We wish there were more of this cable systems with bikes in the area.
This tour takes about a half hour to do depending on your speed. It is a fairly easy track with gradual inclines and declines. One this route you go around a circuit of 500 meters. You are on average about 10-20 feet up, so it is not that scary but close enough to enjoy the landscape. This journey will bike through the trees, across a cenote and through a cave. You can see all of this in our video below.
Our video of this bike "tour" through the treetops of Xel Ha
Details about this bike tour
When you arrive at Xel Ha water park and pass through the turnstiles, you will see the optional activities desk. Here you will show your receipt and you can reserve a time that is best for you. The zip-bikes are open from 10:00am-4:30pm daily. They will give you a printed receipt reservation and you present it at the zip-bikes when you go.
There are lockers at the zip-bikes that are free to use while on the tour. You want to store any loose items you have. After you leave unwanted items in the lockers, you will get a briefing on how to use the bikes and what to expect on your tour.
If you have any difficulty on your tour, there are walkie talkies where you can radio for assistance.
Each bike keeps it distance and they space out the bikes so no one is rushed. Just sit back, peddle and enjoy the trip.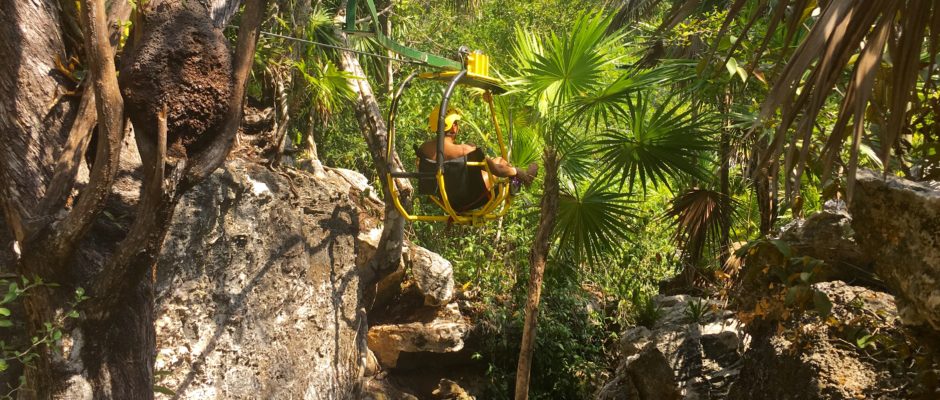 Restrictions for Zip-Bikes
Since this is an activity with some physical activity, here are the restrictions:
Children must be a minimum of 8 years old.
Minimum height of 4.5 Ft.
Maximum height allowed is 6.5 ft.
Maximum weight is 264 pounds.
Pregnant women, people with asthma, heart problems, vertigo, and back or knee problems are not allowed to participate in this activity.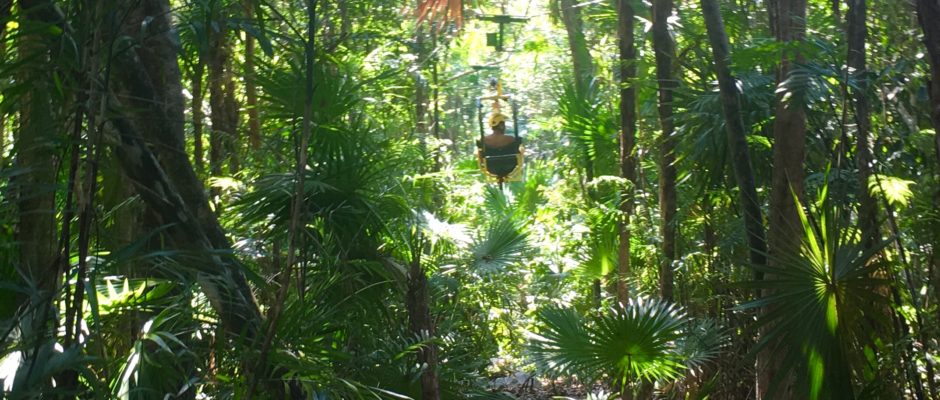 How to book this activity at Xel Ha
You can book this when you book your admission ticket to Xel Ha. the price is $35 USD but you can get a discount if you book in advance, so we suggest this. You can click the Book Now button below and it will take you to the official site so you can learn more and purchase this tour if you like.

We hope you enjoy this optional activity if you visit Xel Ha. We sure did! Another optional activity you can do at Xel Ha is the Adenalina speedboat. This is a powerful boat that does turns and will give you a thrill while on vacation.
You also can read more about Xcaret Parks in our other article on our site. We have an article on Xplor, Xcaret, Xenses, and Xochimilco.
Have you been on the zip-bikes at Xel Ha? What did you think? Let us know in the comments below. We would love to hear from you.