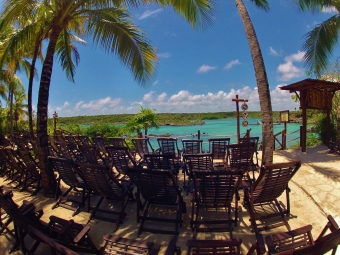 Xel Ha prices for entrance
Xel Ha is one of the most popular attractions in the Riviera Maya. The beautiful photos of Xel Ha and idea of swimming in the turquoise water with tropical fish convince many people to go there. So how much are Xel Ha prices, and can you afford it on your vacation? How can you get discounted tickets to Xel Ha? We tell you here.
Xel Ha prices for tickets include breakfast buffet and lunch buffet, open bar all day, snorkeling, equipment and lockers. Basically, all the things you need for your day are in the ticket price.
Here is a breakdown of Xel Ha Prices:
Note: These are the regular price but see below to see how you can get a discount.
Children under 5 get in for free (must have id for proof of children's age).
Children 5-11 years old are $44.00 USD. (Must have id for proof of children's age).
Adults $89.00 USD.
Not included in general admission are the optional activities. One of the fun things that we like to do a Xel Ha are the zip-bikes. On this activity your peddle bikes through the treetops on a suspended bike on a cable. You can read more about the Xel Ha zip-bikes here including our video.
How to get discounts on your tickets to Xel Ha
When you are on vacation you want to enjoy things and go on tours, but you also want to get the best deals.
The best way to save money on going to Xel Ha is buying your tickets online ahead of time. You can buy your tickets in advance and get:
10% off if you book 7-20 days in advance.
15% off if you book 21 days or more in advance.
So, if you book in advance of at least 21 days you can get an adult ticket for $75.65 USD. That means for a family of four with older children, you can save a total of $53.40 USD. That is a great savings on your trip to Xel Ha!
You will get the best price on your tickets if you click one of the links below.
Xel-Ha is the perfect spot to dive and snorkel among hundreds of tropical fish in a natural environment. Buy on-line now and get up to 15% off.

Is it good to buy your tickets in advance?
You might ask "What about the weather?". If you buy ticket in advance and the weather looks bad, what can you do? Well, you can change your date to use your ticket up to 24 hours before the before your visit. You can choose another day of your vacation or use the up to a year from the date of purchase.
So, you can go ahead and buy online and save money and not have to worry about the weather. The links on this page take you directly to Xel Ha site so you can save!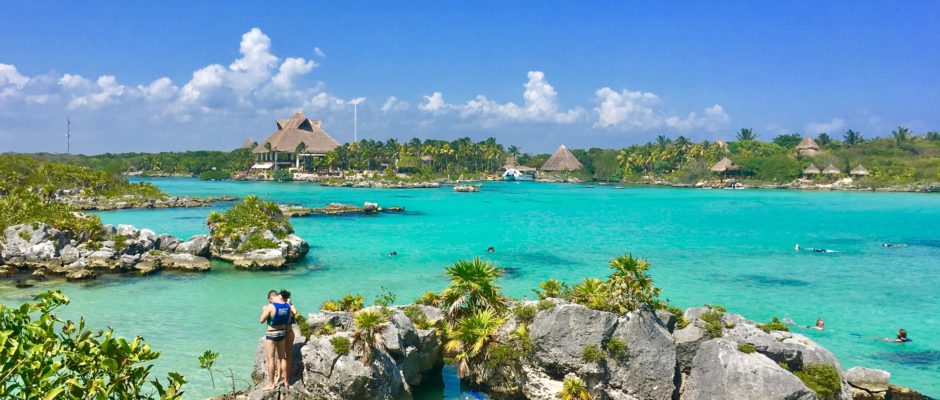 What is Xel Ha like?
Xel Ha water park is a large inlet that is connected to the Caribbean Sea. It is a snorkel park where you can enjoy an all day exploration of the natural beauty of the Riviera Maya. There is so much to see in this park, it will keep you occupied all day.
You can snorkel around, float in rafts, bike through the woods, walk the nature trails and just swing in a hammock if you like. There is also the new observation tower nd mega waterslides to enjoy!
For more about Xel Ha you can see our article on how to make the most of your day there.
Optional add-ons for your entrance price for Xel Ha
Besides spending the day at Xel Ha and doing the snorkeling and activities included in general admission, you can also take part in some exciting optional activities. The optional activities can range from thrill seeking to nature loving adventures.
One optional activity is the zip-bikes at Xel Ha. These are one of a kind bikes that go on a cable through the treetops. You will go on a circuit through the trees, across a cenote and in a cave. This gives you a great up close view of the natural area. You can read more about the zip-bikes and see our video here.
If you like speed and fun, you should check out the Adenalina speedboat. This 30-minute tour from Xel Ha will power you are the ocean and do 360 turns and speeds up to 56mph. You can read more about the Adenalina speedboat here.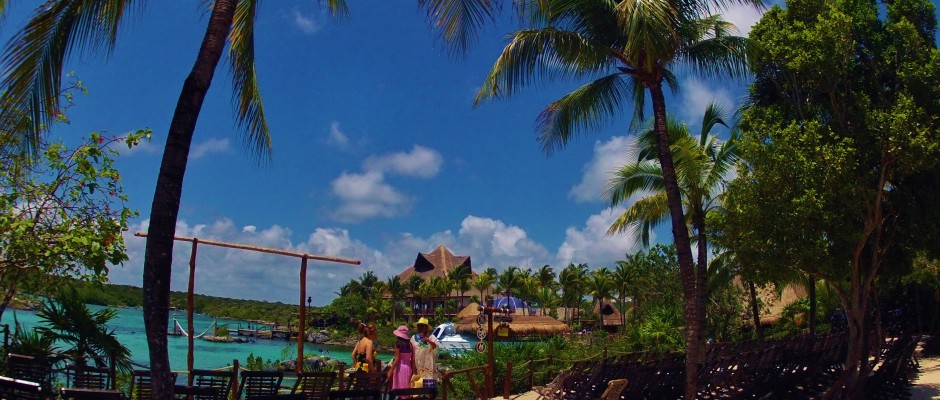 How is Xel Ha different from Xplor and Xcaret?
The three largest parks you can visit when coming to the Riviera Maya are Xcaret, Xplor and Xel Ha. They are all owned by the same company. Many people wonder what the difference is between the three and what is best for you. Here is a brief description of the other two parks.
What is Xcaret Park like?
Xcaret is the largest of the parks and highlights Mexican culture, history and the natural beauty of the area. This park is for all ages and the best one for families with young children.
In Xcaret you can tour a Mexican Hacienda, go up in a rotating tower, visit a recreated Mayan village and see examples of ancient Mayan temples.
For animals you can see many types of colorful birds, jaguars, an aquarium, and animal enclosures with tapirs, monkeys, deer, jaguars, sharks, and sea turtles. In addition to the afore mentioned animals there is also a butterfly enclose you can walk through and a bird aviary.
Xcaret is a beach front park and there are places to swim and relax on the beach. There are also three underground rivers that wind through the park that you can swim in.
During the day there are small shows throughout the park for you to enjoy. At the end of the day there is a grand show in a huge theater. This show is two hours long and highlights traditional dances from around Mexico and tells some of the history of the area.
For more about Xcaret Park you can read our article here. You can also read our article about Xel Ha vs Xcaret where we go into further comparison of the parks.
What is Xplor Park like?
Xplor is an active park with zip lines, swimming and driving jeeps in the jungle. This park is for active people. You will be walking, climbing ladders and having fun outside at this park. This park is open during the day from about 9:00am-6:00pm.
Xplor is not really good for young children because there are height restrictions for children. This park is good for older adults along as you are able to participate in the activities.
Conclusion
We hope you get to enjoy one of these parks when on vacation in the Riviera Maya. We have been many times to each one and enjoy all of them very much. Make sure you take advantage of buying tickets online so you can save up to 15% off your family's trip.
For more on Xplor see our article here.