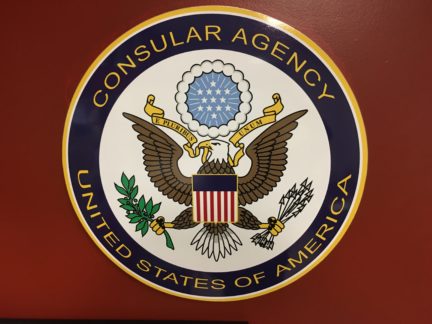 What services are offered at the United States Consular Agency? What do they do for tourist and US citizens that live in Mexico? We sat down with the new consular agent to get these and many more questions answered.
Have you ever wondered what you do when you loose a passport or get in trouble as an American traveling in another country? Most people contact the Embassy but if you are in Playa Del Carmen or the Rivera Maya the United States Embassy is located all the way in Mexico City. It is good to know about the United States Consular Agency right here in Playa Del Carmen. We went to ask them questions about what services they offer for both U.S. citizens living in Mexico and what they do for U.S. citizens traveling in Mexico. There are many important services they perform and it is good to know what they can and cannot do so if you do have a problem you can be prepared.
What is the U.S. Consular Agency?
Many people know that an embassy is a diplomatic office in another country and represents the interest of the country and it's citizens. But what is a consular agency and how does this work with the embassy? Well here is the hierarchy of diplomatic offices and services to U.S. citizens in foreign countries. Here is a simple diagram to explain it:
Embassies. This is the main office  in the country and oversees major diplomatic issues. The head of an embassy is the ambassador. Embassies oversee:
Consulates. These are located in large tourist destinations in a country in areas away from the embassy and oversee minor diplomatic issues like visas, and taking care of issues with tourist and expatriates. The head of a consulate is a consul. Under a consulate are:
Consular Agencies. These are small offices that oversee a certain area providing limited services to tourist of their country and citizens living abroad. The head of the consular agency is called the consular agent. This is what we have in Playa Del Carmen.
The United States Embassy is in Mexico City and our closest consulate is in Merida, Yucatan. Fun fact: The consulate in Merida just happens to be the third busiest in Mexico.
The U.S. Consular Agency in Playa Del Carmen oversees the area from Puerto Morelos to Tulum.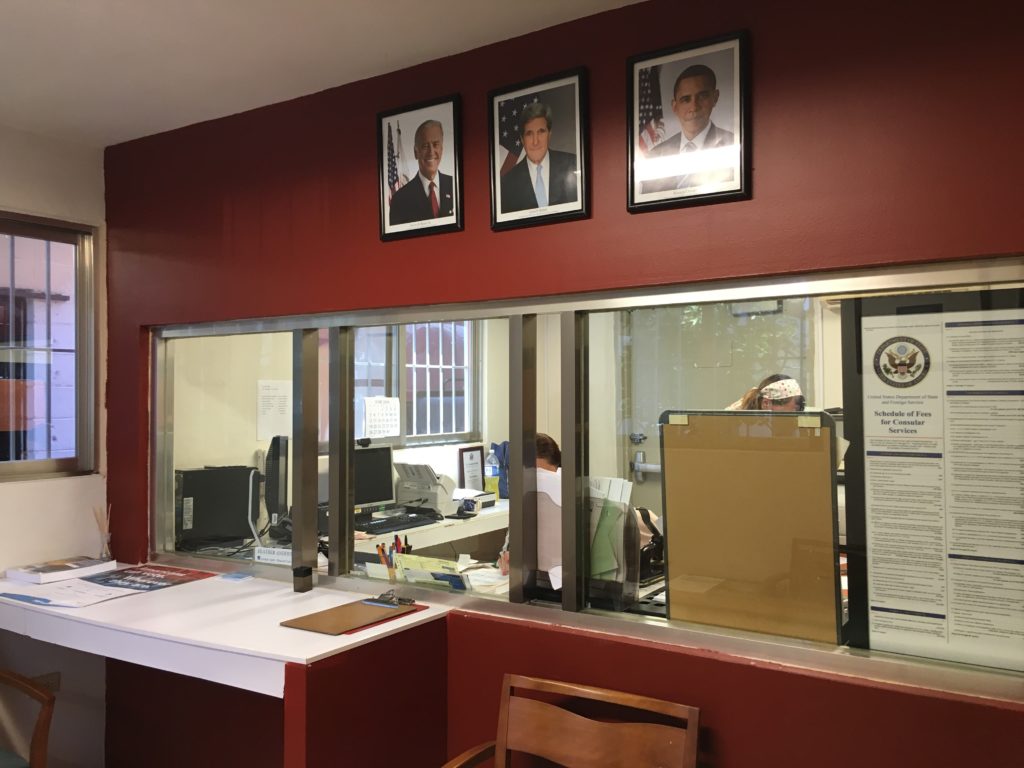 What services do they perform for tourist?
With 3.5 million tourist coming to the Rivera Maya there are times when people run into trouble  or create trouble themselves. What can the U.S Consular Agency do for you? Here are several situations.
What to do when you loose your passport?
Oh no! How are you going to get home? Well the U.S. Consular Agency is to the rescue and can get you a temporary 3 month temporary passport so you can leave the country and replace the one that you lost.
Huge tip!!! Many people traveling will leave their passports at the Cancun Airport upon entry. What? How does that happen? Well when you arrive you have to have it out and you are excited to be in Mexico. There is a lot going on and you can easily set it down and leave it there. The security department collects these and  sends an email to the U.S. Consular Agency to report a list of U.S. passports found. Many people don't notice they have lost their passports until they are going back to the airport. If you have lost your passport here is what you can do if you think you might have left it at the airport:
Call the security department at the Cancun Airport (not lost and found since this is considered a valuable object). You should expect to speak Spanish and ask about lost passports. If you do not want to call or don't speak Spanish you can:
Contact the U.S Consular Agency and ask for help in both calling the airport if you think you might of lost it there or if somewhere else they can work on getting you a temporary one to leave the country.
You got drunk and put in jail
Silly you! You got a little out of had and were out on the street drunk. Hopefully you did not get in a fight or hurt anything or anyone. If the police need to remove you from the street, they will take you to the "drunk tank" and let you wear off the liquor. An email will be sent to the U.S Consular Agency noting that an American was detained and released due to drunken behavior in public. Usually if it is minor, you will be fined about 1,500-2000 pesos and then released.
The U.S. Consular Agency only gets an email because usually by the time they come in for work you have been released from your drunken evening. Only if there are serious incidents after the fact you got drunk, will the U.S. Consular Agency contact you and give you options of who you may contact. They can only give advice and offer contacts to you. You should be thankful and listen to their options because they are just looking out for you.
A person is destitute and needs to get home
There are two circumstances where this happens.
The most likely is an American is traveling and losses their money or it is stolen. They are not able to get back home. The U.S. Consular Agency will go through steps of questions to ask about options and if all options are exhausted, they can set up a loan that is to be repaid upon reentry of the United States. Note: This is a loan, not free money to travel.
The other situation this happens is someone has been living kind of off the grid and basically homeless but is an American citizen. The U.S. Consular Agency will work with that person to secure a loan for them to return to the United States.
An American dies while on vacation
It is bad to think about but with millions of Americans traveling each year to Mexico it does happen. Many times of a natural cause. On that dark day the U.S. Consular Agency  is there to give contacts and details of how to return home with your loved one. Here is a list of what they can do and cannot do for you.
What the U.S. Consular Agency can do for you
Provide you with a list of funeral homes.
Assist with the arrangement for disposition of the deceased and forwarding personal effects.
Will work on the paperwork for the shipment of the remains.
Issue a report of death abroad (RODA) at no expense.
What the U.S. Consular Agency cannot do
Cover any of the expenses.
What is the process if an American dies abroad?
Fill out the personal data of the deceased.
Select funeral home (make sure you get prices and agree to payment options before hand).
Decide on embalming or cremation and if the remains are going to the United States or buried locally.
The local funeral home in Mexico can only start after you give notarized authorization.
An American is arrested in Mexico
This would be a nightmare situation to most to think about happening when outside the United States. There is a process to how the system works in Mexico. This is the procedure and below this is how the U.S. Consular Agency can help.
What happens when you are arrested in Mexico
When traveling in Mexico you are subject to the laws of Mexico which are sometimes very different than those in the United States. All three types of police in Mexico can arrest you, Federal Police, State Police, and local Police. Here is the process.
You are presumed guilty until proven innocent.
If it is determined that an offense has been committed the case will be turned over to an MP (district attorney).
The MP conducts a preliminary investigation to determine whether the case can be prosecuted.
If it can be prosecuted it will be turned over to a judge.
There are 48 hours (excluding weekends and holidays) to gather and present evidence to a Judge.
The Judge has 72 hours to decide if there is enough evidence to bring the case to trial.
If the case goes to trial the arrestee will stay in prison up until the trial.
A person that does not speak Spanish is entitled to a Mexican government interpreter.
Cases can move slow and the Judge has up to one year to make a verdict.
What can the U.S. Consular Agency do in case of arrest?
A Consular Agent will visit you.
Inform you that you can have public representation if you cannot pay.
Give you a list of public attorney or contact one for you.
Contact friends of family on your behalf and relay requests for financial aid.
Make sure you are being treated humanely and your rights are observed.
Protest on your behalf if you are mistreated.
Maintain a trust account if you want one.
What can they not do for you if you are arrested?
They cannot represent you during trial or give legal advice.
They cannot pay legal fees or fines.
Cannot intervene with the process of law in Mexico.
Cannot provide medical treatment for the prisoner.
Cannot run errands for a prisoner.
What happens if you are in the hospital in Mexico unexpectedly?
There is a lot that you can do to plan for a situation in the event you need to go to the hospital in Mexico. Here are some things to think about:
Medicare will not cover you in Mexico.
Private insurance may or may not cover you while traveling. Some plans will reimburse you for your expenses outside the United States.
For a major situation you might consider a medevac to fly back to the United States.
For admission to hospitals in Mexico they will request your credit cards.
If your card does have a spending limit you can call and ask for a spending increase.
Check travel insurance options before traveling.
The U.S government is not able to pay for medical expenses for citizens outside the United States.
There are basic hospitals in Mexico that are for the public and are cheaper but often their services are limited.
If you decide to medevac back to the United States and have coverage, make sure you understand exclusions.
Recommendation: It is good to have travel insurance when you travel because for example, Mexico has for profit hospitals and will require payment methods upfront. This can be hard to do or think about in an emergency. Only in cases of a life threatening condition are the hospitals in Mexico not allowed to refuse you or treat you. It is also good to know your insurance telephone numbers and know if they are available on the weekends. You will need to contact them in case you go to the hospital and you want access to them preferably 24 hours a day.
Hopefully you will never be in this situation but it is good to be prepared for things just incase.
A sexual assault occurs
If a sexual assault occurs the Mexican police are not obligated to contact the U.S. Consular Agency because it is considered a personal matter and the decision of the victim. It can be good if you are a victim of a sexual assault to contact the U.S. Consular Agency to get information and recommended contacts for you to receive help.
Travel Smart with S.T.E.P
The above are all services for tourist that come from the United States but there is one thing you can do before you arrive that can help you. The STEP program (Smart Traveler Enrolment Program) is a free service of the U.S. government that alerts citizens traveling of natural disasters, can communicate emergency messages from family or let you know of unrest in the area of the world you go. You can go to this website: https://step.state.gov/step/ and enroll here. The STEP program works with local consular agencies to communicate with you in the case of emergency.
For example if there is a hurricane coming toward the Rivera Maya you can get updated information in English or your lost passport shows up at their office they can get information to you easily. The U.S. Consular Agency already works with hotel registration programs to know where guest are and how many Americans are in the area in case of an emergency. Most hotels submit this information, but not all so registering is a good idea. It helps the consular agency help you in case of emergencies.
What services do they perform for U.S. residents?
There are the above services for U.S. citizens living in Mexico mentioned above. In addition to that there are:
Notary services
In the United States this is an easy thing to get documents notarized but the only way you can get them legally done in Mexico is by going to the United States Consular Agency. The cost is high but the alternatives to flying back to the United States are even more expensive. The price is $50 USD for each signature. But here is a nice tip: the U.S. Consular Agency will instruct you how to arrange your document so you need as little as one signature and you will only have to pay for one notary service.
Passport Renewals
As an American living outside the United States you can get your passports renewed here. This is a nice service and often will be much faster then if you actually were in the United States and tried to renew your passport.
Assisting with consumer complaints
Mexico does have an agency that handles consumer complaints called Profeco. The U.S. Consular Agency will point you in the right direction to help you with your complaints.
A Mexican citizen living in the United States but is in Mexican
Some Mexican citizens live in the United States with a Green Card. If they travel to Mexico, they do not need a passport because they are Mexican. But if they loose their Green Card and need to return to the United States what do they do? Well the U.S. Consular Agency advices them that they need to cross by land back to the United States and are not able to fly into the United States since they have lost their visa. It is an inconvenience but they do give them then facts and how to gain re-entry.
What is the Emergency number in case you need to contact the U.S. Consular Agency?
This number is good 24 hours a day and they will direct you to the right department and person.
52-999-942-5700
For making appointment at the Playa Del Carmen U.S. Consular Agency
You can contact them via email for an appointment here: [email protected]
Official website for the U.S. Embassy in Mexico
This is the official website of the United States Embassy in Mexico and from this website there are links to the consulates and consular agencies in parts of Mexico.
What are the hours of the U.S Consular Agency?
They have public hours which are 9:00am-1:00pm Monday-Friday. If you have a problem it is best to make an appointment since often. They work many more hours then just the public hour and even during the day they can be called out of the office so it is best to make an appointment.
Who is the U.S Consular Agent?
Meet Heather Andersen. She is the new U.S. Consular Agent for Playa Del Carmen. She is the head of the United States Consular Agency and has one assistant, the two of them run the small office here. Heather Anderson has been a longtime resident of Playa Del Carmen and knows the ins and outs and knows many residents here. We know we are in very good hands having here at the helm.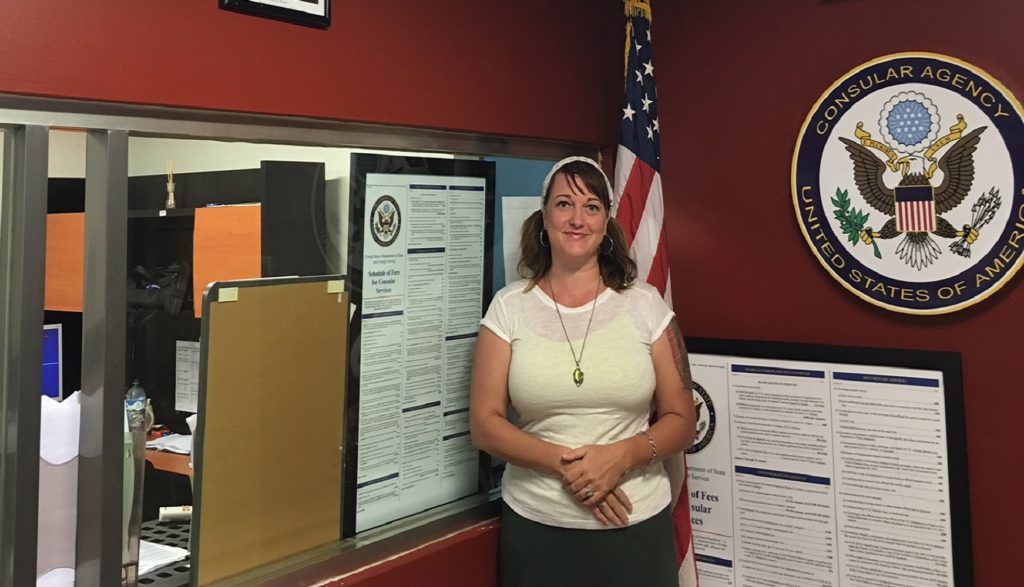 Where is the United States Consular Agency?
The United States Consular Agency is located in Plaza Progreso, Local 33 Carretera Federal Puerto Juarez-Chetumal, Mz. 293 Lt. 1. Playa del Carmen, Quintana Roo C.P. 77710. Note: This is a new location!