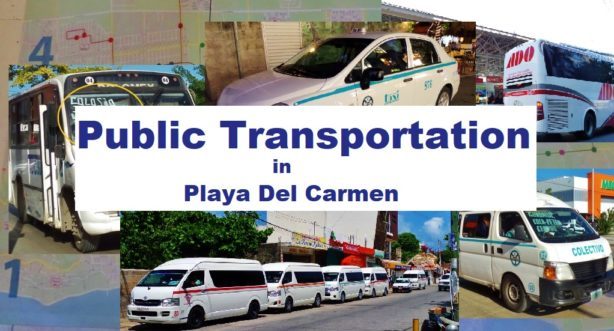 Public transportation in Playa Del Carmen
If you are coming to the area and want to get around this is our guide to public transportation in Playa Del Carmen. For tourists, most of the time you will be taking taxis, ADO bus and maybe a colectivo. We will also talk about local busses and ways to get from the Cancun Airport to Playa Del Carmen in this guide as well. Lets start with public buses in Playa Del Carmen.
Public transportation buses in Playa Del Carmen
If you are tourist coming to stay in Playa Del Carmen most of you will not use the public buses. This is because this form of pubic transportation is more for the local residential neighborhoods and are not areas where tourists stay (see our guide on where to stay in Playa Del Carmen).
Public buses in Playa Del Carmen look like the two below. The closest routes to the center of Playa are on 30th Avenue then they pass for outer laying neighborhoods. Buses move slowly through the city. For most people that can afford a taxi, that is a better option. Getting to one of the outer ring roads for example can take 25 minute by public bus compared to 8 minutes by Taxi. So time vs cost often does not favor public transportation.
There are no good public transportation maps in Playa Del Carmen. Even though it is called public transportation it is not the most user friendly. Most buses just write on the windshield where they end up. Locals just learn the bus system over time.
For more on taking public buses in Playa Del Carmen see our guide here.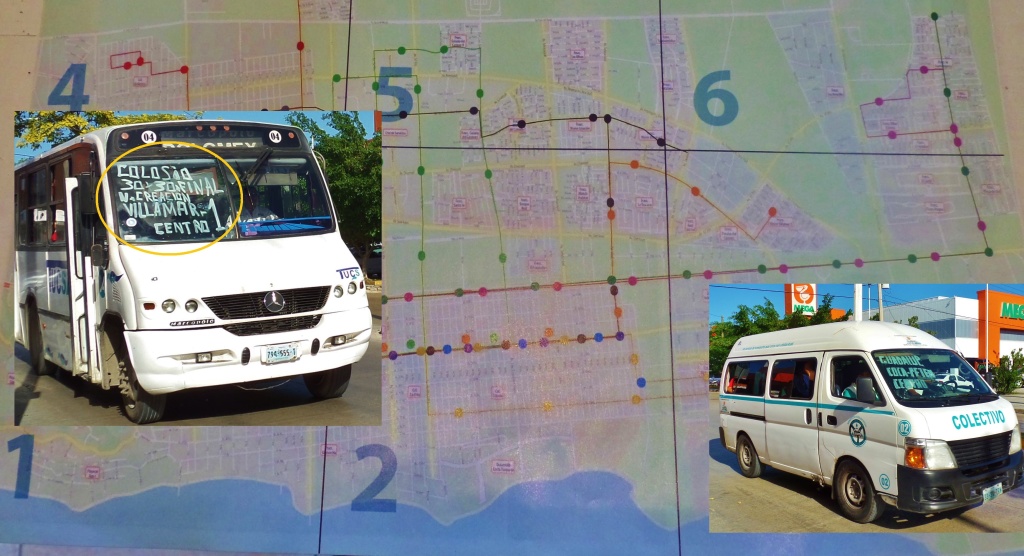 Taxis in Playa Del Carmen
Taxis in Playa Del Carmen are numerous and fairly easy to catch. The taxis are not metered in Playa Del Carmen but rather prices by zones. Most taxi rides will cost between 35-90 pesos in town. It is fairly common to hear complaints about being overcharged, so if you are coming to Playa Del Carmen and plan on taking a taxi, see our complete guide here.
In the guide you will find tips about where and how to hail a cab, price chart, prices for outside Playa, and information on taxi stands. Taxis are one of the most common public transportation options in Playa Del Carmen for visitors because they are convenient.
Most drivers speak a little English but don't expect it. Also try to carry small bills and coins for payment as getting change can be hard. Often having close to the payment is up to the customer in Mexico.


What taxis look like in Playa Del Carmen
Colectivos going from Playa Del Carmen to Tulum or Cancun
Colectivos are a shared minivan that are meant for fast public transportation between Playa Del Carmen and other points along the coast. The colectivos only go on the highway and will stop at any point people want to get on or off. There are two routes of colectivos from Playa Del Carmen that provide public transportation. One route is from Playa Del Carmen to Tulum and the other is from Playa Del Carmen to Cancun. You cannot get a colectivo from points north of Playa to southern points without changing colectivos in Playa.
Colectivos cost around 25-50 pesos for all destinations for a single journey.
Note: the location of the colectivos has changed. For more about colectivos, see our large article here.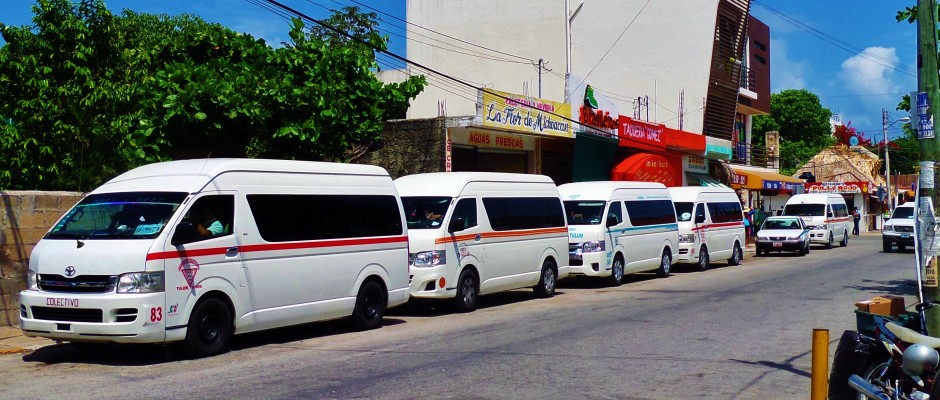 What is this public transportation not good for?
Colectivos are not for people traveling with luggage, large groups or door to door service. These are meant as rapid transportation with people hopping on and off. The colectivos are not good for people traveling with suitcases or large items since there is no real storage in the van and they are not meant to stop and wait for people to unload or load in packages.
Since these vans pick up people along the highway, there are often only a few seats only on available on colectivos. So if you are a group for example visiting a cenote or somewhere, don't expect the colectivo to pick everyone up. You will either have to ride in multiple colectivos or take a taxi or rental vehicle.
Many people ask us about public transportation from resorts to places along the coast. Most all inclusive resorts are far from the highway and not very accessible to the colectivos. See on a map how far your resort is from the highway and then think about walking it. A taxi in many cases is a better option, albeit more expensive. Many resorts are 1 km to the highway and some resorts don't allow guest to walk on their drive, making them take a taxi to the highway.
ADO Busses to other cities and towns
The main bus company that connects cities and towns in the Riviera Maya and Yucatan Peninsula is ADO. They have two bus stations in Playa Del Carmen. Each bus station is fairly new and efficient. The buses are newer, comfortable, clean and with air conditioning.
There are second class buses that go slower and connect more small towns. These are usually never used by tourists. Mayab is one company you will see as a second class bus.
Bus tickets are very affordable as well and this is a great way for independent travelers to get around.
Note: It is required for tourist to have Identification and their tourist card with them while traveling. Immigration stops can happen while taking the bus. People can be held if they are not carrying the correct documents (not copies).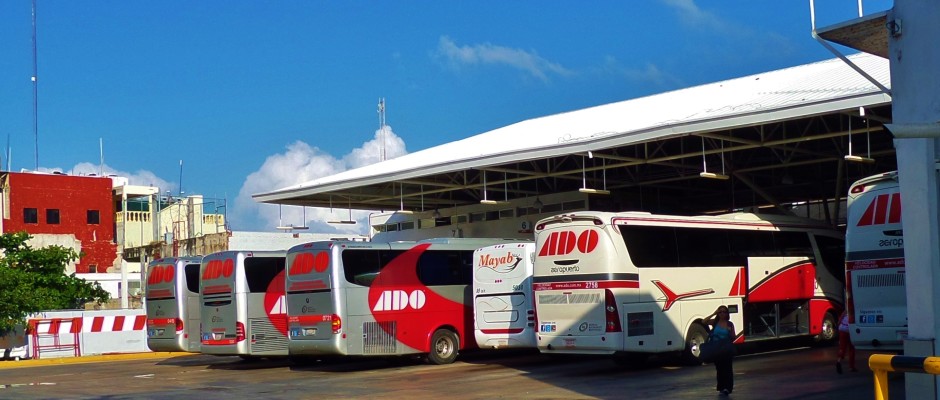 Booking tickets with ADO buses
The ADO website is in Spanish only and usually only accepts Mexican credit cards for booking. So the website is more for looking up the schedules. Going to the stations is recommended for buying your tickets. For most journeys you can purchase the same day but some routes are better a day or more before especially if you want a certain hour of departure.
Bus tickets to Cancun or Tulum are very easy to get and there are buses almost every 30 minutes. For Cancun Airport see the section below for booking advice.
The busiest times of the year for bus travel are around Christmas and New Years and Easter week or what is called Semana Santa. If you are traveling during these times it is good to book a week in advance for journeys outside of the Riviera Maya.
Public transportation from the Cancun Airport to Playa Del Carmen
If you are arriving at the Cancun Airport and looking for public transportation to Playa Del Carmen there is one option, the ADO bus. These buses leave from all 4 terminals of the airport. They leave about every 30 minutes (check here for the schedule of the bus). The ADO bus arrives in Playa Del Carmen at the Juarez Avenue and 5th Avenue station. It takes about one hour. The only stop along the way is on the highway at Puerto Morelos if requested. If you are staying at a resort along the coast or not near the bus station, it can be better to take a private transfer. See below for more information about this.
For more information on taking the ADO public transportation option from the Cancun Airport see our article here.
Transportation from the Cancun Airport to Playa Del Carmen
If you do not want to take the ADO bus you have a few more options from the Cancun Airport to Playa Del Carmen. There is no Uber service in the Riviera Maya, so that is not one of the options. Taxis from the airport are expensive and use smaller cars. Plus there is not set fare and no discounts for round trip service. So we don't recommend taking a taxi.
We do recommend private transportation that will be waiting for you at the airport. A bilingual driver will take you directly to your hotel or wherever you are staying. It is a great service that our readers have really enjoyed. You can book below on their official website. Just click the reserve now button.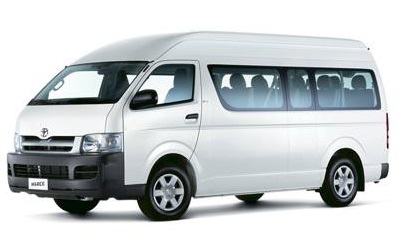 If this guide was helpful, see our full list of Playa Del Carmen Guides for your next time here.
Thank you for reading our article about Playa Del Carmen public transportation. Let us know if you have any questions or comments in the section below.