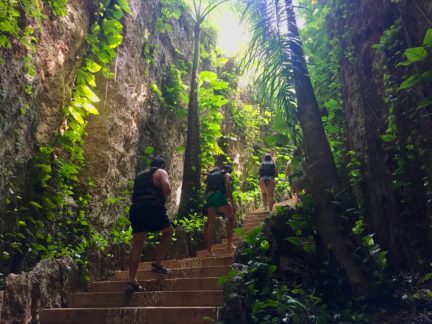 Xenotes Park
Xenotes Park is one of Xcaret's projects. All of their parks are well done and worth visiting. So what is Xenotes like? We set out to visit and experience it so we could tell you.
Of all the parks that Xcaret has, this is the most natural and remote parks. You will really feel like you are off in the jungle enjoying nature. Xenotes is a small scale park with small groups that visit. If you are looking for some adventure and water activities, this park might just be what you are looking for.
Our video of what a day at Xenotes is like
What to expect on your day at Xenotes
Your tour day will begin with a pick up from your hotel or meeting point. You will then be transported to Puerto Morelos, which is between Playa Del Carmen and Cancun. Then you will go inland to the more junglely area that is famous for cenotes.
This tours takes you off road onto dirt roads that go into the Mexican jungle. Once you arrive your first cenote you will have a chance to go to the bathroom and gear up for whatever cenote you start with. Since there are different small groups that arrive at the park you will start at different places so everyone is spread out. This way it is more of a personal experience enjoying nature and the cenotes.
Expect a full day between transportation and activities here. You will be zip lining and more all in this natural setting.
Snack and meal
A snack is provided after your visit to the first cenote and a picnic style lunch is provided later in the day. The snack consist of Mexican sweet breads and hot beverages. Lunch is make your own sandwiches from a buffet style picnic selection of ingredients. A nice touch at lunch is beer or wine is also offered.
The four cenotes at Xenotes Park
Here is a basic description of the four cenotes you visit. Each one is names with a Mayan name. Aluxes or (Alux) are local legendary creatures like gnomes that live in the forest.
Open Cenote

Protected by the K'áak ' Alux (Fire), this is where you can enjoy a relaxing time.

Closed or Cavern Cenote

Lu'um (Earth) is the guardian Alux of this cenote, in which you descend by assisted rappel.

Semi Open Cenote

Its guardian is the Ha' Alux (Water) and here you can swim and kayak.

Ancient Cenote

In this cenote, cared by the Iik' Alux (Wind), you can fly over the water on fun zip-lines.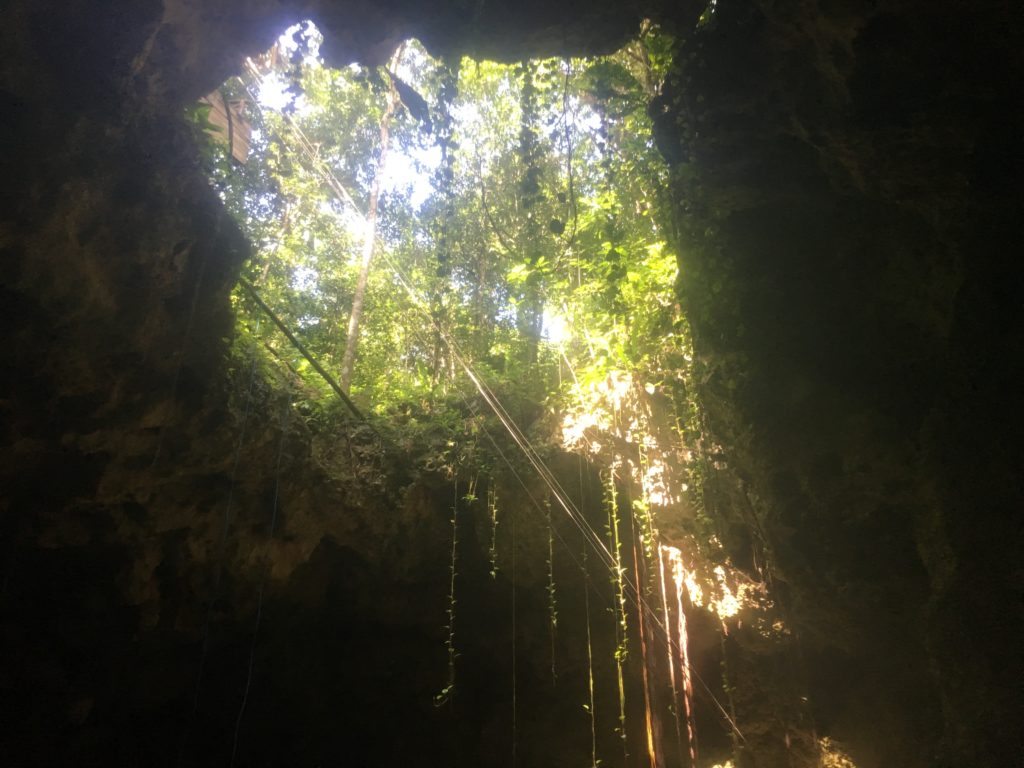 How to buy tickets for Xenotes
It is best to buy your tickets online and ahead of time. This is the only way you can score a discounted ticket price. By clicking the link below you will go directly to the official booking site.
Prices for adults are regularly $119 USD but if you buy online and in advance you can save up to 15% off this! You can see the details below if you click the link. Children age 6 to 11 are 50% off adult prices.

Click below to book at the official site for Xenotes
Book Tour Xenotes Oasis Maya visit four different cenotes and enjoy fun activities like Kayak, Zip-line, Rappel and Snorkel. Save 15% online presale.
What is included in your admission to Xenotes
Round trip transportation from your hotel or meeting point.
Specialized bilingual guide during the tour of the park.
Visit to four different types of cenotes.
Activities such as assisted rappelling, zip-lining, kayaking and swimming.
Bottled water, coffee, chocolate, Mexican sweet bread and seasonal fruits after the first cenote (snack time).
Picnic at lunchtime vegetable soup, premium quality cold cuts and cheese bar, variety of artisan bread, dressings, salads and drinks (fruit flavored water, wine and beer).
Equipment: life vest, rappel equipment, and kayak.
Restrooms, dressing rooms and two towels.
What to bring for this tour
We recommend aqua socks or similar footwear. Flip flops can easily fall off and get lost. Sneakers can be worn but they will get completely wet. Walking barefoot is not the best option because you will be walking on nature trails between cenotes.
Don't wear lotions and sun creams. Most sun creams contain chemicals that are dangerous for the water of cenotes. You will need to rinse off anyways before going into the first cenote. Most of the area is shaded so you are not in full sun all day anyways.
A change of clothes is good to bring. Swimsuits for the day are good since you will be getting in and out of the water.
A waterproof camera with strap. Handheld are not allowed since they can fall and you need your hands for activities. Since it is very difficult to take photos during your day at Xenotes they do offer photo packages and they take the photos for you.
What other types of places are there to visit like this?
Xenotes Park is run by Xcaret group. They own Xcaret Park, Xenses, Xoximilco, Xplor and Xel Ha. All of their parks are well planned out and beautifully designed. Here is a brief overview of what the other parks are like. If you want to visit more then one, you can save on combo tickets online here.
Xcaret Park
This is the grand daddy of the parks in the Riviera Maya. It is a full day of exploring this well designed park. There are shows, animals, swimming, an aquarium and many recreations of Mexican culture to visit. See our article here about what Xcaret is like.
Xenses
This is a half day park which is a treat for your senses. We describe this as a science museum you can interact with. There are many activities you can do at Xenses. Younger children especially enjoy this park. See our video and article on Xenses here for more information.
Xoximilco
This is a dinner experience in traditional Mexican fashion. There is one time per evening when you can go on special boats through canals. This park was designed after the original area in Mexico city. Here you have dinner and are entertained in Mexican fashion. See our video and article here about Xoximilco.
Xplor
This is the adventure lover park. There are the best zip lines in the Riviera Maya, underground rivers to swim and paddle through and jeep driving in the jungle. This is an all day park with food included. To read more about Xplor and what a day is like there, see our article here.
Xel Ha
Xel Ha is all about snorkeling and swimming in a large inlet. There are tubes for floating and many areas to explore. Xel Ha is complete with tropical fish and other animals to see. This is a full day park will all food and drink included. See our video and article to learn more about this park.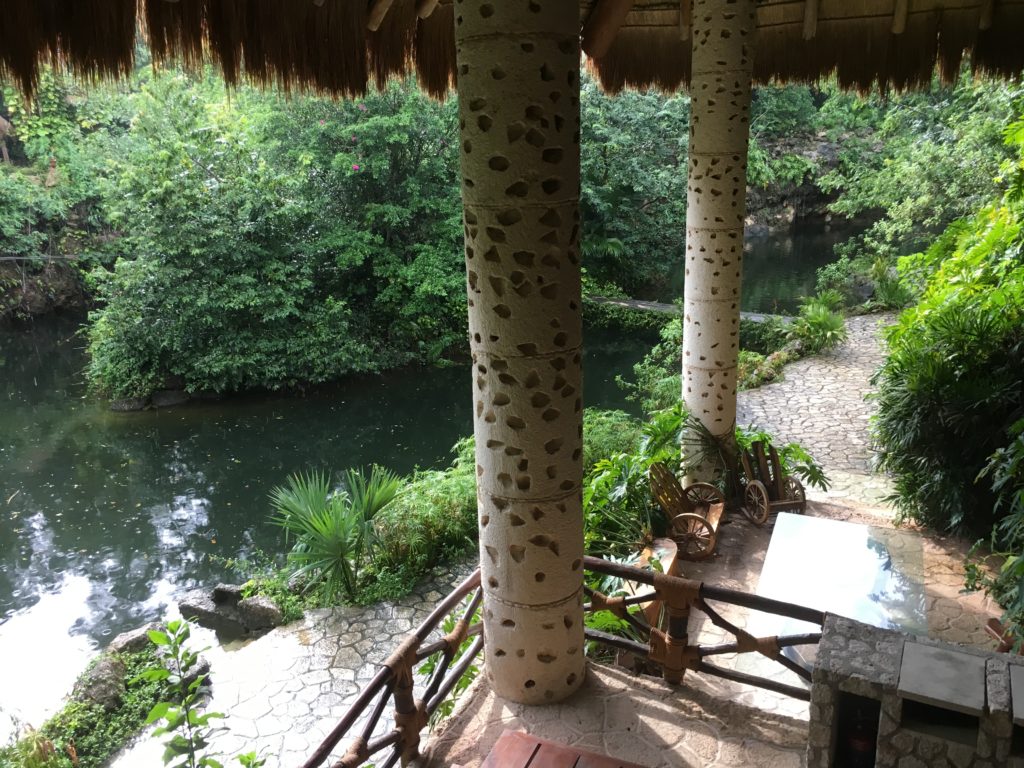 Have you been to Xenotes? What did you think? Let us know in the comments below. We would love to hear from you.