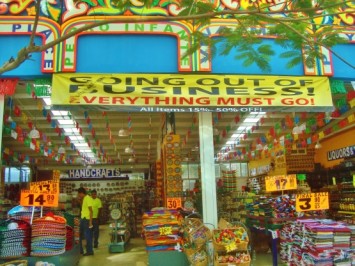 No one likes to be taken in by some deal that is not the best. When you are on vacation you surly want to get the best deals on things and not fall into a tourist trap or scam. Here are some common tourist traps in Playa Del Carmen you can be on the look out for. In general there are not really bad scams but we want you to have the best time and feel good about visiting. Reading this will avoid some scams and not so good deals.
Tourist traps and scams in Playa Del Carmen
What is a tourist trap? It is a place that offers you something and traps you into thinking you are getting a good deal. A place that targets tourist and traps you into the idea that you are getting something authentic when it is not.
We are making a list of the top tourist traps in Playa Del Carmen so you can avoid them and be smart like a local. The good thing is there are not a lot of tourist traps in Playa Del Carmen but there are a few we just wanted to tell you about.

The old going out of business sale
This deceptive advertising is used all over the world. It makes you think that they are closing and you can score some good deals. Just look at this sign here: Everything must go! All items 15%-50% off. Maybe they think you will fall for it consciously or subconsciously. But the reality is nothing is on sale, sorry just normal prices.
The funny thing about this business on 5th Avenue and 38th Street, it just opened three months before this sign went up and now we are to believe it is closing! I don't think so!
So when walking around, don't gravitate toward the going out of business signs, just stores you want to go in. Plus, don't buy because it is "on sale" buy because you like it or want to give it to someone.
Be sure to read our article about timeshares and vacation clubs and scams involved targeting owners!!
Many people know that timeshares and vacation clubs are tricky investments with many things you need to look at. The link to the article above will give you many great tips. There are also direct scams targeting owners of timeshares and vacation clubs you need to know about!

Come to my store, just to look
This photo is the very first stretch of 5th Avenue. It starts from the Cozumel ferry street 9Calle 3 Sur) to Calle 1 Sur. This one block area of 5th is almost 100% cheap tourist stuff. Most of the stores have men out front that try to get your attention. They come up with some pretty creative way to get your attention. We have heard it all!
"You are a lucky man" When a couple is walking down the street.
"Where are you from?" "I have a family there" Of course! Just a tactic to get common ground with you and start a conversation.
"Recognize me? I am the waiter at your hotel" if you ask them what hotel they will say something like "Grand" or "Royal" and then you say "No I am at the Rui Palace" then they will say something like "Yes Royal Palace!" They are not your waiter but try to get your attention and also gain your trust.
Remember too that most guest staying at all inclusive resorts will be wearing a colored wrist band. These guys know a lot of the colors and look of each resort wrist band. They have all day long to practice their skills to get you in their store.
It is harmless fun but lets hope they do not get too aggressive. There are a lot of other lines too, but the "I am your waiter" gets most people.
These guys are not only in this area but in several areas along 5th Avenue. This area is just more concentrated. Just have fun with them and laugh. They have long work days and might just need someone to laugh along with them.
They do this to get you in their shops and they try to sell to you. Most of these places have the same things, so unless you see something you want, shop around. Remember you are in control of where you want to go and where you want to spend your money. Don't let people make you feel bad for now stopping. You don't have to waist time on your vacation looking around these tourist traps.
The 2×1 drink special
This might seem like a good deal. It is happy hour-ish and you are getting lazy after walking around 5th Avenue for part of the day. Restaurants and bars often offer deals to get customers in the seats everywhere in the world. The thing you have to think about is if it is really a good deal? It depends in part how much the original price is. If the normal price is 200 pesos or about there, that means the 2×1 drinks are 100 pesos each. That is not a great deal because a cheap bottle of tequila will cost 200 pesos.
These drinks are often less of an alcohol pour and more mixers, so the quality of these specials is often lacking.
Restaurant people in the street will often watch you looking at the menu and then entice you to stay with a 2×1 offer that is not posted. Sometimes this special offer gets lost between the restaurant tout and your waiter. So if you are offered a special, confirm with your waiter that you are getting the special price when ordering. Also make sure you actually want to eat there. It is very easy to take one drink and split it into two cups and add a little mixer to it just so you spend $40 USD on dinner, so don't base your whole dinner selection on getting a "free" drink.
Tequila Stores in Playa Del Carmen
These types of stores have popped up in the past few years. What would seem like a good idea, selling Mexican tequila to tourists, is often not a good deal. Many of these stores have brands you have never heard of, so you have no idea if it is a good artisanal tequila or just a mass-produced tequila in a nice bottle. We have gone into these stores to find a bottle that is sold in other stores to compare prices. Often, we can only find one or two bottles, and it is often overpriced.
Unless you can tell great tequila when you taste it and know prices, we would recommend stores like La Europea in Quinta Alegria Mall. This is where locals and restaurants buy their liquor. A free shot is not an excuse to buy an overpriced bottle of alcohol.
Senor Frog's
Do we need to say more? This chain bar/restaurant actually has been around a while in Mexico, and it is becoming part of the culture, but it is a tourist trap. It traps you into in a place that makes you feel comfortable, where every waiter speaks English, and the food is not complicated to order. The food is bar food that you can get at any Applebee's, Chile's or similar type of chain restaurant in other countries. You will not get real Mexican food, just a standardized international greasy interpretation of it.
The prices are not cheap here as well. Merchandise they sell in the stores, food and drink are all higher then local prices.
Truth be told though, locals do on occasion go here because they know it is a fun place and consistent product. But for tourist you can get better offerings at local bars and restaurants. For souvenirs there are plenty of stores that sell more interesting and authentic stuff.

The store just for tourist
This store in Playa Del Carmen called Check Super and Pharmacy is right in the tourist area. If you look at the photo closely you can see the yellow banner saying they are having a "sale". Again with the sale!
This store is not on 5th Avenue but near where many tourist would pass it. You will never see locals buying anything here. It has drinks and food like a convenience store but they are all over priced and you can buy them in the OXXO convenience store cheaper. There is even a Walmart a few blocks away from here with real prices.
In the front of the store they have lots of items that tourist might want, but everything traps you into paying more for things.
Tip: If you need something like a drink or basic necessity, if you don't see locals there then you know there is a good reason.
Tip: If everything is in English, then chances are you are going to pay too much there. Or if there are USD prices, it is going to be tourist prices, get out while you can!
If you want to visit this store and see what we are talking about, it is at the corner of 10th Ave. and 8th St.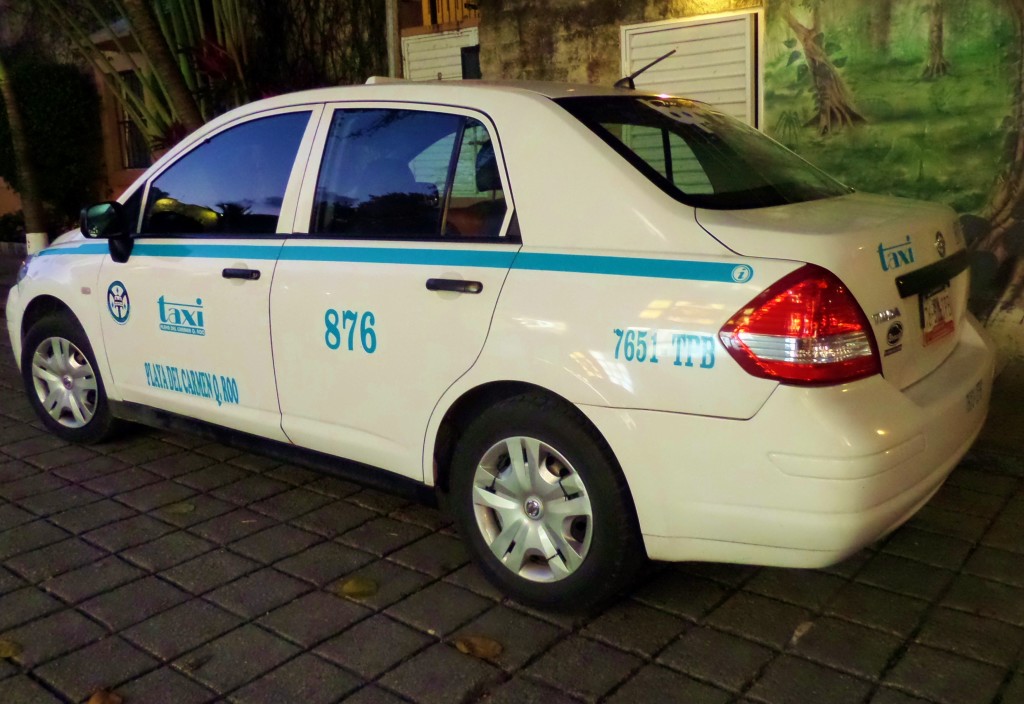 Taxis
There are a lot of honest hard working taxi drivers in Playa Del Carmen but it only takes one to rip you off. We have a whole article about taxis in Playa Del Carmen if you would like to know more.
Basically they will trap tourist into paying more. If you ask the price then usually it is 5 pesos or more even if you live here. Taxis have no meter but there are official rates per zone. Take a look at the taxi rate chart in the article highlighted above.
Knowing the actually prices will keep you from falling into this tourist trap.
Note: If you have been out drinking, taxis love to pick up drunk people and try to charge more. See our article on Dangers and Safety.
Restaurants for tourists
There are some restaurants that are just for tourist. It is a matter of opinion, so we are not going to list some of them here. Some we would call a tourist trap are other people's favorite places to get trapped in.
Basically, if you are going to eat out on 5th Avenue, check the crowd, if it looks like locals are there as well, then it might be good. Check the menu as well. If the menu looks like a standard menu with all the regular things, skip it. There are too many unique places in Playa with great food.
One pet peeve we have is restaurants on 5th Avenue offering chicken with rice and salad or refried beans. It sounds harmless but it is a bland meal that is called "Mexican food". The chicken is a pressed-out piece of meat that cost 50 pesos in the store and the rice and refried beans are just a cheap way to trap people into thinking they are getting a good dinner when in actuality it is a high profit margin dish. Restaurants will charge 150-250 pesos for this meal, and it is a bad deal. Playa Del Carmen has too many good restaurants to waste time eating amateur excuses for good food.
Since there are so many good places to eat, check reviews (like our restaurant list here which we are constantly expanding and updating) and make a short list of places you want to check out while on vacation. It can mean the difference between a good meal out that you will remember and just a meal to satisfy your hunger.
Henna Tattoos
It may seem fun on vacation to get a temporary tattoo and there is nothing wrong with that. So where is the trap? You might be told that it will last for three months, but with the sun, sweat and fun in the water expect them to last just over a week before that vacation memory disappears. So don't pay too much for them expecting it to be something to show off when you get home.
Tourist Information Booths
This actually might be the one tourist trap that is not a trap of what you are expecting. Many people think that the tourist trips booths on 5th Avenue are from timeshare salespeople. Actually, most are JUST tours offered and they get a commission. Some of them are honest hard-working people that try to make a living off selling tours to tourist. You will get better prices dealing directly with the tour operator, but it might be very easy to have someone that speaks English set everything up. Just don't fall for the fast talking of some of them that promise too much and, in the end, they have trapped you into wasting your time there talking to them. See our article about how to book tours for your vacation.
Tip: The one thing that they sometimes can sell cheaper to you is the ferry to Cozumel. The ferry companies allow they to sell a little cheaper then you can get at the official ticket booths. They use this as bait to get you in and then try to sell you other tours.
2×1 Tours
Closely related to the above travel booths you see around town is the offer of 2×1 tours. We thought "How is this possible?" because there are never discounts like that on the tours. So we investigated as undercover tourist. It is not really a scam but it is bait and switch mixed with a little lie. They will ask you what you want to do. Most people say they want to go to Xcaret, Xplor or Xel-Ha. They show you the official price for those and then show you another park that has similar activities which is half the price, so they reason it is half the price for you. The thing is, the cheaper parks are just that. They are not as well set up and the activities may not be as fun as the larger parks. That is why we do reviews of tours and activities on here for you so you know what to expect. We don't recommend falling for the 2×1 deals because it rally is just a cheaper version of some of the other tours, but if you want a budget option, this might work for you. Just remember it is not 2×1, it is just cheaper price.
Massages
You will see massages offered on the beach and all up and down 5th Avenue. Normally prices are offered anywhere from $25USD-$45 USD for an hour. This can be cheap compared to where you come from. There is nothing wrong with getting a massage at this price but don't expect an expert. Expect a rub down and a nice feel because most people working at these places are not expertly trained. It is a good way to make money because since $35Usd is a decent day's wage here it only takes a few massages a day to get the commission. For more therapeutic massages stick to the hotel spa or professional massage location. See our article on where to get massages in Playa Del Carmen here.
Hotels
We have so many good hotels in the Riviera Maya it would be ashamed if you got trapped at one that is not the best for you. We did write two three articles for you so you can end up at a good hotel. One article was about how to avoid disappointments at all inclusive hotels another on how to decide what type of hotel is best for you, all inclusive or hotel and where to stay in Playa Del Carmen guide.
Conclusion
If we come across anything else we feel you should know about, we will add to this article. We hope you don't end up trapped at any of these places. Thank you for reading and we hope you have a great time in Playa Del Carmen.