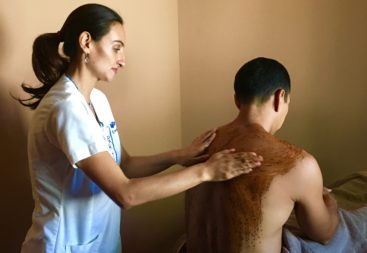 Where can you get a massage in Playa Del Carmen?
Who doesn't like getting a massage when on vacation? Massages are a special treat you can do for yourself or have fun as a group and get massages. Where in Playa Del Carmen can you get a good massage? What are the best beach massages and places for cheap massages? What are the best spas to go to in Playa Del Carmen? Here is everything you need to know about getting massages in the area.
How much are massages in Playa Del Carmen?
Massages in Playa Del Carmen are reasonable in price, but it also depends on what you compare it to. For many of the visitors to the Riviera Maya, the prices are affordable. Massages start at about $25 USD and go to about $150 USD. The wide range in price is based on location, atmosphere, and how professional the massage is. Getting a beach massage is usually the cheapest option. The locations mentioned below for massage at a spa are kind of listed in order or price from most expensive to less expensive.
Sometimes you can luck out and get a great massage at a good rate and other times you get an average massage for regular price. So, it takes some time to see what you like and what might be a good fit for you and just how much value you find in it.
Beach Massages
Setting up a table on the beach and offering massages is going to be one of the cheapest options for a massage in Playa Del Carmen. You can find beach massages from just north of the Cozumel Ferry Pier going up to CTM Avenue. So basically, most of the waterfront in Playa you can see signs for massages.
Prices will start at about $25 USD and go up from there. Compared to a spa you will pay half or a third the price. You will have the sound of the ocean but not the privacy and air-conditioning of a more brick and mortar place. The professionalism is likely to be less at the beach also.
Beach clubs can have massage, these are usually a mix between a basic beach rub down and a full-on spa. One place that is on the beach and a nice place to get a massage is Inti Beach. This is located between 4th Street and 6th street on the beach. Here is a link to their Facebook page.
Massage places in Playa Del Carmen on/near 5th Avenue
There are a lot of places on 5th Avenue or on the side streets for massages. Most of these offer cheap prices and different levels of quality. Many times, a group of people will rent a hotel room and rotate during the day using it for massages. This is an easy way to set up a business. After about two massages you can pay the room rate for the day and the rest is profit. This is why people can wait hours for clients and offer cheap prices because of the low overhead.
Most of the time we don't really push these places or recommend them. They are usually not the best and some can be downright dirty locations. Most of the people that get massages on 5th Avenue are tourists that make a quick decision and decide to take the plunge. Rarely do places have repeat customers because it is just "ok".
One small place that is decent is on Calle 16 Bis between 1st Avenue and 5th Avenue. It is in the Acanto Hotel. The place has changed names before, so we will mention just the location. This massage place is just off 5th Avenue on a side street. They offer nail services and some spa treatments and massages. There is a downstairs with clean rooms for massage. This is about average for massage and an upgrade from many that offer massages on 5th Avenue.
Veronicas Massage Gold
This small place gets good reviews and offers competitive pricing. They offer 10 different types of massages and a few spa treatments. Veronicas is located on 1st. Avenue between 24th and 26th Streets. Their website is here.
Spas to visit for massages
Where can I go for a massage if I am staying at an all-inclusive hotel? If you are staying at a large all-inclusive hotel there will likely be a spa in your hotel. Yes, these can be overpriced, but do offer a quiet space for pampering. If you are staying in an all-inclusive hotel long the Riviera Maya, you might not have any other options but to use the spa in your hotel. Most resorts are compounds and not close to anything else. So, you best bet would be to talk a taxi or shuttle into Playa and go to a spa or massage place as an alternative option.
If you are staying in Playa Del Carmen at a hotel, here are some spas in Playa Del Carmen that offer massages and other services.
Cenote Spa at the Hyatt in Playa Del Carmen
This is probably the most luxurious of any of the spas and places to get a massage in Playa Del Carmen. Located deep in the center of the hotel is the Cenote Spa. This might be the best place for a group since it is larger and more organized. It is also the more expensive option. The Cenote Spa offers a range of massages and spa treatments all in a very tranquil area. Here is a link to their website for more information.
Okom Spa in the Reef 28 Hotel
This spa offers very comfortable and newer surroundings. There is also a large hydrotherapy area at this spa. This place can be good for locals and tourists and small groups that want a massage or spa day.
This spa offers:
Massages
Facials
Exfoliations
Hydrotherapy
Beauty salon treatments.
Packages for the spa and special packages for locals.
Okom Spa is on 1st. Avenue and 28th Street.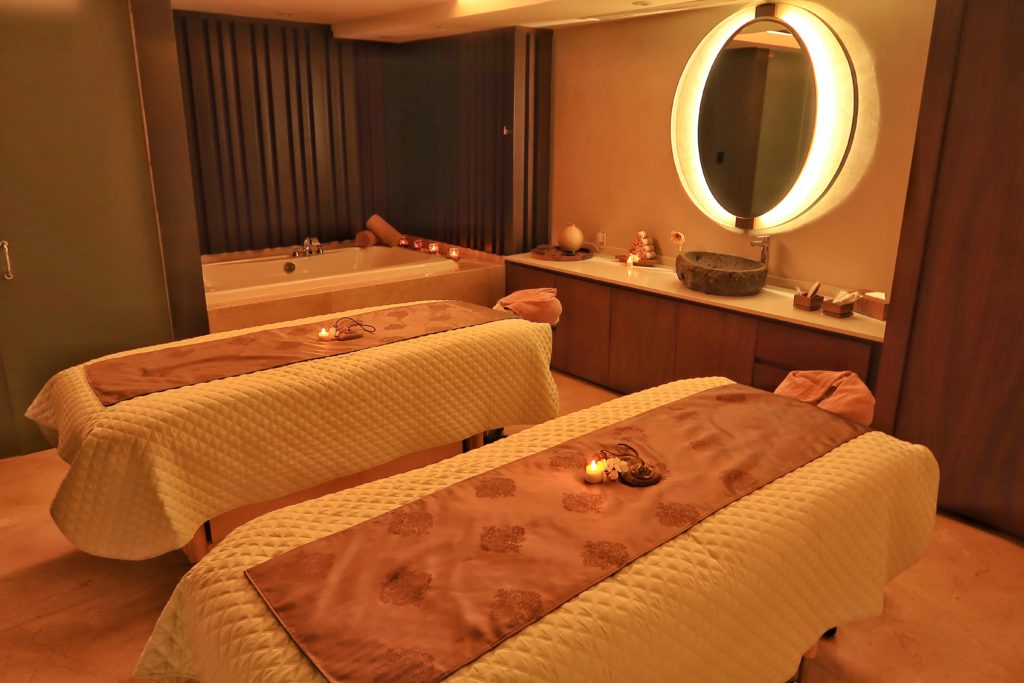 Revive Spa at Mahekal Resort
This spa is a hidden gem in Playa Del Carmen. What makes this spa different is the natural setting on the Mahekal Resort property that adds to the relaxing atmosphere. This spa is open to both guest and non-guest of the resort.
This spa offers:
Treatments. Revive your senses with a hot stone treatment, Mayan cacao treatment or exfoliation.
Massages. Massages like aromatherapy, deep tissue, massage on the beach and hydration massage.
Beauty treatments. You can get such services as manicures, pedicures, makeup, hair styling, and waxing.
Packages. For example, wedding packages or multiple beauty treatments.
For prices and full list of services see their website here.
The spa is in the Mahekal Resort on 38th Street near the beach. Enter the parking lot of the resort and proceed to the front desk. Here someone will show you to the spa. Parking is on 38th Street. For more about the Revive Spa see our article here.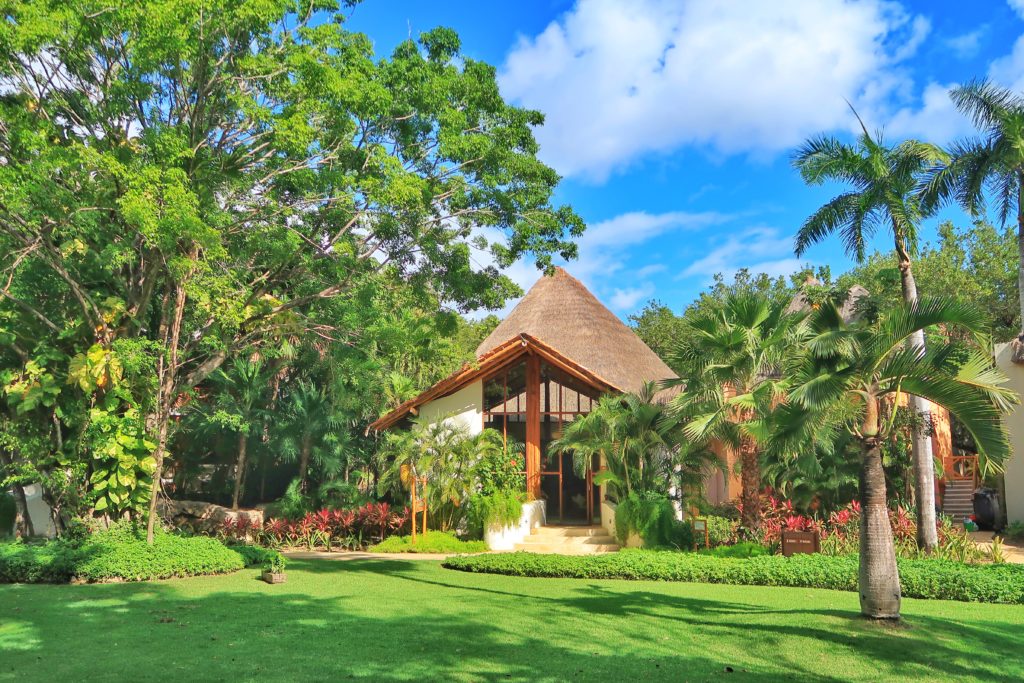 Bric Spa
This is a spa and massage service that even locals like to go to for the affordable prices. Bric has a good reputation in Playa Del Carmen. you can find the Bric Spa on the north end of Playa on Calle 38 Entre Calle Flamingos & Calle Albatros (Pueblito Escondido Building). Here is a link for the Bric Spa Facebook page.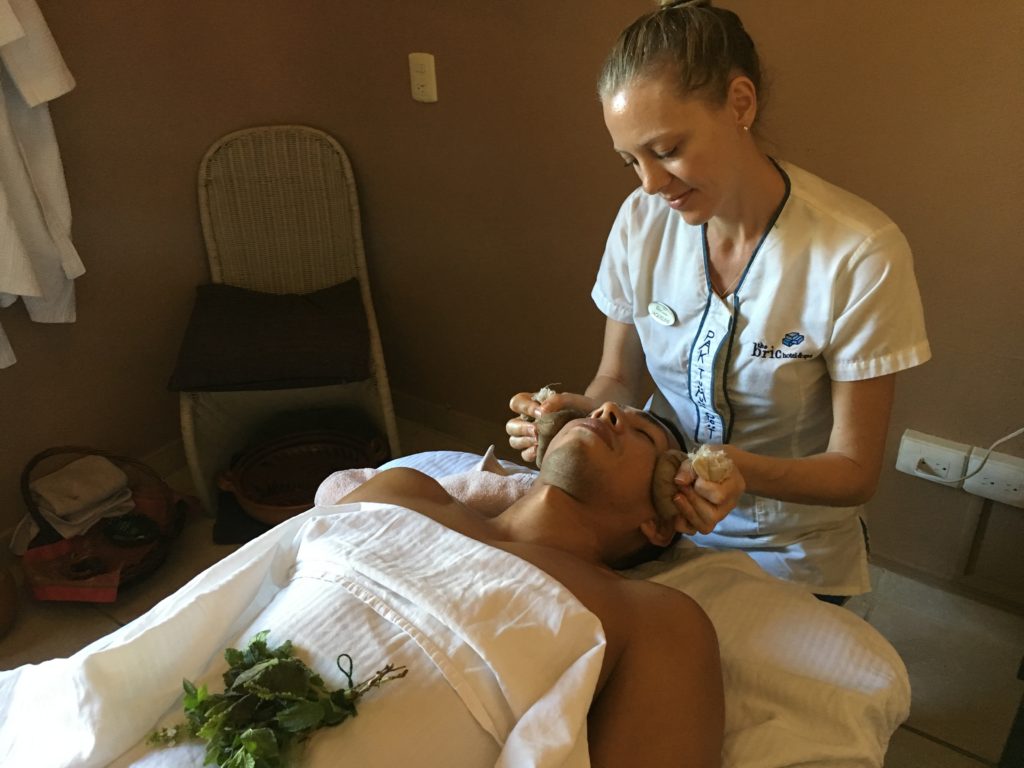 Botica Spa
Botica Spa is a newer option in Playa Del Carmen for massage. they offer about 12 different types of massages as well as packages of treatments. Botica is known for its natural treatments in a modern clean atmosphere.
You can find Botica Spa on the south end of Playa Del Carmen on the road just south of the airport. It is the same plaza as Casa Sofia. The address is: Calle 5 Sur Av. Aeropuerto Manzana 29 Lote 3, Local No. 217
Here is a link to Botica Spas website where you can get a good explanation of what each massage is like.
Veronicas Massage Gold
This small place gets good reviews and offers competitive pricing. They offer 10 different types of massages and a few spa treatments. Veronicas is located on 1st. Avenue between 24th and 26th Streets. Their website is here.