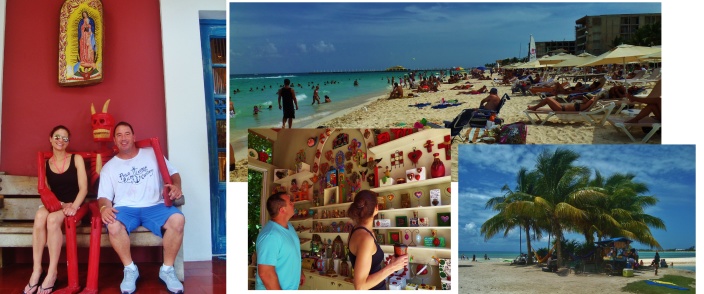 Do you wonder what people think about Playa Del Carmen on their first trip here? You may have been coming to Playa Del Carmen for years or live here so you may have forgotten what Playa looks like for the first time. We set out to find some first time visitors to ask some questions to and get see what Playa Del Carmen looks like through their eyes.
We met up with Tess and Marco from the United States who had just arrived to Playa and then we asked if it was ok to meet back up with them at the end of their trip to ask some more follow up questions to get their feedback. They graciously agreed and here is their impressions of Playa Del Camren.
Background information:
Marco and Tess are from the East coast of the United States
Both in their 30's
A couple with no children
Where else have you taken a vacation or where do you like to take vacations?
Marco: The last trip was to the Bahamas where we stayed at a Sandals resort there. We visit the beach on he East coast but really don't get to take to many vacations.
What are your first impressions of Playa Del Carmen?
Tess: It is nice, I think I am going to like it. It has that Caribbean feel.
Marco: It is nice and everyone seems friendly here. It is hot! I think I will have to get used to that. It has only been half a day so we are limited in the amount to say.
Why did you choose to come to Playa Del Carmen?
Tess: We had heard about it and saw photos. It seemed like it had a lot to offer and had all the comforts we were looking for in a vacation.
Marco: It was in our budget and close enough to fly to. I don't like long flights.
Here are our questions after their vacation.
How was your vacation as a whole?
Tess: We loved it, it went by so fast and we need to spend more time here next time.
How did you do with language in Playa Del Carmen?
Marco: Well we don't speak Spanish. I know just a little bit from working with Spanish speaking people in the States but that is not enough use on vacation. We actually had no problems. Everyone spoke English in the hotels, restaurants and shops.
Tess: It was very easy to get around. There was only one restaurant that we wished with spoke Spanish or Italian to help us out.
What do you think of the value you got for your hotel?
Marco: I thought it was a good value, even when the rate is higher for a different season I think it would be reasonable. We stayed at the Hotel Riviera Caribe Maya. We had a master suite there and like the space and nice bathrooms.
Tess: And I liked the location because I like my Starbucks each morning and it was only a block away, plus there were so many restaurants to choose from nearby.
What were some of your favorite places you ate at while here in Playa Del Carmen?
Marco: We ate at a seafood restaurant on 5th Avenue and had really good seafood there. We thought it was reasonable for what we got. We also ate at Trattoria Del Centro on 26th St. We had good appetizers and fresh made pasta. We knew about where that restaurant was and we were looking for it but my wife actually smelled it before we saw it. The fresh garlic and cooking was wafting down the street.
Tess: We also liked the garden you can eat at Aldea Corazon Restaurant  and was incredible and a great way to start our vacation.
What were some to the things that were different then what you expected about Playa Del Carmen?
Marco: It is more affordable then I thought it was going to be. Playa Del Carmen has both high and low end things so you can find your budget. We had good seafood tacos  for 25 pesos each and we also spent 900 pesos on dinner. We did get good value for what we bought.
Did you get to spend time at the beach while here?
Tess: Yes, our hotel has discounts for Mamitas Beach Club so we went there one day. We liked the beach beds and having drinks and food brought to us. We also heard about the beach on the south end of town in front of Playacar. We took out towels there for a quiet day at the beach. Both beaches were nice.
Did you do some shopping while here and if so what type of souvenirs did you buy?
Marco: We bought some art in 5th that we were able to roll up and I got some shirts.
Tess: I actually went to Forever 21 because I needed a cover-up top to my outfit and found what I was looking for. We bought just a few things for people back home but we are not the type that buys lots of souvenirs for ourselves.
What other activities did you do while here in Playa Del Carmen?
Tess: We did spent a day at Xcaret park. Went out one night to Coco Bongo for the show and had drinks at Alux Restaurant to see the cave and the Palm for the roof top bar.
So Marco, what did you think of the activities you choose to do? 
Marco: I was impressed with the theater at Xcaret, it was huge and the show was good. The park as a whole is a lot to take in all in one day since there is so much to see. I did not like the buffet food there though. I really liked the cave that the Restaurant Alux is in. It was surprising to find that in Playa Del Carmen. Coco Bongo had a great show and was once if the best shows I think I have seen as far as entertainment value, the drinks were a little weak though.
What research did you do before coming  on vacation?
Marco: I left that up to Tess.
Tess: I looked at some websites. I actually did see EverythingPlayaDelCarmen.com before coming and used it for research. I did not do as much research for this trip because it was a short. Next time I will do more.
Will you come back to Playa Del Carmen and if so what would you do differently?
Marco: We surly will be back. I think next time we will go to Tulum as well for a day trip and see more stuff around Playa Del Carmen.
Tess: We will come for longer next time, right Marco!
Thank you both for answering questions and for visiting our beach location here. We hope to see you back here again soon.