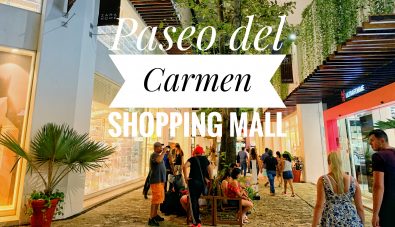 Paseo Del Carmen Shopping Plaza
Paseo Del Carmen is an outdoor shopping mall right at the beginning of 5th Avenue. The shopping plaza is between 5th Avenue and 10th Avenue. It has been a part of Playa Del Carmen for a while but it is changing with time to keep updating itself. It was originally built in 2003 but still looks fresh and offers Mediterranean feeling shopping center with cobble stone paths.
This shopping area has nice shaded paths with some green space which is nice to sit at one of the cafes and enjoy the tropical plants while you rest from walking around. If you are on your way to or from Cozumel you will pass right by this shopping plaza. Also a lot of tours going to the Cozumel Ferry Pier are dropped off on 10th Avenue and you walk through the plaza.
Here is our video tour

Stores at Paseo Del Carmen
Two stores we recommend for clothes shopping are Pull and Bear and Bershka. We recommend these because you might not have them where you are from so they have different stuff. They also have reasonably priced shirts, pants, shorts, shoes and casual clothes. These stores can also be good if you live in Playa Del Carmen for shopping for outfits.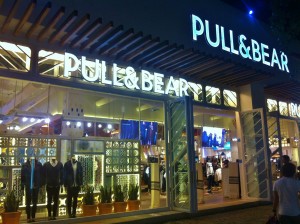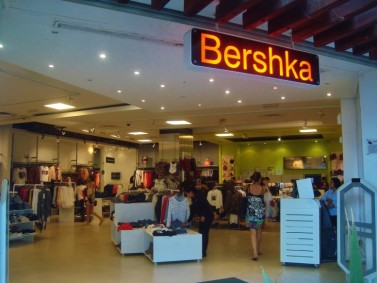 There are some high end stores here as well if you are looking for that. To name a few there is Lacoste, Tommy Hilfiger, Zara, and Armani Exchange.
One store that has stood the test of time is Kin Mayab. It sells traditional yet modern Mayan clothes. they are like white linen and very good for the climate in Playa Del Carmen.
There is one new home décor store called Zara Home that is open in the mall. If you like white or silver then this is your place. They have small items and a lot of bed linens.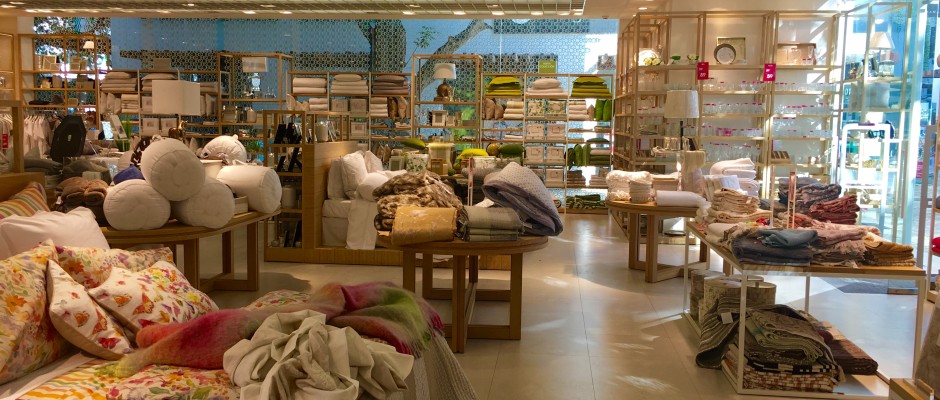 Shops for souvenirs
For tourist souvenirs there are two big stores. Much like our recommended store on 5th Avenue called Hacienda Tequila, these two stores sell all the basic Mexican souvenirs although these two don't have a cold air-conditioning or the huge selection of Tequilas as Hacienda Tequila.
One store is called Casa Tequila Playa Mart and the other is called Plaza La Fiesta Mexican Bazaar. We prefer Plaza La Fiesta more since it is bigger and seems to have better quality merchandise. So if you are short on time, go there first.
Note: If you are doing a lot of shopping especially at qualified stores in Mexico you can get a tax refund by following this guide here.
Services at Paseo Del Carmen
There is a money exchange booth in the plaza if you are running a little low on spending power.
There are pubic bathrooms which is important to know where they are in Playa Del Carmen while walking around. You can check out our list of all the public bathrooms in Playa Del Carmen here.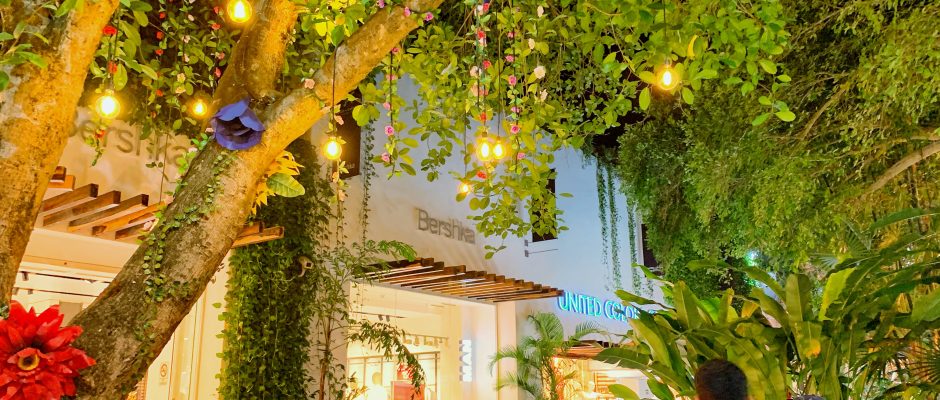 Parking for Paseo Del Carmen
If you are driving to this mall or the south end of 5th Avenue there are two street level parking lots that service this are and an underground parking garage. You can see both on a map in our parking guide to Playa Del Carmen.
More shopping?
Check out Quinta Alegria shopping Mall article here or shopping malls in Playa Del Carmen article.
This is just one of the places to go shopping in Playa Del Carmen. We love brining you everything about Playa and what it has to offer. Let us know if you have any questions or comments below.