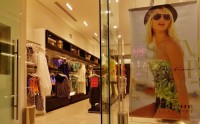 If shopping in Mexico on vacation sounds like enough fun in itself, how does doing it tax free sound? It is possible to get this discount but there are some important details you will need to consider and see if it is worth participating for you.
Note: Please read the comments below. Many of our readers have had issues with getting refunds.
How does Tax Free shopping in Mexico work?
You need to shop at an affiliated store with Tax Free shopping.
Ask for an official invoice with the stores tax id number (this is usually just the receipt from the store) and keep your credit card slips if you used a card.
When you leave at the airport, visit the Tax Free booths with your paperwork.
In about 40 days you will receive your refund.
And that is all you need to do.
Where can you find shops in the affiliated Tax Free program?
There are more then 10,000 stores in the program. These tend to be more commercial stores that are larger. You will need to look for the Tax Free sticker in the store of ask if they are an affiliate. Some of the stores you can shop at are Cartier, Tommy Hilfiger, Massimo Dutti, Ultra Jewels, Sunglass Hut, Armani Exchange, Nike Factory Store, Zara, Pineda Covalin, Bershka, Cloe, Swarovski, Pull and Bear, Plaza La Fiesta, Boss, Full Sand, Levis and Guess.
You can find many of these stores in Playa Del Carmen on 5th Avenue and in the shopping plazas of Paseo Del Carmen and Quinta Alegria.
Note: There are exclusions of certain products for the Tax Free program like drugs, food, and services like tours, hotels and transportation are not included.
What are the limits for cash and credit card purchased for the Tax Free program?
If you use cash you should save all your receipts with the RFC number (Mexican Tax id number). There is no minimum for cash purchased but there is a maximum of 3000 MX pesos. So if you want to get tax back you should only spend cash up to 3000 pesos and then use a credit card for other purchases.
For credit cards or debit cards there is a minimum of 1200 MX pesos per invoice. This means that in one store you will need to make a large enough purchase to meet the 1200 MX peso threshold. There however is no maximum so you can go a little crazy with this! So you can spend unlimited amounts of money on credit cards and as long as each purchase has a receipt of 1200, MX pesos then it qualifies for tax back.
Note: If you have large purchases like goods over 5000 MX Pesos you will be asked to show the goods at the time of getting to a Tax Free booth.
Who qualifies to the Tax Free shopping?
Any tourist that comes to Mexico and leaves via airplane or cruise is available to get this arrangement.
What paperwork do you need at the airport?
You will need your receipts with the stores tax id number (called RFC) and credit card slips.
Your passport.
Your boarding pass either boarding ticket or cruise ticket.
The immigration form and the tax refund forms filled out.
What is the tax in Mexico and what do you get back?
The VAT (or value added tax) in Mexico is 16%. You will notice that every store you are in the tax is already included in the price and no store can add taxes to your purchases at the register. It is illegal for a store to do this in Mexico! With the Tax Free program you get 65% of the tax back. This means you are about getting 10% back on your purchases. It is up to you if you think it is worth the time and effort to fill out the forms and keep the receipts. For example if you spend about 3000 MX pesos in cash and file for the Tax Free program you will receive about 300 pesos back. If you plan on large purchases especially at the jewelry stores this program can be an incentive to buy something large because of the refund.
Tax Free is a Mexican company that works with the Mexican government to provide this service and has been open since 2006.
Where are the Tax Free booths at the Cancun airport?
In Terminal 2 at the Cancun airport the booth is on the main floor and open from 9:00am-10:00pm. In Terminal 3 it is located upstairs in front of Gate C21. It is open from 9:00am-10:00pm. There are also windows in the other terminals of the airport.
If you don't do the paperwork at the airport you can email the documents to: [email protected]
Recommendations
If you are going to spend some money at the affiliate stores you might want to consider this. The paperwork is fairly east to fill our and the refund process is straight forward. However after so many comments from readers we think there are some big issues with this.
If you have a problem with tax free shopping you can contact Profeco. This is the Mexican governmental office of consumer protection. They take consumer complaints and investigate them.
For more about shopping in Playa Del Carmen, see our guide here on everything you might be looking for and more.
Have you done this tax back program? Let us know how it worked for you in the comments below.