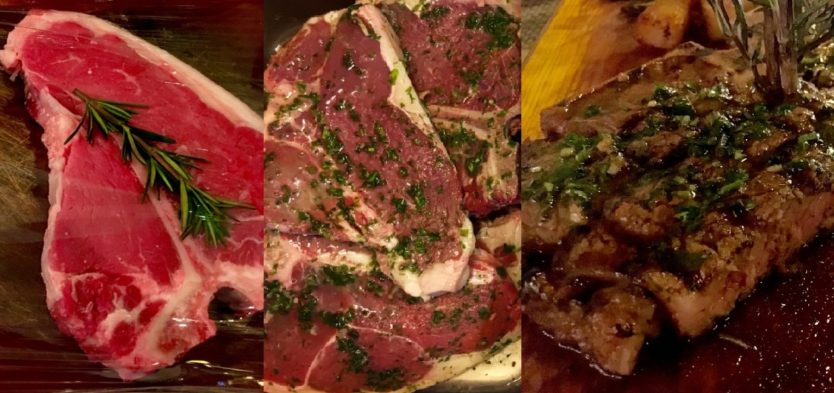 The 500 Gramos Restaurant Story
When we came across the name 500 Gramos Grill we had to admit we thought it was a new restaurant in Playa Del Carmen. The reality was it has been open since November 2014. 500 Gramos Restaurant gets good reviews and is often busy. Here is why.
The concept of the restaurant
When Josie and Maury had the idea of starting a restaurant they looked around at what was in Playa Del Carmen. This husband and wife team wanted to provide something different for guest. They loved the restaurant scene in Playa Del Carmen but wanted to offer good food and prices that would not be hard for tourist to pay and that locals could come often.
They realized there was not a good streak restaurant so they came up with their own. With some Italian influences, they created a menu with great meats and pastas.
The name of the restaurant came from the 1/2 kilo T-Bone steak that is 500 grams.
Adding love and personal touch
Most of the good restaurants in Playa Del Carmen have the owners at the restaurant. It shows they care about the quality and care of the customers. Here at 500 Gramos Grill not only are the owners there, they are the chef and front of house.
Josie and Maury also put the personal caring touch by doing their own shopping and buying things fresh. They get all their beef from Monterey or Chihuahua Mexico. The best beef in Mexico comes from these areas. This is the grassy plains of northern Mexico which is just below Texas.
With a passion for great food and quality it is no wonder this restaurant is often full. There are many people that are repeat guest and know the secret about this restaurant.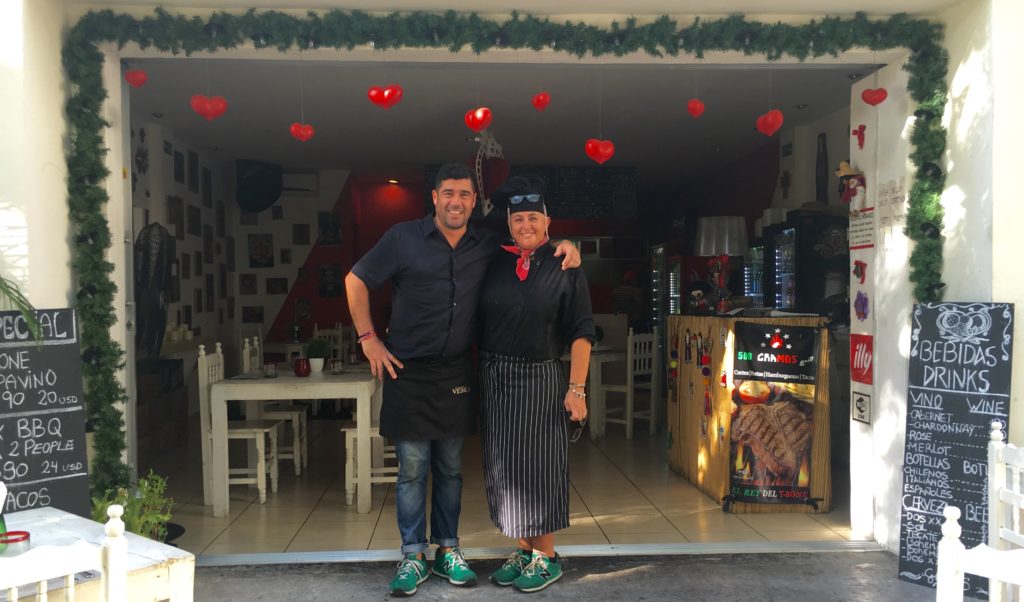 Our video introduction of 500 Gramos Grill
See just what this restaurant is all about in our video!
The menu and prices
The main thing that people come here for is the meat. They are famous for their:
T-Bone Steak
New York Steak
Filet Mignon
Rib-eye Steak
All these are recommended dishes and come with choice of fries or potatoes and a choice of salad or grilled vegetables.
Best of all these steaks range from 190 pesos to 250 pesos. That is for a complete meal and about 50% less then what some other restaurant offer this at.
We had the below T-Bone steak. It was seasoned very nicely and cooked beautifully. This restaurant has some of the best steaks and the prices cannot be beat.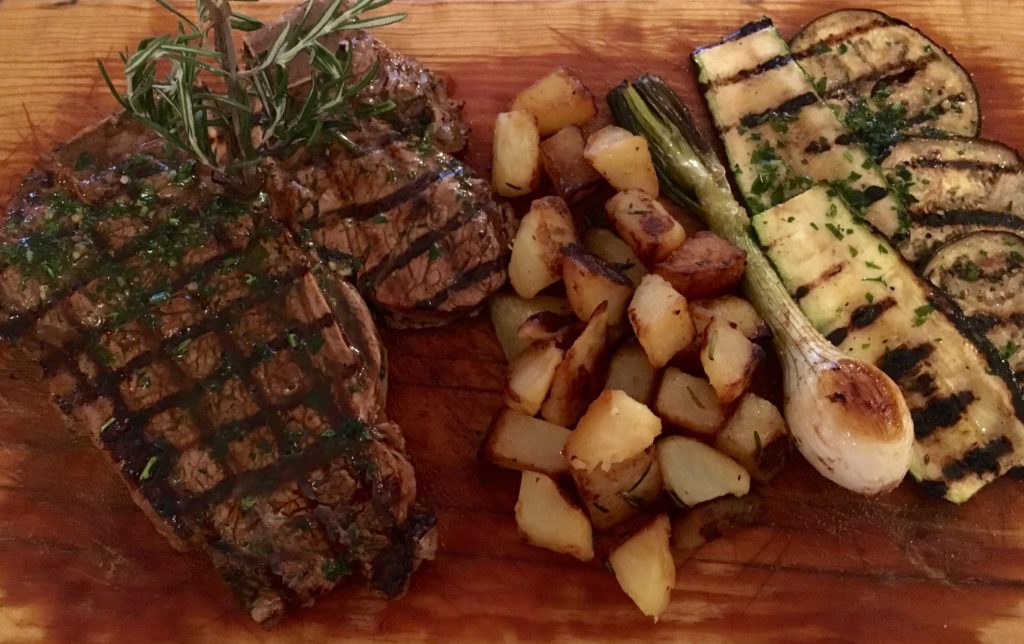 Appetizers at 500 Gramos Restaurant range from 110 pesos to 130 pesos.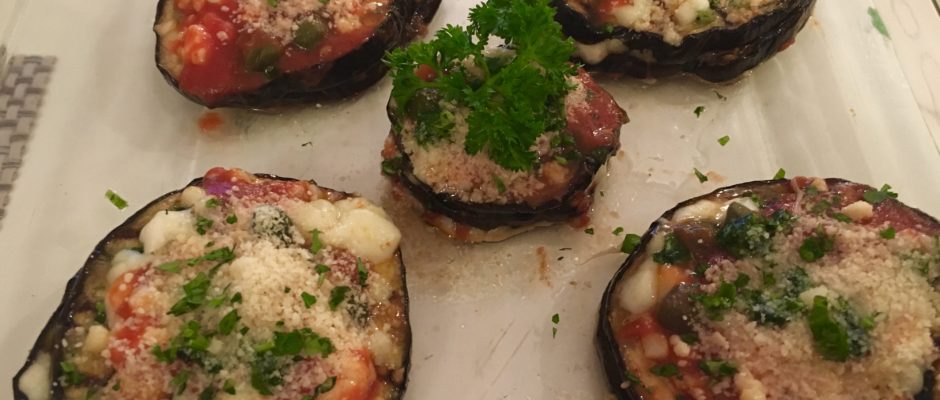 The pasta selection has six options. Prices range from 100 pesos to 140 pesos. We have to say the penne pasta dish with mushrooms and crème sauce was wonderful! It was totally worth the 130 pesos. It was also a lot deeper of a bowl then it appears here in the photo.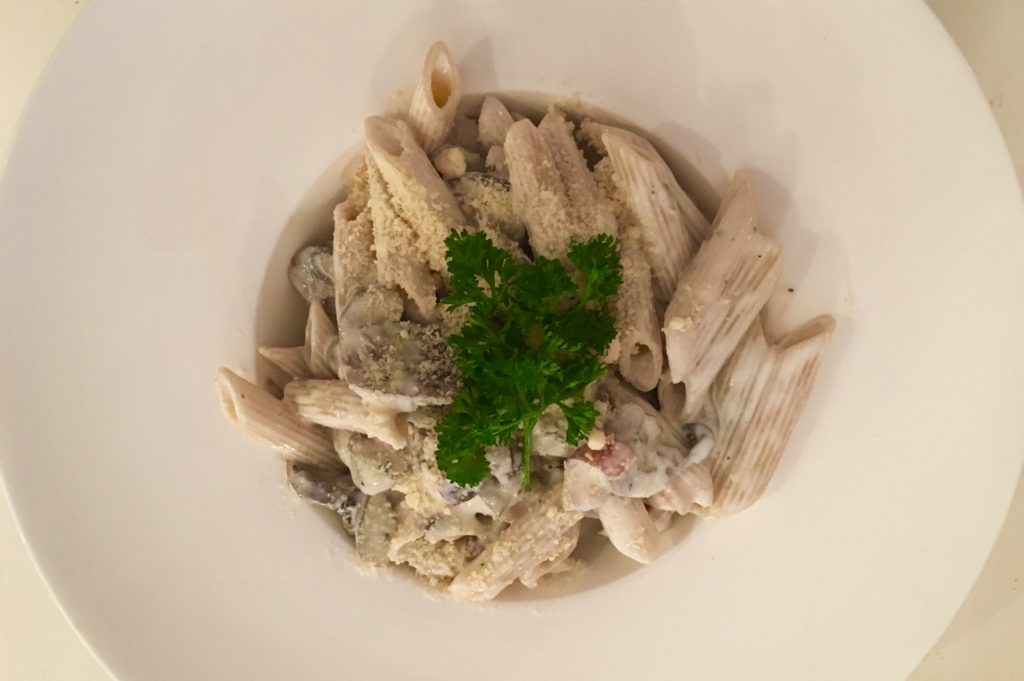 Our recommendations
If you like steak or appreciate that family touch to a restaurant this is a place for you. If you appreciate value and a restaurant that loves what they do, this is a place for you as well.
This is a casual restaurant with very good food. For locals it is a good restaurant to add to your regulars to visit. For tourist this restaurant makes for a very affordable steak restaurant that is still on 5th Avenue. You can enjoy a nice meal here without breaking the bank or quality of food.
Note: This is a cash only restaurant.
What are the hours of 500 Gramos Grill?
This restaurant is open Wednesday-Sunday 2:00pm-10:45pm. Closed Tuesdays
Where is 500 Gramos Restaurant?
This restaurant is just off 5th Avenue between 34th Street and 38th Street. It is on a small Plaza called Plaza San Pedro.  On the back left hand side of the plaza is the restaurant.

Have you been to 500 Gramos Restaurant? What did you think? Let us know in the comments below. We would love to hear from you.