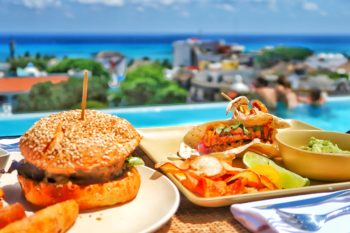 Restaurant recommendations for Playa Del Carmen
If you are coming on vacation you certainly will want to know about restaurants in Playa Del Carmen. Being such an international city, there are many chefs and restaurants that offer great options. Since many of you will only be in town for a short while and don't have time to search around for a restaurant, you might like these restaurant recommendations for Playa Del Carmen.
We are constantly going to new restaurants in Playa Del Carmen. After we visit a restaurant we write an article, update our guides and sometimes make videos. We have visited about 300 local restaurants and have narrowed down some recommendations for you. We hope you enjoy these and please be sure to give us your opinions in the comments below.
Since there are so many types of restaurants we will break it down into categories. We mention a few restaurant recommendations for Playa Del Carmen in each section. Lets go in alphabetical order.
Asian restaurant recommendations in Playa Del Carmen
In general there are not as many Asian food options as other places. It is harder to get the ingredients and chefs that can do it well. In the past few years this category has been growing though.
Casual lunch recommendations for Asian food
For a casual lunch place we recommend Nikkori Restaurant . This restaurant is pretty consistent with quality and offers good dishes at affordable prices.
Places for an Asian dinner in Playa Del Carmen
For a more upscale dinner with cocktails or wine, check out Yum Yum Restaurant. This is a modern and trendy feeling place with emphasis on authentic flavors mainly from Thailand and India. Excellent sauces and taste come on every plate.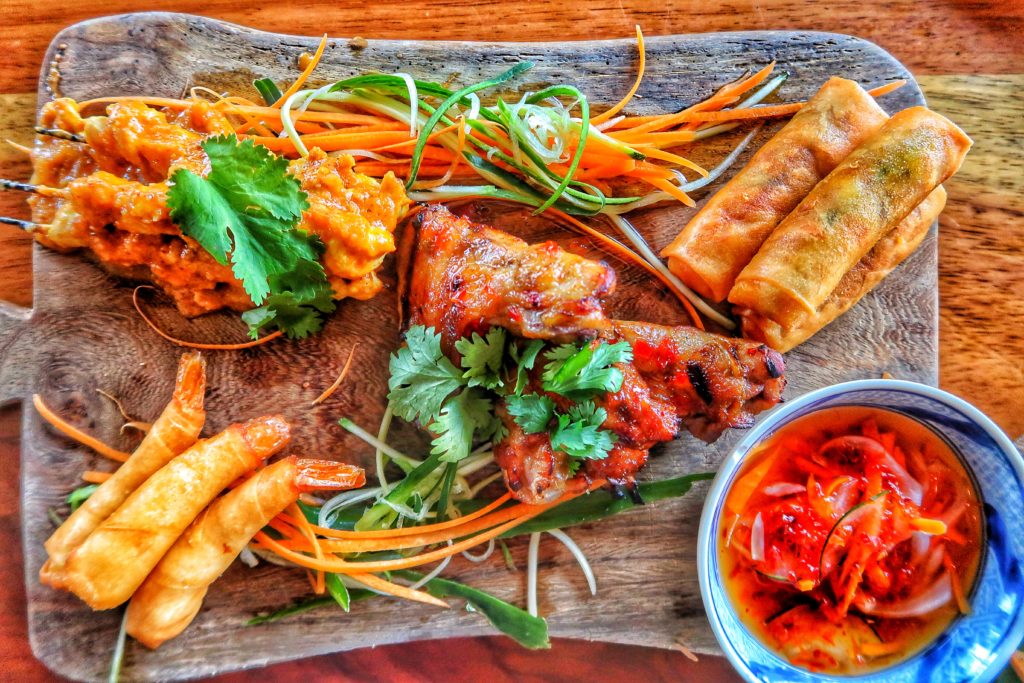 Fine dining restaurants in Playa Del Carmen
If you want to go out for that special night or just a fancy dinner, here are some restaurant recommendations for Playa Del Carmen. While there are many to choose from, we choose these for you because in some part they embody Playa Del Carmen and offer something special (See our full guide to dinner restaurants here).
Catch Restaurant
We recommend this restaurant because it is on top of the Thompson Hotel and it has great views overlooking Playa, the ocean and over to Cozumel. The menu is good and has a wide range of options. See our article on Catch Restaurant for more information.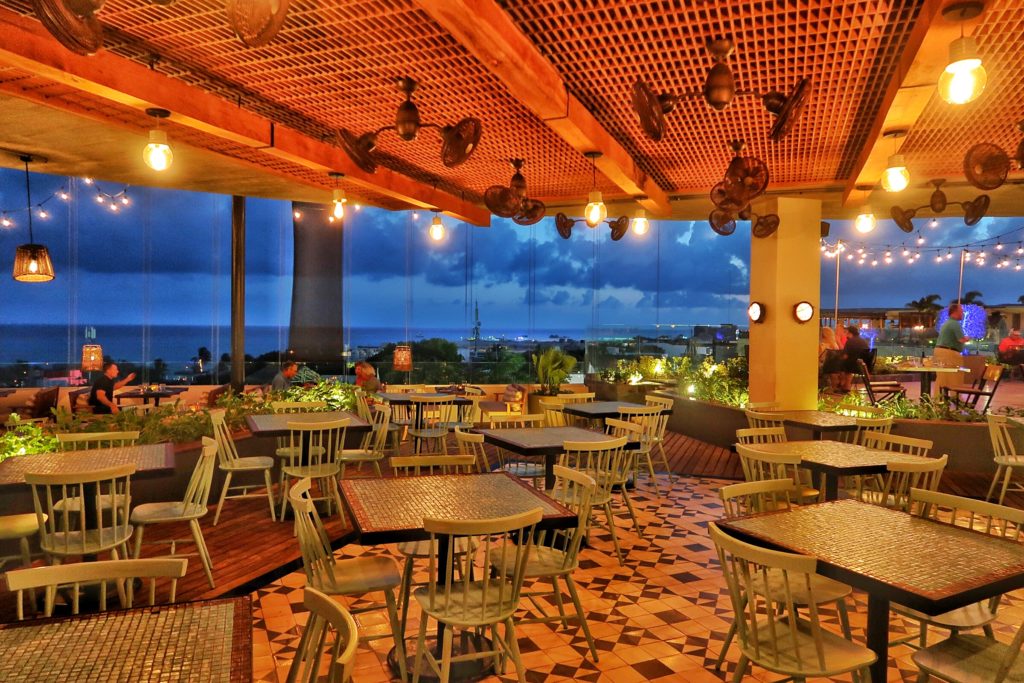 Axiote Restaurant
You are in Mexico so why not have some good Mexican food? The menu is not just prepared by a cook, it is designed by a chef. The fusion of real Mexican taste with modern presentation will surprise you. Also check out their cocktails from regional spirits of Mexico and local beers. For more about Axiote Restaurant see our article here.
Alux Restaurant
We mention this restaurant because the unique setting. It is very "Playa". Alux Restaurant is in a cave just out of the downtown. The setting is very interesting and has upscale food options. After dinner you can walk around the small circuit to see the cave and formations. It is all lit and makes for a memorable experience.
Fuego Restaurant
What makes this restaurant special is the setting. The restaurant is on the property of a resort right in the middle of Playa Del Carmen but it is open to the public. The restaurant is on the beach but is also nestled into the palm trees and looks like a remote island. This will be one of the more expensive options but check out our article and video to see why Fuego Restaurant is popular.
Italian restaurant recommendations for Playa Del Carmen
There is a lot of Italian influence in Playa Del Carmen and this also just happens to be a very popular food category. Here are several Italian restaurants to consider.
The special little Italian restaurant
For pure taste, experience, and value Primer Plato is the place. This tiny café on the south end of town is run by a Sardinian couple. They hand make pasta to order and offer very good food at very reasonable prices. This is a place to have lunch. Sometimes you need to wait for one of their 15 stools at a counter.
Pizza and Pasta dinner restaurants
La Famiglia is just a block off 5th Avenue and offers a consistent flow of pizzas and pasta. The quality is good and not too expensive.
Don Chendo is a local restaurant that is on 30th Avenue. It is popular with tourist and locals for it's friendly service and deep dish pizza among other things. The food is always consistent and that is a great thing since the recipes are so good.

Casual Italian dinner with sauce and cream
Casa Sophia is a popular local restaurant. It is not exactly full on gourmet but it is tasty and good value. Expect the sauces to be creamy, portions to be large and things to be made like a grandma would make them who is not on a diet.
Meat lovers restaurants in Playa Del Carmen
500 Gramos Restaurant
This is a husband and wife owned restaurant that has consistency and very good value. The restaurant is just off 5th Avenue and offers mainly outside tables. The menu is concise with options that keep people coming back for their steaks. The also serve pasta. For more about 500 Gramos Restaurant see our article here.
Plank Restaurant
This recommendation will be a little more upscale then the first one. They have everything from seafood to steak on the menu and served on wood planks. For more about Plank Restaurant see our article here.
Purobeach Restaurant
If you love burgers we will say that we think the hamburger here is the best in Playa Del Carmen. You can spend the day at the rooftop pool and order one to see what we are talking about! You can read more about the Purobeach Rooftop and Restaurant here.
Mexican restaurants to eat at in Playa Del Carmen
What is Mexican food? Well most only know a fraction of what taste there are here. Seafood is a big thing in Mexico but that is the next section of recommendations. So these are just options for Mexican food without seafood.
For tacos and a flavor of Mexico
Unfortunately there are not a lot of great tacos in Playa Del Carmen. Maybe because the rents are more and tacos are a simple food or perhaps it is because bigger taco cultures are from other parts of Mexico. At any rate the main place everyone goes is El Fogon. There are several branches in Playa. The main on is on Constituyentes Avenue between 25th and 30th Avenue. This is right next across from Mega grocery store.
The food consistent, cooked with lots of oil and taste yummy. This is a very affordable "Mexican dinner" option. It is always busy and sometimes you have to wait.
Real flavors of Mexico
For those that know Mexican cuisine there is more then just tacos. Here are two recommendations for good Mexican restaurants in Playa Del Carmen.
The first is Axiote Restaurant. The quality is very good and you also get a good range of flavors from around Mexico. The dishes have been designed well. If you drink be sure to sample off the cocktail menu or local beers. You can discover some unique spirits from Mexico here.
The second option is actually nearby Axiote Restaurant. La Perla Pixan and Mezcal Store is the name. Here you can eat under a palapa roof, listen to live music some nights and get a taste of Mexico. There is a range of unique dishes as well as cocktail to sample here.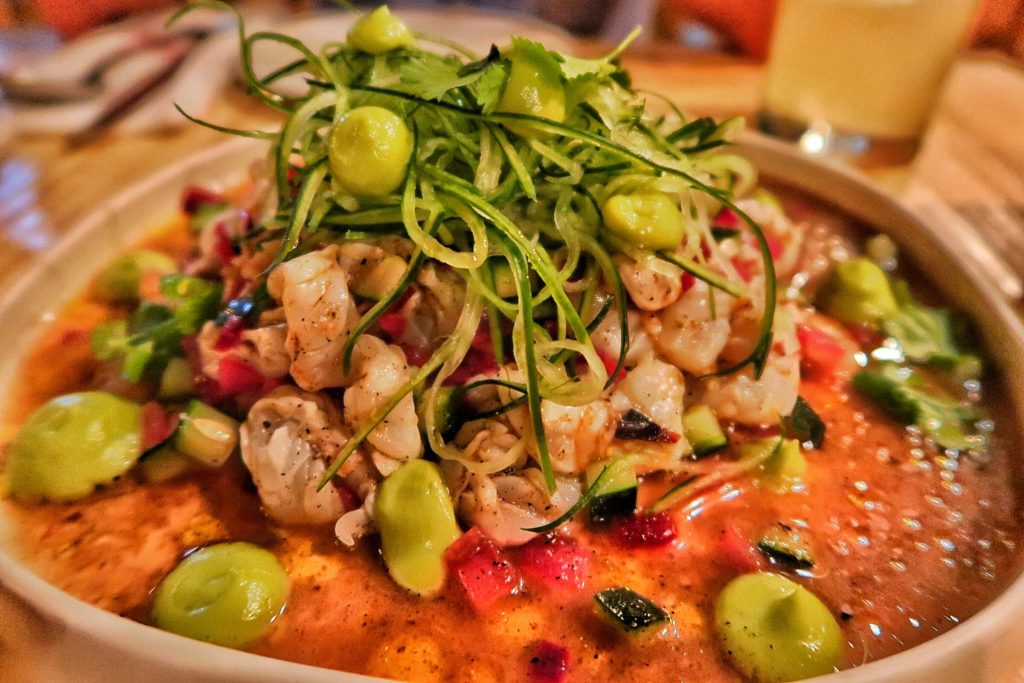 Seafood restaurant recommendations for Playa Del Carmen
Seafood restaurants are one of the most sought after options for restaurants in Playa Del Carmen. Here are some local and trendy options.
The local seafood restaurant recommendation
La Pirata Restaurant is a local seafood restaurant that has been around for years. It is not about gourmet fusion but just fresh seafood presented in typical ways like fish with butter or ceviches with lime, cilantro, onion and tomatoes. . If you are interested in more local seafood restaurants see our guide here.
Fun and trendy options
One popular restaurant recommendation is Los Hijos de la Tostada. It is located on 5th Avenue near the corner of 38th Street. The casual restaurant has great options for tostadas. The vibe is youthful with good food and drink options. It is also very affordable. Most tostadas are less than 60 pesos and two can fill you up.
Vegetarian restaurants or just healthy options
There are more and more healthy options in Playa Del Carmen. You can find vegan, vegetarian and many juice places. Here is our recommended restaurant for you.
The Pitted Date
The art of presenting vegetarian and vegan food never tasted better or looked so good! Here they really experiment to bring you exciting options and fresh taste. For more about The Pitted Date see our article here.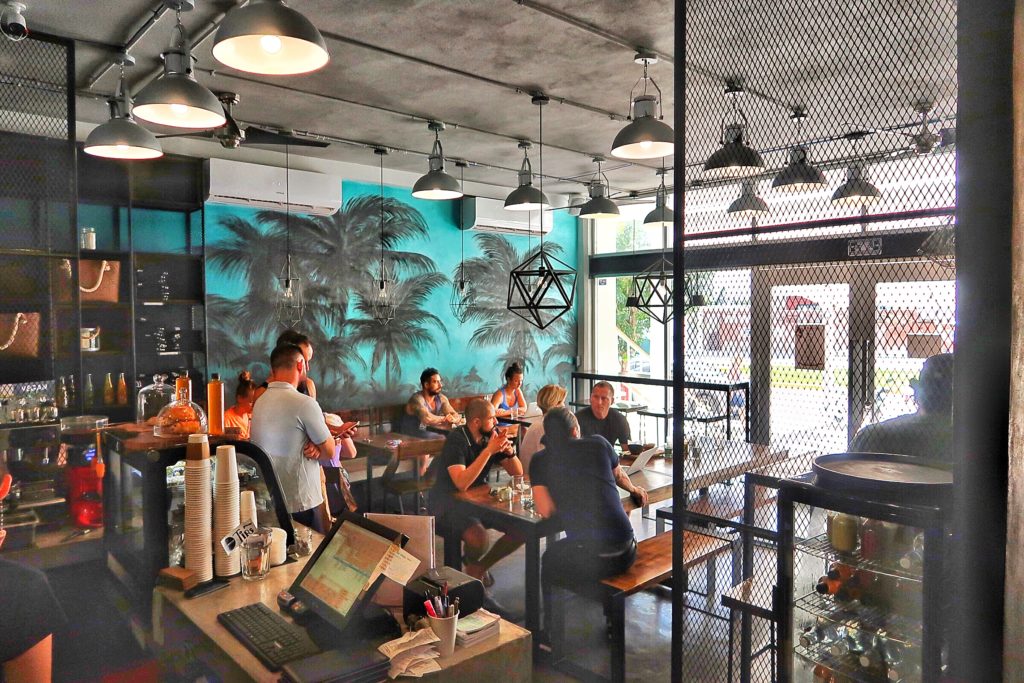 For more vegetarian options in Playa Del Carmen see our guide here.
Thanks for reading our restaurant recommendations for Playa Del Carmen. What do you think? Do you have some other favorites that we missed? Let us know your thoughts in the comments below. We would love to hear from you.