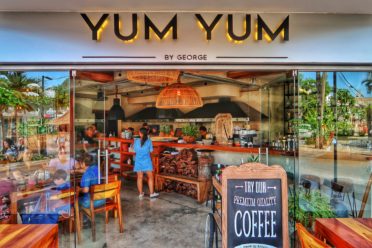 Yum Yum Restaurant
We are very pleased to tell you about the Yum Yum Restaurant by George. This restaurant is brought to you by the same owners of Oh Lala Restaurant. It is no surprise that this new restaurant is good since  Oh Lala Restaurant has been ranked one of the best in Playa Del Carmen for years.
Yum Yum Restaurant is an Asian fusion of all taste. You can find Thai, Vietnamese, Indian and more influences in the menu. This is paired with true mixology of cocktails and a modern designed restaurant. Here is our review with more details.
Our video introduction to the restaurant
Like everything on our website, we go, taste, and get to know it so we can tell you what it is like. We hope you enjoy.
What is the atmosphere like?
Just like the food, the décor was planned out and thought about. This is a street level restaurant with large windows to the street. The interior is a modern fusion of concrete and wood. The dress code is casual but expect more sophisticated drinks and food. If the owners are there, expect a warm welcome. They do speak English.
There is sidewalk seating and interior seating which is cooled.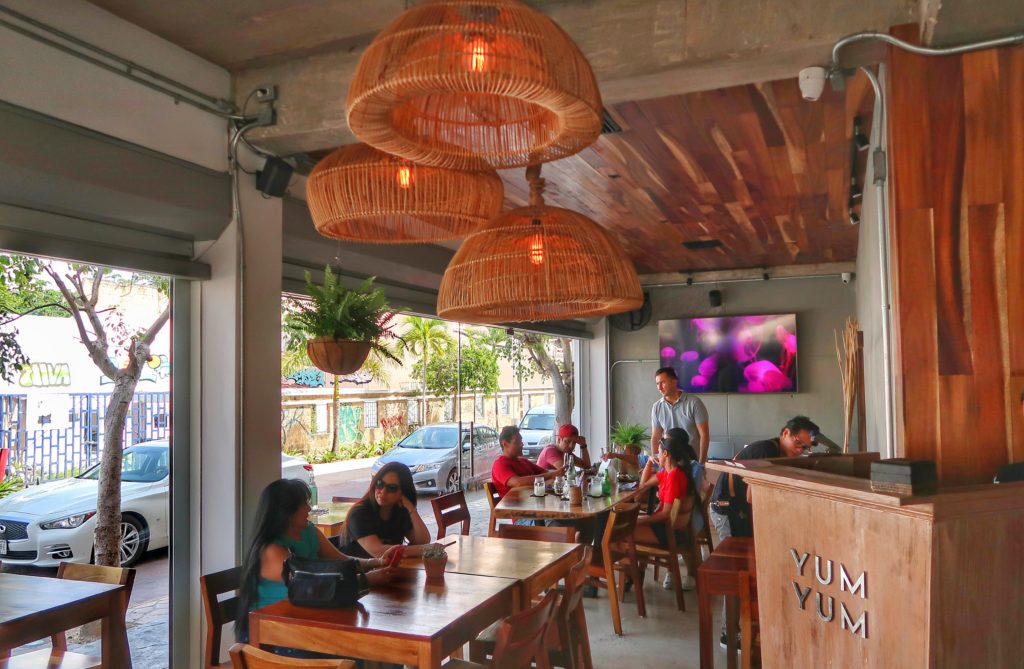 What is on the menu?
For appetizers you can find an array of taste from Asia. You can find things like Thai and Vietnamese spring rolls, Indian samosas and Thai beef salad. If you want to get a sampling, try the Yum Yum sample platter (pictured below). It will give you a great couple of options to try. We really liked the chicken skewers and Vietnamese spring rolls!
For main courses the menu is divided into two, Thai inspired dishes and Indian dishes. You can find things like traditional Pad Thai, Panang beef curry and Thai curry on the Thai side of the menu.
On the Indian side you can find things like lamb Vindaloo, Goan shrimp curry, and Murgh Tikka Masala. If you like lamb, they have several dishes here and it is good quality meat.
 Menu tips:
If you go with a couple of people, order a few items and share. You will get a fuller experience here. Ask your server about what is spicy. Some dishes can have a little bit of a spice to them.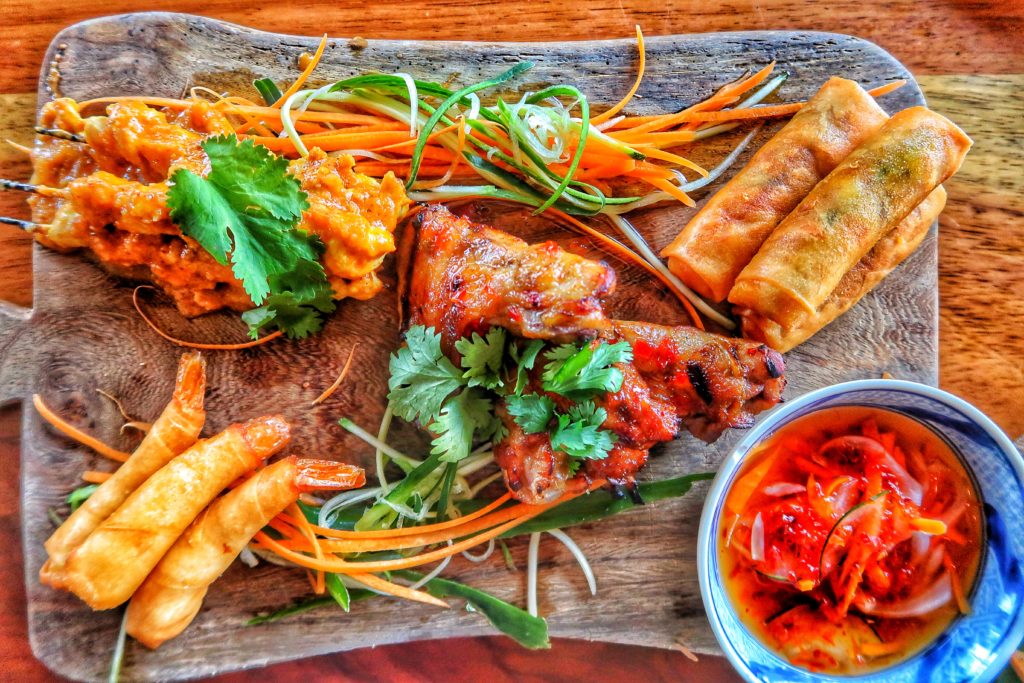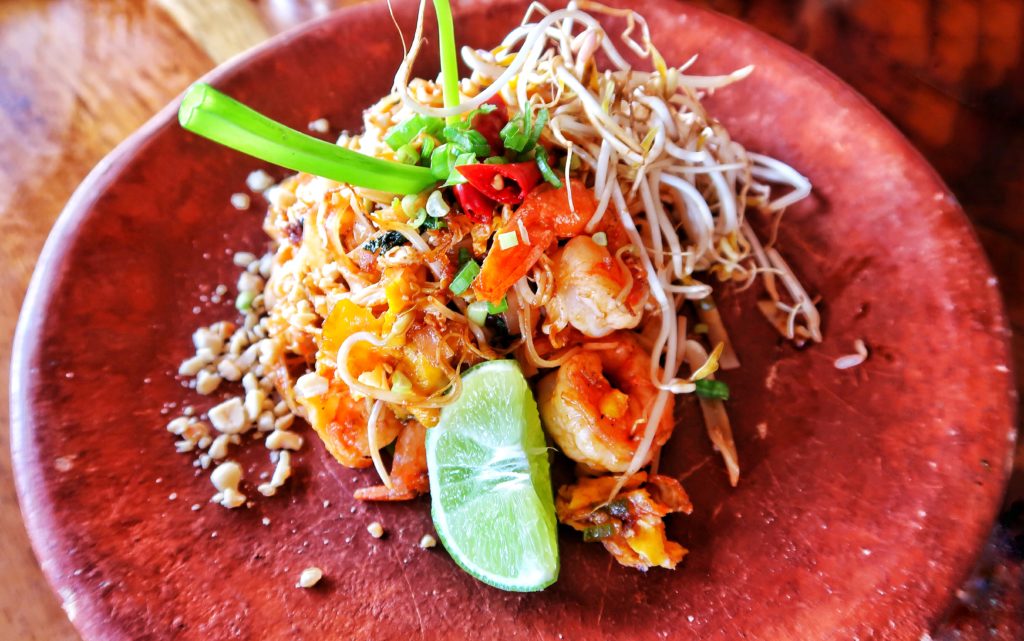 What are the prices like at Yum Yum Restaurant?
Here is a sample of prices here:
Cocktails 139-200 pesos.
Wine by the glass 130-178 pesos. Wine by the bottle 520-895 pesos.
Appetizers 95-175 pesos and the very good Yum Yum sampler is 349 pesos.
Main plates 175-325 pesos.
Desserts 55-85 pesos.
Our recommendations for this restaurant
Go here! Short and simple! If you appreciate Asian flavors, quality food and can spend a couple hundred pesos for a meal, you should eat here! Foodies will be happy with the authentic flavors, good cocktails as well as the ambiance.  We know a lot of visitors like seafood or Mexican restaurants since they are at the beach in Mexico but if you want to branch out to another genre of food, this is an excellent option.
Locals will appreciate the different taste since Asian flavors are not that well represented in Playa Del Carmen. For us this is one of our new favorites for a nice meal out.
Since this restaurant has a good Thai representation, we are adding this to our Thai Restaurant Guide for Playa. We are also adding this to our Best Restaurants in Playa Del Carmen article. The quality of the food and the care of the owners is what makes this restaurant outstanding.
Where is Yum Yum Restaurant?
The restaurant is on 10th Avenue and the corner of 6th Street. Parking can be a little hard on the street so check our parking guide for places to park nearby.
Hours at Yum Yum Restaurant by George
Open daily from 7:00am-11:00pm.
Have you been to the Yum Yum Restaurant before? What did you think? We would love to hear your comments below. 
If you like reading about restaurants like this, you should see our large guide to restaurants in Playa Del Carmen.