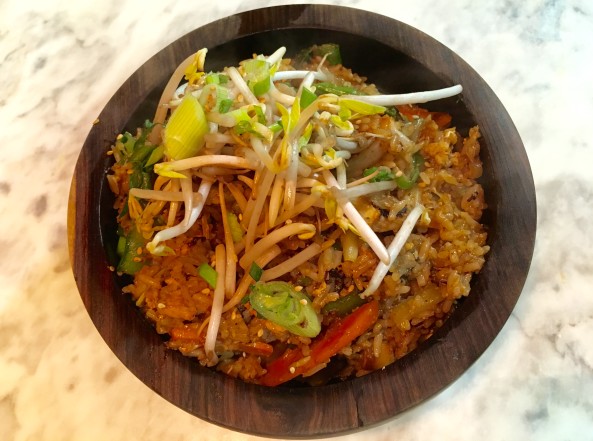 Thai Restaurants in Playa Del Carmen
We are a far way from Thailand in Playa Del Carmen and it is hard to even find the ingredients. So when you have a craving for Thai food, where is good to go? Here is a list of the Thai restaurants in Playa Del Carmen and places where you can get a taste of Thailand.
Gluay Maai Thai Restaurant
Gluay Maai is one of the more complete Thai restaurant we have in Playa Del Carmen. It has a nice setting and full Thai menu.
This is more of a sure shot Thai restaurant sure to satisfy or somewhat satisfy Thai food lovers. This is usually our first recommendation for Thai food in Playa Del Carmen. This restaurant can also be for a romantic night out because the patio setting and lights. For more about this Thai restaurant see our article here.
Location: Gluay Maai is on 38th Street between 5th Avenue and the beach. It is not far off 5th Avenue and is on the north side of the street.
Hours: Wednesday-Monday 3:00pm-11:00pm. Closed Tuesdays

Yum Yum Restaurant
This is the latest entry to the Thai restaurant category in Playa Del Carmen. The menu is technically Asian fusion but about 50% of it is Thai. The taste are all authentic. With your meal you ca also get a good cocktail or drink. Of all the options for Thai restaurants in Playa Del Carmen this is one of the best! It is not surprising this restaurant is so good because this restaurant is brought to you by the creators of Oh Lala Restaurant.
See our video below for a brief overview and our article here for more information.
Location:
Corner of 10th Avenue and 6th Street.
Hours:
Open daily from 7:00am-11:00pm.
Po Thai Restaurant
Po Thai Restaurant is a middle of the road restaurant. It is simple and pretty straightforward. You have a large Thai menu but don't expect gourmet dishes. The staff is friendly and bilingual. For more on this restaurant see our review here.
This restaurant is good to go to if you want something simple. This is not our first choice for Thai food in Playa Del Carmen but some people have found some dishes they like here.
Location: Po Thai is on 10th Avenue and the corner of 14 Bis.
Hours: Monday-Saturday 4:00pm-11:00pm Closed Sundays
Restaurants with Thai flavors and dishes
These restaurants are not wholly Thai food but do have some accents and dishes you will like. Even though they are not wholly Thai, they can be a better option.
Babe's Noodles and Bar
A longtime favorite for locals an returning visitors, Babe's always has good smelling food coming out of the kitchen. All the food here leans Asian and you can get Thai dishes here. Also be sure to check out their frozen drinks with mezcal! For more on Babe's Noodles and Bar see our article here.
Go here if you are on 5th Avenue or nearby. Babe's has an energy about it and is a lively place to eat. The plates are savory and come in two sizes. We prefer the larger plates.
Location: The restaurant is conveniently located in the center of Playa Del Carmen on 10th Street between 5th Avenue and 10th Avenue.
Hours: Mondays-closed. Tuesday-Sundays 1:00pm-12 midnight
What is your favorite Thai restaurant in Playa Del Carmen? Let us know in the comments below. We would love to hear from you.
For more restaurants in Playa Del Carmen, see our full guide here.