We heard a lot about Casa Sofia and what a good Italian restaurant it is. We wanted to go by and check out what made this place so popular with locals.
The Casa Sofia Story
Casa Sofia is an Italian restaurant on the south end of town. It was started by an Italian couple that named it after their daughter, Sofia. This restaurant has blossomed into a popular place for Playenses to eat.
Atmosphere
This is a casual restaurant but can feel elegant under the crystal chandelier in the air conditioned inside section. There is outdoor seating for smoking and indoor seating.
Part of how a place feels is the service. You can tell this is not a tourist restaurant on 5th Avenue because the service is very attentive and good. It is a tendency in tourist areas to let down your guard because the customers will only be there for that night and then leave town. Here there are a lot of locals going to eat and so we think they make sure the service is good. We certainly noticed it.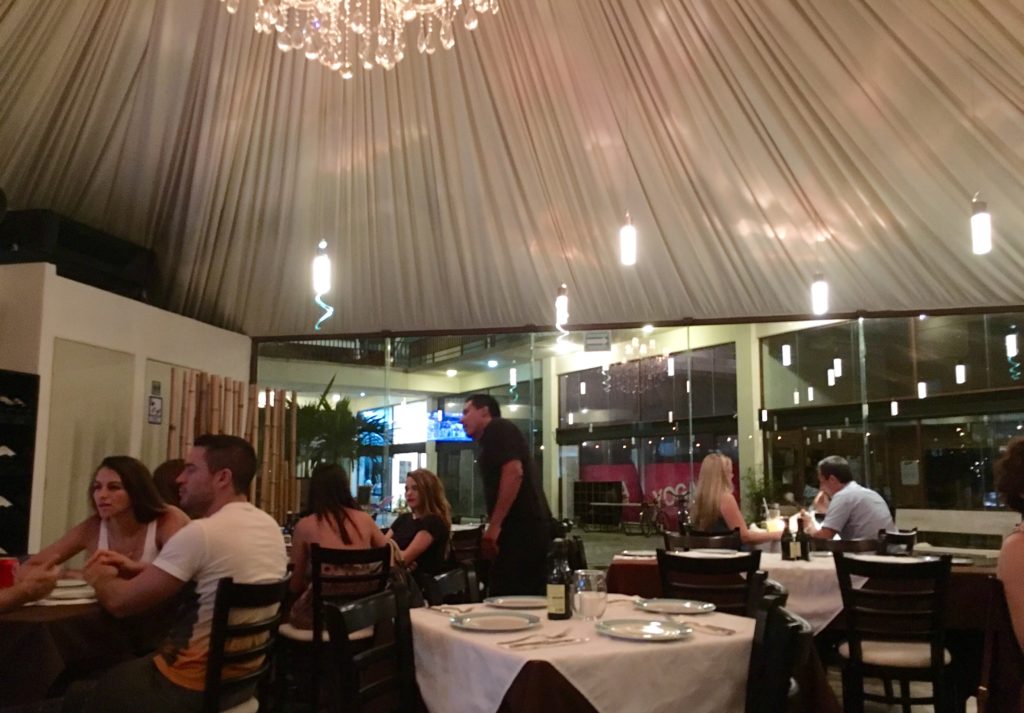 The Menu at Casa Sofia
First of all the menu is like a book. It is very extensive and everyone at your table should be able to find something they like. There is a multitude of pastas, pizzas and even vegetarian options. There are also meat and seafood dishes and Italian specialties.
Below you can see the vegetarian pizza. There is one size and the size it comes in can feed two or enough to take home some.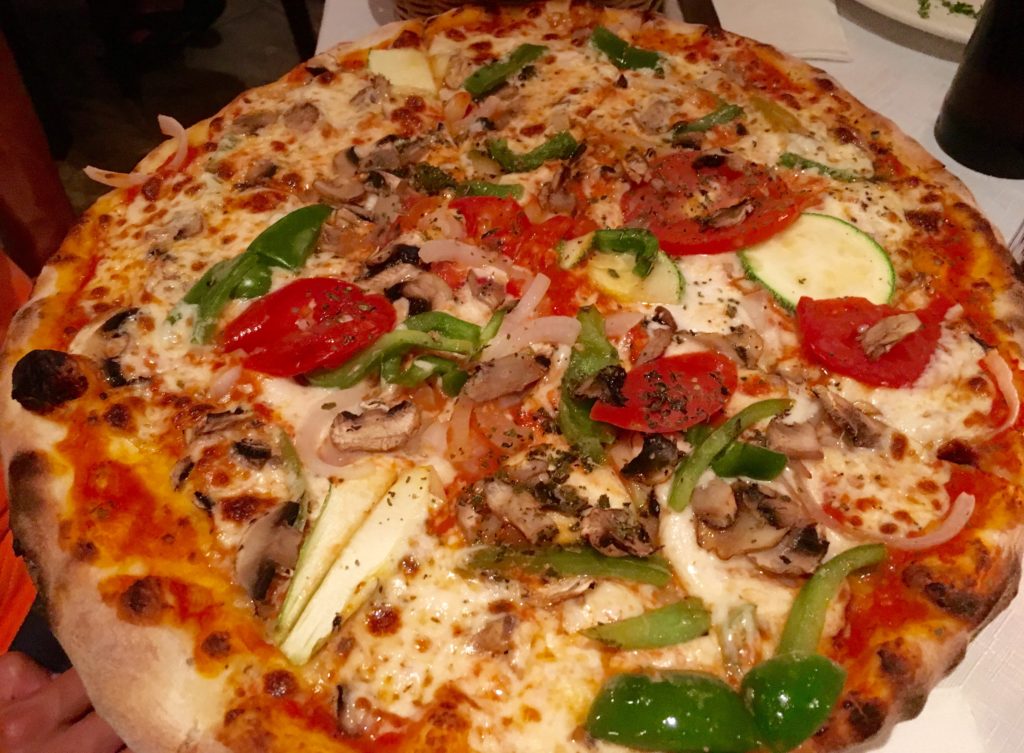 This was the pesto lasagna. The photo by no means does it justice. It is hard to get good pesto in Mexico, but this was very good! The ingredients are expensive and this pesto lasagna for 95 pesos was a good portion size and great value!
The food here is authentic and tasty without being overly soaked in oil and butter just to make it taste good.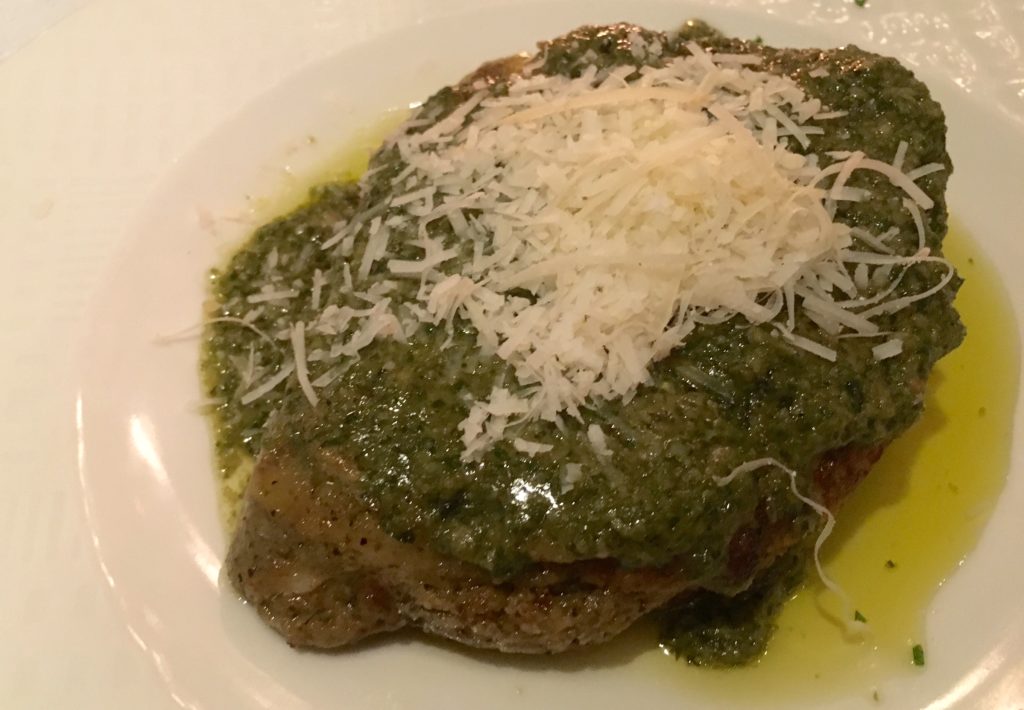 Prices at Casa Sofia
Starters range from about 38 pesos  for four pieces of bruschetta to 138 pesos for mixed plate of fried seafood and vegetables.
Pastas are about 80Pesos to 100 pesos.
Pizzas are about 85 peso to 135 pesos.
Meat dishes are about 85 peso for grilled chicken to 219 pesos for grilled rib eye.
Seafood dishes are around  160-175 pesos.
Desserts are about 30 pesos to 65 pesos.
Cash and credit cards accepted here.
Our Recommendation
This is one of the best Italian restaurants in Playa Del Carmen. Especially when you factor in the value for the cost of a meal. Tourist are not really going to find this restaurant because it is out of the way but this will remain a locals favorite place to have a meal out.  If you are a tourist and can navigate this pretty easy to find place, then you should. This restaurant can be for a romantic night out or a casual night with friends. This place can be whatever you make of it and you will be guaranteed a good meal at affordable prices.
Hours
Monday-Sunday 12:00 noon-11:30pm.
Where is Casa Sofia?
Casa Sofia is on the south end of Playa Del Carmen on Avenida Aviacion. This is the diagonal street on the south side of the airport. It is in one of the plazas in the front. There is parking under the plaza. There is limited street parking nearby.

Have you been to Casa Sofia? What did you think? We would love to hear your opinions below.