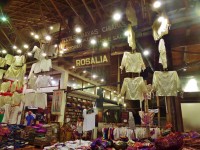 Are you coming on vacation and want to do some Playa Del Carmen shopping? The pedestrian street of 5th Avenue (also called Quinta) is about 22 blocks of restaurants, shops and everything a tourist would want in a destination. This is the main street where you can shop for local made products, Mexican crafts and souvenirs. This avenue parallels the beach and is the place to stroll and shop.
Since it is so long and there are many stores to look at, we thought we would narrow down where you might want to check out. Most of these stores on our list are geared at what tourist might want and have things you are looking for. Here is our Top 10 places to shop on 5th Avenue. Happy shopping!
The Top 10 List of Places to Shop
These are not in any order except from south going north on 5th Avenue.
This is an outdoor shopping center at the beginning of 5th Avenue. It is shaded and a nice place to walk around in the day or night. There is a mix of tourist shops with souvenirs and places to buy fashion.

Sol Jaguar.

Update: This store has a new location. This is a very authentic Mexican craft store featuring a lot of ceramics for the most part and also hand painted wood carvings. Don't worry about taking it home though, they can wrap it up for you and you will have a true treasure from Mexico that you can display in your home. This store is on 5th Avenue between 38th and 40th streets.

Rosalia

One of the iconic stores on 5th Avenue features Mexican textiles from Chiapas Mexico. There are beautiful table runners, clothes, pillows and purses that are all distinctly Mexican. They don't negotiate prices but you will be getting things of beauty and the prices are not that bad. This store is on 5th Avenue between 12th Street and 14th Street. You cannot miss this place. They have lots of thing hanging up in this open air store and women in traditional outfits from Chiapas.

This is a store that has heart, actually all hearts. It is a Mexican inspired store with tin hearts, hearts in boxes and glass blown hearts. If you have someone you love this is a good store to buy them something special. This store is on 5th Avenue near 14th Street on the east side of the street.

Caracol Purpura

This store has just closed so we will be replacing it soon with another option for you.

This is one of our favorite places for tourist souvenirs. Not only is it air conditioned to the max, there is a nice selection of goods and a huge selection of Tequila for tourist to take home a taste of Mexico. This store also has some great photo ops outside. The store is on 5th Avenue between 14th Street and 16th Street.

Hacienda Tequila Playa Del Carmen, great place for shopping for souvenir.

This store is a also a great place for souvenirs. We like the selection here and when it is close to the holidays they have a great range of Mexican inspired ornaments. This store does not have a large sign but you will recognize it from the fully stocked store on 5th Avenue and the corner of 16th Street.

This is not a huge mall but it has become part of the 5th Avenue culture with live entertainment out front and three floors of shopping. There is actually not much tourist souvenirs here but there are a lot of shops for clothing and the best store for alcohol shopping in Playa Del Carmen is here. Quinta Alegria Mall is on 5th Avenue and Constituyentes Avenue.

This is a Mexican designer who works with silk and Mexican inspired patterns. This is not a cheap store but you are getting very good quality things you can wear or use as an accessory for many years. This store is on 5th Avenue between 26th Street and 28th Street on the east side.
This is a Mexican design store. It has clothes for both men and women plus some accessories. The designs incorporate iconic Mexican symbols. Shop here for truly unique things that day Mexican design and cool style! There are actually three locations on 5th Avenue but we like the one on 5th between 24th Street and 26th Street the best (see map below).
If you have enjoyed reading this article for shopping on 5th Avenue you might also like to read the Ultimate Guide to Playa Del Carmen Shopping. This shopping guide has information on shopping malls, grocery shopping and everything you need to know about shopping in Playa Del Carmen.
You might also want to read our Fashonista's Guide to 5th Avenue. Also make sure to read our list of shops just off 5th Avenue so you do not to miss for some great finds!
Did we mention some of your favorite shops in Playa Del Carmen? Do you have other stores that are not on our Playa Del Carmen shopping list? Please let us know about them in the comments below.

[print_link]