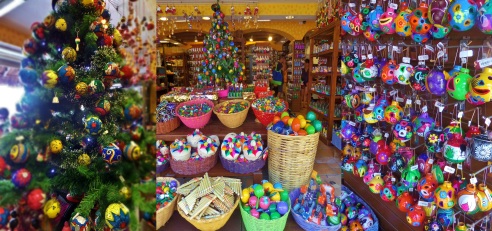 Shopping at the Tequila Bazar for Christmas
It may not feel like Christmas in Playa Del Carmen with the year round warm weather and sunshine but you can get in the spirit with these ornaments we found on 5th Avenue. The Tequila Bazar is a little shop on 5th Avenue we like for souvenirs. From October until Christmas they have a lot of little Christmas decorations. These are perfect to take home and remember your vacation by or you may end up hanging them on your Christmas palm tree in Playa Del Carmen if you live here.
We like this store year round because they have a lot of little things that are not super tacky souvenirs. They also have a small food section of local products like chocolate!
Santas in sombreros, Mayan doll ornaments, mariachi bands a play'n', small clay nativity scenes and a whole lot of other Mexican style decorations. (see photos below)
Where is the Tequila Bazar store?
On 5th Avenue between 14th and 16th Streets. Right next to the Quinta Alegria Mall. Don't look for the sign for this place. It is so small you will miss it. Just look for the store in the picture to the right.
Hours
Open everyday from 9:00am-10:00pm