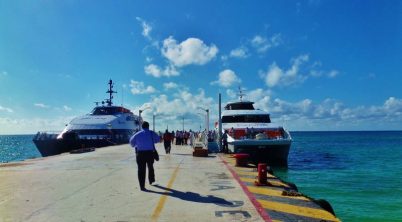 How to get from the Cozumel Airport to Playa Del Carmen
If you are flying into Cozumel and going to the mainland you might want to know how to get from the Cozumel Airport to Playa Del Carmen. Some people actually refer this as a Playa Del Carmen airport to fly into. However there are drawbacks to it. One important thing to take into account is flight arrival and departure times of Cozumel. If you arrive after 9pm or depart before 9am it is tight on making the connections (see the Cozumel ferry schedules here).
It is also important to take into account that you will be crossing the ocean and there is occasional rough weather. Very rarely do the ferries not run because of the weather. It can be a rougher ride occasionally and it is a tough start or finish to your vacation if you have to take a ferry at a certain time or certain day. Because of that some just prefer to land in Cancun and transfer to Playa Del Carmen that way to make sure of an easier connection.
Step 1 Taking a taxi from the airport to the ferry pier
Cozumel Airport (CZM) is a small international airport. Many people like the ease of arrival and departures here. Since this is a small airport there is not a lot of people arriving at one time. Some people have family picking them up and others have hotel shuttles. For those of you looking to get to the Cozumel Ferry you have an option of a van shuttle which is shared. This can be paid for at the airport. The one drawback is waiting for other people to fill the van. Your second option is walking a short ways to catch a taxi. Both options are a few dollars. Since there are no meters in the taxis it is good to ask the price before getting in.
The Cozumel Airport is just on the edge of San Miguel town and it is only a 9 minute drive to the ferry dock. Keep this in mind when paying for the taxi.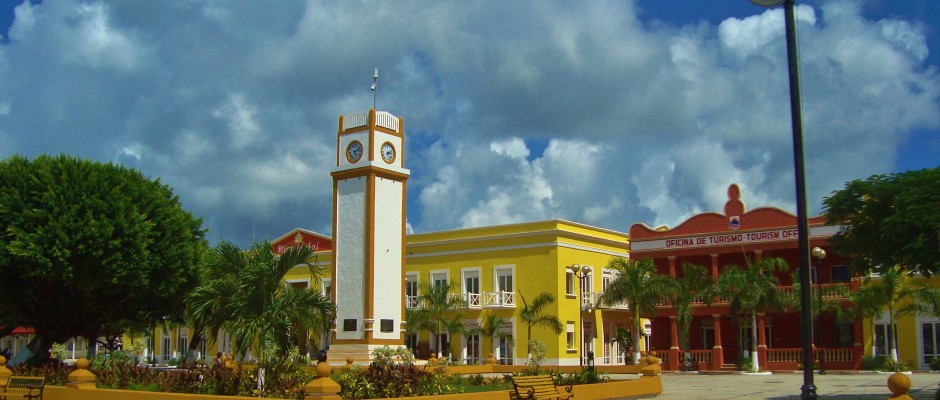 Step 2 Getting a ferry from Cozumel to Playa Del Carmen
Your van or taxi will drop you off from the airport at the ferry dock. Here you walk down the pier where you will have two booths to choose from. Usually each booth has the time of the next ferry departure. If you are within 5 minutes of the next departure purchase your tickets there or wait for the next one. There are ferries about every 30 minutes most of the day so waiting is not long.
Luggage on the Cozumel ferry
If you have flown into Cozumel Airport for your vacation you will no doubt have luggage. So how does the ferry handle this? They are prepared for you. When you arrive boat side they will tag your luggage and put it in storage. This is a safe system. Just account extra time getting on and off the ferry if you check bags. If you have a small carry on size bag, it is fine if you take it to your seat with you.
How much is the ferry from Cozumel to Playa Del Carmen?
There are two ferry companies now so the pricing has been with tighter competition. For the most part the prices are The Cozumel ferry cost about 220 pesos one way or 400 pesos round trip. Basically both are all about the same price and convenience of what boat is leaving next is going to be the deciding factor.You do have to buy a round trip ticket, in fact we recommend just a one way because that way you are not locked into a schedule when you return, if you are going back to Cozumel. For more details about Cozumel ferry prices and taking the ferry see our article here.
You can pay with credit card and they will accept USD but at what ever rate they choose to exchange it at.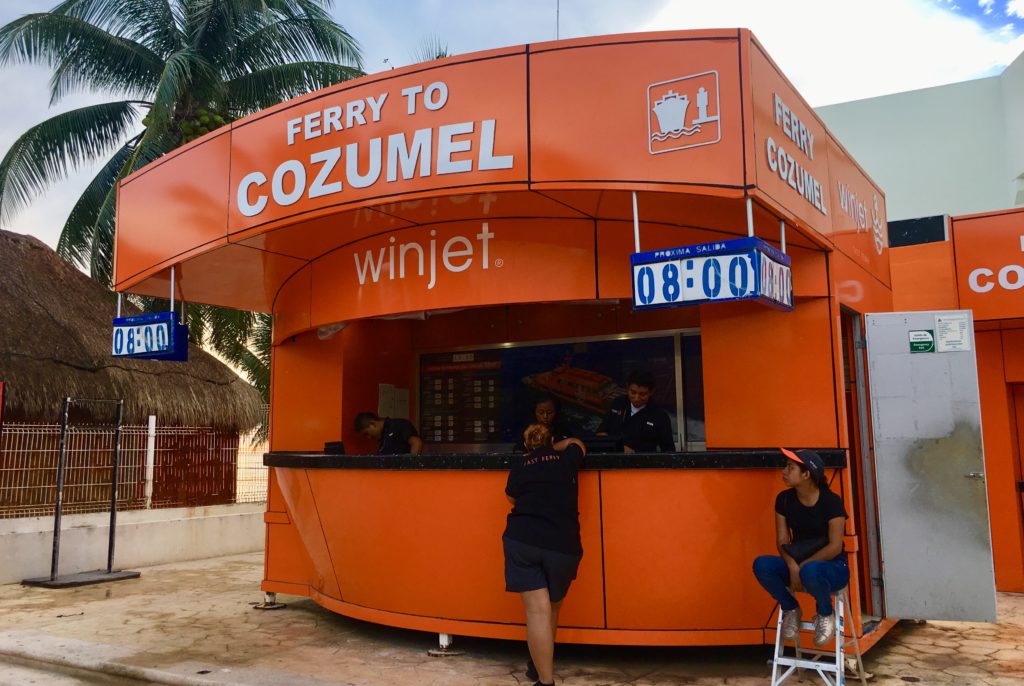 Step 3 Getting to your hotel or destination in Playa Del Carmen
Once you arrive in Playa Del Carmen you will be on Calle 3 Sur which is the south end of town. The Cozumel Ferry Pier is about two blocks from the nearest taxi stand. The closest taxi stand is at 5th Avenue and Juarez Avenue. If you are traveling with bags and need assistance getting to the taxis, there are tricycle taxi bikes that will peddle you and your bags to the taxi stand. Depending on how many bags you have, this only cost around 50-100 pesos.
Taxis in Playa Del Carmen can take you the rest of the way unless your hotel or destination is very close by. See the article for prices of the taxis and remember it will be a little more from a taxi stand.
If you are going back to Cozumel and need more detail on how to take the ferry from Playa Del Carmen to Cozumel you can see our article here. If you need ANY information on your time in Playa Del Carmen or the Riviera Maya we have a long list of guide for you here.
Did this guide help you plan your trip from the Cozumel Airport to Playa Del Carmen? If you have any questions or comments, let us know below, we would love to hear from you.