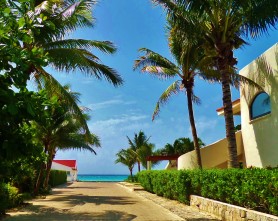 Where is Playacar in Playa Del Carmen? You may be considering to invest in this area, looking at renting a vacation rental or looking to stay in one of the all inclusive hotels in Playacar. This neighborhood overview will give you an idea of what it is like an is part of our ongoing look at different areas of Playa Del Carmen.
Playacar Playa Del Carmen
The private development is called Playacar. It is a high end development that was started in 1979. It preserved most of the large trees and left space for a 18 hole golf course, parks and wide winding streets.
Where is Playacar?
If you look at a map of Playa Del Carmen you will notice a green looking section on the south end. This is the Phase 1 and Phase 2 sections of Playacar.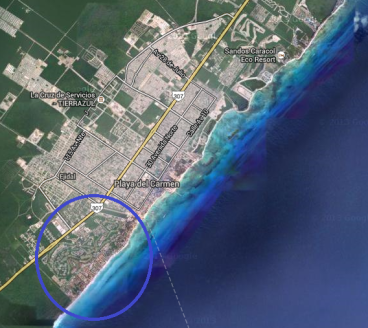 What is the difference between Phase 1 and Phase 2 of Playacar?
Playacar is divided up into two phases, Phase 1 and Phase 2. Phase 1 is smaller and mainly residential houses with only a few small hotels. This area is one of the few areas with beachfront houses in the Riviera Maya. Phase 2 is the larger section and includes a large golf course, houses, condos, a bird aviary park, small shopping area and several all inclusive hotels.
The main entrances to both Phase 1 and Phase 2 are on the south end of 10th Avenue. Phase 1 only has one entrance as well as exit. Phase 2 has 4 entrances and exits but the main on is at the end of 10th Avenue. Below are photos of the two entrances.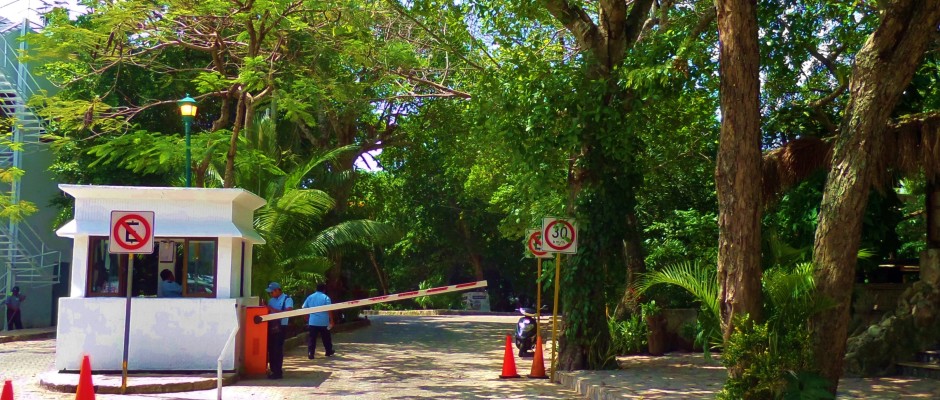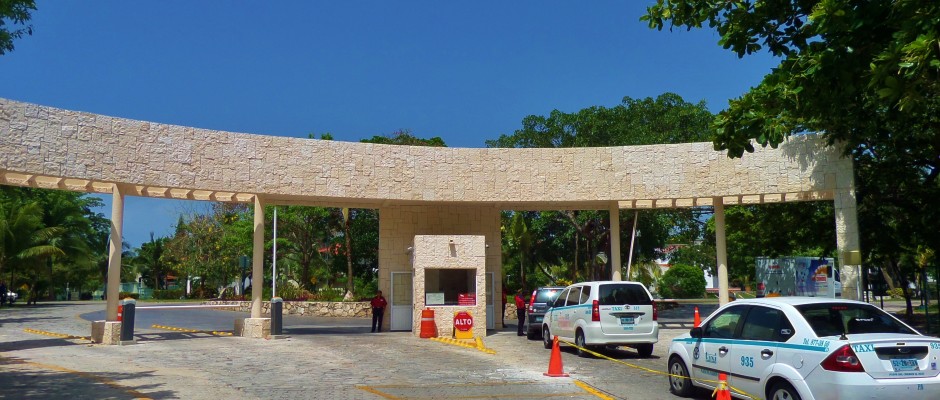 Mayan Ruins in Playacar
There are Mayan ruins in Playacar. They are not huge but interesting to walk by and take some snapshots. They are open to anyone in Playacar and there is no charge for them. Occasionally you will see a wedding taking place on the grounds.
The best Mayan ruins in Playacar are in Phase 1. Below you can see a photo of part of the ruins.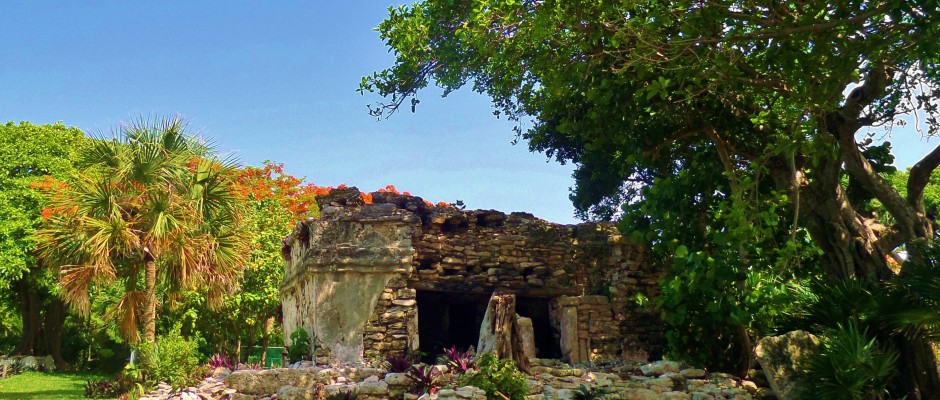 Beaches in front of Playacar
The beaches in front of Phase 1 and 2 are very nice because they are wide and not too crowded. It even made our top 5 beach list for Playa Del Carmen!
Just look at this nice white sand beach photo below! That is in front of Phase 1. Since all beaches in Mexico are public, people do like to walk to this beach from the center of Playa Del Carmen because it is nice.
The beach that stretches south in front of Phase 2 are nice as well. They do have hotel guest on them from the all inclusive resorts but don't get many locals because it is more distant from public access. Even from within Playacar there is limited access to the beach if you are not staying at one of the all inclusive hotels. This does not mean you cannot use the beach, you just need to find access to it first.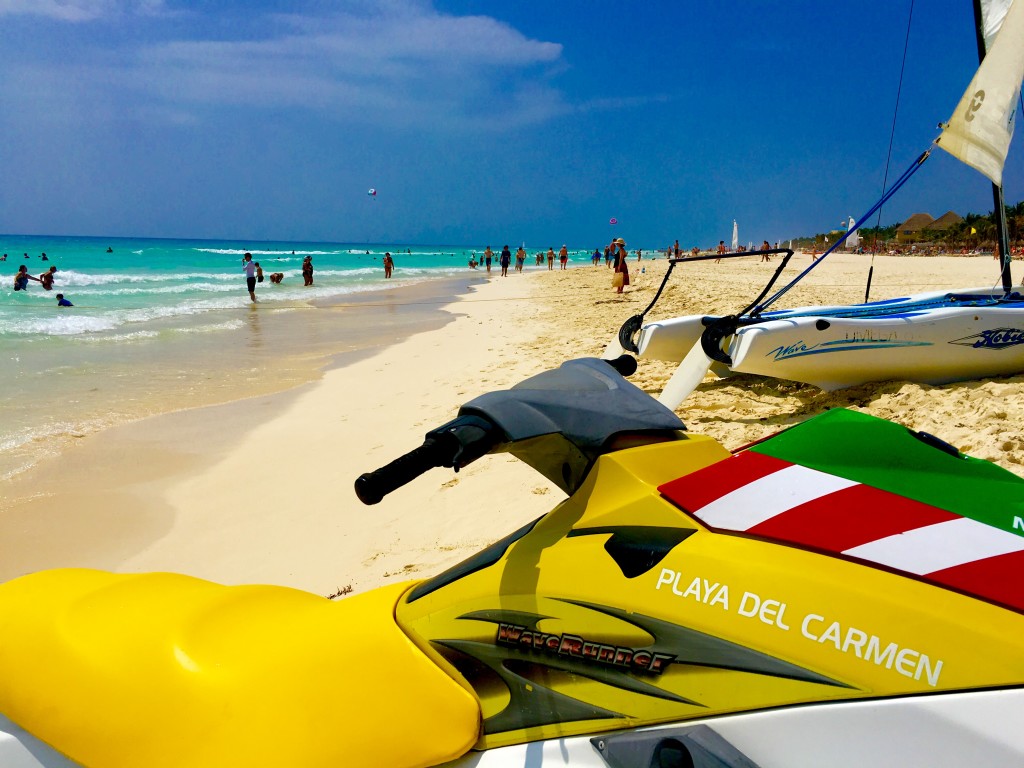 Roads and streets in Playacar
The main roads in both Phases are nice to bike and run next to. There is more information in our article on running in Playa Del Carmen and biking in Playa Del Carmen. There are sidewalks on both sides of the road in Phase 2. Biking is supposed to be limited to the inside loop of sidewalk. So make sure you follow the rules.
The roads and landscaping is all manicured and taken care of. Playacar has private security that drives around and you will see them scanning checkpoints (often markers in trees) to indicate they have passed a certain point.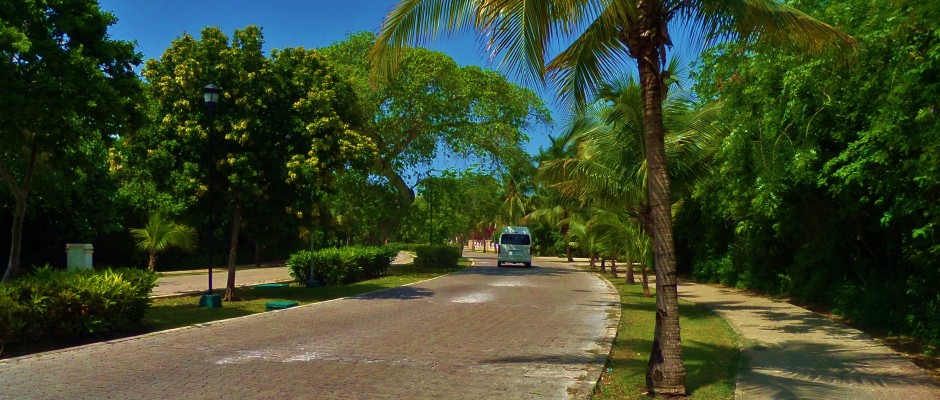 Hidden Playacar
Phase 2 of Playacar is also home to the Xaman-Ha Bird Sanctuary. This small bird park highlights some of the local tropical birds and can be one place right in Playa Del Carmen to see them.
Shopping in Playacar
There are no stores in Phase 1. In Phase 2 there is a tourist shopping plaza that even has a Starbucks. It is ONLY for tourist though and has the typical souvenir items for sale. You can find many of the same things downtown and possibly a little cheaper but it does come in handy if you are not wanting to walk around downtown. For more about shopping here see our article on Plaza Playacar.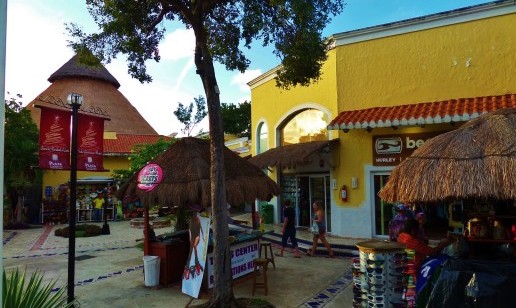 Restaurants and convenience stores in Playacar
There is a convenience store on the front side of Phase 2 at the Riu Palace Hotel and two Oxxo convenience stores on the back side of Phase 2. See map below.
There are a couple of restaurants on the back side of Phase 2 as well. These are basic and only more of convenience if you don't feel like leaving the area.
Although if you do like pastries we recommend L'Atelier de Fred on the back side of Playacar phase 2. This is a French bakery. You can see more about this in our Bakery Guide to Playa.
Hotels in Playacar
Hotels in both Phase 1 and Phase 2 offer the advantage of being in a secluded area of Playa Del Carmen but also close enough to the center of Playa Del Carmen to walk or take a taxi to enjoy the entertainment and restaurant scene. If you are interested in staying in this area, click on the link to Booking.com on the side to check prices.
In the map below you can see the section of Playacar Phase 2. This is where most of the all inclusive hotels are. Each all inclusive hotel is marked with and "AI" . Notice there are two all inclusive hotels that are not beach front.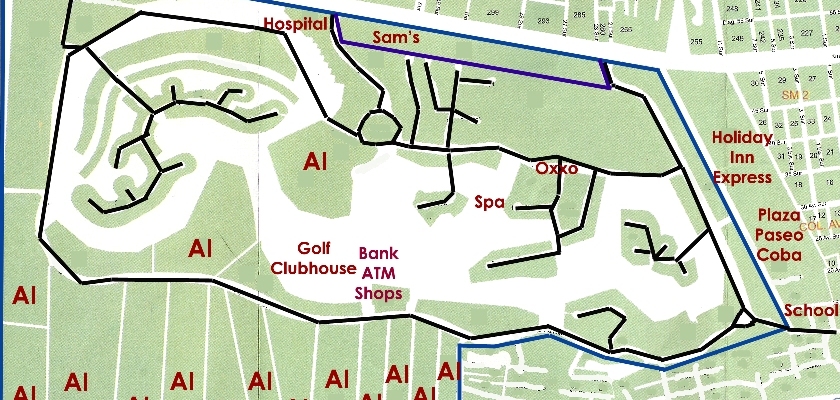 You can also see our recommended hotel list for this area in our guide here. One hotel we like for adults is Royal Hideaway in Playacar.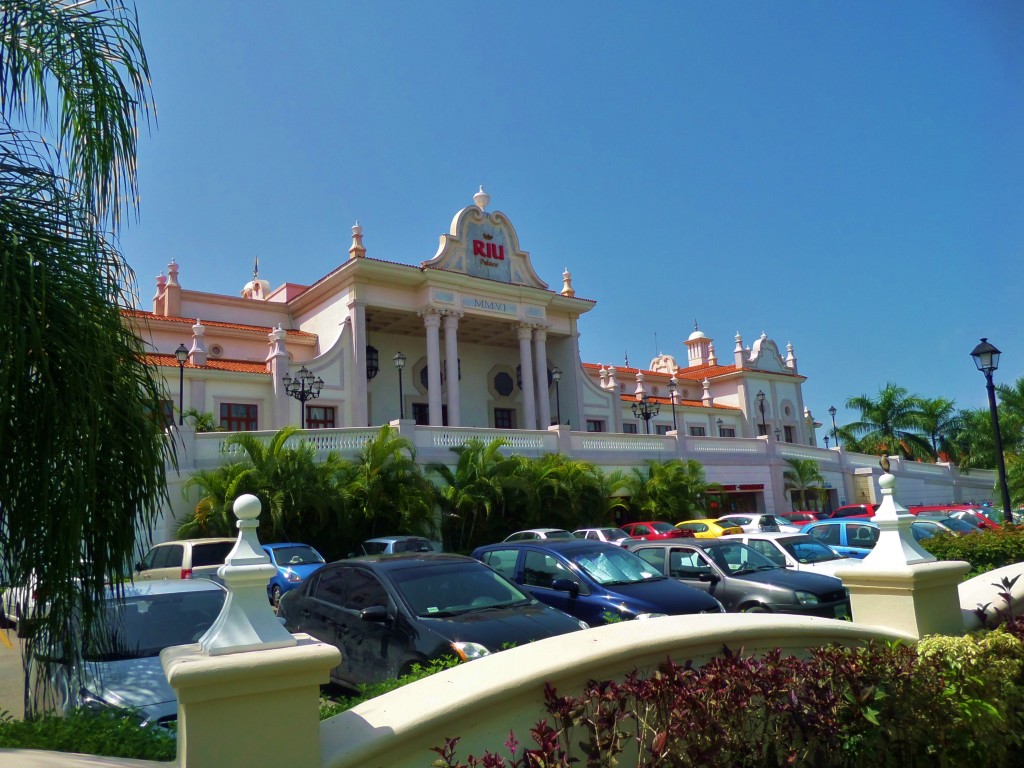 Housing and real estate in Playacar
If you wish to live in this area, houses start in the Low 300,000's and go into the millions (USD). Even more budget inclined are condos. They start around 145,00 USD and go up from there. Condos tend to be in the back side of Phase 2. Be sure to read our Guide to Real Estate for Playa Del Carmen that will give you an overview of all of Playa Del Carmen. Here are some photos of what houses and condos look like.
We have a good video here to give you an overview of the market and we answer many of the questions our readers ask us about.
If you would like to know more specifically about living or investing in Playacar Phase 1, see our article here including a video.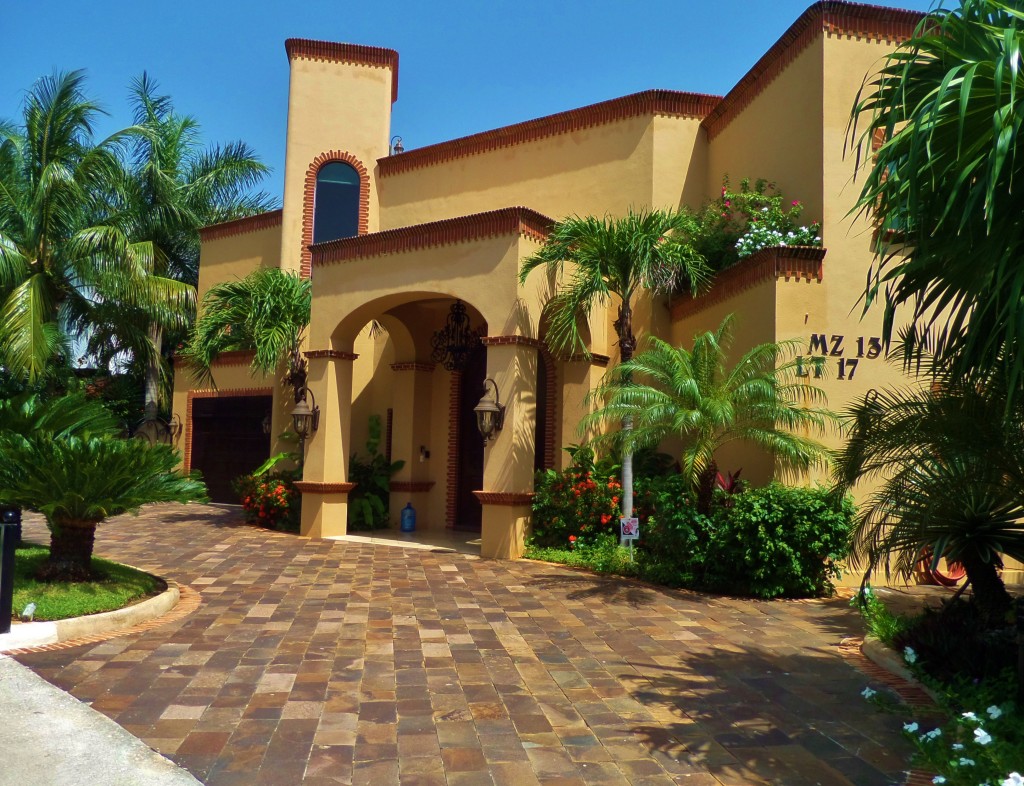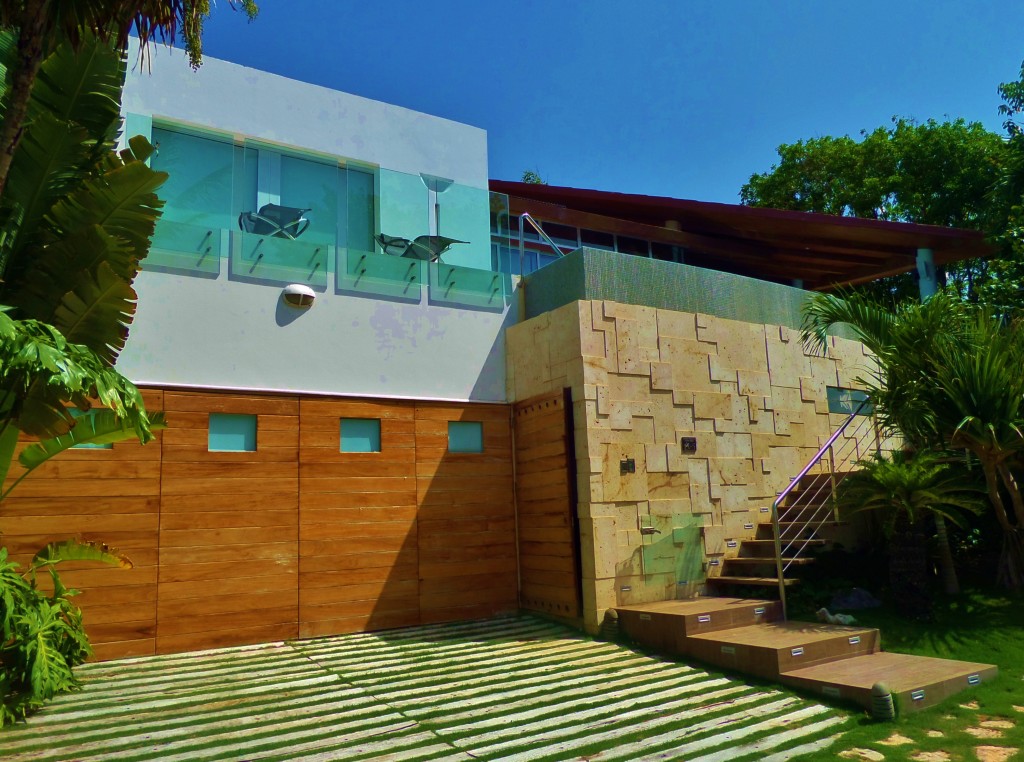 What things in Playacar do you like? Let us know in the comments below.