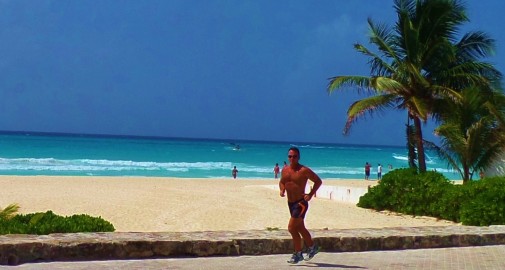 Running in Playa Del Carmen
Your first thought might be "Why would someone actually run in Playa Del Carmen?" If someone is on vacation they should be taking it easy and if they live here they should know the heat will soon put an end to that endeavor. Playa Del Carmen running can be a challenge but here is a guide to let you know where to go and how to overcome some of the challenges.
Both categories, tourist and residents have their runners. Since we are blessed with year-round temperatures that allow for outdoor activities, people are drawn here for events, from the basic running events to marathons and the Ironman competition which is usually held on Cozumel.
Tips for Running in Playa Del Carmen
The heat is going to be the biggest obstacle for running in Playa Del Carmen. This means going out early in the day or late at night. By 10:00 am it can be hot out, so the earlier the better. It does take a while for the heat to subside so running after 7:00pm or 9:00pm is best, depending on the season.
Believe it or not, you can get used to the heat and will acclimate to what was once thought to be impossible weather for running in.
Drink before and after running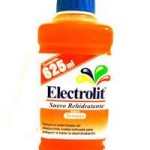 Fully hydrate your body BEFORE going for a run and keep your fluid intake up after you run. You will sweat while running here and that is just a fact.
It is a matter of personal preference if you like to take fluids while running. Typical drinks like Gatorade and PowerAde are available here. There is also a hydrating drink that is a local favorite called Electrolit. It cost about 18-30 pesos. Jumex makes a knock off product like Gatorade which cost about 30% less but does have a more sugar taste.
Coconut water is also considered a very natural way to rehydrate, and that is available here in both natural form and commercially bottled form.
Reward your run with a liquid treat
Here is a fun idea for running and rehydrating, pick a different endpoint after each run. Have the endpoint a healthy café or a great place for a cool drink. One such place is Frutiyogurth. They have great fresh drinks. We recommend the lime and mint frappe. You can also read our article on keeping cool in Playa Del Carmen with ice cream and flavored water spots for more ideas.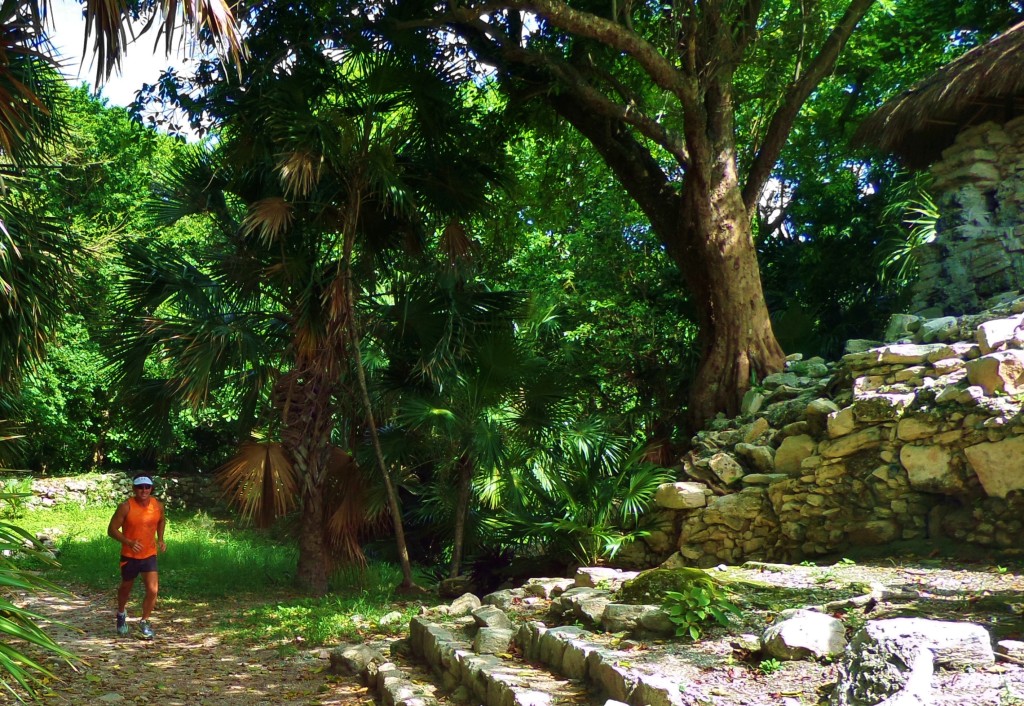 What to wear running in Playa Del Carmen
Wearing loose clothes while running in Playa Del Carmen will give you airflow to your skin.
Good sunglasses and a visor are nice to have. Visors are nice because they shade your face and but still leave the top of your head open for airflow.
Thicker socks can help insulate your feet from the hot pavement. Yes, you really can heat of your feet while running on hot pavement.
Having a sweat towel can come in handy as you wipe sweat off your face and keep it out of your eyes. This is good if your clothes are nonabsorbent.
Make sure you bring your running shoes. Good shoes tend to be 30-40% more expensive in Mexico. Often selection is limited in stores. Most people order online to get the model they want.
If you need to buy some athletic wear for sports check out our guide on where to shop in Playa Del Carmen.
Tip: If you wear light color shorts, especially like light blue or grey, when the sweat runs down your body it is going to make a funny looking wet mark on your shorts. Wearing black shorts will hide the sweat.
Clean your skin after running
Having sweat on the skin is not a good thing. It not only makes you hotter but can lead to heat rash. Make sure you shower after running and using a scrub pad or loofa sponge will take off dead skin and promote better skin health.
If you continually leave the salty sweat on your skin, you can let yourself become vulnerable to a constant skin irritation.
If you are running during the day, protect from the sun with sunscreen. Use biodegradable because not only do most cenotes and water parks require it, you also will not be putting your eyes at risk from running chemicals into them.
Washing your clothes after running
After your run you are going to have sweaty clothes. If you send your clothes out to be cleaned sometimes even the laundry does not do a thorough job of cleaning sweaty clothes. We prefer to hand washing running gear. The good thing is most running clothes are lightweight and clean easily. This can allow them to dry easily in your home.
If you have a cotton shirt you may want to rinse it then soak in water with a cap full of bleach to kill the bacteria. We do this occasionally with running shorts as well to do a deep clean. After soaking, clean with soap, rinse and then hang to dry.
Running on the beach in Playa Del Carmen
If you are going to run on the beach we recommend you wear shoes. One sharp shell or a left over piece of glass will put an end to your run. Running at low tide is better because you have a wider and harder sand to run on (although tides are very minimal here). The beach is also flatter at this time. Caution should be taken when running on an angle. One leg and knee works hard then the other and it can result in pain later.
If you do run on the beach avoid seaweed. Sand fleas can be found in damp decaying matter and give nasty bites. They are found closer to the damp tideline rather then dryer parts of the beach. This is usually where you want to run because the sand is harder. The good thing is that in Playa Del Carmen beach teams and machines rack up the seaweed from the beach.
Where to run on the beach in Playa Del Carmen
If you are a runner that likes to run on the beach, here are three places to check out.
The beach south of the Cozumel Ferry Pier. This beach is wider, less populated, and long. It passes in front of the Playacar hotels.
In the center of Playa Del Carmen from the Cozumel Ferry Pier going north to 10th Street. From 10th Street to Constituyentes Avenue there are boat ties up and the beach is often eroded leaving little space to run.
If you enter the beach from the access road on the south side of the Paradisus Hotel you can run south to almost CTM Avenue. This is a remote section of beach. It can be narrower at times and may not be the flattest beach to run on, but it is the most consistently open beach with a few people.
Places to run in Playa Del Carmen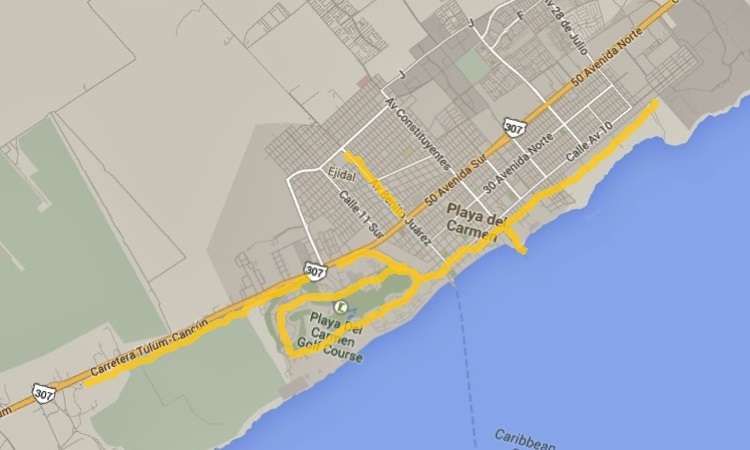 Playa Del Carmen does not offer a great number of different places to run to but here are some good areas to run in. The same places we mentioned in our article about bicycling in Playa Del Carmen are the same area you can run in.
Running places without competing with bikes
There are two areas you can run where you cannot bike in Playa Del Carmen. One area is the extensive beaches offering beautiful scenery for you to run past. The other area is 5th Avenue from the beginning at Paseo Del Carmen to about 46th Street. This stretch of 5th Avenue is a pedestrian street and supposedly no bikes are allowed. If you do run on 5th Avenue, it is better in the morning because if you try to run in the evening it is still really busy until about 11pm.The map to the left is a general overview of where you can go running in Playa Del Carmen.
Places to run on the north end of Playa Del Carmen
A good place on the north end of Playa Del Carmen is the newly extended section of 5th Avenue that goes up until about 112th St. This section has a nice sidewalk and only one lane of traffic that is mostly empty. There is a slight slope to this section. At certain points there are a few access points to the beach if you want to run out to it. There is no shade in this section. There are a few small stores in this area for drinks. You might see an occasional snake on the grassy side of the trail since there is a large mangrove area there.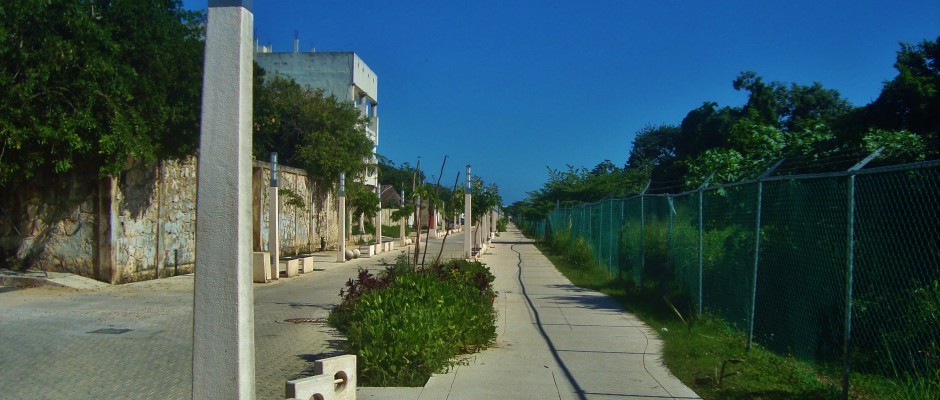 Running on the south end of Playa Del Carmen
To the south of Playa Del Carmen along the highway there is a new trail that goes all the way to Xplor eco park. This trail is used by employees of the park while commuting via bike to the park. Expect to see a lot of iguanas next to the trail that scurry under it into tubes when you come running by. Part of this trail is shaded.
This trail gets much nicer once you pass all of the shopping developments on the south end of town. Once you get past the end of town there are no places to stop for drinks unless you cross the highway and even then there are not too many. So if you choose this long run make sure you plan ahead.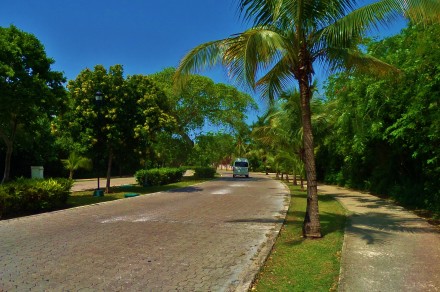 Running in Playacar
The Playacar neighborhood is the large loop on the map on the south end. On the map below you see there are two sections to this development. Phase 1 and 2. Phase 1 is highlighted with a red line and is a basic straight line on one street in and out. You do see some nice houses in this area and get some nice glimpses of the ocean. Phase 2 is much larger. There are sidewalks on both sides of the road but bikes are supposed to use the inside loop, so running on the outside will incur less bike interference.
There are a few side streets but they are all dead ends. Along the beach side there are more large hotels and nice larger houses around the rest of this run. There is some shade on this run. There are three noticeable places to stop and get drinks if you need them. That gives you a few options but not exactly a lot so plan accordingly.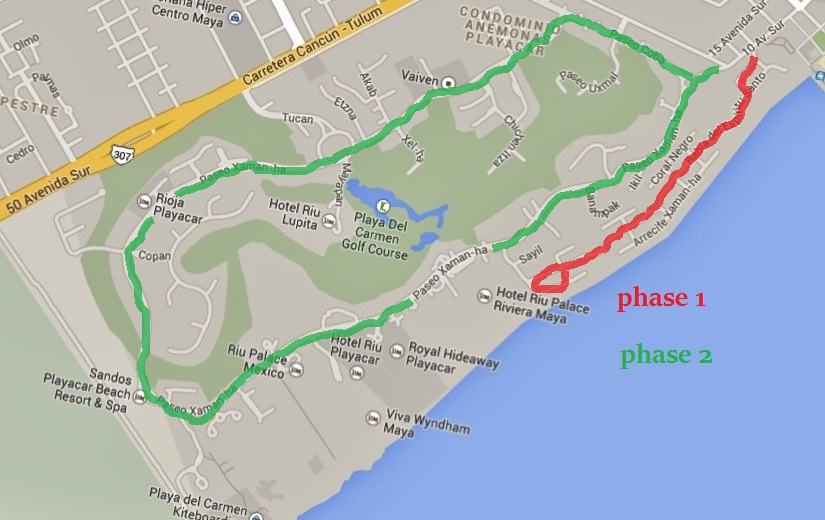 Playacar is technically a private neighborhood. However, for people running and enjoying sport there this does not seem to be an issue with entrance. Many people from Playa run in this area because it is a quiet area with nice trees. You might have to leave an ID at the entrance. So make sure to bring one.
Other roads that are decent for running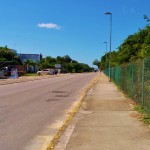 If you want a very short run, on the south end of town there is the airport diagonal road that is wide and easy to run on. It runs from 10th Avenue until the Highway. It is not shaded.
The last place is Juarez Avenue. This unlikely place was recently redone so the center of this busy avenue has a bike/running trail planted with trees. It is not the perfect place to run but it is easier to run here then you might think because there is not much cross traffic and you can maintain your pace while cruising down the center of this avenue.
Tip: If you decide to go off the beaten path and run through neighborhoods, be very watchful of dogs. (This applies to the other side of the highway) Some dogs are not on a leash and are not used to people running by and will chase you or come into the street to bark at you. If this happens, most of the time if you stop and say a firm "NO" to the dog he will stop, and then you slowly back away. If you keep running, often a dog will see this as either, a challenge, fun, or a chase.
Running races in the Riviera Maya
The good news is that in the past few years running races have gotten more popular and there are a lot more offered. The winter months here are more active for such events since it is actually a little cooler and more northern climates cannot have such events. A good place to start looking for events is this Facebook page. https://www.facebook.com/Protudec Sorry it is only in Spanish.
Being active on vacation in Mexico
Are you an active person on vacation? Since we are always out exploring and are active as well, let us know if you want some other tips and places to check out. See also our gym guide to Playa Del Carmen and our walking guide to Playa Del Carmen here.
Where do you like running in Playa Del Carmen? Do you have some tips you want to share? Let us know in the comments below.