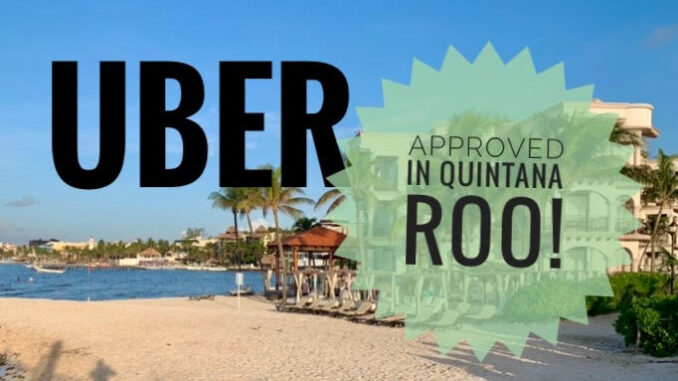 Uber is approved for Quintana Roo
If you talk to any person that has spent some time in the Riviera Maya, the one thing they always wish for is the UBER ride sharing service to be available. People like UBER because it is safer than jumping in a taxi since you are registered and have your destination programed. The main reason people want UBER is because the Taxi union has listened to the workers and not the customers over the years. As the population of the Riviera Maya has grown substantially in the past decade, so has the need to get around. The main reasons people are tired of taxis are:
Sometimes taxis will not stop for locals and instead look for a tourist fare that will pay more.
No set prices and a lot of haggling. Even though there is a chart of prices per distances, many taxi drivers charge more than what is listed.
Assaults and robberies have happened in taxis on occasions, giving the greater group of taxis drivers a bad name.
At times issues with cleanliness of taxis.
Exorbitant prices for larger distances that most people know would be cheaper with UBER.
What is the hold up on the side of the taxi unions?
So, is this just a case of Taxis wanting all the business and no competition? No, there are some genuine grievances that taxi drivers have. There are some things that do not feel fair to them. Several reasons the taxi drivers feel slighted, is the special license that is needed to drive a taxi, insurance, dues, and other fees that UBER drivers do not need to pay. While this might seem like something that should be addressed to the Taxi Unions, it is the go-to answer when taxis say they are protesting and why.
Most Mexicans work for companies that automatically take out taxes. It is very rare to meet a Mexican that is a freelance worker and actually prepares their own taxes. So how does this relate to the UBER/ Taxi drivers standoff? All taxi drivers automatically pay taxes. New forms of businesses often do not have the regulations in place to govern new forms of business. This is what happened to AirBNB in Mexico. Many people had rental units but were not paying taxes locally. So, the government made Airbnb put the taxed on the reservation automatically or register the owner and they are responsible for the payment of taxes. This is similar to concerns taxi drivers have over fairness of how taxes are paid as well.

How UBER came to be approved in Quintan Roo today
Unanimously, magistrates approve UBER's entry to Quintana Roo. Magistrate José Antonio Belda Rodríguez considered that the decision to authorize the operation and entry of UBER in Quintana Roo does not affect those who provide public transport service, and does help users, as it offers them greater service options.
On Wednesday morning, the Judiciary discussed the amparo 334/2019, which seeks that Uber can operate in Quintana Roo without having a concession. This is the law that says transportation services much have a special license to operate a public transportation service. Ubers side of the argument is that it is from the private sector and the laws governing public transportation do not apply to UBER. However, the company affirms that it is from the private sector, so it protected itself against the provisions of the current Mobility Law.
It was the magistrates José Antonio Belda Rodríguez, Jorge Mercado Mejía and Leonel Jesús Hidalgo, who discussed the issue and voted on its resolution. Two requests were registered from the Taxi Drivers' Union for the reporting magistrate Jorge Mercado Mejía to abstain from participating in the debate and discussion. However, these appeals were dismissed by the plenary.
The platform demonstrated, according to the reporting magistrate, to be a private company, a commercial company that offers chauffeured transport service through electronic devices and digital applications. This would confirm that therefore it is not public transport and therefore does not require a concession, as required by the authorities of Quintana Roo.
The argument that governs the project points out that the transport service offered by digital platforms and electronic devices cannot be equated to the public transport provided by the state, either directly or through third parties, that is, concessionaires, explained Jorge Mercado Mejía.
The transport service via applications is a different business model, so it would not be applicable under the current law governing public transportation. And the taxi service is operated from concessions, as the Supreme Court establishes it.
The magistrate stressed that the Supreme Court has already discussed the same issue in other states and considered that the platform service cannot be considered a public service.
What happend to the UBER service in Cancun?
Uber started in Cancun back in 2016. Rides were limited to the Cancun area and when you searched outside of Cancun, for example, Playa Del Carmen, it said there was no service in other areas. On December 5, 2017, a federal judge granted it a definitive suspension when applying the Local Mobility Law.
During the time Uber was operating in Cancun, stories on social media swirled around of taxis blocking cars thought to be working for UBER and other intimidation tactics. The intimidation mainly coming from Taxi drivers and other transportation companies. Because of harassment and diminished people using the service, fewer and fewer drivers signed up for the ridesharing service. Eventually it was so hard to get a ride, that no one really counted on it and relied on taxis.
In February 2019, UBER resumed the process to return to the city, requesting registration as a Transmission Network Company with the institute.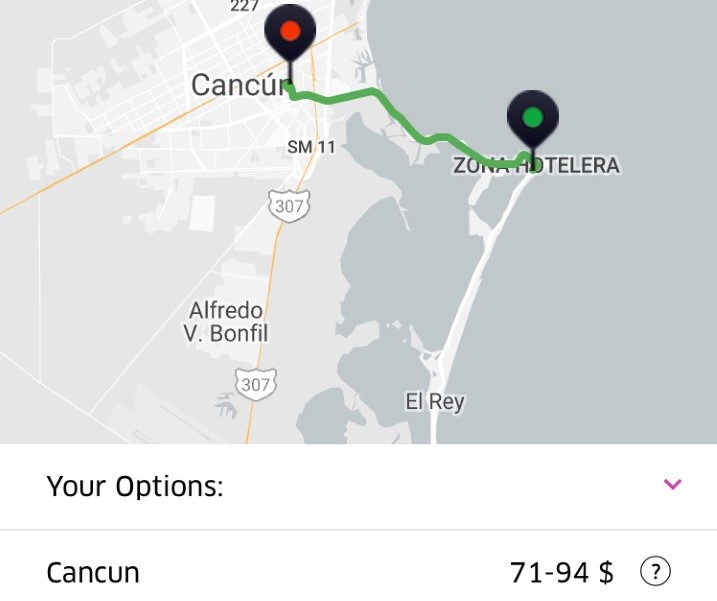 So, when will Uber start working in the Riviera Maya?
Following the ruling in the Third Collegiate Court of the Twenty-Seventh Circuit in Cancun, the platform could operate without a concession in Quintana Roo from this moment.
Does that mean it will start showing up on your app and you can jump in an UBER and go places? Well, history tells us that these things take time. It takes time in the courts, it takes time to build confidence in people, and it takes time for some of the anger to subside that comes from the Taxi drivers.
Once and if, UBER starts, it might not be the panacea everyone wants. In the past five years in Mexico the service of UBER has declined in many areas of the country. Not only the number of drivers but the overall service of UBER. For example, on just the other side of the peninsula in the city of Merida, they have UBER now and have had it for a while. How is the service? Well, it is very hard to find cars. You can order a car and have to wait 15 minutes while several taxis pass you by. UBER has not decimated any taxi service in Mexico. In part because drivers for UBER often figure out after a while there are a lot of expenses for your car and maintenance that are going to eat into your profits. Prices for rides has also gone up, showing people that it might not really drive prices down with competition, but might just end of being a nice service for those that can afford it.
So, today was an important set to letting UBER set up business in the Riviera Maya and Quintana Roo. We will have to see how it progresses from here and we will keep you posted.