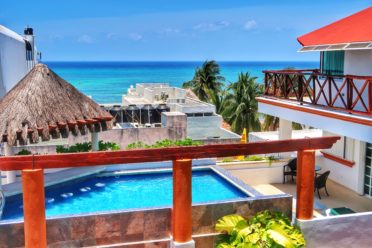 The Best Cheap Hotels in Playa Del Carmen
If you are traveling a budget or just want to make a last minute trip to Playa Del Carmen, Mexico, here are some places that will not break the bank. The good news is, in recent years there are a lot more options of hotels and different types of accommodation, so prices are lower in general now. These are our best cheap hotels in Playa Del Carmen recommendations. We will eliminate the run down older hotels and place that are not in the best areas for you.
Lets start by breaking it down into categories.
The backpacker
Couples on a budget
Cheap hotels for families
What Hotels Are Not Going To Be On This List?
For one, the location is still important no matter what budget you are on. Even if a hotel is cheap, but you have to take a taxi to go to the beach, that is not fun. We only include hotels in the downtown of Playa Del Carmen. This means walking to most restaurants, beaches and strolling 5th Avenue is very accessible from your budget accommodation. You might find our guide on where to stay in Playa Del Carmen helpful. This guide tells you what areas are like in Playa Del Carmen.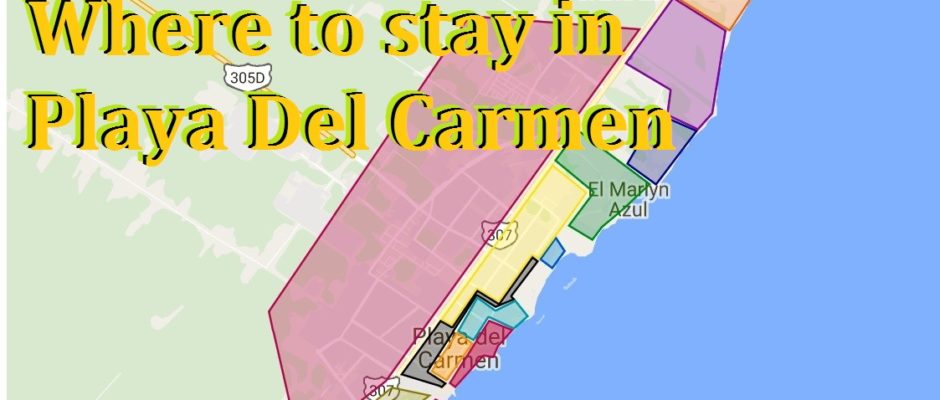 We also do not have places that are on the verge of going out of business, on a scary street, or just a cheap hotel with nothing to offer except a cheap price. There are a lot of cheap Airbnb places also but these are hard to list since there is only one of each listing and it is impossible to inspect all of them to tell you what are the best options. Below you will find all our recommendations.
Hostels and Cheap Hotels in Playa Del Carmen for Backpackers
Hostels are the number one go to for the young backpacker on a budget, but in Playa Del Carmen there are some hotels that offer more privacy and still cheaper prices. Here are some good options to consider. Best of all, most of the time these are under $30 USD a night for a room.
Hotel Posada Papagayo
Hotel Posada Papagayo is clean and gives you a lot of space. For two people this is like getting a room for the price of bunks. This hotel is on the south end of central Playa Del Carmen. It is near to other hostels, which means there are some good budget eateries nearby. You are also just a few blocks to the beach and 5th Avenue. For prices and more information, click here.
Tequilita Hostel & Suites
If you do like the vibe of a hostel but might also like a private room, this hostel could be for you. It is located near other hostels, so there is a good backpacker vibe going on. You even get breakfast included here. For prices and information click here.
Gran Sahara Hotel
No this is not a mirage, this is an Arab looking hotel in Playa Del Carmen. It has been around a few years, but it has been consistent. In fact, they just added on so there is a better chance to find a room at this cheap hotel in Playa Del Carme. The rooms are decent and they even offer you breakfast included. For more information on the Gran Sahara see here.
Great hotels for couples on a budget
Having some alone time and something a little romantic on a budget is nice, but hard to always find. Here are some hotels that might suit couples looking for something nice, but affordable. Most of these hotels can be found from about $30 USD -$45 USD a night.
Hotel Plaza Playa
This is a modern looking, if not office building of a hotel, but the location is good. The hotel is also clean and modern. It is near some cafes, restaurants and Mega Grocery Store. For more about the Hotel Plaza Playa see the link here.
Hotel Club Yebo
This has been a long running favorite little hotel for some couples. It is tucked in the center of Playa Del Carmen near 14th Street behind a dive shop. There is a small pool here and small garden setting. For an inexpensive quasi romantic place, this might work for you. For more about Hotel Club Yebo see here.
Hacienda Maria Bonita Hotel
For a colorful and very Mexican stay, this hotel offers a great location. It is just one block off 5th Avenue and close to Coco Bongo. If you want to be in the center of everything and be on a budget, this hotel might work very well for you. For pictures and prices, check here.
Posada Mariposa Boutique Hotel
This cheap hotel is right on 5th Avenue and always looks more expensive when you walk by. You really cannot get in a more central location and on 5th Avenue! This is a great price for a room and can be perfect for the couple that wants to dine, stroll and go back to the room. We have a full review of our stay at the Hotel Posada Mariposa here. For information on prices click here Posada Mariposa Boutique Hotel.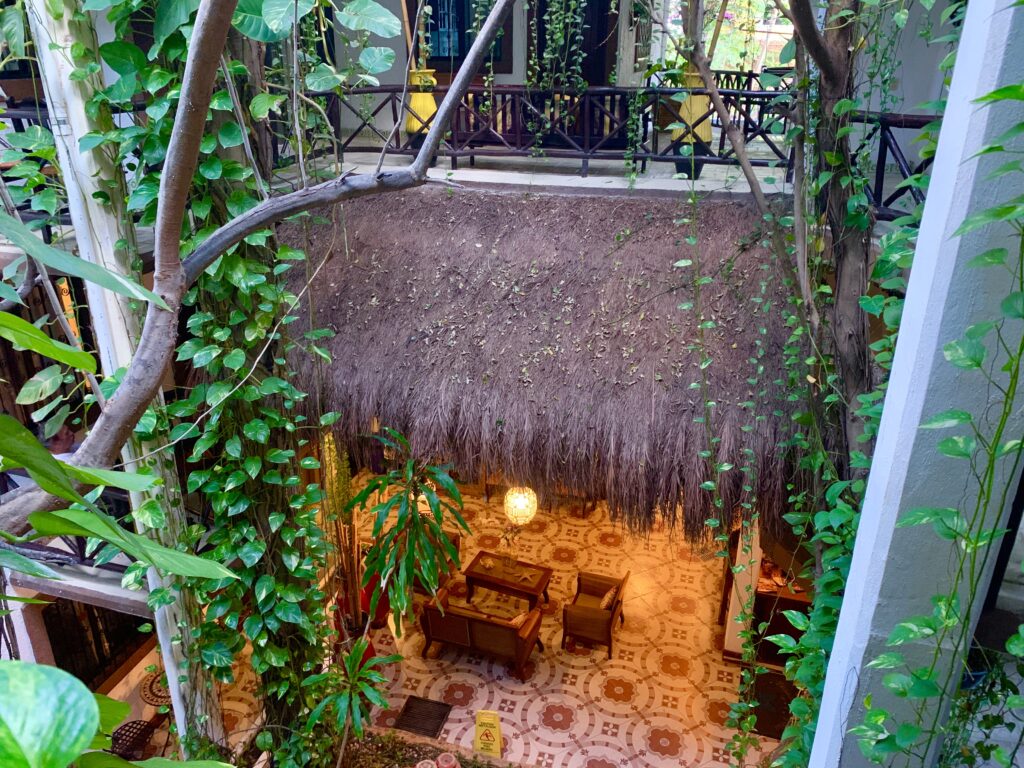 Cheap Hotels for Families
Taking a budget trip with a family is practically a necessity. Having kids eats up a lot of the family's expenses. These hotels on our list have something to offer families that might make it a little more affordable. Some of these cheap hotels have breakfast included or a pool. This makes the family trip much more affordable and less stressful. Most of these hotels can be found for about $45-$70 USD a night (depending on the season).
Family tip: Getting from the Cancun Airport to Playa Del Carmen is easy and affordable with a private transfer.
Hotel Riviera Caribe Maya
This is a little bit of an older hotel, and that is a good thing. That means the rooms are in general a little larger than new hotels. There is also a pool for kids here. This inexpensive hotel is right in the center of Playa Del Carmen and a good option for a family on a budget. For prices and photos see the link here for Hotel Riviera Caribe Maya.
Gran Sahara Hotel
We mentioned this hotel above for couples, but it also doubles for families. What makes it good it the small pool and breakfast included (continental). For details about this hotel, see here.
The Gallery by Sercotel
This is a new building that offers very good value. There is a rooftop pool and apartment for rooms. Here you can get a one bedroom apartment with sofa bed for a child or multiple room apartments. This affordable option also is right in the center of Playa making it easy to walk to most places. For more about The Gallery see the link here.
Fiesta Inn
This is a newer hotel in Playa Del Carmen that has a stylish hotel with a rooftop pool. It is very centrally located so it is easy for the whole family to find something nearby to enjoy. Best of all, kids stay free here! For more about the Fiesta Inn, click here.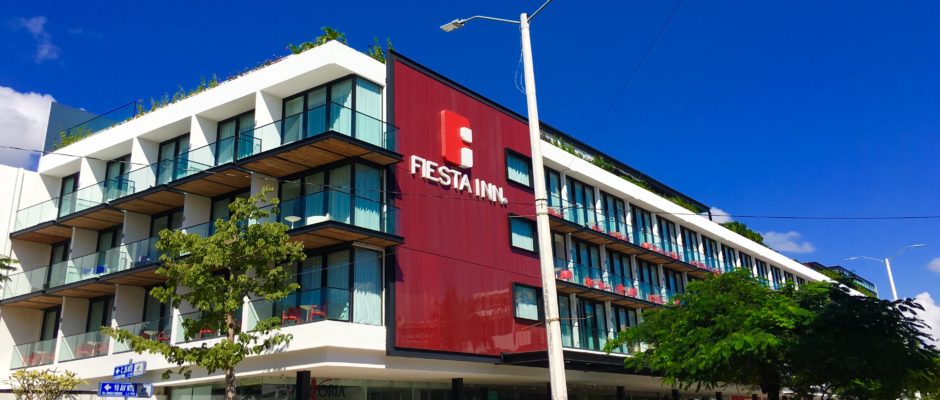 More options for families on a budget
If you are coming with your family and want more that just a hotel room, a condo hotel might be good for you. These offer a whole unit with full kitchen so you can cook and order in when you want. Often these condo hotels have pools and services of a hotel, but the feel of a condo. For more about condo hotels, see our article here with special links for our readers that offers a discount for direct booking.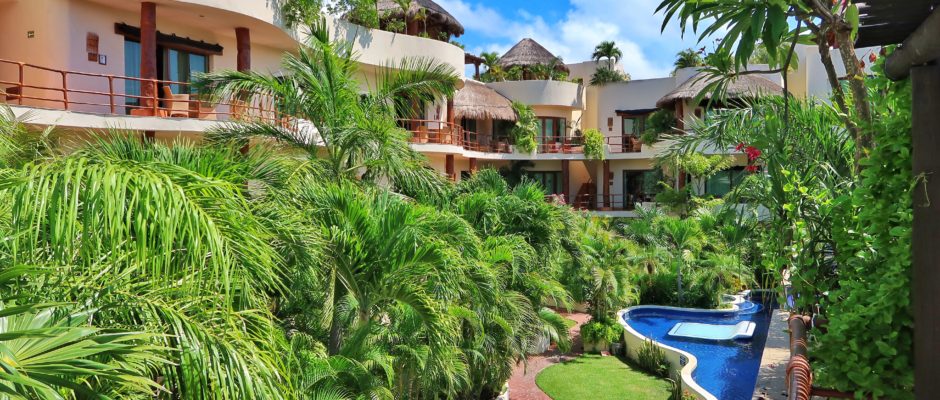 For families, see our guide on all the activities you can do in and around Playa Del Carmen.
We hope you have enjoyed our article on cheap hotels in Playa Del Carmen. There are some good deals out there and we hope you get one. You might also like to read our article on tips for booking a hotel in the Riviera Maya here.