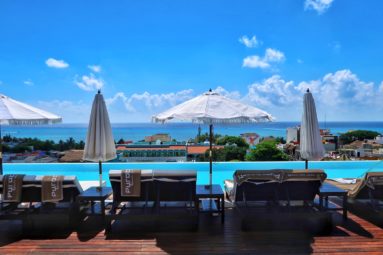 Top tips to book a great hotel in the Riviera Maya
Where you stay is going to be a big part of your vacation. So it matters a lot if you get a good place to stay. We want to share some of the best tips we have so you can get a great hotel in the Riviera Maya. We have been reviewing, staying in and traveling to hotels for years in the area. Along the way we have picked up a lot of tips that can be helpful to others for getting that good place to stay. We want you to have a good vacation so here are our top tips for selecting hotels in the Riviera Maya
Should you wait until you arrive to book a hotel?
No! There is a small trend of people waiting until the last minute to book a hotel hoping to score a deal. There are however several problems with this. The number one problem is that the best hotels and best rooms get booked early. You want a beachfront room? swim out suite? Well many people want the best places for their perfect vacation and want to lock it in. Most of the time last minute deals are the hotels least desirable rooms. This is not how most people want to spend their holiday.
Second if you think you can negotiate a good price at check in, think again. It is true many hotel booking sites take a large commission. You would think that a hotel would rather offer you a discount and make a sale rather that have you book on a booking site. However most of the people you come into contact with are the employees at the front desk. They don't have the approval or power to change rates, even if it makes senses. We have talked to many hotel front desk personnel and overwhelmingly get the same response.
Third,  occupancy  rates are often high in the Riviera Maya. This can be especially true from mid December through mid January and Easter week. Many hotels are full or have raised the rates for last minute guest. The main thing to remember here is to book ahead.
How to read an online listing for a hotel (BIG tips here!)
A lot of people have all looked online and seen amazing looking hotels only to find it not so great in person. So what are some tips to "read" a listing or some things to look for? Here are some of our best tips for you.
Look for recently listed hotels
On booking sites look for newly listed hotels. Smaller hotels might not be that good since they can be guest houses with questionable quality. Larger hotels that have 20 plus rooms often have low introductory offers. Since hotels don't have a reputation and repeat guest they will want to fill it up as soon as they open. Often with low introductory prices their reviews are much better and they are off to a good start.
We have stayed at some brand new hotels and paid 40% less then what the prices should be. You can score some good prices if you look for newly listed hotels.
Check the photos of the room in your category
Hotel websites and booking sites will put the best looking photos in front of you. This will get your imagination running. Often if you scroll down you will see the different room categories and what they look like. Make sure you look at what the rooms look like in the category you are booking. This will eliminate a disappointing stay.
Check the location
Where your hotel is in the Riviera Maya does make a difference. Even in Playa Del Carmen it makes a difference (see our article on where to stay in Playa Del Carmen). Most all inclusive resorts are half a mile from the highway and even then not near anything. Often long stretches of the Riviera Maya are called "Playa Del Carmen" Or "Tulum" because these are places people recognize. When in fact the resorts are miles away from the towns. This may be fine if you are going to stay on the resort property but not so fine if you want to go out to explore a little like a walk on 5th Avenue in Playa Del Carmen.
Most people will also take a tour or two while on vacation in the Riviera Maya (see our article on the best things to do in the Riviera Maya). Depending on where you want to go you can be adding an hours in transportation time because some resorts are much further away from things. There is also the transportation time to and from the Cancun Airport.
Don't expect a room upgrade
Many times when you rent a car and they don't have the economy car they upgrade you free of charge. This however does not happen with hotels in the Riviera Maya. You really get what you book. Rarely have we ever heard of someone getting a free upgrade just because the hotel did not have the cheaper room. You really get what you pay for and that brings us to our next tip.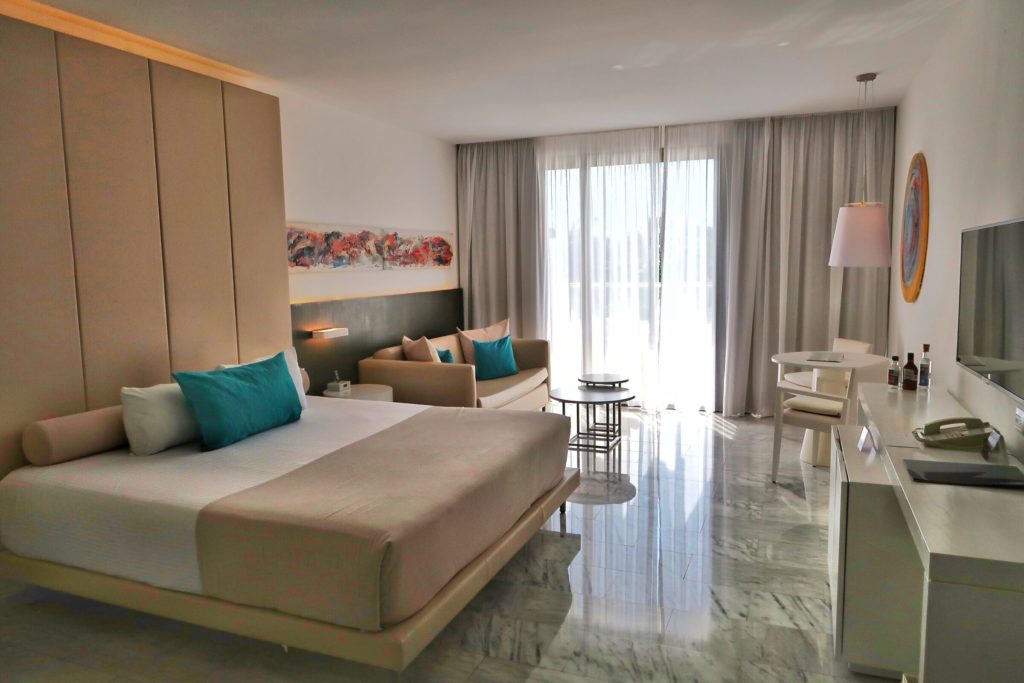 Pay more get much more
Hotel value in the Riviera Maya is pretty good compared to many places. However what you pay can sometimes get you a lot more. Both in restaurants and hotels in the area, you can spend 20% more but get 40% better. Most of us use the filter "lowest price to highest" when looking at hotels. Of course cost is a big factor but so is comfort for your vacation. Sometimes even paying a little more gives you convivences that save you money. For example paying $20 more a night but get breakfast included is worth it plus you get a nicer hotel. Even at all inclusives you should not shop by price alone. The resort is never going to loose money, so you get what you pay for. The more you spend usually the better food you get, better drinks, entertainment and so on. The point is don't be a cheapskate and then complain your vacation was not as great as you imagined.
It is all in the details of the hotel
When comparing hotels make sure to look at the details. Is breakfast included? Will it be continental or buffet? Is there wifi but only in the lobby? Small details can wind up costing you actual money. Don't just jump on a booking because the pictures are nice. Learning how to look at the details can help you decide on the better hotel.
One of the newest trends we have seen in hotels is smart TV's. These are TV's with internet and access to Netflix (if you have an account). If they don't have cable then you are stuck scrolling through YouTube for things to watch.  Many people like to relax in their room and watching something on TV. So again the details are key to knowing what you will have in your room.
Look at the bed in photos
Yes the bed, we are serious. Even though the bed is one of the most important things about a hotel, it can be overlooked. The cheaper looking the bed is in a photo, it often means it is a budget place to stay. Beds, mattresses and bedding are expensive for hotels so many often go for the cheaper products.
If you see a listing that mentions the type of mattress that usualy means they really care about your  stay. If beds are made up with comforters, lots of pillows and look good, that is always a good sign of quality.
Beware of unique places
Have you seen some super Instagramable hotels and wish you could stay there? There are some pretty unique hotels in the Riviera Maya. That may not mean it is all that fun for a week stay. We have been to some of the more unusual places to stay and although they are great for photos, they are not necessarily what you might want for your entire stay.
Some hotels might be nice for a few days and you change to another hotel. You really have to ask yourself what you want in your vacation. That brings us to our next point.
Know what you really want in a hotel
You might like the idea of camping style accommodation but is it what you want for your entire vacation? Is air conditioning a must? What about a pool? There are some things that people actually really want. Make a mental list and see if the places you are checking offer them.  Be flexible also. Sometimes the weather is not the best. In that case will there be things near your hotel or at your resort to do?
Where to book hotels in the Riviera Maya
Where you book your hotel will matter on what category you are looking for. Here are some tips for you
All inclusive hotels and where to book them
For many people booking a package holiday you might go through a travel agent in your home town. There are however about 100 large hotels and resorts between Tulum and Cancun in the Riviera Maya. So that means it can be hard for a travel agent to truly know what might be best for you. We found one travel agent who actually lives here and travels to the resorts to learn all the details about them. Here name is Lori and we refer people to her all the time. Here is an article with more details and her contact information.
Condo hotels for those of you that want a place to stay plus extras
Condo hotels are basically condo buildings that are run like a hotel. This style of accommodation has become pretty popular in the Riviera Maya. Guest get a full condo with kitchen, living room, and access to pools and decks. Some of these are fully equipped and have reception and concierges. Condo hotels can be a great place to stay if you want more space then a hotel room, a more professional set up then a random Airbnb, a transition from an all inclusive, or you want a place to stay where you have options to eat in or go out.
We have stayed at a number of condo hotels in the area and have some good ones to recommend to you. Not only are they good places to stay, we have arranged a special link for our readers to get a special rate that can save around 16% off other booking sites. Below are some options: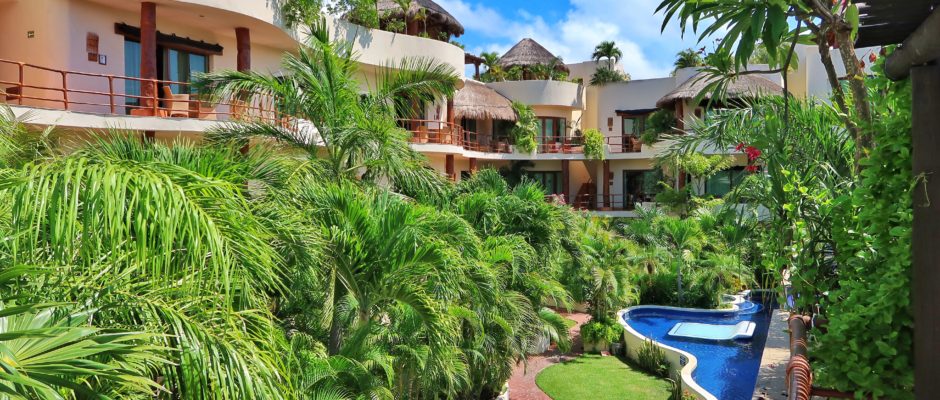 What booking websites are good for finding that hotel in the Riviera Maya?
There are a lot of places to book hotels in the Riviera Maya. You might have your favorites or get points with some. Here are some websites that can be good.
On Booking.com you can find a range of hotels, guesthouses, apartments and other style of accommodation. It is not just hotels available. In recent years they have expanded the types of accommodation you can  find.
A relatively new place to book a hotel for the Riviera Maya is www.Hotelscombined.com This site searched multiple sites to find the best prices plus they often offer more room types. Often you are show a couple of rooms to choose from but there are often more choices like pool view, oceanfront, second floor, and more. That is one of the reasons we like this site.
What about Airbnb? How it is in the Riviera Maya?
What started as a cool way to travel, be embedded into the culture a little more and perhaps save some money has evolved. We have become  a bit dismayed with what Airbnb has become. Nowadays you can find many hotels and "professional" Airbnbers  as offering places to stay. It has become somewhat of an amateur hotel site rather then what it was supposed to be.
Here are some of the pros and cons of what we see with Airbnb
Pros
For more rural places you find unique places that you would not normally of know about. Map searches can turn up some nice places to stay. This can especialy be true in the areas from Tulum to Coba, Ruta de los Cenotes near Puerto Morelos, and further back from the ocean in Akumal.
Airbnb can be good for people traveling on a budget. Hostels in Playa Del Carmen can cost the same as a small private room with entrance on Airbnb.
Longer term stays can be found if you are perhaps moving to the area and need a place for a month or more. However bargains are hard to find as most owners prefer to rent daily for more profit.
Cons
Airbnb has the reputation of fairly well traveled people and mid level travelers. Because of this, some hotels and listings on Airbnb are more expensive.
No front desk. With some listings you have to schedule your arrival and departure. This means calling or texting to arrange it. Sometimes it is just nice to arrive and check in when you want like a hotel. Other condo buildings use the security desk as a key pick up. The people working there don't know any details about the condo so if you have a questions about something you will probably have to contact the owner.
Canceled reservation. Airbnb tries to discourage owners from canceling reservations. Sometimes right before your vacation a reservation gets canceled for one reason or another. This can place you in a tight spot with trying to find  last minute place to stay.
Thank you for reading our article about booking hotels in the Riviera Maya. We hope we gave you some good tips so you can get a good place for your stay. Let us know if you have any questions or comments below.