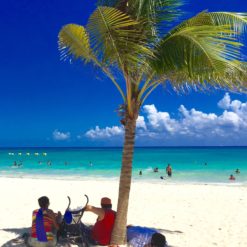 Fun Family Vacations in Playa Del Carmen and the Riviera Maya
To all the hard working parents with kids out there, you deserve a good time here! Fun family vacations can be had by knowing what is here and appropriate for kids of different ages.  We are going to break it down by family friendly things in Playa Del Carmen and the rest of the Riviera Maya. We have tons of tips for your trip too. Lets start with things in Playa Del Carmen.
Fun family things to do in Playa Del Carmen
3D Museum. This offers lots of rooms with 3D optical illusions. You can take lots of fun family photos here.
Glass blowing workshop. This is a good thing to visit with children because you can see how glass is made. It might not be super interesting for younger children so maybe best for ages 9-18. This studio is out of the center of Playa.
Free things for fun family vacations in Playa Del Carmen
Free things are always great for families. Playa del Carmen has some great activities that will cost you nothing. If you are staying in Playa  we are sure you will walk 5th Avenue or go to the beach. If you go out for a walk on 5th Avenue here are some things you can see that kids might like.
Park Fundadores for families
At the beginning of 5th Avenue near the intersection of Juarez Avenue is Park Fundadores. This is the park with the large arch sculpture. During the day here there are the flying papantla dancers that put on shows. You will see a tall pole where they perform which involves swinging from a rope tied to their feet. It is a fun show to watch. This takes place about every 30 minutes. It is free but tips are appreciated.
In the evening under the sculpture you can find Mayan dancers putting on shows for families. This is free but again, tips are appreciated.
Also in this park is a small playground for very young children.
Photo ops along 5th Avenue
Kids love to see Batman, Spider-Man and other superheroes. Often in front of Quinta Alegria Mall you can find characters. Also along 5th you might see a frozen statue of a person or a person dressed as a Mayan warrior. All of these are there to take tips for photos. Kids usually love this.
Beaches and beach clubs
All beaches in Mexico are open to the public so you can just take a blanket and enjoy (although you need pubic beach access points). In the center of Playa Del Carmen you might like the area from Juarez to 6th Street. This beach is wide and usually has nice water for kids to swim in.
If we had to recommend a beach club for families, we would say  Senor Frogs just south of the Cozumel Ferry Pier. This is a youthful place and sometimes has a trampoline in the beach for kids. For a list of all the beach clubs, see our guide here.
A beach just for kids in Playa Del Carmen
One beach that is mainly visited by locals but great if you have time to visit, is on the far north end. This  beach has a cenote that bubbles up and creates a shallow pool. This flows into the ocean and creates a perfect place for kids to swim and play. It does get crowded on the weekend but if you can visit during the week you can enjoy it more. To read about this beach see our article here.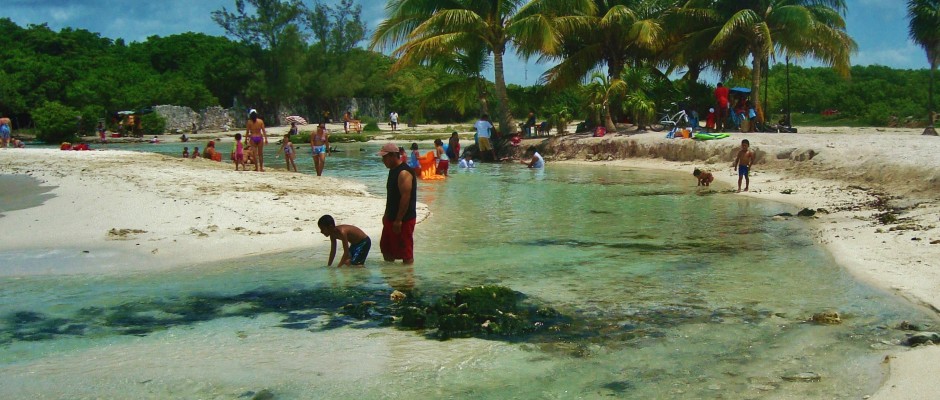 Family activities in the rest of the Riviera Maya
The Riviera Maya stretches from about Tulum to Cancun and includes a lot of things to see. Here are some highlights.
What parks are best for kids?
There are several parks or eco parks that are well known in the Riviera Maya. Some of these are good for older kids and some are better for the younger ones. Here is a breakdown of the most popular parks and what makes each one good for specific ages of children.
Tip: Most of the parks offer a discount if you pre buy your tickets before coming. See each of the articles for ways to save your family money.
Xcaret Park
Xcaret is the largest park in the Riviera Maya. It is the grand daddy of them all. This park is for all ages of children because there is so much to do here and everyone can find activities they like. For younger children there is a special part called Children's World. Older kids will like swimming in the rivers.
There are tons of animals to see here including an aquarium. The grand show at the end of the night is special and should not be missed. If you go here just make note that it is a long day and you will be hard pressed to do and see everything you want to see. To find out more about Xcaret, see our article here.
Xplor Park
This park is about zip lines, swimming in underground rivers and more! It is all about adventure. This park is good for families with teen children because there are height and weight restrictions on the zip lines and that is a major part of the fun at this park. See what Xplor is like in our article here.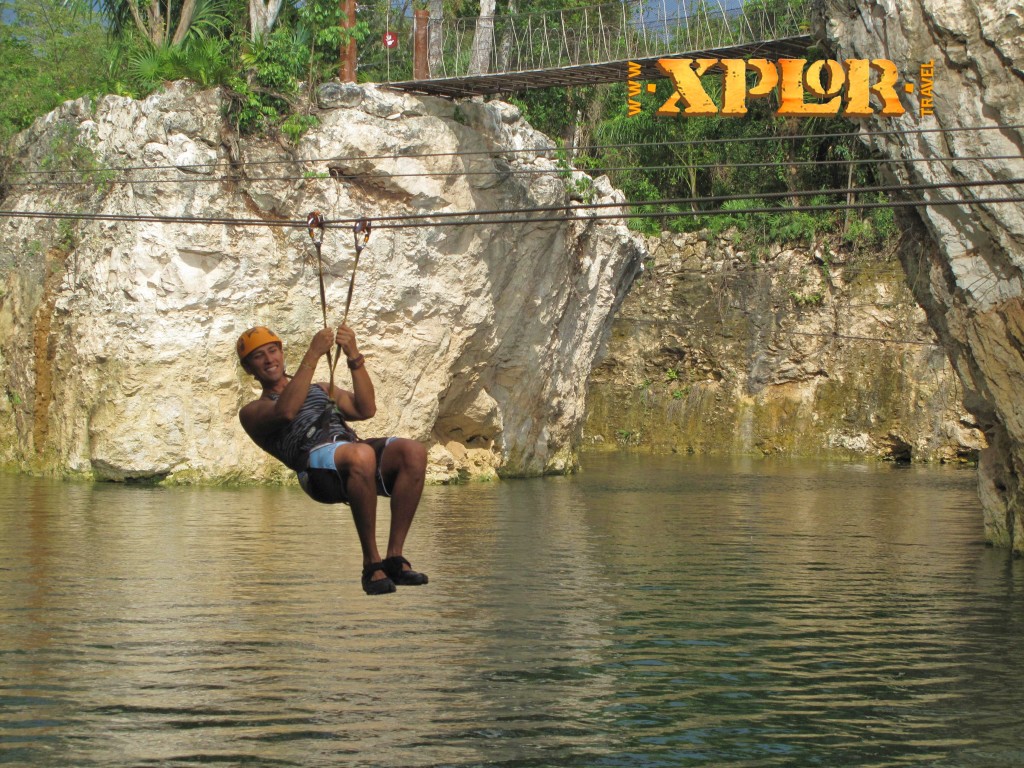 Xenses
Xenses is a half day park and very good for younger children. To best describe this park, think about a science museum with fun displays but without the boring explanations. This park plays with your senses and will have your kids laughing and having a great time. For a compete look at what Xenses is like, see our video and article here.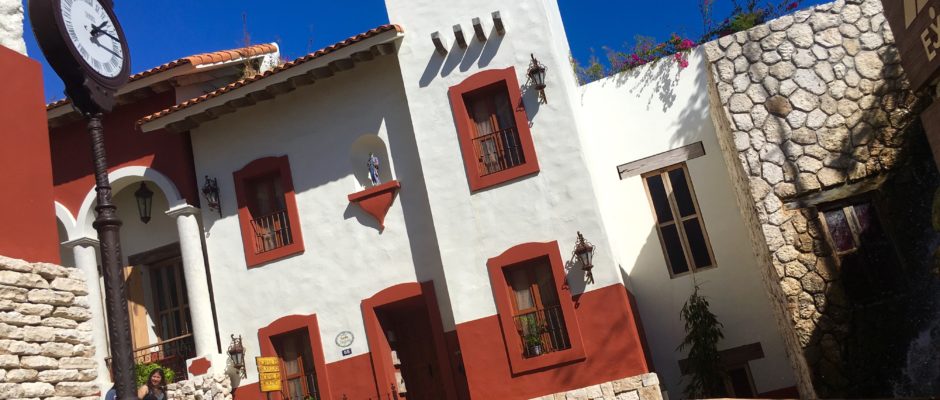 Xel Ha
Xel Ha is a park where you can snorkel and swim all day long. There at parts of the park for young children with obstacle courses and small pools to swim in. Then there are zip lines with water landings and cliff jumps for the older and taller kids. Xel Ha is for all ages as long as they like water. For more about visiting Xel Ha Park see our video and article here.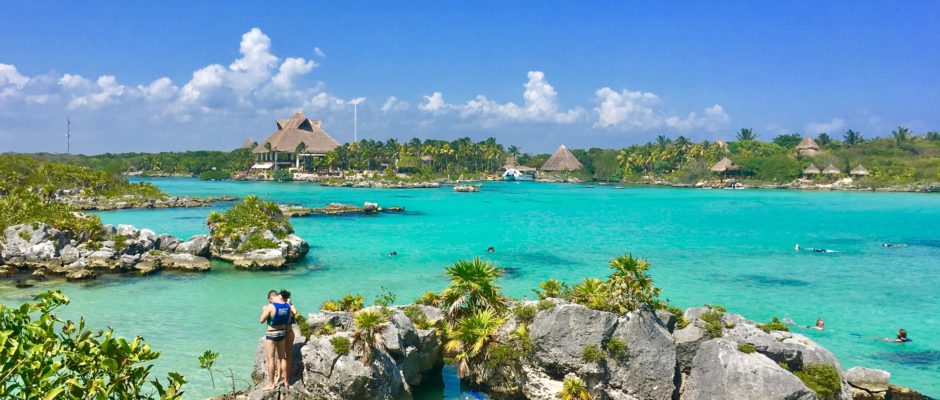 Emotions ATV Park
Emotions Park is all about ATV driving in the jungle. This park is in a thick jungle area just south of Playa Del Carmen. Here you will ride,  the ATV's, swim in a cenote and go on three zip lines.
This park is more for older children but here is a run down with ages. No children under 6 are allowed. Children 6 and up to 18 must ride with adult driver. Children 16 and up can drive but need to have an adult with them.
For more about visiting Emotions Park and how to buy tickets, see our article here.
Best Mayan ruins to visit with children
Usually a visit to one of the Mayan ruin sites in on the list of fun family vacations here. Some however might be better for families to visit mainly due to distance and travel time. Here are the most popular and common Mayan ruins that families visit.
Chichen Itza
The first one people usually try to go to because it is so well known. The main thing that people don't know or think about is the travel time. It is about 3 hours each way. You can rent a car to go there but that can add up with tolls and gas. So with younger children you want to think about the time and transportation to see these ruins. See our guide to Chichen Itza here.
Most people take a bus tour here so they can relax and not worry about the driving. Here are two popular Chichen Itza tours that you can take from the Riviera Maya. One is the Xichen Clasico Tour and the other is Xichen Deluxe Tour. The second is a little higher end but it will just depend on what activities you want to see and where you want to eat.
Tulum Ruins
These are the easiest ruins to see in the Riviera Maya. They can be easily reached with a tour or public transportation. It can take just a half day and the ruins are small enough to walk about in just about an hour. The view over the ocean is spectacular. On clear days you can descend stairs to swim in the beach here.  See our complete guide to visiting Tulum ruins here.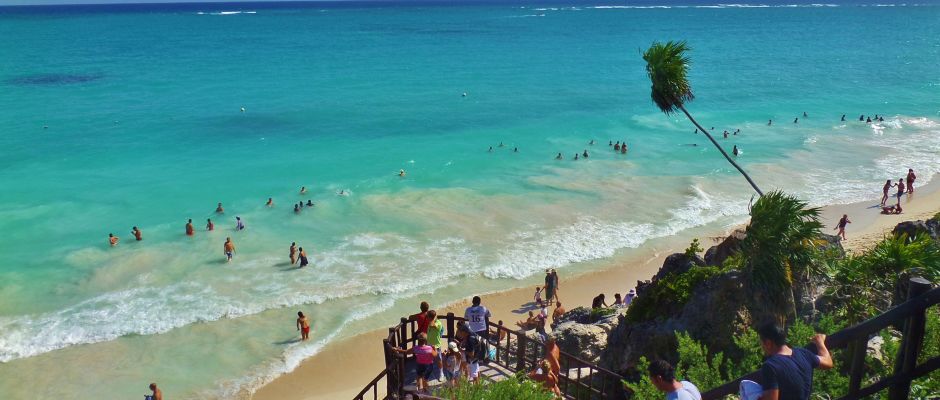 Coba Ruins
Coba is a fun sight to visit with the family because it is more interactive. You not only get to climb the main temple, you can bike between the ruins since they are spread out. Most people take a tour here but you can also drive here and do more things close by. See our guide to visiting Coba ruins here.
Ek Balam
Ek Balam is a smaller and lesser known ruin that is about equal distance from the Riviera Maya as Chichen Itza. You can climb the ruins and you will get a nice view from the top of the main temple. One fun family tour to Ek Balam will also take you to Cenote Maya. This is one of the largest cenotes in the peninsula and it holds a lot of fun things to do. You can read about it here in our tour review.
Most people take a tour to Ek Balam but if you driver here yourself, there is a cenote that can be fun to visit as well. The cenote is down a trail from the entrance. You can hire a bike taxi, rent bikes or walk there. At the cenote you can swim or pay extra to rappel or take a zip line across the top. This all can be fun for kids. There is no shallow part to this cenote for younger kids that do not swim.
Cenotes, swimming and snorkeling for families
Cenote Azul, Eden and Cristalino are all in a row and just about 18 minute south of Playa Del Carmen on the highway. All are nice for families but for younger children Cenote Azul might be best since there are shallow areas.
For snorkeling in the Riviera Maya, see our guide here.
Restaurants in Playa Del Carmen that are fun for families
Here are some good restaurants that might be good for your vacation here. These are either interesting for kids, family budget friendly, or fun meals for everyone. We will stick to just restaurants that are in the central part of downtown and easy to get to for those on vacation.
Chez Celine
This is a French café on 5th Avenue that is good for breakfast. They have a larger menu so families can all find something they like. There is also a bakery on premise which is always popular with kids. This is an easy restaurant to find for tourist staying in the center. For more on Chez Celine see our article here.
La Cueva del Chango
La Cueva del Chango is a favorite restaurant that tourist and locals that have company visiting take people. The setting is jungly feeling and the food is fresh. The menu is Mexican but with fresh tropical flavors. There is inside and garden seating. The atmosphere is fun and family friendly. For more on La Cueva Del Chango Restaurant, see our article here.
Don Chendo
What family does not like pizza? This restaurant is popular with locals and tourist. It is a little on the edge of the downtown but worth the trip. With Chicago style deep dish pizza and many pasta dishes, this restaurant can be enjoyed by adults and children. For more on the Don Chendo Restaurant, see our article here.
La Famiglia
With a name like "the family" it has to be good for families. This Italian restaurant is just a block off 5th Avenue and has a good reputation for consistent quality in both pastas and pizzas. The prices are mid range and good for families. For more on this restaurant, see our article here.
Piola Restaurant
Another Italian restaurant on our list is Piola. There is a big menu here so everyone can find something. Even though this is a chain restaurant the location is very nice in Playa. There is outdoor and open air seating with nice tropical plants around. For more on Piola see our article here.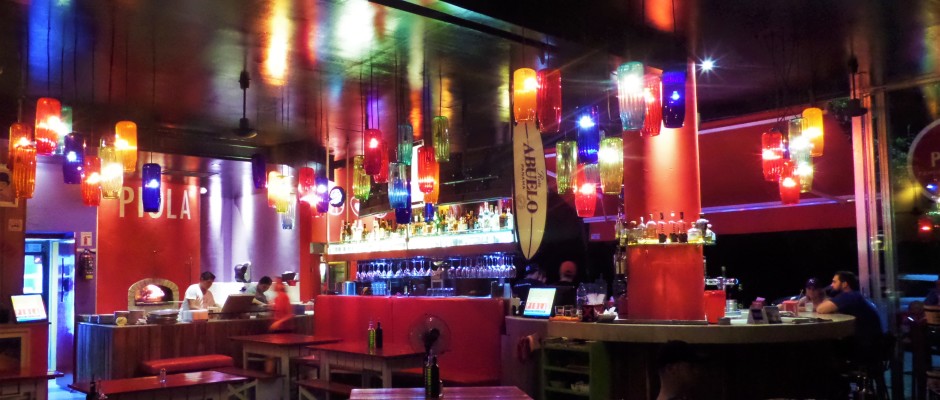 Los Hijos de la Tostada
For a fun seafood restaurant you could go to Los Hijos de la Tostada. This restaurant has a youthful feel and a good range of tostadas. For more about visiting this restaurant, see our article here.
Bio Organicos
If your children are vegetarian or vegans, Bio Organicos is a nice casual restaurant to take the family to. For more on this restaurant, see our article here.
For more eating options including sweat treats for kids, see our sweet treats guide here.
We hope you have a great family vacation here in the Riviera Maya and Playa Del Carmen. If there is anything you have enjoyed as a family that is not on our list, let us know in the comments below.