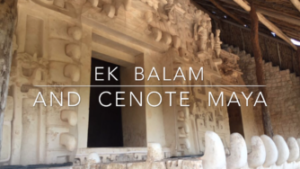 Ek Balam ruins is one of the lesser visited Mayan ruins and this tour gives you a chance to visit them in addition to Cenote Maya Park. If you are familiar with our website you will know that we like allTOURnative as a tour company for several reasons:
They work with local Mayan communities to promote tourism and cultural awareness.
They promote conservation and eco friendly projects.
Their tours are quality and provide well thought out tours.
The tours are small scale, no big tour busses.
The tours are not overly touristy and you get to see the real Mexico and Mayan world.
This tour to Ek Balam and Cenote Maya are no exception, it was a good quality tour. Here is our tour review of what you can expect on this tour (If you like what you read, you can click the link to check dates and book it yourself at the end of the article).
EL Balam Tour and Cenote Maya Park
Cenote Maya is the largest cenote in the Yucatan and the area around the cenote has been set up by allTOURnative to be a peaceful garden like park and an example of the Mayan culture.
One of the reasons we like allTOURnative is the fact they work with local communities. This park is still owned by the locals and it rented by allTOURnative. They also create jobs like the young guys that help with the rappelling and take photos of the tour. There are also local educational programs for preserving the culture and recycling, of which you will see examples here.
Maya Ceremony and Traditional Home
Once you enter the park you are treated to a traditional Mayan ceremony by a shaman. Your tour guide will explain the meaning and symbolism used. This is also an excellent opportunity to actually hear spoken Mayan language.
Then you can see a representation of a traditional Mayan house and garden. There are raised beds of herbs and pigs and chickens. All of this is done well and gives you a feeling for what people have lived like for hundreds of years in the Yucatan.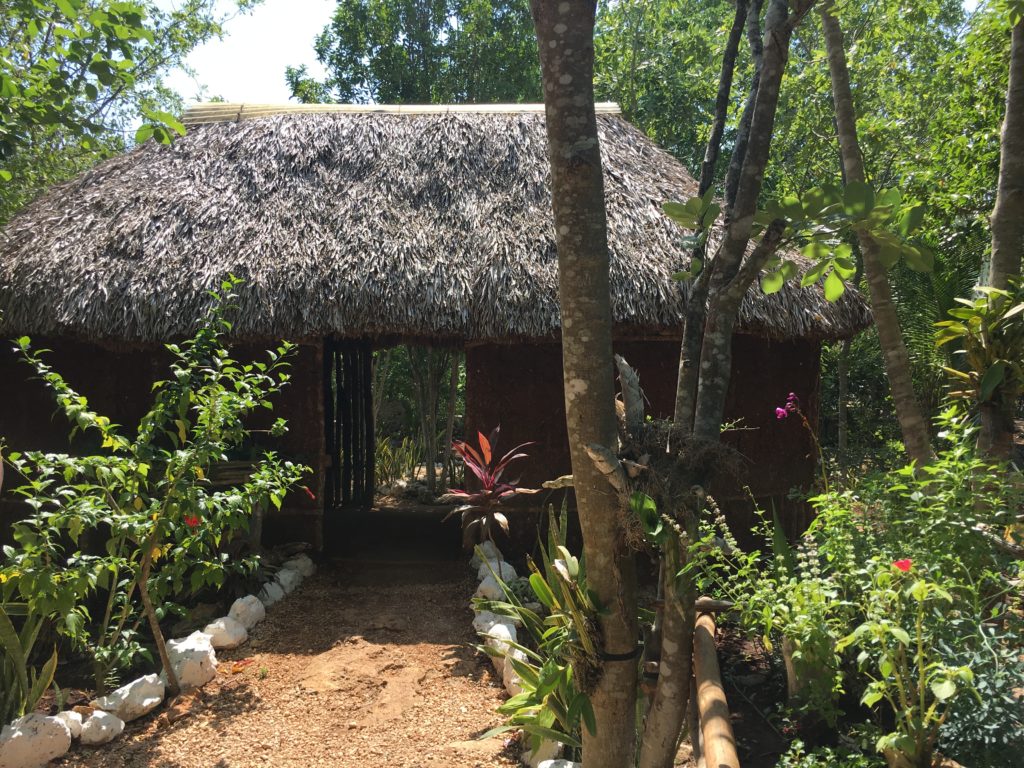 Cenote Maya
One of the highlights of this tour is the visit to Cenote Maya. You do have three options for entering, taking the stairs walking in through a tunnel or rappelling. Of course the most popular option is the rappelling!
Even if you are scared of this option, your guide will demonstrate and explain it well. It is actually very easy and the rope carries almost all your weight so it is not like you are free falling or slipping down a rope into the cenote. The photographers will get some good photos of you as you descend into the hole in the roof of the cenote. Also as you enter the cenote there is another photographer that takes pictures. These photos were some of our favorites because the height of the roof and the cave formation make for a dramatic backdrop! These will be perfect for Instagram or Facebook to show how exciting your vacation was in Mexico!
Once down in the cenote you step onto a platform and they take off your harness. Then you swim to the center of the cenote.
In the cenote you can do a hand held zip line into the water, jump off platforms, climb on a ropes, swim, or float in a tube. The water is refreshing especially if you have been first to Ek Balam.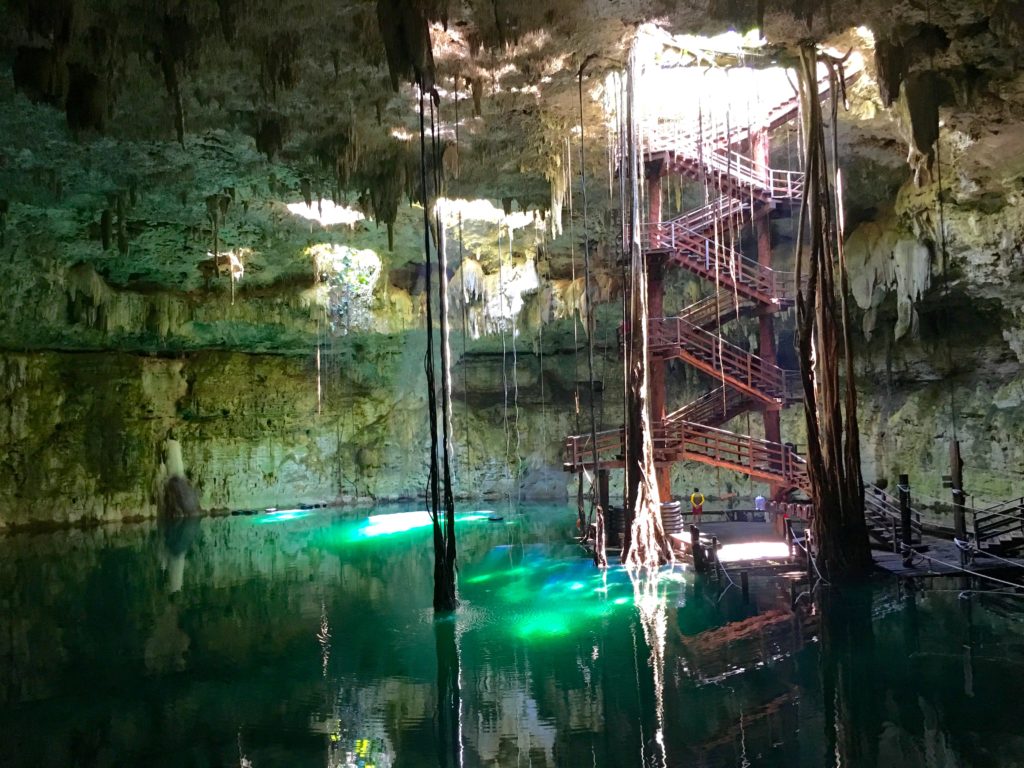 You can see the massive tree roots growing down to the water as you rappel down. There are some mask to use to if you want to swim around and look at the underwater formations.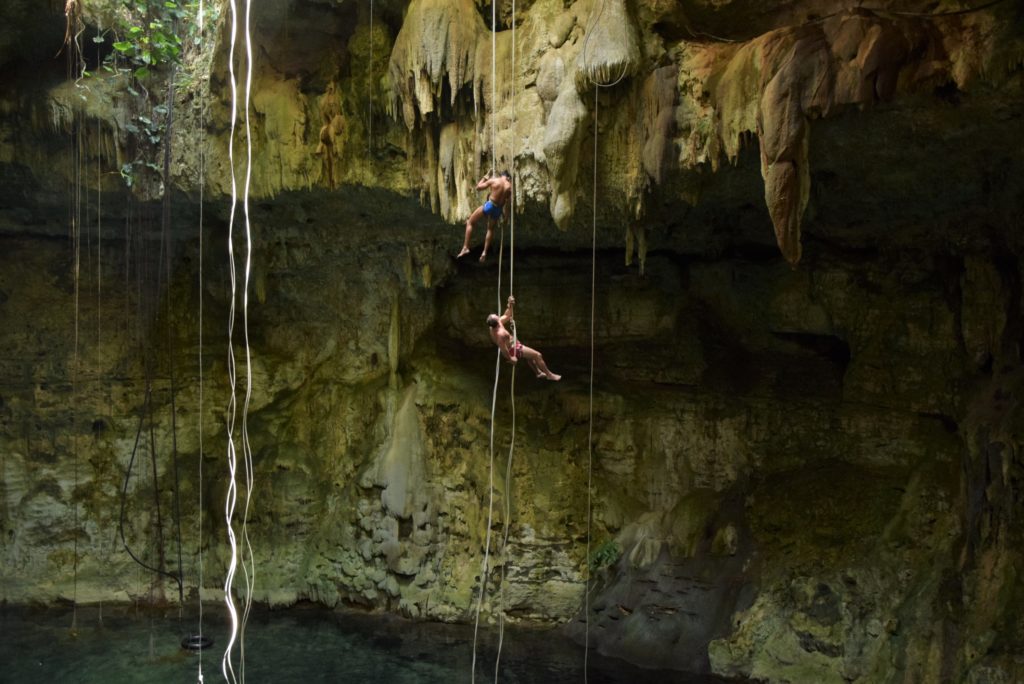 After visiting the cenote you exit through a tunnel. This takes you back up to the lockers so you can get changed and have lunch.
Lunch at Cenote Maya Park
What is the food like on this tour? Well you are treated to traditional Mayan cuisine with options like chicken in achiote sauce, empanadas, vegetarian options and handmade tortillas (see our video). We really like the quality of the food and everyone on our tour was very happy with the meal. Most of what you get are things that are not served on resorts, so you get a taste of real Mayan food.
Relax a Little
After lunch you have time to appreciate the gardens and flowering plants. There is a small store where you can buy some souvenirs and there is a room where you can look over the photos they took of you while participating in activities. You can purchase the photos and also on your disk are additional photos of the Mayan communities and even some music.
Next it is on to Ek Balam for a visit to the ruins. It is about a 30 minute drive there from Cenote Maya Park.
Ek Balam Tour
When you arrive at the Mayan ruins of Ek Balam your guide will take you in and explain the cultural significance and some of the history. All of allTOURnative's guides are certified guides by INAH (The Institute of National Anthropology and History). This means they have been trained with all the information and also are kept up-to-date with recent findings.
After an interesting introduction you will have about one hour of free time to roam the site for yourself. This is adequate for most people.
Most people head to the main temple to climb it. This is one of the highlights of this site because you are able to climb to the top. The view is astounding and you can see the flat Yucatan Peninsula for miles in every direction.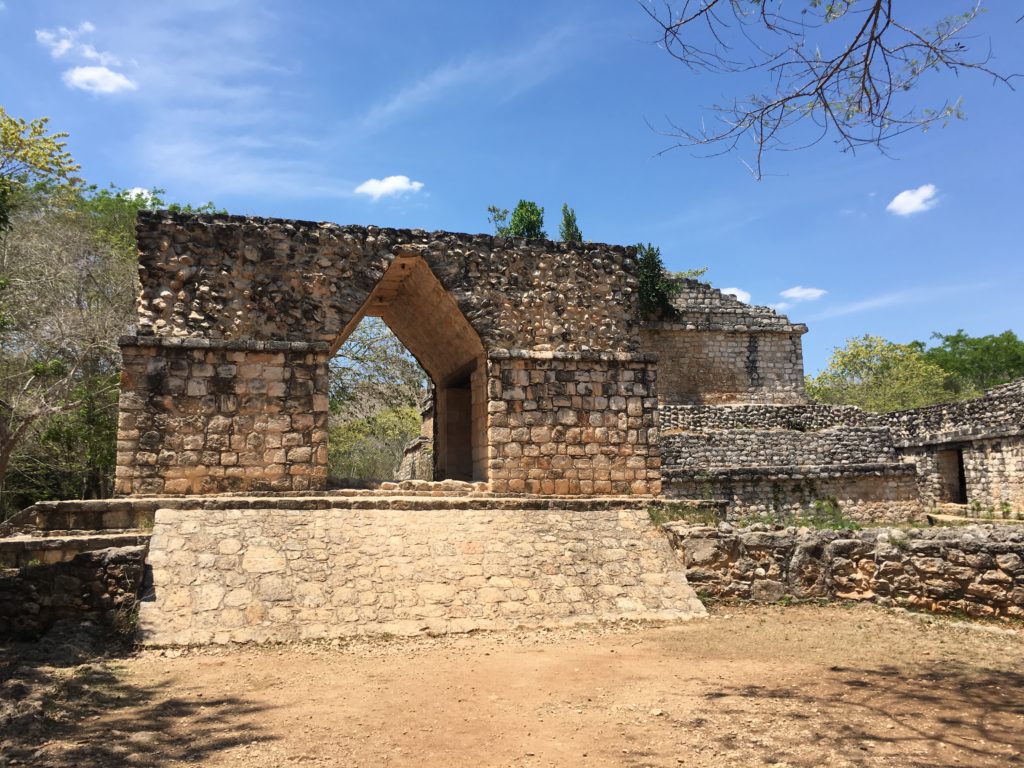 Before you board the van, your guide will give you some fresh water and you have a chance to see what local merchants are selling.
You then will make the drive back to the Riviera Maya and your hotel. On the drive back your guide will give you a paper so you can rate the tour and write any suggestions you have. This helps keep the guides and tour company always improving and giving good quality tours. If you appreciated the guide and driver you can tip them at the end.
Our video of  this Ek Balam Tour and Cenote Maya Park
Our recommendations
This tour is for good for people that want to explore the real Mayan areas of the Yucatan and see one of the Mayan ruins. Ek Balam offers you a chance to see one of the lesser visited ruins and you can climb to the top to see the view. As with all of allTOURnative's tours, we like how they present the information and you can also have a little fun along the way. The combination of this tour is nice because you are out in the sun for the ruins but in the refreshing waters of the cenote as well.
This tour is not for younger children. Children must be at least 6 so they can enjoy all the activities. This tour does involve some transportation time so even if you have children over 6 they should be able to sit and enjoy the ride of about 1 hour and 45 minutes each way. Older tourist should be able to be somewhat mobile to enjoy walking the ruins. Almost all ages can enjoy the rappelling into the cenote as long as you are not too young, over a certain weight limit or pregnant. We went with older people and everyone was able to do it with no problems and everyone was happy to experience it.
Does this tour sound like something you want to try?
You can book this tour here by clicking the link below. You can book leaving from Cancun, Playa Del Carmen or any of the locations in the Rivera Maya.

Ek Balam Ruins and Cenote Maya Park Day Trip from Playa del Carmen

What do you need to take on this Ek Balam tour?
Bring a bathing suite for the cenote.
Extra money for tips and souvenirs.
Comfortable walking shoes.
Sun lotion, it is better to have biodegradable sunblock.  You will wash off before going in the cenote so you so not contaminate the water. You can use regular sunblock while walking around Ek Balam.
What extras are provided on this tour?
Bottle waters are in the van and they offer you waters before and after visiting the ruins.
Towels are provided for the cenote.
Lockers are provided at the cenote for storage of your items.
Lunch is included.
Biodegradable bug lotion is available to put on at Cenote Maya Park.
If you want a more youthful tour, we suggest Jungle Maya by allTOURnative because it is a little more active and includes zip lines.
Have you been on this tour to Ek Balam and Cenote Maya? What did you think? We would love to hear your comments below.