Playa Del Carmen plans for renovating 5th Avenue and Park Fundadores
The Mayor of Playa Del Carmen has announced plans to renovate parts of 5th Avenue and Park Fundadores. These are two of the most iconic places in Playa Del Carmen. These locations attract thousands of tourists daily and has been the heartbeat of Playa for years. Even though these areas are not in that bad of shape, the renovation can help solve some problems like flooding water when we get heavy rain and more spaces for events. What do you think of these renderings?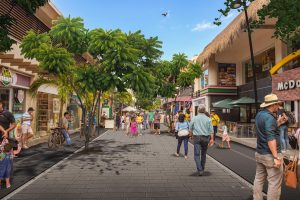 The economic impact of such a project
Once of the reasons this renovation is being looked at is the economic recovery of the Playa Del Carmen. The Mayor, Laura Beristain Navarrete wants to modernize both 5th Avenue and Park Fundadores to present to the visitors this world-class destination.
The project has 117 million pesos allocated to it and is expected to create 250 direct and indirect jobs. This renovation project is expected to reactivate both the construction and economy of Playa after the current paralysis.
It is important to note that the area received 7.6 million tourists last year, which was double that of Baja California, Baja California sur, Jalisco and Mexico City combined.
What will be new for 5th Avenue?
The area of 5th Avenue from Park Fundadores to 14th Street will be worked on. New pavers will be laid and better drainage and adsorption of rain water to prevent flooding. Led lighting will be added also. New furniture will be added and the entrances to the beach will be upgraded. Vegetation will be preserved and also added.
There will be removal of public phones not in use and commercial spaces that are imposing onto 5th Avenue. New signage and maps will be available for tourists. Well needed trash cans will be added and bike racks will be installed.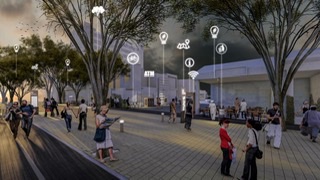 What will be new for Park Fundadores?
The most iconic two things about Park Fundadores will be kept, the statue Portal Maya and the small white church. The boundaries of the park will be expanded and integrate the pier into the traffic flow. Consideration will be given to traffic flows also since there are many pedestrians that traverse this area as well as tricycle taxis going from the ADO bus station to the Cozumel Ferry Pier. Ramps will be integrated into the design so universal access is offered to all.
New seating will be added and the main center of the park will be like an amphitheater overlooking the Caribbean Sea. This will continue Park Fundadores as a performance space.
The area along the beach will be redone to add a promenade. During the last restoration of the area this was done with wood planking that has since twisted and broke, creating a not so appealing beachfront area, so this renovation should make this a more attractive and safer place to enter the beach from Park Fundadores.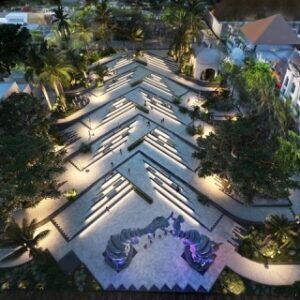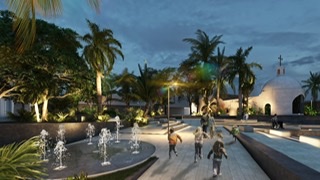 The time frame for renovating both 5th Avenue and Park Fundadores is 150 days. The first two months will see the completion of this work on 5th Avenue so it has a minimal impact on businesses there. Playa Del Carmen is moving forward and looking forward to welcoming back tourists to a refreshed look.
What do you think if these plans? We would love to hear from you in the comments below.