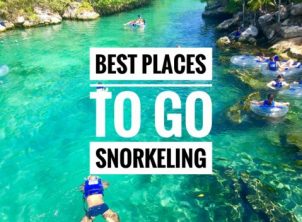 Where to go snorkeling in Playa Del Carmen
When visiting many people want to know where to go snorkeling in Playa Del Carmen. This is reasonable since we are on the ocean and have some excellent spots nearby. Here is a complete guide to where you can snorkel. This guide has everything from the ocean to cenotes where you can go.
Snorkeling off the coast of Playa Del Carmen
The ocean waters off Playa Del Carmen are beautiful and tempting to dive in with a mask and snorkel. What will you see snorkeling off the beach in Playa Del Carmen? Much of the water is blue and empty with just sand bottom. There is one close spot where you can go snorkeling in Playa De Carmen.
On the north end of Playa Del Carmen just past CTM Avenue otherwise know as 46th Street. There is a reef just past where boats park (see photo below). In the photo below you can see the dark area where the reef is.
It is possible to snorkel from the beach to the reef. However it is best if you have a float with you not only for support since it is a distance but also for visibility. This can be an active area with boats.
Snorkeling here should not be done by first time snorkelers and care should be taken navigating the boats.
Cenotes near Playa Del Carmen to snorkel in
Cenotes are formed when ground water wears away the limestone and creates a pool of water. Some cenotes are open and some still have a cavern roof. These fresh water spots can be great for snorkeling because the visibility is clear usually and you don't have any waves to worry about. So what cenotes are the best places to snorkel? Here are a couple cenotes we recommend.
Cenote El Jardin del Eden
We like this cenote for snorkeling because it is open, it has varying depths, fish, plants and interesting things to see. You can see our short video here of this cenote and just how amazing it is to snorkel there. You can read more about going to Cenote Eden in our article here and see our long video with more details.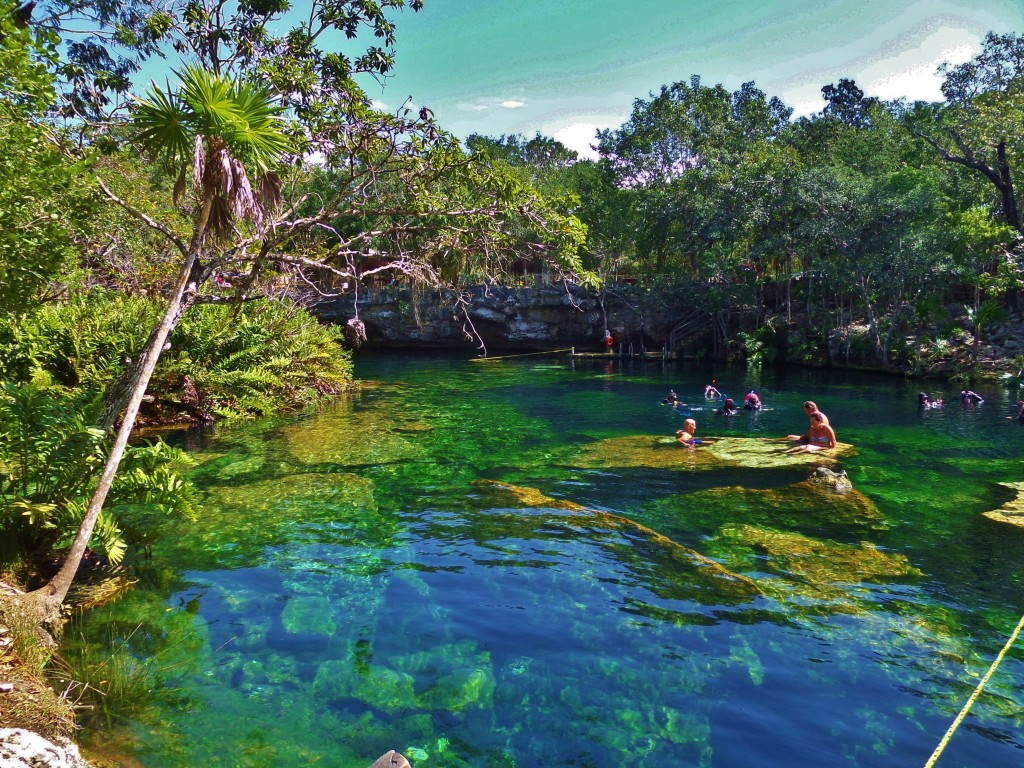 Cenote Azul and Cenote Cristalino
Cenote Azul and Cenote Cristalino are two cenotes right next to Cenote Eden. These two cenotes are also open cenotes and beautiful. You can still snorkel in them and enjoy the crystal clear waters. There is just a little less space than Cenote Eden.
Casa Cenote
Casa Cenote is further down the coast from Playa Del Carmen near Tulum. What makes Casa Cenote so nice for snorkeling is the clear water. It is also large enough to have kayaks in. The setting is in the mangroves and near the ocean. In fact after you snorkel there is a restaurant across the street where you can eat. The restaurant is on the ocean with great views.
Other cenotes for snorkeling in the area
Most cenotes are nice to snorkel in because the visibility is so clear. For a list and map of where other cenotes are, see our guide here to cenotes close to Playa Del Carmen.
Snorkeling tours from Playa Del Carmen
Snorking the reef in Puerto Morelos Tour
The reef off of Puerto Morelos is well known for snorkeling. This area is just about 30 minutes north of Playa Del Carmen. There are tours that can take you here for a half day adventure. You can see a short video here of snorkeling in Puerto Morelos and a longer video and our article here.
There is also this company that does snorkeling tours off the coast of Puerto Morelos.
Catamaran tours with snorkeling in Puerto Aventuras
Do you want to sail up the coast of the Riviera Maya and get a chance to go snorkeling in a remote spot? This tour combines several things for you. Below are two companies that do this tour. The companies are a little different so we suggest you read about them before choosing one.
Fat Cat Catamaran
Fat Cat uses their 45 ft. boat to sail you up the coast from Puerto Aventuras. Once you arrive at the reef, they give you snorkel gear and fins. There is a guided swim around the reef. After snorkeling there is an open bar on board and a bagged lunch offered.
For more about the Fat Cat Catamaran tour see our article here which also includes a video of this tour.
Catamaya Catamaran
Catamaya has a 65 ft. catamaran that sails from Puerto Aventuras as well. This tour takes you up the coast and the to a reef to snorkel. After you snorkel this tour has four options for lunch like steak or lobster. There is an open bar as well. You can see our video in our article on Catamaya Catamaran tour. Best of all our readers get 10% off this tour with the code in the article! This will get you the best price for this tour and we are happy to offer it.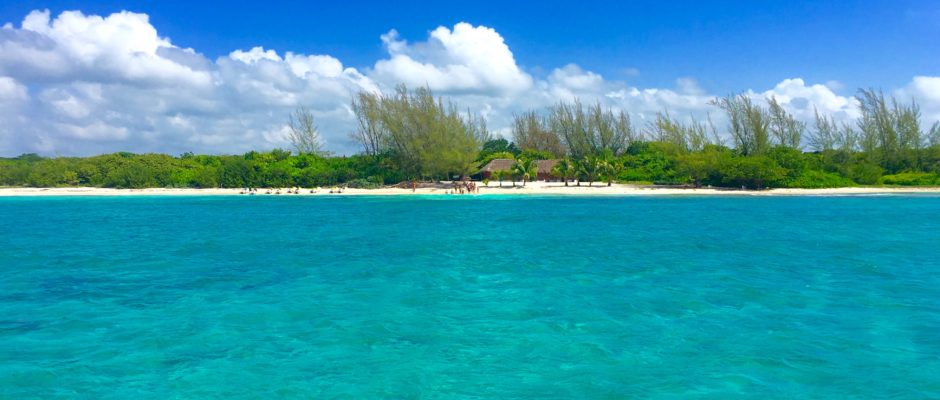 The reef where the catamaran boats take you to snorkel.
Private Tour to Tulum reef
Yes Tulum has a beautiful reef just off the coast. Most people don't know this because there are not large tours that go there. So this is something of a hidden gem. The snorkeling is good and you will see a lot of coral and fish here. It took us a while to discover it and it was only because of a private tour we went on. Absolute Adventure Mexico is a private tour company that can take you here as well as cenotes in the area. You can see the full article and video in the link here to Absolute Adventure Mexico. This is one private tour company we recommend.
Xel Ha snorkel park-the mother of all snorkeling
Xel Ha is a huge park where you can snorkel all day. The park is an inlet from the ocean where the fresh ground water flows into the ocean. Here you can see tropical fish and snorkel all day! This area is huge. You start at the beginning the of the "river" in a mangrove area and then have the entire inlet, caves and other places to explore.
Xel Ha park is an all day activity and all inclusive. Your entrance includes all food and drinks (including alcoholic drinks). Xel Ha is open daily from 8:30am-6:00pm. For tips on getting the best deal on tickets, our video and everything you need to have a great day in Xel Ha, see our article here.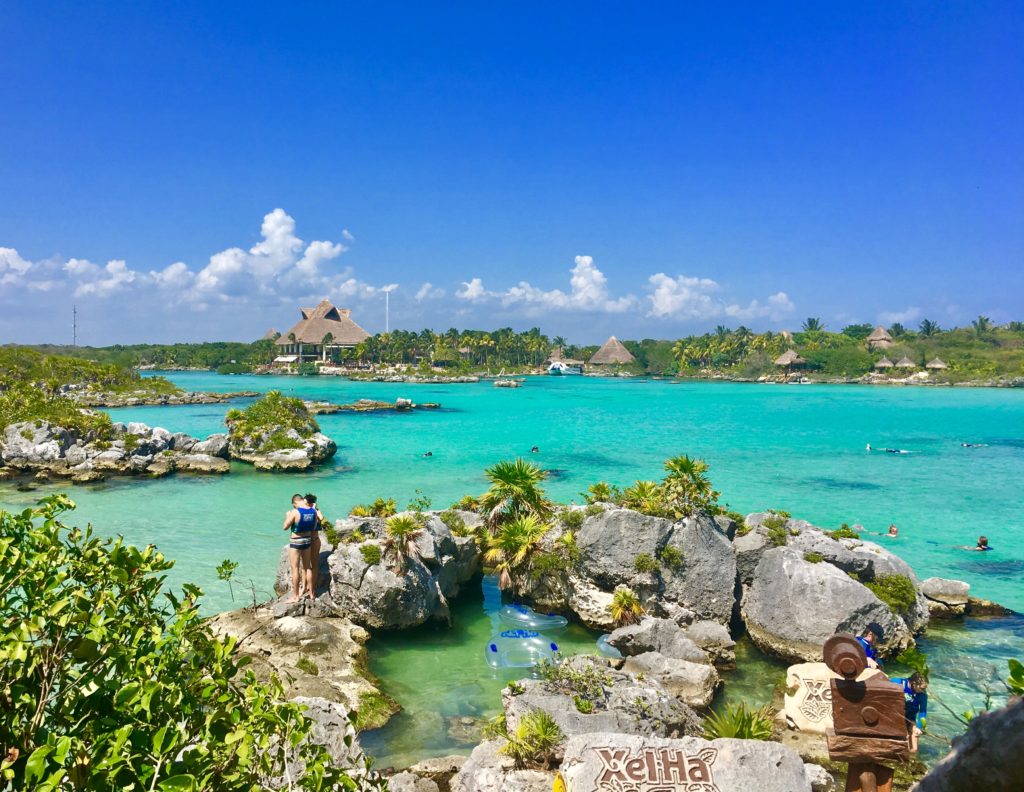 Other places to go snorkeling near Playa Del Carmen
Yal Ku Lagoon for snorkeling
Yal Ku Lagoon is a small inlet from the ocean that is like a mini Xel Ha. This natural area is open to the public in Akumal. You can come here by yourself or with a tour.
At Yal Ku Lagoon you can pay for admission and bring your own snorkel and mask or rent them. For more about visiting the Yal Ku Lagoon in Akumal see our article here.
If you would like to take a snorkeling tour to the Yal Ku Lagoon you can check out this tour below. A tour is easier for most people to get here. You need to really have a car to visit Yal Ku Lagoon because it is far off the highway and not really accessible by public transportation. With a tour you get transportation, guide and snorkeling equipment.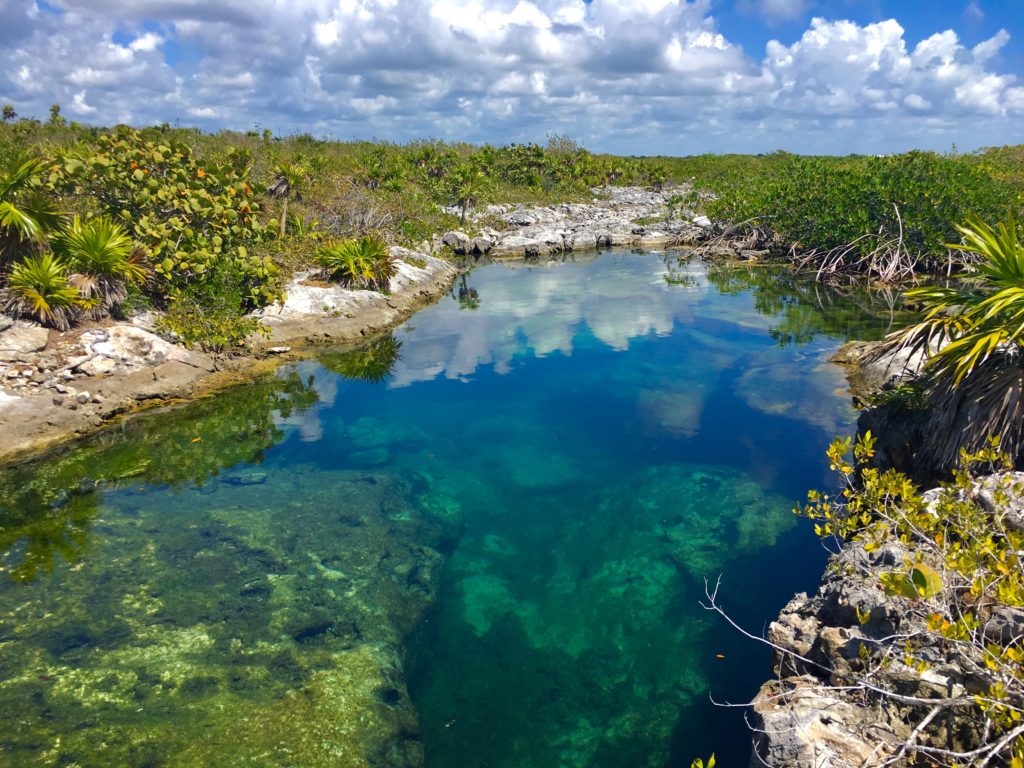 Snorkeling off Isla Mujeres
The waters off Isla Mujeres offer great snorkeling. A snorkel trip with a local guide can be easily arranged when you arrive on the island. Here is our article about snorkeling with the Cooperativa Isla Mujeres. These trips are very affordable and make for a great day trip from Cancun or Playa Del Carmen.
Not only can you see some shallow water reefs, you can also see the Musa Museum of over 470 underwater statues that create an artificial reef.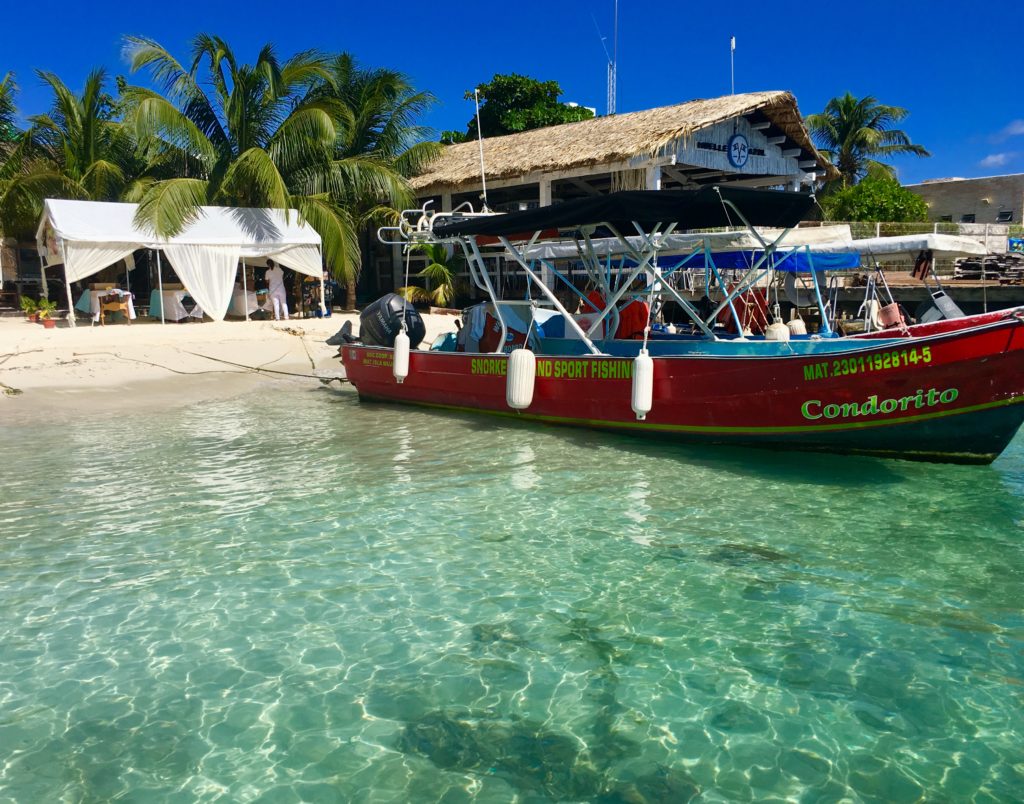 Buying snorkel equipment in Playa Del Carmen
If you are coming for a week or even staying longer and want to purchase your own equipment, it is fairly easy. If you are looking for recreational quality snorkeling equipment, Walmart or the other grocery stores in Playa Del Carmen are a good source. Here you can buy a mask and tube from around $20USD-$45USD.
If you want to buy professional equipment we suggest going to one of the dive shops in Playa Del Carmen.
Do you have questions or comments about snorkeling in Playa Del Carmen? Let us know in the comments below. We would love to hear from you.