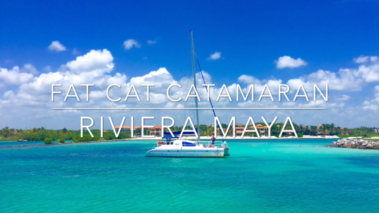 Are you looking for a catamaran tour to go on while on vacation here in the Riviera Maya? Fat Cat Catamaran is one tour you can take. We went out on this tour to tell you all about it.
What to expect on a Fat Cat Catamaran tour
Your tour will begin by getting picked up at your hotel. Transportation is included in the local area.
You will be taken to Puerto Aventuras, a private gated town on the coast of the Riviera Maya. Puerto Aventuras is one of the only ports on the coast where there are catamaran tours.
Once you arrive you will walk to the dock and board your catamaran. Fat Cat Catamarans has 45 ft. boats that hold 40 people. Once on board your bilingual crew will introduce themselves.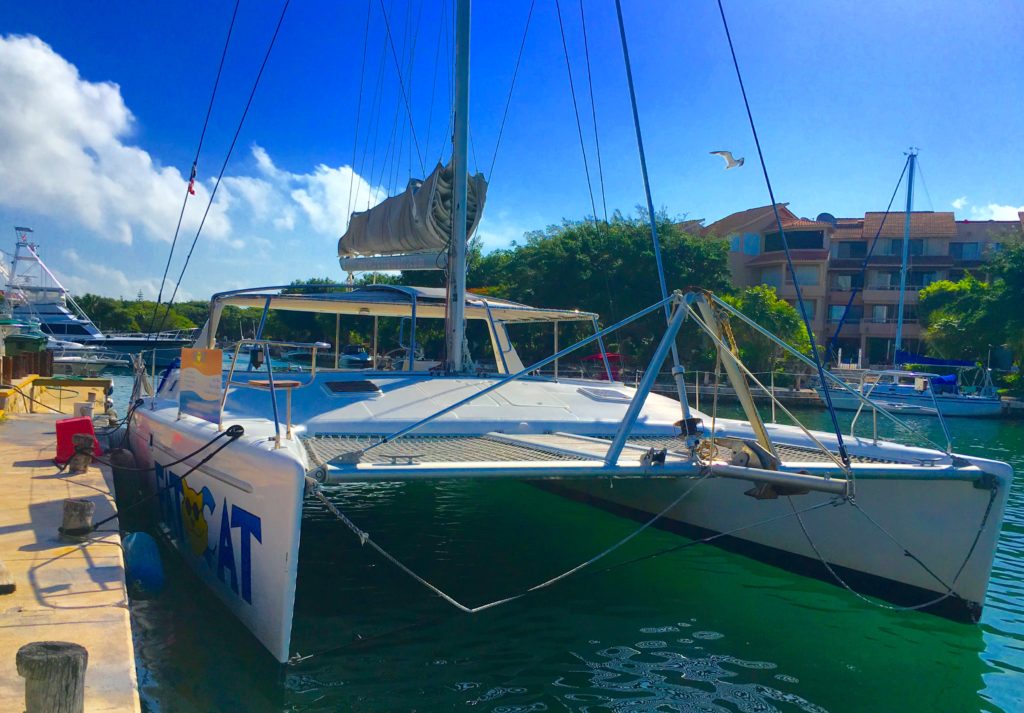 As you leave port, you are offered drinks as you set sail up the Riviera Maya. In about one hour you will arrive at a beautiful bay where you can go snorkeling. This bay has a nice reef. You can see stingrays, sea turtles, and lots of tropical fish. You will have about 45 minutes here.
After snorkeling you will receive a bagged lunch. This contains a sandwich, chips and cookies. You can enjoy your lunch as you sail back toward Puerto Aventuras.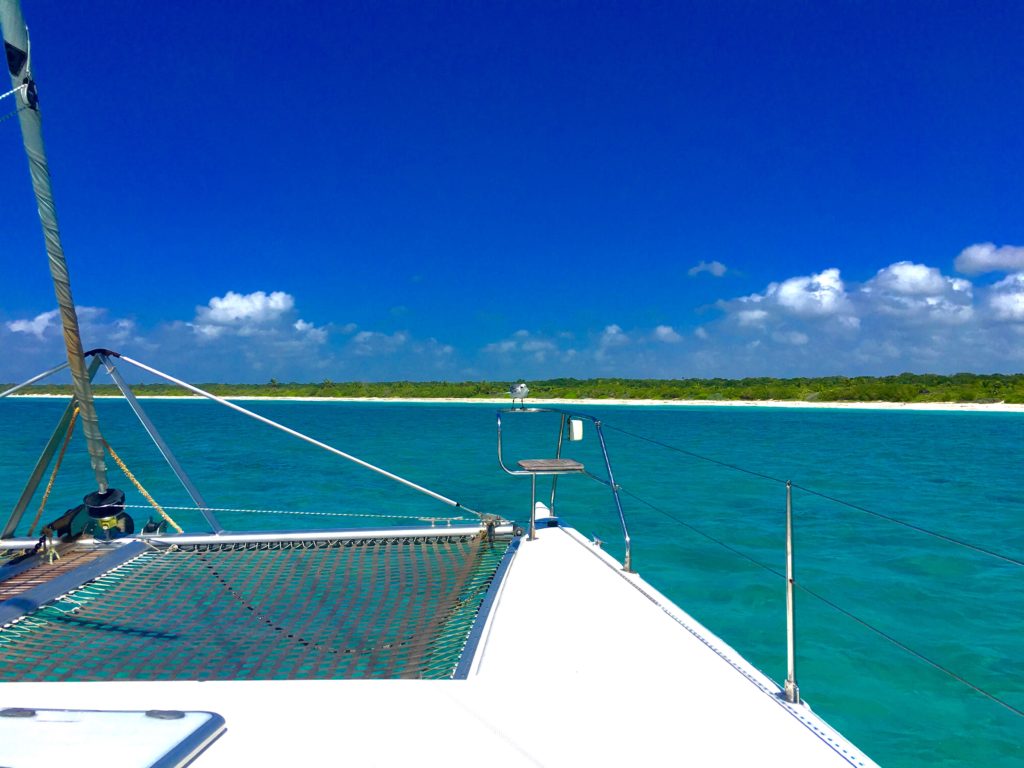 Once back in Puerto Aventuras your catamaran tour will take you to a shallow lagoon. This beautiful area is great for jumping off the boat and swimming around. Be sure to get some pictures here!
After swimming Fat Cat Catamaran will take you back into port where you will meet your transportation back to your hotel.
What is included in Fat Cat catamaran tour price
Here is what is included in the price of this tour:
Transportation from most areas and hotels from Playa Del Carmen to Tulum. When you book you will get a pickup schedule. If your hotel is outside of their pickup zone there is a small add on fee.
Alcoholic drinks on board, including beer. This is not a full bar, but a selection of drinks. Also soda and waters are included.
Snorkel equipment including fins are included.
A bagged lunch, which is a sandwich, chips and cookies.
Our video review of Fat Cat Catamaran tour
Since videos show you things even better then describing it, we made this video for you!

What to bring on this tour
A bag is good for holding your clothes in. It is windy on board and it is nice to keep things in a bag. Your shoes will be collected in a bin before boarding so you do not need to worry about them.
Water proof camera for snorkeling.
Biodegradable sunscreen. This is important in the Riviera Maya. The cenotes and reefs are delicate ecosystems. Sunscreens contain hazardous chemical.
A towel for drying off.
Tips for the crew.
Our recommendations for this catamaran tour
Here is who we recommend this tour for:
Anyone looking to get out on the water and enjoy looking at the Riviera Maya's coast.
We recommend this for people staying between Tulum and Playa Del Carmen since this tour is centrally located. It is also the only port in the area that catamaran tours this size can leave from.
For those that like to snorkel and take a boat ride.
This catamaran tour is good for groups. Wedding parties or large groups can reserve the whole catamaran. Contact us for special group prices on the tab above under "about".
This is good for people of all ages. As long as you´re mobility will allow you to climb onto the boat and navigate possible uneven or slippery surfaces.
Going on this tour is a nice way to get off a resort property for half a day.
If you are in Playa Del Carmen and want to go on a boat tour, this is the closest port to take off from.
How to book this tour
If this tour looks like something you want to experience while here in the Riviera Maya then reserve your spot now. You can book by clicking the link below. This is the best price for this tour. You can be assured you are getting the best deal possible.
Group bookings for this catamaran tour
If you want to reserve this catamaran for a group, we can get special rates just for you. Just contact us via email. Here are 8 things to keep in mind for group bookings.
There is a maximum of 40 people per catamaran for this tour.
You can leave at 9:30am or 2:00pm daily.
We have rates for 1-15 people, 16-30, and 31-40.
You can book with transportation included or you can arrange your own transportation.
Fat Cat Catamaran has two boats so you can rent both if you have a large group up to 80 people.
A 30% deposit is needed for a reservation and the balance is to be paid by the day of the tour.
If there is bad weather, you can choose another day or get a full refund.
If your group wants a different meal other than the bagged lunch, it is possible. Fat Cat Catamarans has several options and add-ons.
For more catamaran tours, see our article here on catamaran tours in the Riviera Maya.
We hope you have enjoyed our article review of this Fat Cat Catamaran tour. If you have been on this tour, let us know what you thought below. We would love to hear from you!