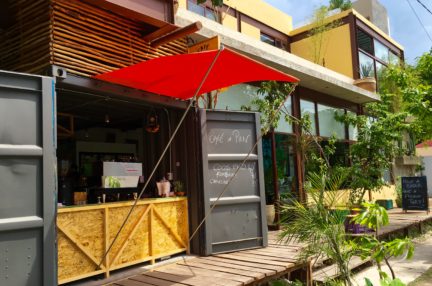 We are so please to tell you about this new café and restaurant in Playa Del Carmen. Chou Chou Café (pronounced "shoe shoe") is a well designed restaurant and café with an environmental consciousness. Note: now spelled Choux Choux Café.
See why we like this amazing café in Playa Del Carmen and why you should go there. Also, be sure to check out their second location at Le P'tit Shoux.
A look at Choux Choux Café
The first thing you will notice is the open space, artwork, modern design and décor. The next thing you will probably notice are the nice looking plates of food coming out of the kitchen and the smell of great coffee. All of these things put together make this a great place to come and visit.
Décor at Choux Choux Café
If this place represents the new style of Playa Del Carmen, then we welcome it. There are large windows open to 20th Avenue that let light in for guest and plants. You will notice small plants and reused objects like old TV's and suitcases now used as planters.
Around the walls there is art and this will all be changing over time so there will always be something new here.
On the one end is a reused shipping container from Progreso, Mexico. This container houses the coffee bar.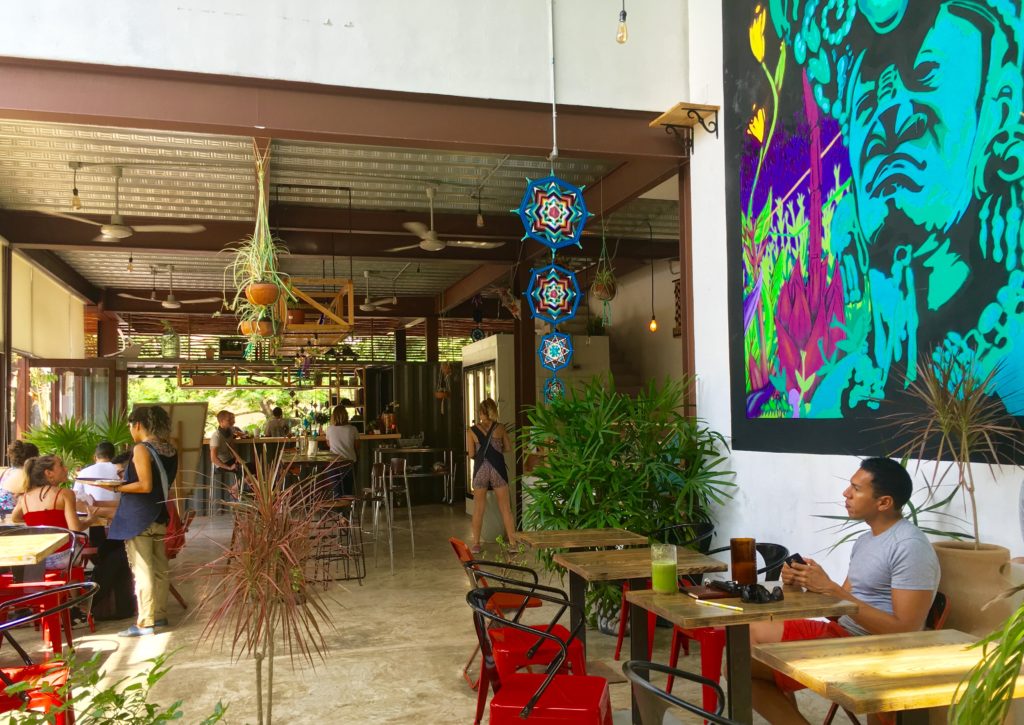 The menu at Choux Choux Café
The café serves breakfast and lunch for now. You can be assured that they try to use locally produced food and organic when possible. They also have good vegetarian options, so you will find them on our vegetarian guide to Playa Del Carmen.
On the breakfast menu you can find things like:
Quiche-60 pesos
French toast-56 pesos
Granola bowl -55 pesos
This is just a sample of the menu and good value with the prices. There are many more good options.
For lunch or brunch they have a large menu. Some of things on the menu include:
Greek salad-70 pesos
La Robusto Salad (pictured below with tuna) 95 pesos
Pan bagnat sandwich (pictured below) 85 pesos
There are a lot of other salads and menu items to choose from. Most prices are from about 55-90 pesos. This makes this a very affordable place and the quality of the food is superb.
Also on the menu are mixed fruit juice and smoothies. These are 35-50 pesos and come in large recycled glasses.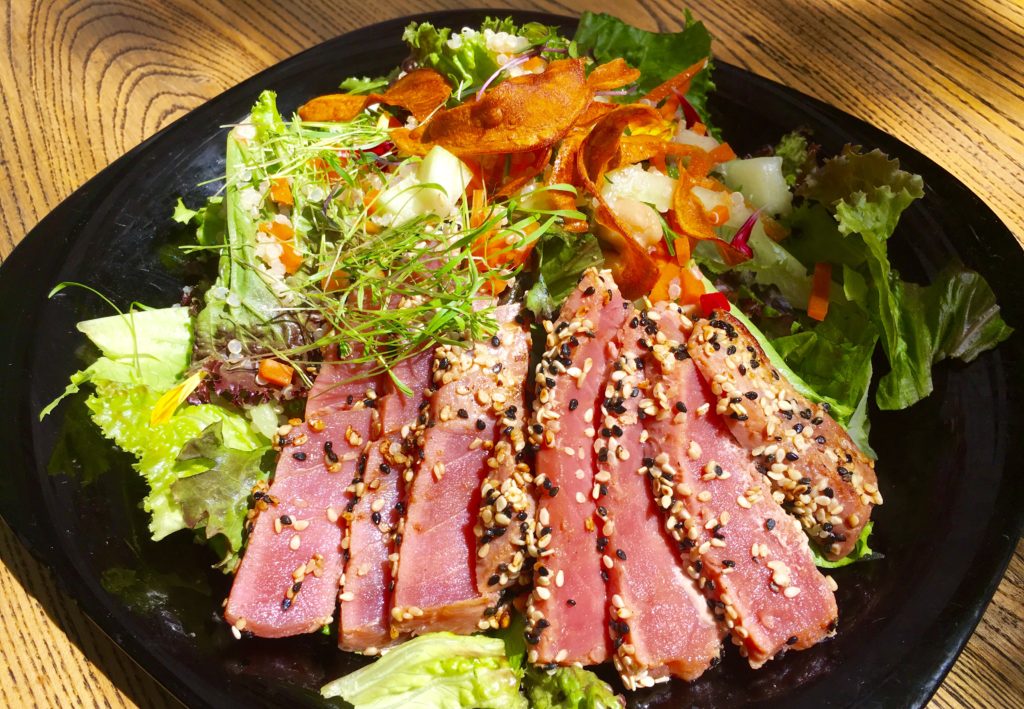 Coffee Menu at Choux Choux Cafe
The coffee here is excellent, so no matter what caffeinated drink you choose, you cannot go wrong. With the average price around 35 pesos for a beverage, you get great value.
For those of you used to going to Starbucks we challenge you to try out this place.
Choux Choux Café is going on our list of coffee shops in Playa Del Carmen as one of the best!
Tip: In addition to having you coffee, this is also a good place to use the Wi-Fi. So for all you digital nomads, check this place out! This café is on our list of places to use the internet in Playa Del Carmen.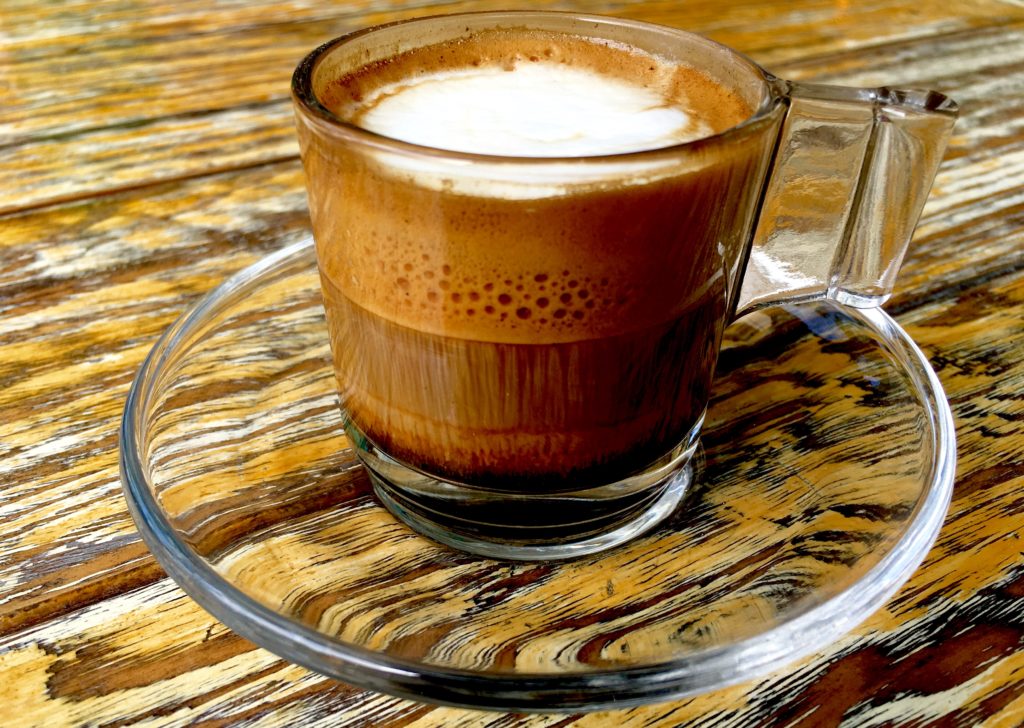 Our video introduction to Choux Choux Café
Recycling in Playa Del Carmen at Choux Choux Café
One of the passions behind Choux Choux Café is being responsible to the environment. This comes through how they operate as a business. The idea to be a center for recycling was something they wanted to offer the community.
How to recycle at Choux Choux Café
For residents of Playa Del Carmen that want to commit to bringing your recyclables to the café, here is how it works.
Bring your clean recycling to the café.
Fill out a form and commit to bring your recycling there.
Receive a card that will entitle you to a 15% off in the café.
On the side of the café are recycling bins. Once these are full they take the recycling to a center. This makes it very easy to recycle in Playa Del Carmen. There are not convenient places to take recycling so this is a welcome addition. And with such a nice café, who wouldn't want to come here all the time?
What are the hours of Choux Choux Café?
The café and restaurant opens at 6:30am until 9:00pm Tuesday-Sunday. Closed Mondays. We expect these hours to be expanded in the future, if they do we will update this.
Where is Choux Choux Café?
Choux Choux Café is on 20th Avenue between 20th Street and 24th Street.

Have you been to Choux Choux Café? What did you think? We would love to hear from you in the comments below.