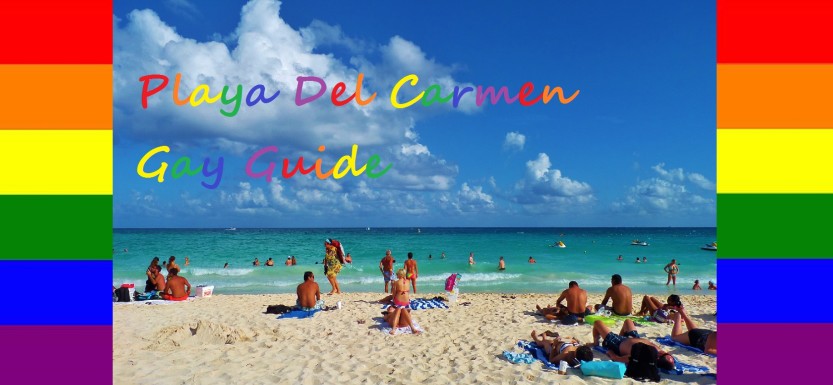 This is our Everything Lesbian and Gay Playa Del Carmen Guide!! In this guide we will cover the best beaches, gay areas, shopping, preferred hotels and gay resorts, gay bars, clubs, restaurants, and places to meet and interact with locals.
We found the need to make this guide because people kept asking us for one because an online search often comes up with only one bar or outdated information as well as incomplete and not informative info about gay life and tourism in Playa Del Carmen.
Gay Playa Del Carmen Guide
Never has the time been better to visit Playa Del Carmen for the LBGT community. Playa (as it is known to the locals) is a welcoming place that is very integrated and friendly. People are just starting to discover what others have known for a while now, Playa Del Carmen is a great destination. Playa is a beautiful Caribbean beach town/city with great restaurants, exciting nightlife, shopping, adventurous day trips and of course beautiful people from all over the world. It is becoming just as attractive as some of the other gay and lesbian destination. So why not discover Playa Del Carmen and all it has to offer!
Where are all the gays?
People will come to Playa Del Carmen and think that there are not a lot of gays especially since there is just one club listed on many sites. The fact is that there is actually a high proportion in Playa compared to other places. Part of the reason for this is because Playa Del Carmen is a youthful place that attracts many young people within Mexico to look for employment in the large resorts.
Many dancers, acrobats and hospitality jobs are filled by young gay people looking for an exciting life. It also does not hurt that Playa Del Carmen is a fabulous place with almost everything a gay person could want, shopping, beach, parties, gorgeous people, great places to eat, and warm weather all year.
So why are there not more people out at night? The answer is a two-part response.
It is part the working lifestyle and conditions in Playa Del Carmen.
The other part is the fact that Playa Del Carmen is so intergraded between straight and gay.
Cost of going out in Playa Del Carmen
Let talk about the first factor. Part of the reason people do not go out all the time is the fact that most people work 5 1/2 to 6 days a week and going out a lot is not that conducive to working the next day.
It is also expensive to go out for a lot of people. Many people make 400-600 pesos a day. That is only about $25-$40 USD. Going out to have some casual drinks and taking a taxi home is going to cost you 20-50% of your pay for the day. So this is another factor why people do not go out as much and get together with friends at someone's house. It is also why beer is by far the most popular drink at bars because it is more affordable at about 40 pesos.
Playa Del Carmen is very mixed between gay and straight
The other reason that gay people are not at one club because Playa Del Carmen is very integrated. Many bars and clubs can be a nice place to hang with both gay and straight friends. This means when you are visiting, enjoy going out to a place that you would like, and you will be pleasantly surprised that you find a mixed crowd. However, there are more of a concentration of the GLBT crowd at the following places in our gay bar and club guide below.
Gay Bars and Clubs in Playa Del Carmen
Club 69
This gay club was the first and the longest running gay club in Playa Del Carmen. After going downhill for a while, it has closed.
Provenza Club
This is the latest gay friendly/gay bar in Playa Del Carmen. Here you can find drag shows and go-go dancers. This club is on 32nd Street between 5th Avenue and 10th Avenue. It is open daily from 7:00pm-2:00am. Here is a link to their Facebook page for current events and nights.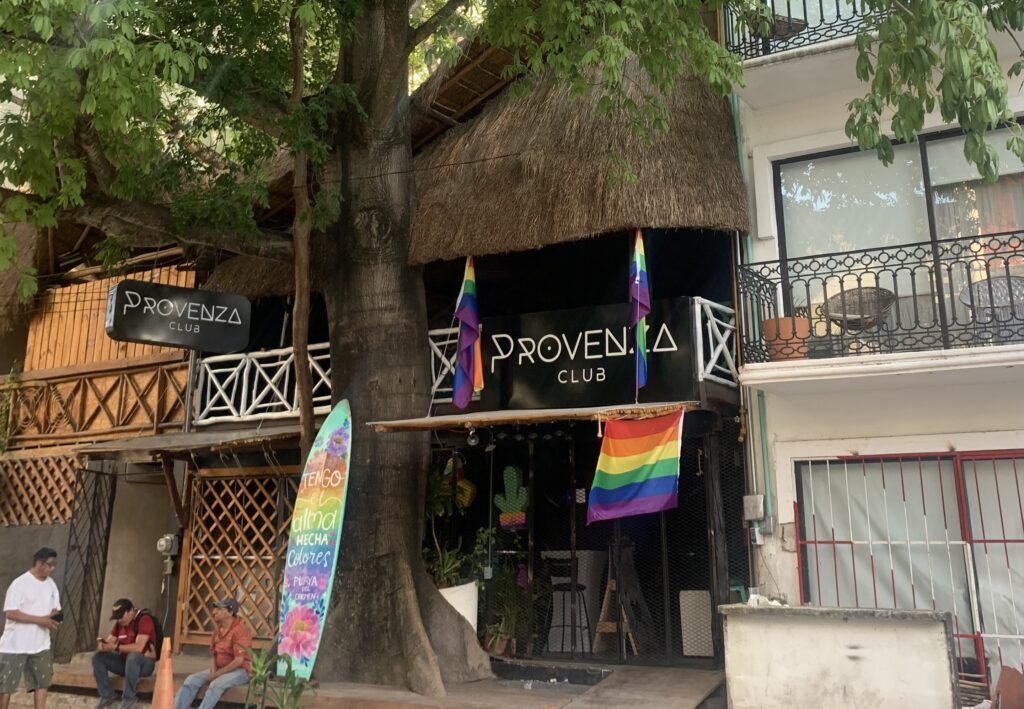 La Cueva Bar
This is a gay strip bar. It does not really get started until after midnight. This bar is a casual place to hang out (think dive bar). It is not that popular but gets a small crowd of mainly locals. People enjoy going here just to sit with friends or enjoy the show.
Strippers do go all the way down to the nude here and you can see everything! Drinks are actually very reasonably priced. What is different is the fact that you do not need to tip the dancers (of course if you place some money on stage or hand them something, it will be appreciated). There is a price list on the menu for lap dances, private lap dances or spending time with dancers.
You can check out their Facebook page for special events and new featured dancers. This bar is not in the center of Playa but close to the downtown. A taxi is the best way to get to this club since it is a little off the beaten path.
This huge Las Vegas like show and club will keep you entertained for four hours. Since this is mainly only a show for tourist, it does not get locals, but there is always about 10-15% gay people in the audience having fun. There is a fair amount gay people that work there and local guides and promoters that take people there. Since this club is more about the show it is not really a dance club. There are intervals of shows and then popular music is played. You can mingle some here but mainly people stay in their spot for viewing the show. After the show ends at 3:15am the club becomes just music and people mingle more but this place is really about the show, so after it many people head out to other places.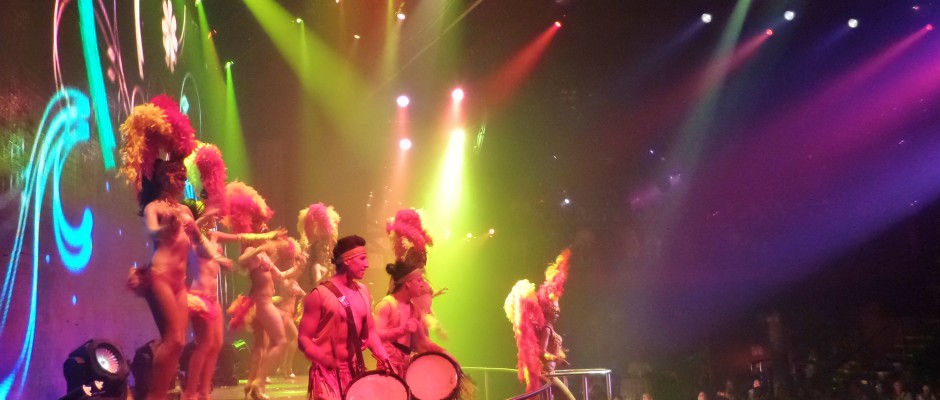 For a rundown on all the bars in Playa be sure to see our Bar Guide to Playa Del Carmen just so you see all the options.
For a guide to all the clubs in Playa Del Carmen be sure to see our Nightlife Guide to Playa Del Carmen here.
Gay Events and Parties in Playa Del Carmen
Arena Circuit Party is in late January and into the first part of February in Playa Del Carmen. It is six days and 13 parties long. It draws a crowd from around Mexico as well as international crowd. This is a good excuse to get to Playa Del Carmen when it is winter in most places. The next Arena event will be held on Cozumel. See dates below. Here is a link to the official party Facebook page.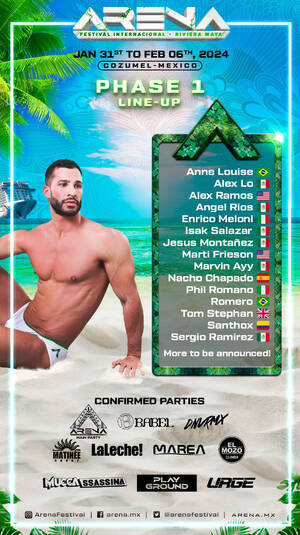 Halloween and the Day of the Dead has become a major party in Playa Del Carmen. All of 5th Avenue becomes one big costume party and all the gays come out to party because it is a fun time. At about 11:00pm all the children go home and the adults head to 12th Street between 10th Avenue and the beach to party until late. Costumes bend genders and everyone can dress like anything on this day! Check out photos from Halloween in Playa here.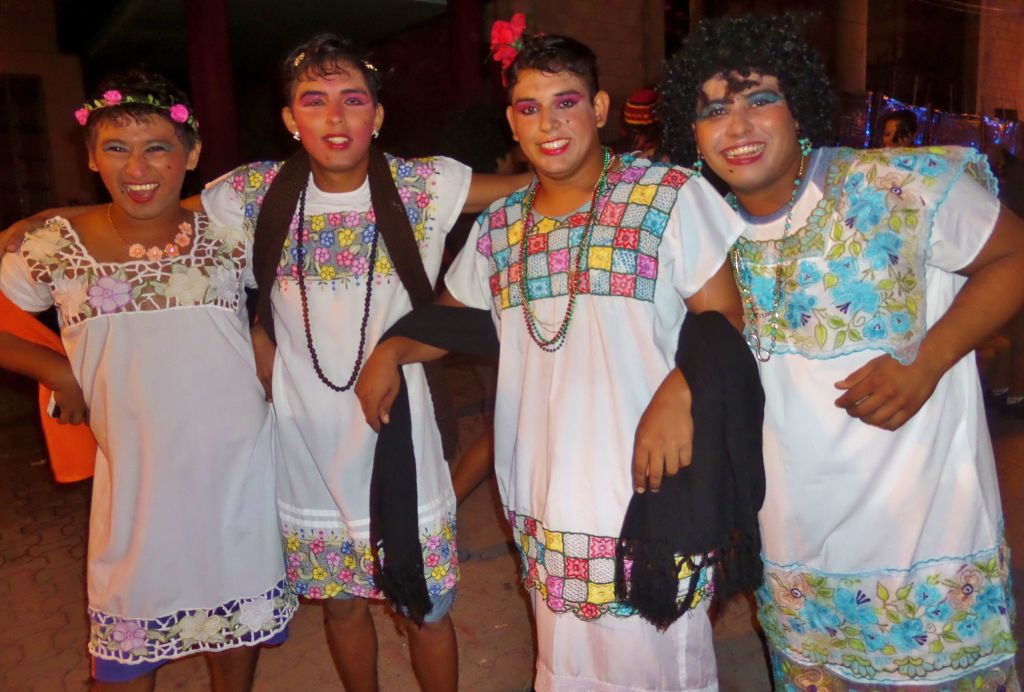 When is Gay Pride in Playa Del Carmen?
Gay Pride is usually in June in Playa Del Carmen. It is not a very big event. Usually there is a small procession through town and a small bar event that day. Cancun also does not have much for Gay Pride. Locally the city of Merida has the biggest events. In Mexico the biggest Gay Pride is in Mexico City.
Gay Playa Del Carmen Beaches
Everyone wants to go to the beach in Playa Del Carmen and the beaches do not disappoint. Anytime is a nice time to go to the beach but Sundays especially get more people since that is the main day people have off.
There are two main beaches in Playa that are popular with the LGBT community. The most popular beach is Mamitas Beach and just to the north of the beach club (see photo above for what it looks like). When you walk 28th Street down to the beach turn left and you will see Mamitas Beach Club there. Walk past the club and the sandy stretch past it is a popular place for people to go and hang out. This is the middle arrow on the map to the left. Not only are there very beautiful people from all over the world, you also get to hear some of the music coming from Mamitas Beach Club. Just remember even if it does not look that gay, a lot of the men and women are gay!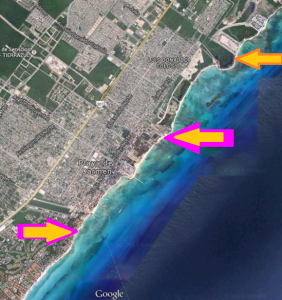 On the bottom part of the map and south end of Playa you have the second beach option. This beach is in front of the private Playacar neighborhood. This beach is popular with the local LGBT crowd because you can go with friends and just relax without a lot of tourists. The beach is wider, and the ocean quality is good here as well. To get to the beach, walk to the Cozumel Ferry Pier and go south on the beach for about 4 minutes. It will be a little wider there and there are small palm trees planted there. It is just after the Xaman Ha Hotel.
If you see the arrow at the top of the map (yellow and orange), this is the "gay" beach in Playa. The beach area is an abandoned stretch of beach between two big condo/hotel complexes. However, it gets very few people and the main reason people go here is to lay out naked or go into the bushes and see who is there. In the slower season this beach only gets a few people, but you never know who you might meet there. There are beach patrols and police that go up the beach but mostly do not bother people, but we have had reports of them stopping, so just keep it decent when patrols pass. Since this beach area is between two multi-million-dollar developments, the security presence is to keep the area safe or make people feel safe and not really to crack down on people relaxing.
To get to this beach you can walk all the way north past Paradisus Hotel and out to the point if you want to but it will take about 25 minutes. There is a public beach access road from 5th Avenue near to about 112th St. You can walk up 5th Avenue or take a taxi to the road. Taxis will only drop you off at the entrance to the road and not drive down it because usually there is parking and traffic from local beach goers and it becomes hard to turn around. Walk down the beach access road and turn left. Walk around the point and almost to the large white and black condo buildings.
Afternoons, late afternoons and weekends are the best time to visit this beach. On Sundays many families visit the nearby beaches so you will have less privacy. There are sometimes local fisherman here as well but they don't bother anyone.
Gay Friendly Beach Clubs
If you want to enjoy the beach but with some amenities, then hitting a beach club is a great option.
Mamitas Beach Club is popular because of the good music and trendy atmosphere. They have beach chairs, umbrellas and beds available. You will often see a group of guys or girls rent one bed and spend the day laying around and having drinks. This club gest the young and fabulous crowd.
Most of the beach clubs are pretty friendly, but the more popular ones tend to be from Constituyentes north to CTM Avenue.
Rooftop pools that attract a gay crowd
In recent years rooftop pools in Playa Del Carmen have become popular. This is due to the fact that more hotels added them, and the beach has not been in the best shape. Here are a few rooftop pools you can check out and what each one is like. All of these are open to the public.
BePlaya. This was one of the first rooftop pools open in Playa. It is smaller and has a shallow pool. Sometimes there are DJs on the weekend. The vibe is more chill and quieter. Normally this rooftop gets more locals and ages 25-36.
3B Hostel. This is a hostel on the south end of Playa Del Carmen. Sundays are the days to party on the roof. Expect young international crowd that will remind you of a frat party.
Purobeach at The Fives Downtown Hotel. Trendy pool with chill electro music and good food.
Thompson Hotel on 12th Street. This rooftop is the most upscale. Here you can rent cabanas. The view is great and a long-curved pool lines the building. This crowd is more upscale and gets people from around 28-46 years old.
Gay Friendly Gyms and Fitness
There are two main gyms in Playa Del Carmen that are popular and good options for a day pass guest, The Gym and Evolve Gym.
Evolve Gym is just a few blocks away at 5th Avenue and 24th Street. This gym is popular with the LBGT crowd as well. Both gyms are busier after 6pm since many people get off around 5:00pm and hit the gym. An alternative is another Evolve Gym located on 6th Street between 30th Avenue and 35th Avenue. This gym has the cheapest day pass but no air-conditioning. This gym does however get a local crowd of dancers, gymnast and other workers in the tourism sector that cannot pay for the more expensive gyms. For more on gyms in Playa Del Carmen check out our gym guide.
The Gym is located on 1st Avenue between 16th Street and Constituyentes Avenue. Day passes are normally 200 pesos. If you are in town for 15 days or longer, ask what options they have for the use of the gym.
Gay Shopping in Playa Del Carmen
There are two shopping centers in the downtown area of Playa that are popular with GLBT community. Paseo Del Carmen is on the south end of 5th Avenue. It has mid-expensive shopping stores. The other is the Quinta Alegria Mall on 5th Avenue and Constituyentes Avenue. This is a two-story shopping center that is semi air-conditioned.
The Plaza Las Americas Mall in Playa Del Carmen gets a good percentage of local gay community shopping and walking around. There are also two stores that appeal to gay guys clothes shopping in this mall.
There is the store below which is in a small plaza located on 6th street between 10th Avenue and 15th Avenue.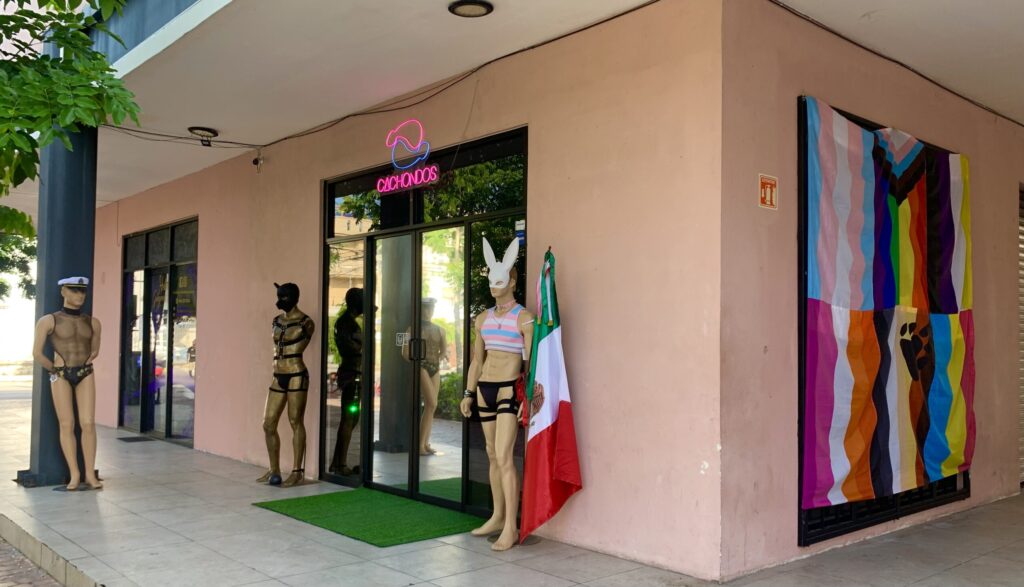 For everything else you can search our shopping information section which covers souvenirs and other good finds in Playa Del Carmen.
Gay Friendly hotels and Gay resorts
There is not "one exclusively gay hotel" in Playa Del Carmen or the Riviera Maya for that matter. The reason for this is because there is such an assortment of hotels and places to stay that everything is very integrated. There was one in Tulum that was a gay resort, but it was short lived. So, some older guides might have it, but there are no more exclusively gay hotels.
There are two hotels that are popular in Playa, and they sponsor the two annual gay parties. These hotels fill up with patrons during this time. One is the Reina Roja Hotel which is a modern hotel artistically decorated just off 5th Avenue on 20th St. The Palm Hotel is on 8th street between 5th Avenue and 10th Avenue. Both hotels have roof top pools and friendly service. The Palm Hotel in our opinion is more popular hotel since it is newer and has a better roof top. Sometimes there are even gay pool parties on the roof (more in the summer months).
If you wanted to stay in Playa Del Carmen and have access to clubs, beaches and dinning, then you might choose a hotel between 10th Street to CTM Avenue. Of course, location of where you stay, this is why we wrote the guide on where to stay in Playa Del Carmen, complete with map.
If you want to check some prices of these hotels and more, click the link below to see special prices.

All-inclusive
hotels and gay resorts
There are many all-inclusive hotels in and around Playa Del Carmen. These can offer good value and offer an easy week with no planning. For LGBT travelers we recommend two things for you.
If you want to have access to Playa Del Carmen and going out to clubs and restaurants, there are two all-inclusive hotels in the heart of Playa (Grand Porto and Royal) and all-inclusive resorts in the Playacar section of Playa Del Carmen. Being close makes it easy to walk or take a short and inexpensive taxi to go out. You can kind of have the best of both worlds, all-inclusive resort but still have access to vibrant downtown Playa.
We recommend larger all-inclusive hotels in general because they have better entertainment, bigger pools and more of a variety of people to meet. The only thing we would suggest you avoid is family resorts with lots of young children only because there will be less likeminded people and if you wanted to sit and talk with other gay and lesbian travelers there will be less at these types of resorts.
One all-inclusive resort that is popular with gays is the Paradisus Hotel. This hotel is on the north end of Playa Del Carmen and not really walking distance into town. It does require a taxi. There are two hotels under the Paradisus name in Playa Del Carmen. One is adult only and one is for families, so book according. There are many gay couples and singles that stay at this upscale resort.
Insider tip: All-inclusive hotels hire thousands of people and there are many gay and lesbians that work at the hotels (the actual number might be shocking to some but the lure of working in the Caribbean draws thousands from all over Mexico and the world to work and many are LGBT) Many are bilingual and work in entertainment at the resorts. You will have friendly interaction with them throughout your day by the pool and at shows. This can be a nice way to meet locals.
If you want to spend more time with staff, it is strictly forbidden for staff to be on the property after working hours or visit guest rooms. If they live on the property, it is strictly forbidden to have guest to their rooms. These policies are very much enforced so if you meet someone friendly why not suggest spending some time off the resort property when they have off.
Gay Friendly Hostels
Coming to Playa Del Carmen on a budget? You will be happy to know that there are some cool hostels and a good variety to fit your style. All of them are gay friendly and you will be surprised just how many gay and lesbian travelers stay at hostels. Here are just a few of the best.
Hostel Che. This hostel is a popular with Argentinian and other backpackers looking for a chill place but with a lot of interaction between guests. Hostel Che is on Calle 6 between 15th and 20th Avenues.
Hostel 3B is a new concept in hostels, a boutique hostel. It cost a little more but makes you feel like you are at somewhere stylish. Rooms are comfortable and best of all there is a rooftop pool and lounge. This hostel is at the south end of town so you might walk a little more, but it is one of the nicest hostels in Playa and friendly. http://www.hostel-playa-del-carmen.com/
There are many other smaller independent hotels that range in budget in Playa Del Carmen and also all-inclusive hotels. We do have a general hotel guide for Playa Del Carmen and the Riviera Maya just to help narrow it down between the hundreds of hotels.
Cruising and Meeting Locals
Here are some non-club and bar places where you can meet locals and other tourist. The main pedestrian street of 5th Avenue (or Quinta as it is known in Spanish) is always popular. During the day you will see people walking in bikinis and speedos going to the beach or coming up to buy something to munch on. It is a very casual street. The best time however is from 6:00pm-10:00pm when many guys and gals go out for a walk. It is also when more people are off work, and the street gets more crowded. Later in the evening people get settled into restaurants and bars and it is not as popular to be walking around and you will have less of a chance to meet people.
On 5th Avenue there are a few places that are popular sitting and watching. Most coffee houses are popular. The Starbucks on 5th Avenue at 10th Street has guys sitting out front sometimes. The other Starbucks on 5th Avenue and 28th Street is also a popular sitting area for guys and gals. There are two Ah Cacao coffee shops that are good locations as well. One is on 5th Avenue at Constituyentes Avenue and the other is on 5th Avenue and 30th Street.
Another café to note is the Chou Chou Café. This is one of the best places in Playa Del Carmen for a coffee and you might also see some nice locals. This café and restaurant is on 20th Avenue near the corner of 24th Street. See our link for more information.
Grocery stores are always popular because everyone has to go, and you never know who you might meet. Mega grocery store is the more popular store for tourist and expats. Walmart is also good to shop at. Walmart gets some beach bikini and surf short shoppers during the day fresh off the beach and looking for snacks. Shopping never looked so good.
30th Avenue is also a busy street where you can meet locals from 5:30pm-9:30pm. This street is the main bus line route and after work many people are traversing here. From 8th street until 20th Street is the best section of 30th Avenue for meeting people.
Note: Also see the beach section for tips.
Gay Saunas and Meeting People
There have been saunas in Playa Del Carmen, but all are currently closed.
Xtreme Cyber Café is an "internet café" that gets a very local crowd. There are private booths and it cost 30 pesos. This type of place attracts the crowd that is going home from work and live with the family. It is close to downtown on Calle 20 between Avenue 35 and Avenue 40. There is a big sign and tinted windows.
Massage service for guys
If you are looking for a legit massage from a masseuse that is gay friendly, here is one good option in Playa Del Carmen.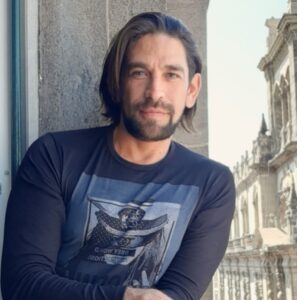 Recommended Day Trips for the LGBT Community
Since gays and lesbians are a little more adventurous here are some day trips or short overnights places, you can go to around Playa Del Carmen. There really are too many options of good places but we will tell you about some of the highlights.
There are three big eco parks nearby, Xcaret, Xplor, and Xel-Ha. These are owned by the same company but different from each other and in general we like each one. We do recommend for the adrenalin junky Xplor. It offers zip lines, underground swimming, and more! We choose this over the other parks because it is fun and many gays and lesbians go there on their day off and there are a lot of hot guys and girls that work there who are always assisting you (and yes, many gays work here). If you are in Playa in October also look for the Bravest Race at Xplor. It is a day race that attracts all the fit gays and lesbians. You will be amazed at the crowd! It cost almost the same as a regular day at the park but totally worth for several reasons (fun and sightseeing)!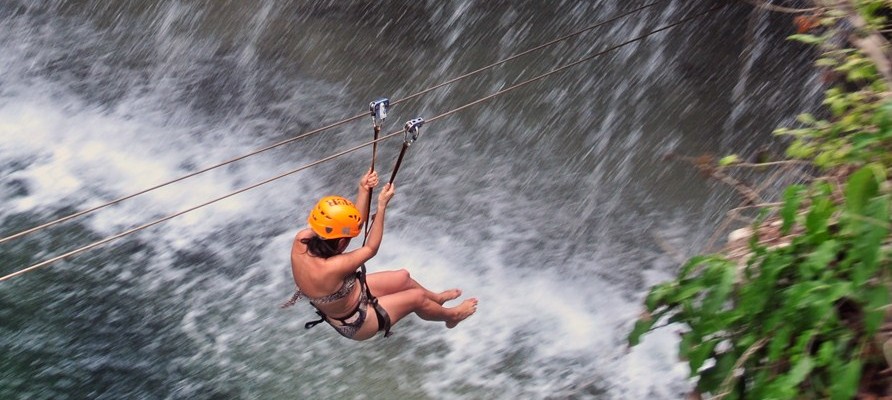 Xel-Ha is a snorkel park with a full day of activity. All day guys and girls walk around in bikinis and speedos. The views are great, and it is popular with local LGBT community on their day off.
Xcaret is a great park but more family oriented. Swimming in the underground rivers is great and the two hour show at the end highlights Mexican culture.
Coba Mayan Ruins is a good choice if you buy a tour or have a car (public transportation is very limited). We prefer this over Chichen Itza because it is not overrun with tour buses, and you get to bike between the ruins and climb the pyramid.
Valladolid. If you are a culture vulture and would like a small colonial city to see and maybe see a local food market, then this town has a lot to offer.
Holbox Island is a good overnight trip or a place to chill for a few days. Interestingly enough it is very popular with lesbians. This laid-back place has a few hundred residents, and everyone seems to be very chill and friendly.
Sian Ka'an is just south of Tulum and is the largest protected area in the Mexican Caribbean. (1.3 million acres) Here you can see a lot of animals and do adventurous activities like kayaking. We recommend getting a tour to visit this biosphere reserve because you cannot really see much if you go by yourself.
Cancun is the closest big city to Playa Del Carmen. You might think it would have more gay clubs, bars, and hotels but it is limited. For more on Cancun see our Gay Cancun Guide here.
Gay tour guide for exploring more of the area
If you would like a gay guide to take you to explore more of the area including the Yucatan Peninsula, we have a suggestion for you. On this website https://gaymeridatourguide.com/ you can find more information about what is offered. He can set up a private tour for you and this is a great way to see more of the area in a fun way.
Need More Advice?
Have a question about something? Feel free to contact us and we will do our best to get back to you as soon as possible. Are you looking to move or invest in Playa Del Carmen? We can refer you to gay friendly Playa Del Carmen real estate agents that know the wants of the community. Looking for a tour guide or suggestions? We will be adding gay tour companies soon to this list. Since gay tourism is increasing there are several companies that will soon offer tours especially for the community. Thank you for reading our Gay Playa Del Carmen Guide.
Do you like our guides? We have dozens more guides here on our website to help you find the best of everything!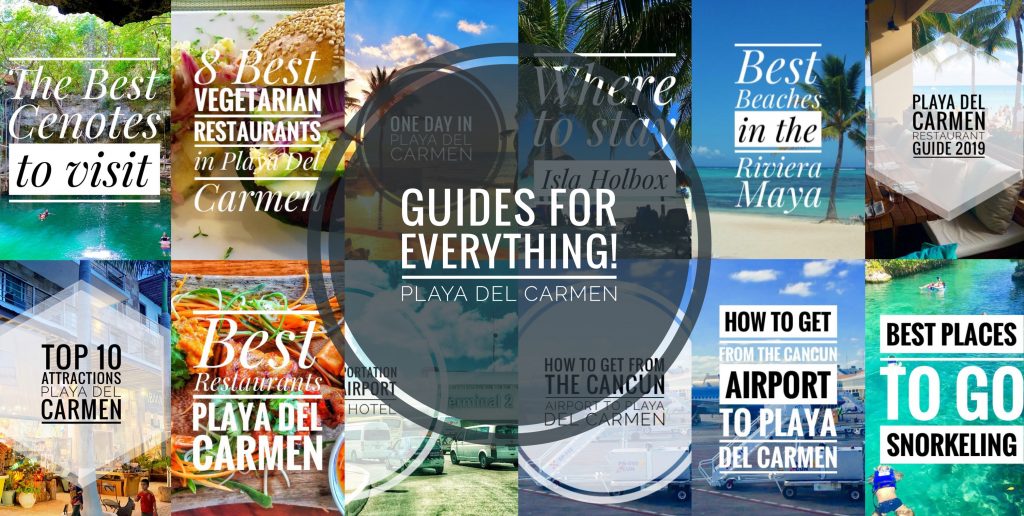 [print_link]