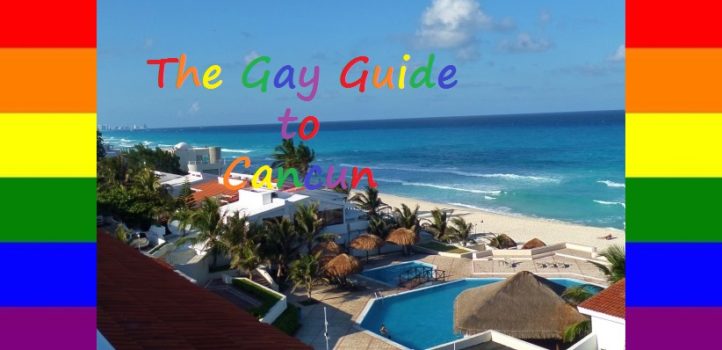 This is our Everything Lesbian and Gay Cancun Guide!! In this guide we will cover the best beaches, gay areas, shopping, bars, clubs, restaurants, and places to meet and interact with locals. We found the need to make this guide because people kept asking us for one because an online search often comes up with only outdated information as well as incomplete and not informative info about gay life and tourism in Cancun. While Cancun is not as much a gay destination as some other cities in Mexico, there are a lot of gays that live in Cancun and work for tourism.
Cancun Gay Guide to Everything
Cancun is more gay then you might first think. Most people imagine a lot of all inclusive hotels on the beach and spring breakers and families lining up in beach chairs. The other side of that image is the amount of young people that flock to Cancun from parts of Mexico and other countries for work. Each of those all inclusive hotels needs a lot of people to run them and that includes performers in shows, poolside entertainers and others and a good portion of these are gay. But unlike other cities in the world, there is not a gay neighborhood or a large amount of strictly gay clubs.
How to Discover Cancun's Gay Side
Cancun is not the easiest city for gay and lesbian travelers to navigate because it is divided into the tourist world of the Hotel Zone and the downtown that is not as visited by tourist. Even the Hotel Zone is very long with about 22 kilometers of hotels and shopping plazas. It can be hard to get around without a rental car and even then it is spread-out.
Cancun is more designed for people to come and stay in the all inclusive hotels and just stay there. We hope with this guide you discover the gay side of Cancun and also what is available as a side trip or the next stop from Cancun.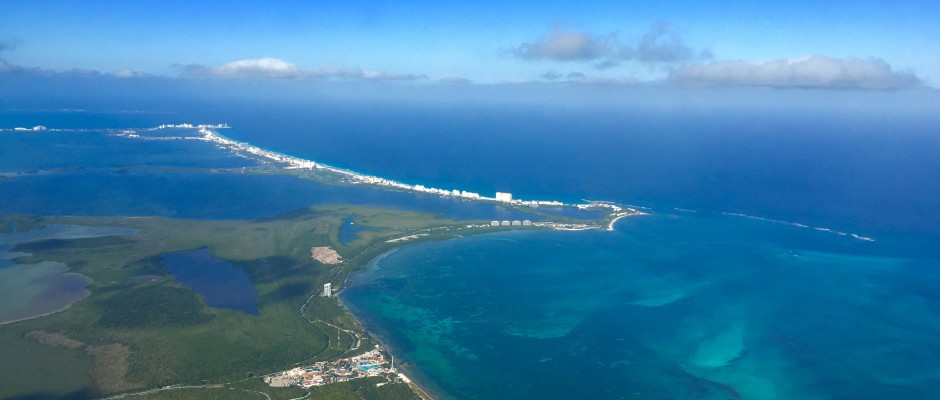 Gay Bars and Clubs in Cancun
Karamba used to be the main gay bar and club in town but it has since closed and we are sure many guides will still have it on there. Here are the current bars and clubs that are gay or gay friendly.
11:11 OnceOnce Club
This is the main gay club in Cancun now. 11:11 Club is open Thursdays-Sundays from 10:30pm-6:00am. The best time to come is from 1:00am-3:00am. This gay club is on Avenida Tulum and the corner of Calle Claveles. This is near to the downtown ADO bus station.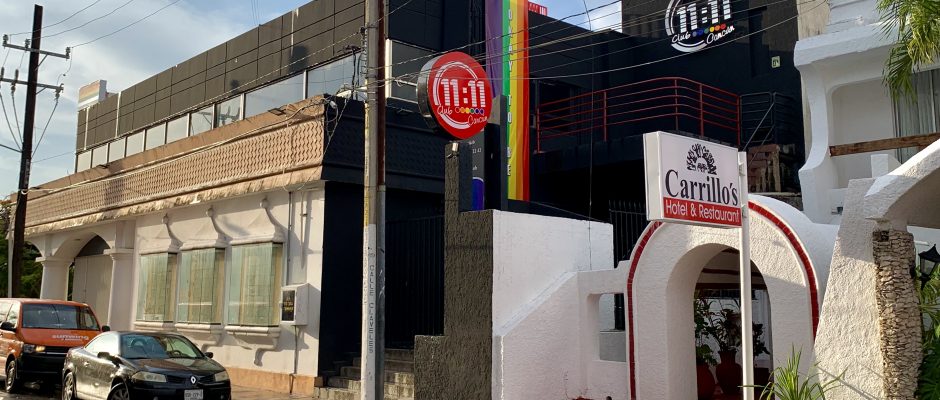 Sexy's Club
This is a gay club with dancing, drag shows and go-go dancers. This club is a little more late night and circuit party than 11:11 Club. It is located near the Plaza Las Americas Mall in the downtown of Cancun. The address is Bonampak 237, Plaza Solare Cancun. This club is open Wednesday-Sunday 10:00pm-6:00am.
Laser Hot Bar
This is a very local bar with some shows. This is less of a club and more of a bar. This gay bar is mostly locals. Laser Hot Bar is on Avenida Tulum Plaza Galerias 77500 Cancún. This is near 11:11 Club. Open Wednesday-Saturday 10:00pm-6:00am Sundays 10:00pm-2:00pm.
Coco Bongo
Coco Bongo and Palazzo are both in the Hotel Zone at KM 9. These two big clubs are for tourist and are straight but get about 18% gay clientele. So you can say these are gay friendly clubs. Coco Bongo is show that goes from 11:00pm-3:15am and then becomes a dance club. During the show you don't really have a dance floor, but rather stand and watch the show. The show is pretty interesting and will get you out of the all inclusive hotel for a real night out if that is what you are looking for. For more on Coco Bongo see our article here with a video. There is a Coco Bongo in Playa Del Carmen, both are almost identical in show and feel. One of the only difference is the Coco Bongo in Cancun is open everyday.
Palazzo Club
Is a straight dance club but gets about a 19% gay clientele. This club is at KM 9 in the Hotel Zone. Palazzo is open Thursday-Saturday 10:00pm-3:00am. It usually is not busy until 12 midnight.
Gay Events and Parties in Cancun
Gay Pride Cancun
Pride in Cancun is not a big parade or anything. This is usually in June. Events usually include a special night at a club.
Paradise Circuit Party
This event usually takes place in late November. It has been held both in Cancun and in Playa Del Carmen so check for the location for the year before booking. It is better when it is in Playa Del Carmen because you can walk between the venues and your hotel.
Gay Beaches in Cancun
Playa Delfines
The main gay beach is Playa Delfines. This beach is on the south end of the Hotel Zone. This is a more remote and open beach area where there are no hotels. This is the "unofficial" gay beach in Cancun. To get to this beach you will need to have a car or take the bus down the road of the Hotel Zone. There is a parking lot here but often parking is hard to find.
You will know when you arrive because this area is a bluff and is a higher area then most of the Hotel Zone. Don't expect a lot of guys at this beach, it is know as a gay beach but does not always have a lot of people. Needless if there are any people there, the beach is beautiful.
Playa Chac Mool
Other gay popular beaches include the Playa Chac Mool which is just south of Punta Cancun and is where the club area is in the Hotel Zone. This beach is popular because there are more people here and easier access to the beach.
Playa Norte
This beach is actually on Isla Mujeres but that is practically part of Cancun. You can take the ferry over from the Hotel Zone or from Puerto Juarez. The day trip is worth it.
This beach is walkable from the ferry. Playa Norte is one of the most beautiful beaches in Mexico. It is clear water and shallow. On the beach there is plenty of eye candy and you can find a mixed crowd of people. Both gay traveler and gay locals come to this beach. There is no official gay section but if you head to the middle or more toward the east end you will find it nicer.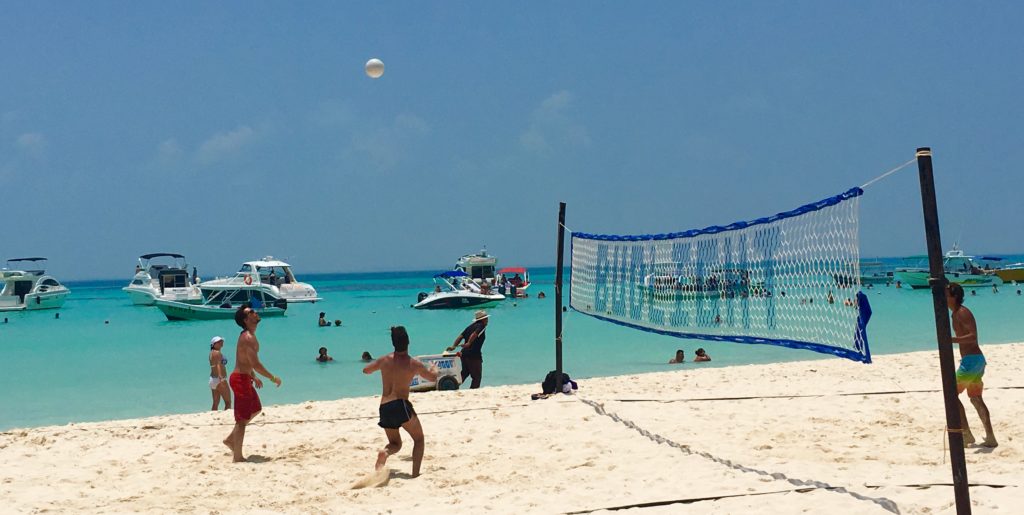 Gay friendly hotels in Cancun
The downtown area of Cancun is mainly where people stay if they are just passing through. There is however a semi cute area near to one of the gay clubs and gay bars in the downtown. Here are two hotels that are decent to stay at in the downtown of Cancun.
Eco Hotel- El Rey del Caribe is the nice of the two options and will still be within walking distance to the bar and club on Avenida Tulum. You can click the link to check prices for your dates.
Cancun International Suites is a 12 room hotel in a quieter neighborhood. It is within walking distance to clubs and local restaurants. Click the link to see prices.
Gay friendly hotels in the Hotel Zone
Here are the two most popular hotels that are gay friendly in Cancun.
Grand Oasis Sens. This is an adult only hotel. This resort has a large pool complex and 388 rooms. To see more about Grand Oasis Sens click the link here.
J.W. Marriot Cancun. This hotel is popular with gays but not as much a swingers/adult hotel as the other. The staff is very friendly and the location is more central in the Hotel Zone.
Temptations. This hotel is ocean front and has 384 rooms but less restaurant and not as nice beach as the Gran Oasis. But it does get a mixed crowd. To see more about Temptations Resort and Spa click the link here.
Gay Gyms in Cancun
Cancun does not have one gay gym but here are some of the good gyms in town.
Energy Gym. This would be the number one gay Cancun gym.This gym is fairly easy to get to. It has large open spaces, good equipment and steam and sauna. This gym is often used by some of the performers in shows in Cancun so the eye candy is worth it! This gym is at Plaza Malecón Américas Cancún. This is the backside of Plaza Las Americas Mall.
Total Gym. This gym is a little smaller then Energy gym. Day passes are 120-150 pesos. The address is:

Av.Kabah SM.13 MZ.1 LT.4 Plaza Paseos Kabah.
Gay Shopping in Cancun
There are two areas where you can find gay shopping options in Cancun. They are on Avenida Tulum near to the ADO bus station and in the Plaza Las Americas Mall.
Plaza Las Americas
The main store in Plaza Las Americas is Boys Factory. It sells ES Collection, Andrew Christian and other popular gay clothing lines.
Avenida Tulum
There are a few stores on this avenue but Aire is the number one store for shopping. This store sells popular gay brands of clothes.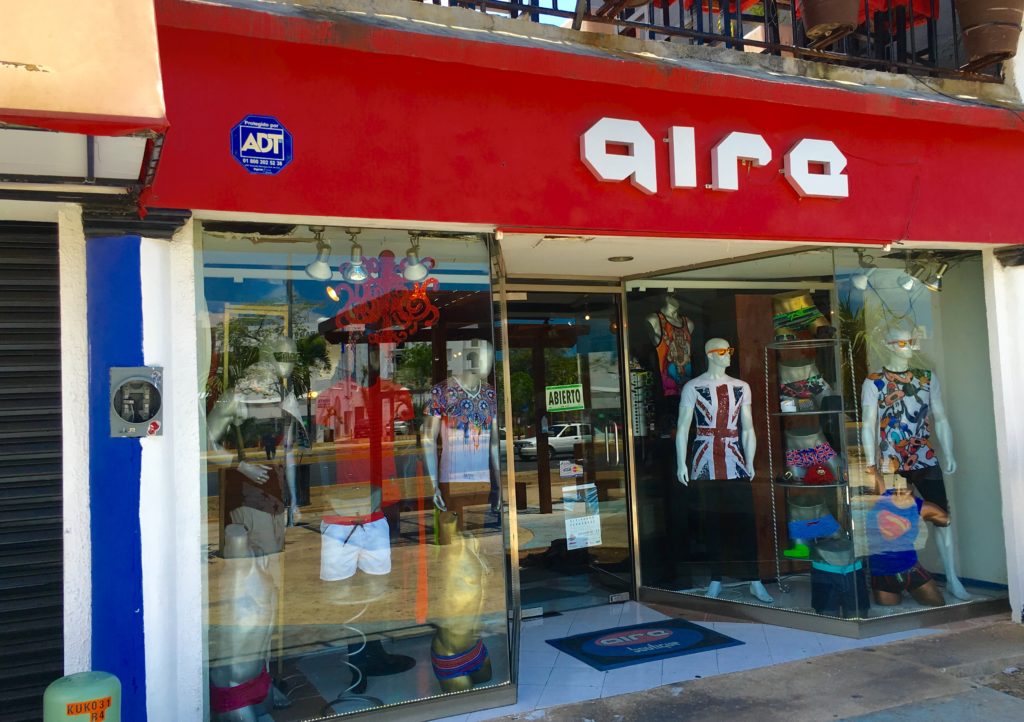 Gay Saunas and place to meet people
Xmahan Nah Sauna
This sauna is in the downtown of Cancun at sm.68Mza2 Calle 21 norte no.103 Cancún, Mexico. They are open Tuesday -Sunday 4:00pm-10:00pm. Saunas are not as big as they are in some other countries. This is small and mostly locals go here.
Plaza Las Americas Mall
This mall is a popular place to meet people. It is crowded on the weekends and especialy Sundays. Many locals that have time off from working at the hotels come here to watch a movie or walk around with friends. It can be very cruisy here. This is the largest mall in Cancun and most popular.
Sometimes you might think this mall is overwhelmingly gay. This mall is also where you see a high rate of muscle boys.
Meeting people online
Meeting locals online is a popular way for tourist to connect. The popular apps work in Cancun but there are a few things you should know. Here they are:
If you stay in the Hotel Zone, this area is 95% tourist. This will make it hard to meet many locals.
Since the city of Cancun is separated into two areas (Downtown and Hotel Zone) it can be hard to get transportation to the other. It means an expensive taxi or a 20-40 minute bus ride. For information on local bus routes in Cancun see the interactive map here. UBER was operating for a while but it has since stopped service in Cancun!
Many local have roommates and are reserved about meeting at their home.
If you are staying at an all inclusive hotel, having guest come visit you if often restricted or required to get a day pass. Day passes can be as much as $50-$90 USD a day.
Many locals speak some English since it is a good second language to have. This makes it easy to communicate.
Gay Side Trips and Tours from Cancun
Playa Del Carmen
While Playa Del Carmen is smaller than Cancun, it does have more to offer to gay travelers. Playa Del Carmen is just a short 45 minutes away by car or bus from Cancun (see our Cancun Bus Station Guide and Colectivo guide for transportation options).
If you are staying in Cancun you might want to come for a day and explore Playa Del Carmen a little. Besides having a more European feel and more walkable city, the gay scene is good. You can see more in our Gay Guide to Playa Del Carmen here.
Eco Parks in the Rivera Maya
The three large eco parks you can visit are Xel Ha, Xplor and Xcaret. All of these are worth the money for the day. You can get transportation included in your booking or go there by yourself. Click the links to each one to see how you can get a discount and more information.
Xel Ha Snorkel Park
Imagine going around all day in a large ocean inlet with people from all over the world in speedos and swimsuits? That is what this park is. Besides being fun it is very sexy. A lot of groups of gays that work as dancers and entertainers like to come here on their day off. Have fun in the sun here at this eco park. All food and alcoholic drinks are included in the admission price. For more on Xel Ha and how to get discounts see our article here.
Xplor Adventure Park
Xplor is all about adventure. It has two big zip line circuits, some that go though waterfalls! This is the best place to zip line in the Riviera Maya! Besides the zip lines there is swimming in underground rivers, driving a jeep cart though the woods and a paddle boat through caves.
This is a great way to spend a day for the active gay crowd. For more on Xplor and how to get the best price see our article here.
Xcaret Park
This is the largest eco park in the Riviera Maya. It is popular with families and also for adults. This park has animals, a Mexican hacienda, Mayan Village, aquarium and so much more! See our article on Xcaret and how you can get discounts off your tickets.
Gay tour guide for exploring more of the area
Here is one recommendation for exploring more then just Cancun. This private tour guide will take you around to explore the area. See the website here for more details. https://gaymeridatourguide.com/
Mayan ruins to visit from Cancun
One of the top activities for tourist is to see the Mayan ruins. From Cancun most of the Maya ruins are a little farther away so it will include some transportation time. The ruins of Chichen Itza, Tulum, and Ek Balam are all about the same distance. Coba is the furthest. For more on each of these Mayan ruin sites see our article here.
More tours and places to visit
For more places to visit and tours see our guide here with an interactive map.
Do you have more tips for gay Cancun? Are you a gay or gay friendly business that would like to be listed here? Let us know. We like to include everything in our guides.