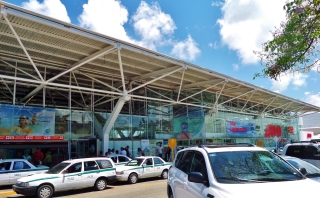 The Cancun Bus Station
Cancun's bus station is the transportation super hub of the area. If you are traveling independently or just saving some driving by taking the bus you will be crossing through this station. Here is a guide to help you navigate your way through it and on your way to your destination. We have information about the ADO busses and local bus routes and maps to help you.
Bus travel in Mexico is well organized, clean and efficient. The major provider is ADO (Pronounced ah-day-oh because the letters are in Spanish). Their website is http://ado.com.mx The website is only available in Spanish but fairly easy to figure out. The key things to look at for long distance trips is the time it will take to reach your destination and the class of service. The smaller bus companies that operate out of Cancun's bus station tend to go to smaller out of the way places or offer cheaper fares, but are local service, meaning more stops and a longer time on the bus. Most tourist and those that can afford it take ADO and it is not worth it to take a slightly cheaper bus to sacrifice your time.
Where is the Cancun bus station?
Below you will find a map for the main ADO bus station in Cancun. It is located in the downtown section.
Cancun Bus Station Map
Below is a map of the bus station and area. We will talk about three things:
Inside the bus station.
The area just outside the bus station and services.
The area around the bus station for eating and hotels.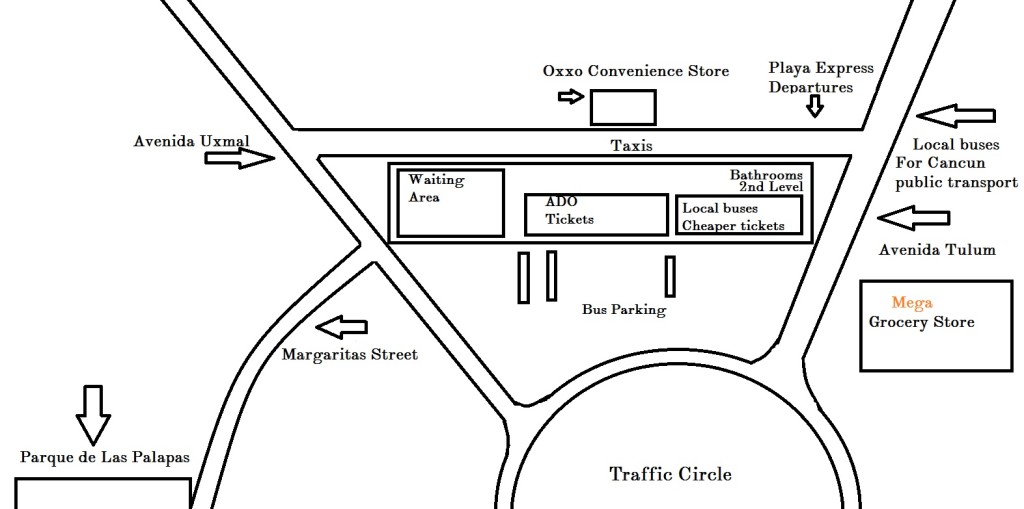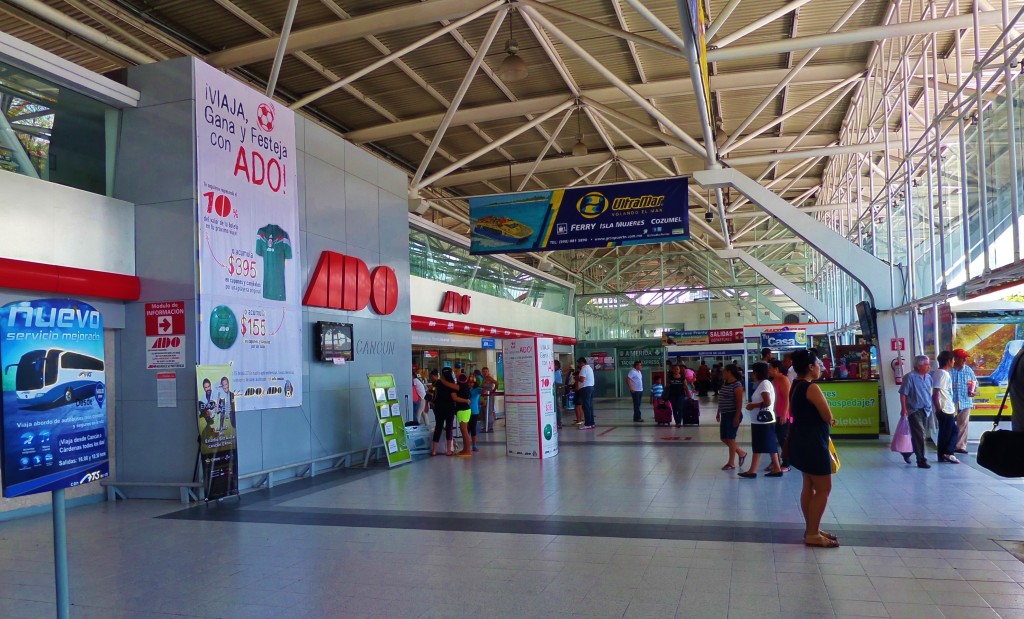 Inside the Cancun Bus Station
Inside the bus station you will find the local/smaller bus company ticket windows. On boards you will see the current schedules and times (sometimes hand written). If you are going to a smaller destination (example: Izamal or Isla Holbox) sometimes there is only one or a few buses a day. It is good to check the day before so you can plan ahead and buy your ticket. Some of the small bus companies have NO online schedules so you need to check at the bus station for times. ADO has fast lines and computerized tickets.
Tip: If you are a resident of Quintana Roo and have ID you can get discounts on some ADO bus lines: example Cancun to Playa Del Carmen.
Bathrooms are 5 pesos and located on a the upper mezzanine. They are semi clean.
There is a convenience store with drinks in the station. Drinks are 30-50% more so we recommend the OXXO store across the street.
ATM's and Banks at the ADO Bus Station in Cancun
There are ATM machines in the bus station but if you prefer to go to a bank to use their ATM the closest two banks are on Avenue Tulum. Go out of the bus station and head south toward the traffic circle on the map. This is a wide avenue with multiple lanes. One the right side you will find a Banorte Bank and on the left side you will find a Scotia Bank.
Tip: We always recommend bank ATM's because they have a much better chance of not being messed with from thieves. There is not such thing as 100% safe but as with anywhere in the world, there are people that try to skim cards and try to commit fraud. Help make it harder for them because most banks have better cameras and less accessible machines for thieves.
Local buses in Cancun
If you are looking to get to one of the local areas in the downtown you can consult this website: https://cancun.rutadirecta.com/. There is a good interactive map for the different routes. Local public busses in Cancun are generally slow and used more by locals getting to and from work. Taxis are much faster and can get you point to point much easier. For example it can take 20 minutes by bus for the same taxi trip of 4 minutes.
Buses to Cancun Airport
If you are going to the Cancun Airport then the first bus leaves at 4:30A.M. and it takes 25 minutes to get there. There are departures about every 30 minutes during the day to the bus station and much cheaper then a taxi to the airport.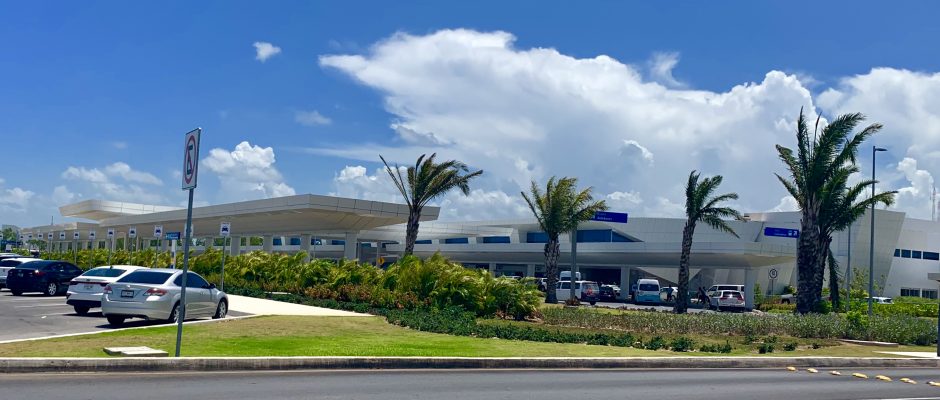 If you want to go direct from your hotel to the airport (or vice versa) and you are not close to the bus station then you should book a private van transfer. This will save time and make it much easier to get to your flight. You can book with them here for a transfer. Sometimes with a few people it is cheaper than the bus and much more convenient if you are staying at a hotel not near the bus station. For more about getting between the Cancun Airport and the Hotel Zone in Cancun, see our article here.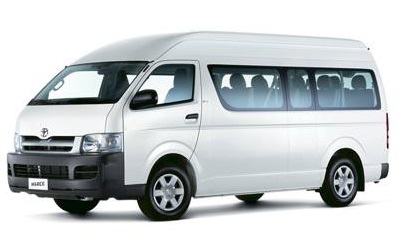 What is around the Cancun bus station
As we mentioned just above the OXXO convenience store across the street is a good place to grab a light snack and a drink for your journey. If you need something heavier to eat you can go to the grocery store. It is just across the street and easy to find.
If you want a meal there are small cafes in front of the bus station. They are nothing gourmet or outstanding but can do the trick if you are hungry.
Colectivos to Playa Del Carmen from Cancun
If you are going to be connecting and going to Playa Del Carmen we recommend Playa Express. It is cheaper then ADO bus and faster. Playa Express will let you out at a couple of places along the route also, ADO does not make stops. On the map you can see where these load up. They leave when full which does not take long (approximately 10 minutes).
Note: If you are taking Playa Express late at night the load up across the street, across Avenida Tulum.
For more on the Playa Express and colectivo service see our article here.
Public busses to the Hotel Zone or busses to Isla Mujeres Ferry
If you need to connect to a public bus for Cancun you can find them on Avenida Tulum. Going toward the traffic circle are busses for the Hotel Zone. They will be marked on the front. Going the opposite direction busses go toward Puerto Juarez where you can catch the ferry to Isla Mujeres. You can consult this website also for routes. https://cancun.rutadirecta.com/
The area around the Cancun bus station for eating and hotels
Margaritas Street is a welcome calm street in the bustling center of Cancun. This street has small hotels on it and can be a good place to stay in downtown. You might be arriving late or departing early out of Cancun airport or need to get an early bus somewhere, so staying downtown makes sense. Check out the link to Booking.com on the page to search by area. Just type in the search area "Cancun bus station". There are about 18 hotels close by and 11 of these easy enough to walk to. Prices start at $33 USD a night for two people.
If you are staying in this area there is a nice area for eating in and around Parque de Las Palapas. You can find inexpensive food stalls on the park and many small restaurants around the park area. Check out our article on hotel recommendations for Cancun and the downtown area in our guide.
Do you have a question or comment about the Cancun Bus Station? Let us know in the comments below.