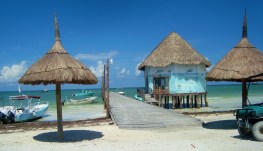 Our Isla Holb0x Guide
Isla Holbox (hole-bosch) is the quietest of the three main islands that are inhabited off the Yucatan Peninsula. It is far enough away from Cancun and Playa Del Carmen that it does not get a bulk of the tourist and only a few escape to Isla Holbox making this a great little secret island to visit. This has always been a small fishing village and super laid back. You can walk around without shoes all over town and soak in the bright sun here (see our video at the end of this article).
Our Video Overview
How to get to Holbox Island
Your adventure will begin en route to Isla Holbox. On the road leading to the town of Chiquila (where you catch the ferry to Holbox) you might see tarantula spiders crossing the road. The road passes through a lot of rural ranch areas where you will also see papaya plantations and cattle.
Tip: Look out for the town of Solferino where there is a sign for the 1000 year old tree. It is just two blocks off the road and something interesting to stop and see if you are driving there. The tree is huge and the legend goes you make a wish and if it comes true you come back in a year and hug the tree. Across from the tree is a small garden that sells orchids and another 700 year old tree. Entrance is donation and there is a basic bathroom here.
There are three main options for getting there and one extra special way to get o Holbox.
Transportation options to Isla Holbox
Driving yourself in a car. From Playa Del Carmen there is a new highway that leaves from Avenida Colosio and cuts diagonal across the Yucatan Peninsula. You can read about this toll road here. At the end of the highway it is well signed and a straight drive to the tip of the peninsula to the small town of Chiquila. It takes about 1 hour and 45 minutes to drive. When you arrive in Chiquila you will need to park your car. There are many entrepreneurial people in the town that have created parking lots for guest to the island. Note: Most charge for 24 Hour parking but the rates go from Midnight to midnight, so a one night stay will result in two days of parking fees. Most parking is about the same price and all of it is within walking distance to the ferry pier.
The ADO bus does have one bus daily to and from Chiquila to Playa Del Carmen. It leaves in the morning from Playa Del Carmen and arrive around noon so you have time to arrive on the island and check into your hotel. The bus leaves Chiquila in the afternoon returning to Playa Del Carmen. Currently the bus leaves from the bus station on 5th Avenue at 9:25am and leaves Chiquila at 4:15pm each day. Note: The exact times change and check which bus station this departs from in Playa Del Carmen as this has changed before. The bus cost 324 pesos per person each way. If you are in Cancun there are bus services by local bus companies. These are slow but the only public bus option. They leave from the main ADO bus station in Cancun. If you are trying to get to Isla Holbox from Valladolid you will be happy to know there is a new direct service twice a day in each direction serviced by ADO.
Colectivo from Playa Del Carmen to Chiquila for the ferry. This is a newer service. It cost 250 pesos and leaves from 20th Avenue and 2nd Street. These are smaller vans but faster.
The other option is a private transfer company. You can go in small vans that dive you directly there. We have teamed up with a reliable transfer company so you can book here. Below are the details and prices. Right now these are just transfers from the Cancun Airport to Holbox but we are hoping to add links to book Playa Del Carmen to Holbox.
Once you arrive in Chiquila you will find the pier directly at the end of the main road. Tip: There is a pay toilet just in the entrance of the pier. This is your last chance before the 18 minute or so ride to the island.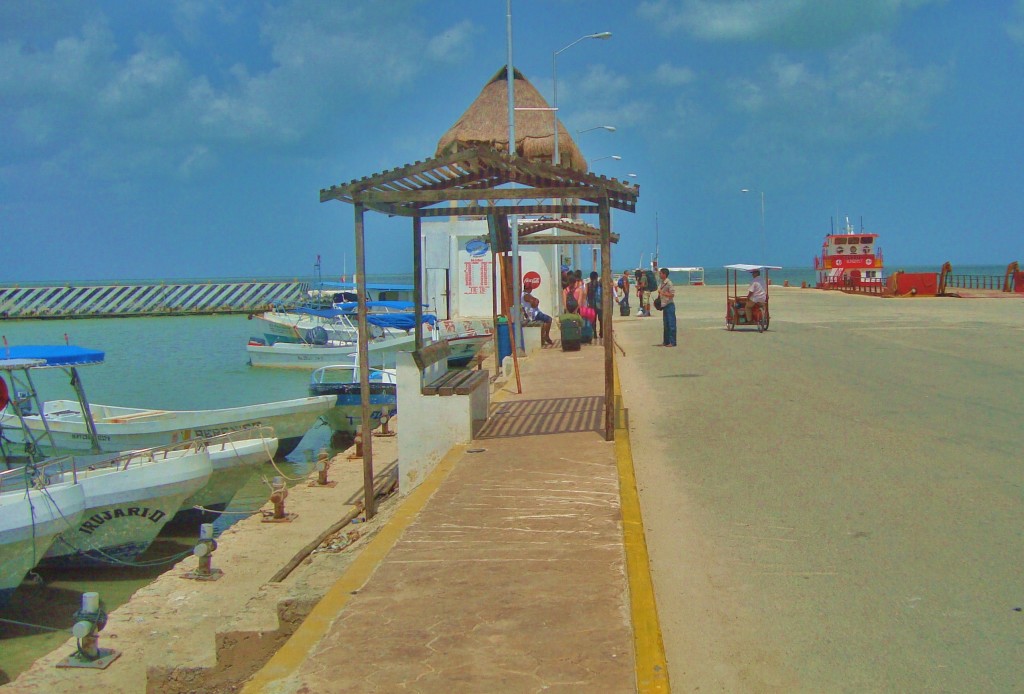 Holbox Island Ferry Information
The ferry leaves often (about every 30 minutes during the day) but if you are in even more of a hurry to relax on the beach, the small boats will take six people and they charge the same per person as the ferry. Just be prepared for more ocean spray and a little rougher ride. The ferry is 200 pesos each way. There are two ferry companies that alternate service. They are basically the same and just take the one that is good for your timetable.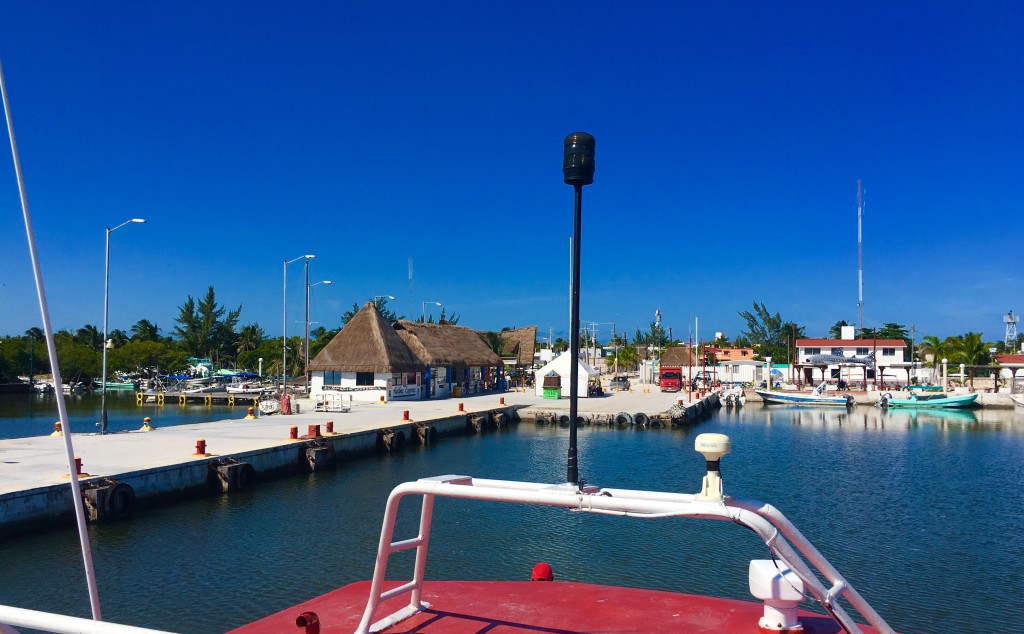 Holbox Island Taxis
There are not really any cars here but there are yellow gulf cart taxis that will take you and your luggage to the hotel. As soon as you get off the ferry they will be lined up for you. Service is provided from 6:00am-10:00pm. Prices range about 30-80 pesos depending on where you go. You can also hire one for one hour at 150 pesos. Prices are posted on a post by the pier.
Taxi phone number
984-188-2112
Holbox Island Charm
When you arrive on Holbox you will automatically feel like you are somewhere special. You will be greeted by yellow gulf cart taxis, fishermen and the sea air. In fact there are no cars really on Holbox since it is so small. Yes there are a few, but for the most part everyone bikes, walks or drives a gulf cart around. The streets are sand and the buildings are colorful, rustic and eclectic.
The "downtown" of Isla Holbox
The island life centers around a small park (zocalo or main square) where events are held. The main square is directly up the street leading from the ferry pier. In about 2 blocks in each direction from this square you will find about 95% of the businesses that cater to tourist. You will find shopping, restaurants, small grocery stores and bank ATMs. You will notice the recent arrival of some Italians and Argentinians that are making the island a bit of a culinary delight and adding variety to the restaurant scene.
In the center of town is a "Plaza" for lack of better wording. It is a two story building with a few shops and restaurants. Don't get the idea that this development is going to destroy the charm of the place. It is designed nicely with huge tropical timbers and fits in well.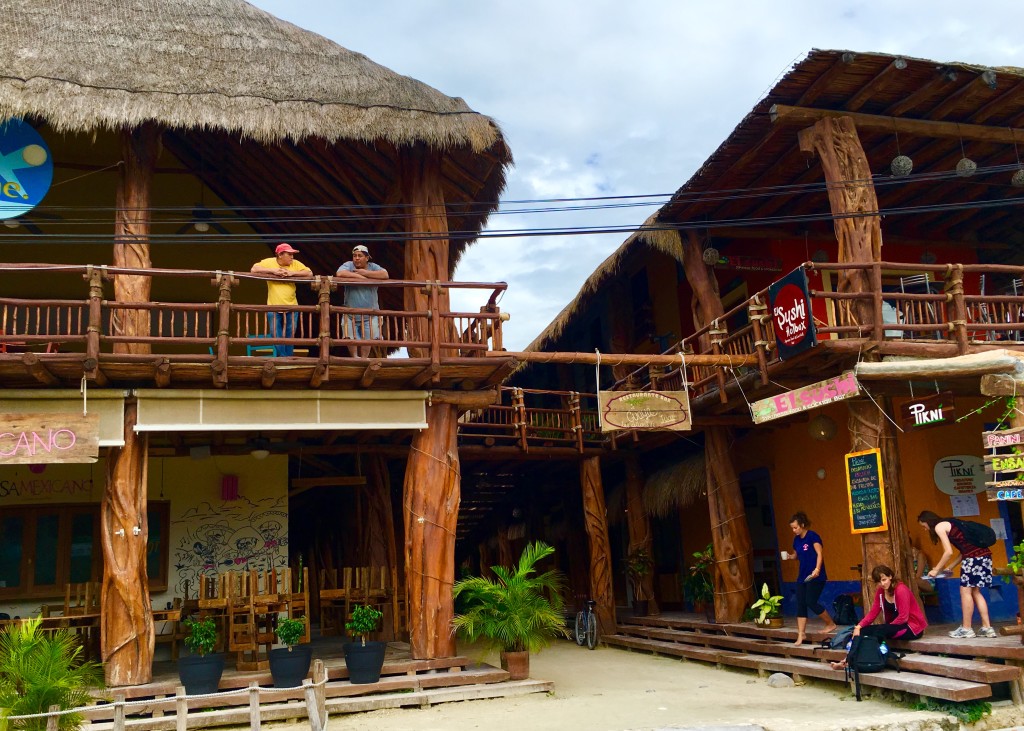 Isla Holbox Beaches
The ocean waters around Holbox are very shallow. There are little waves and you can walk out quite far in the water without getting waist deep.
Some of the beaches do not have sandy bottoms below the water. If you are not in a swimming area, bring water shoes because it can be a little squishy. It can be nice walking around though because you can see small fish, octopus or even run into flamingos on some parts of the island.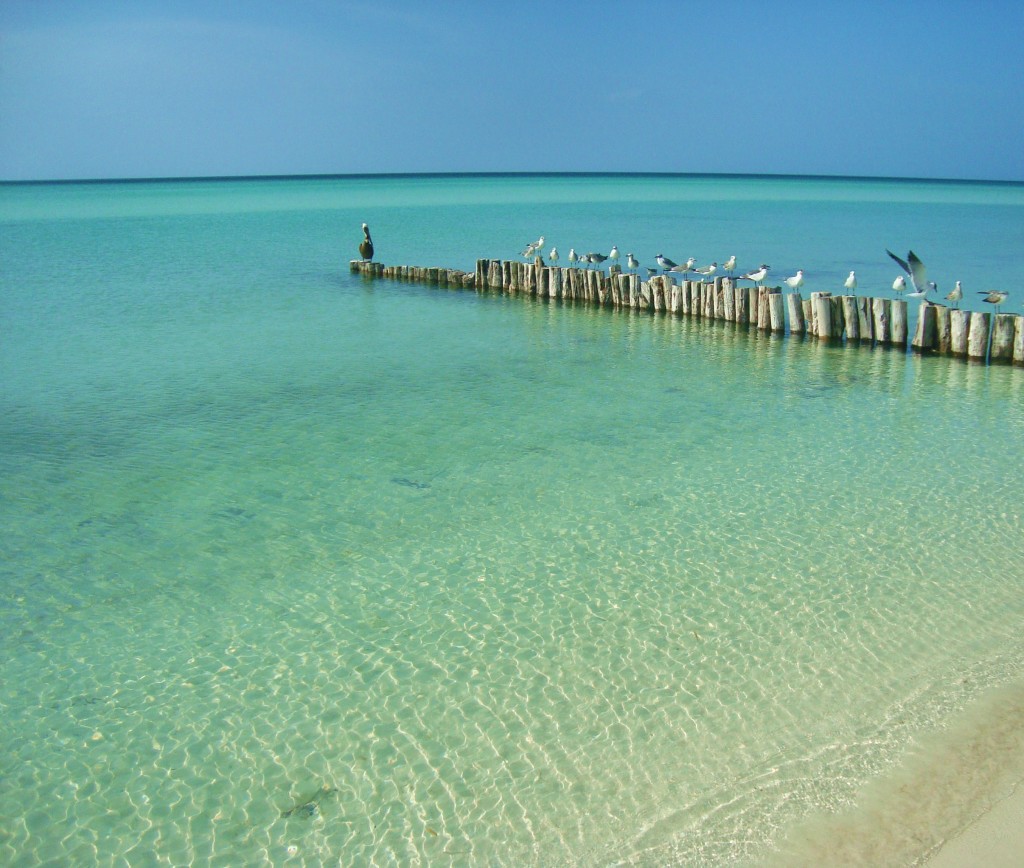 Activities and Tours on Holbox Island
Here is a list of things to do while visiting the island.
Relax and enjoy the tranquility. This can be done at a beach club, your hotel or by going to the beach with a towel.
Take a tour to Cabo Catoche to snorkel, fish and see remote parts of Isla Holbox. This tour takes you about 40 minutes by boat out of town. The snorkeling is good and so is the fresh ceviche you will have on this tour. For more about this Cabo Catoche Tour, see our article here including a video.
Swim with the whale sharks. The island is famous for having them swim off the coast. This means getting an official tour with guide. Tip: Book this in Holbox because this can be cheaper. Tip: Check in advance if the whale sharks are swimming near Holbox or further southeast, it may be better to leave from Isla Mujeres.
Take a small boat tour around to see birds. It provides extra income for local fisherman and supports eco-tourism.
Take a kayak tour to see the mangroves of Holbox Island. This is a 3 hour guided tour. Click below for details.
Rent a gulf cart or some bikes and tour the small section of the island that has roads. It only takes half a day to explore everything. There are numerous places to rent bikes and golf carts. Both are inexpensive here.
Walk the beaches and look for flamingos. Yes, they come here and it can be great bird watching.
Visit the cork forests called El Corchal on the mainland. It is a new eco tour spot which benefits the locals. This is done in the town of Solferino.
Take photos all over. Holbox is great for taking photos. If you need to load up on your instagram photos, this is a great place. Recently there have been murals painted around the island. These are great photo ops.
Take a tour to Contoy Island, about two hours by boat.
Enjoy a nice dinner out, maybe even a good seafood meal.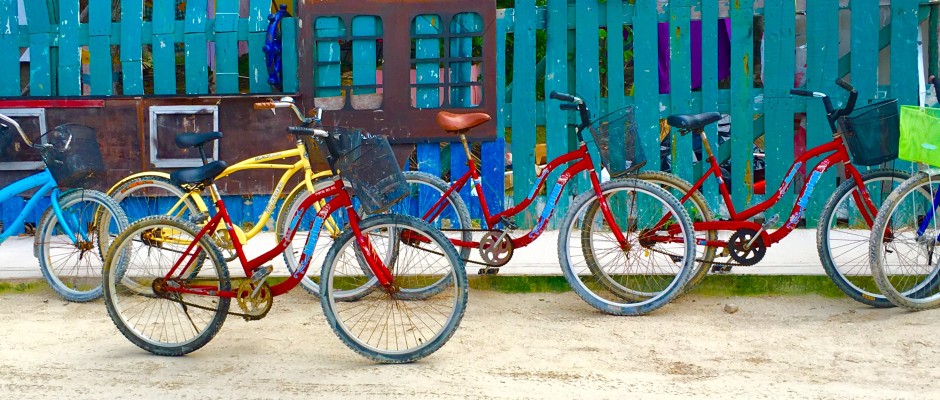 Isla Holbox Hotels
All levels of hotels can be found on Holbox. There are hostels, Airbnb, basic hotels, midrange and upscale hotels that feature simple luxury. Prices are a little higher due to the remoteness factor. Everything has to be imported here but you can definitely find your niche from the selection. If you are not coming during whale shark season, it is easy to just come to the island and check around for a place. It is good to let your fingers do the walking on the internet before you go, that way you know what is available and where you might want to stay.
See our full article about the best hotels to stay at on Holbox here.
Tip: Some places have a two night minimum and others here often give discounts for multiple nights. Midweek is also cheaper.
The cheaper hotels tend to be found in the center of town. The higher end hotels tend to be up the beach going east.
For more Isla Holbox hotel deals see the search box below. We like this one because they combine multiple searches into one and find you the best deals.
Where to stay on Holbox
Here is a map we made so you can know what areas in general are like on Holbox.
Recommended Isla Holbox Hotels
One hotel that is nice to stay at is Holbox Dream Hotel by Xperience Hotels. Xperience has a good reputation for their hotels in the peninsula. This hotel is nice because it is centrally located so you can walk around town and it is on the beach. It has two pools, a restaurant, air conditioned rooms and free Wi-Fi. Best of all this is your view! (see below).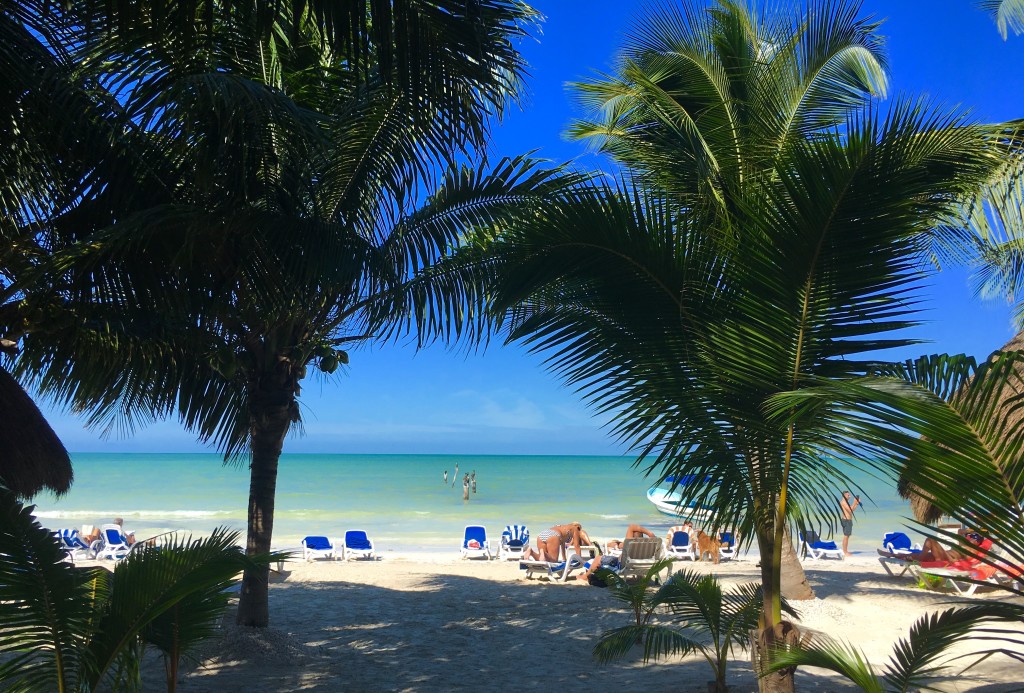 Isla Holbox Maps
Only the west end of Isla Holbox is accessible and inhabited. It is easy to walk around or explore on gulf cart or bike. The map below shows the main part of town. As you see, it is only a few blocks. Along the beach in either direction there are some more remote hotels usually offering upper end casual luxury.
The map below shows places of interest on and around Isla Holbox. Most of the destination you will need to take a tour to see since you need to take a boat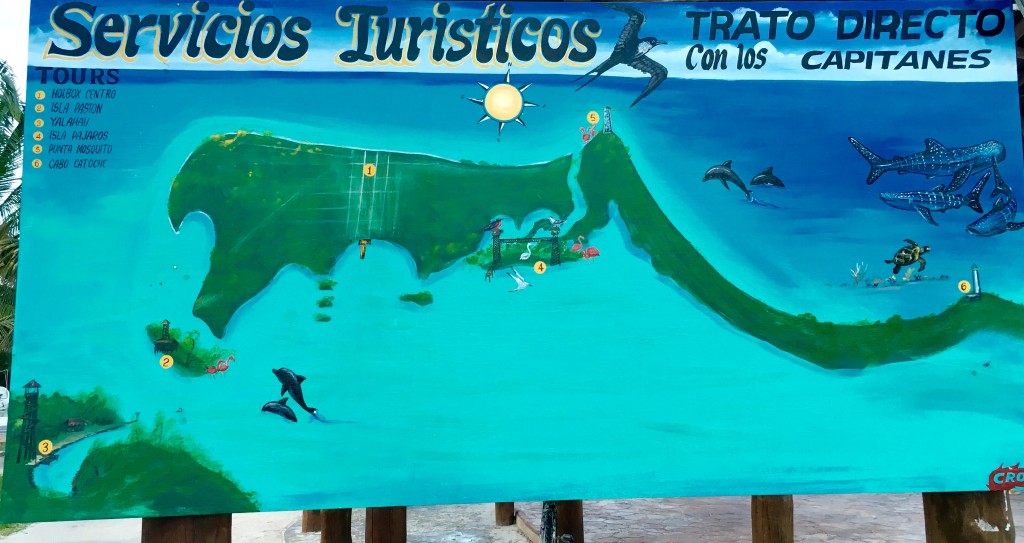 Isla Holbox is a special place and we are glad it is not so close to everything because it just means that it will remain a little more off the beaten path and a special day trip from Playa Del Carmen. Unless you like nothing to do all day except relax on a quiet island we recommend about 3 days here. It might get a little boring after that, but that might just be what you want.
It should be noted that when it does rain here it is especially boring and the streets get filled with huge puddles and the ocean is not scenic and photogenic. But fortunately it is very sunny and perfect most of the year.
Photos of Isla Holbox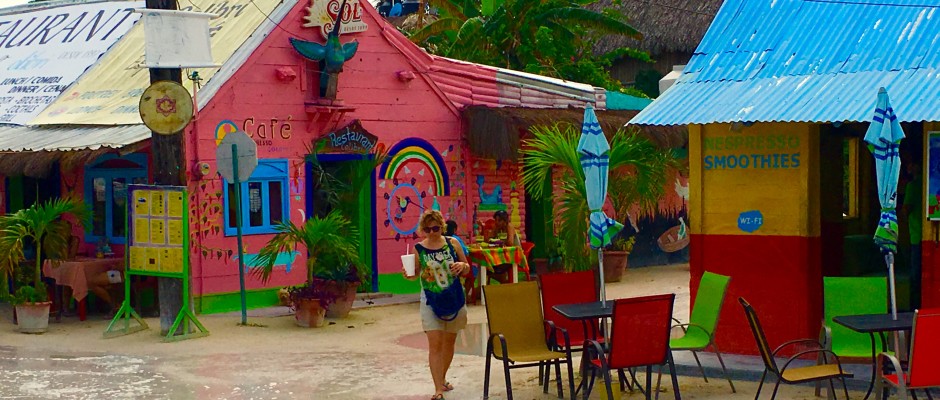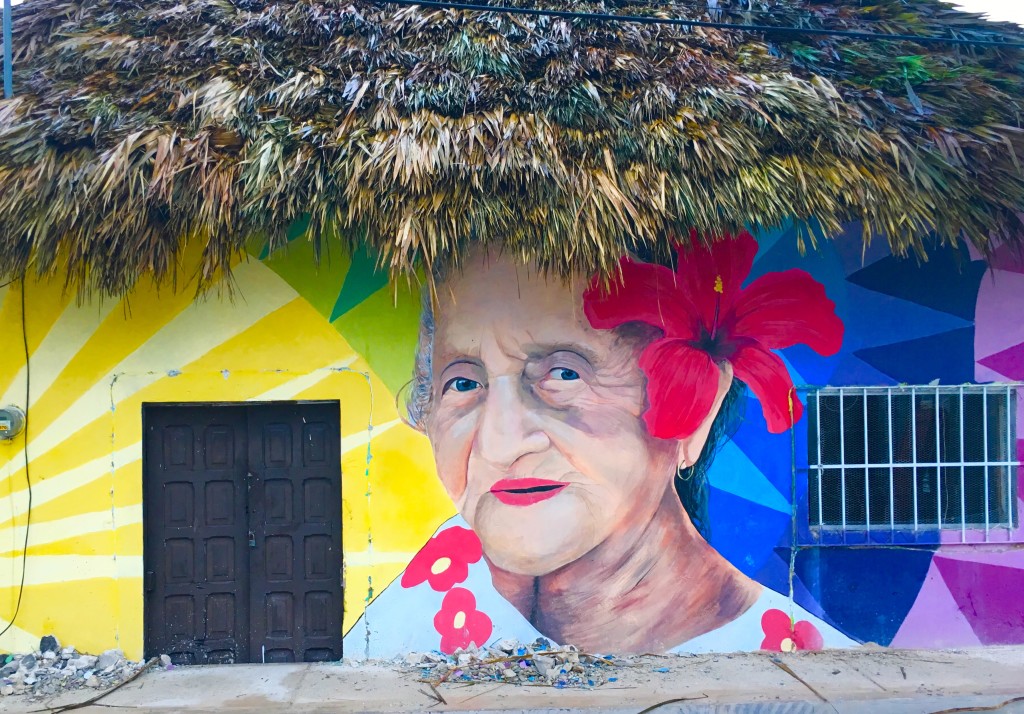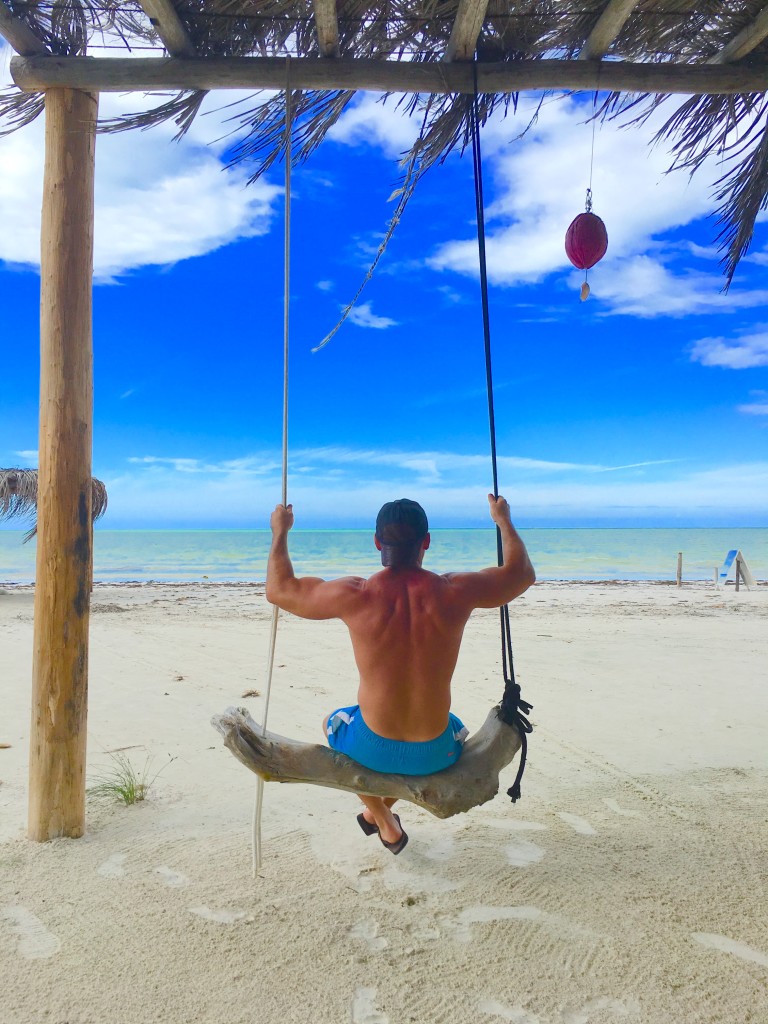 Have you been to Isla Holbox? What did you think? Any tips for other readers you would like to share in the comments below?