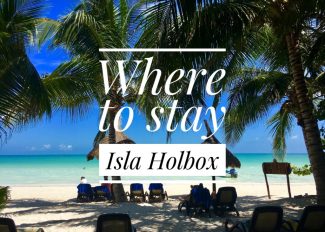 Best Hotels on Isla Holbox
If you are heading to Isla Holbox, you are heading to a beautiful place for some relaxing days. No doubt you are on vacation and want a good hotel for your stay. It is important on Holbox Island where you stay. Some areas have more bugs and others have better beaches. There are also a variety of hotels that offer the best stays for people looking to chill, younger people who want to be more active and beachfront hotels. In this guide we will show you the best hotels to stay at when visiting Holbox plus lots of other tips.
Next to the hotels on Holbox that we recommended here, we will add a $-$$$ denoting budget, midrange and upper end.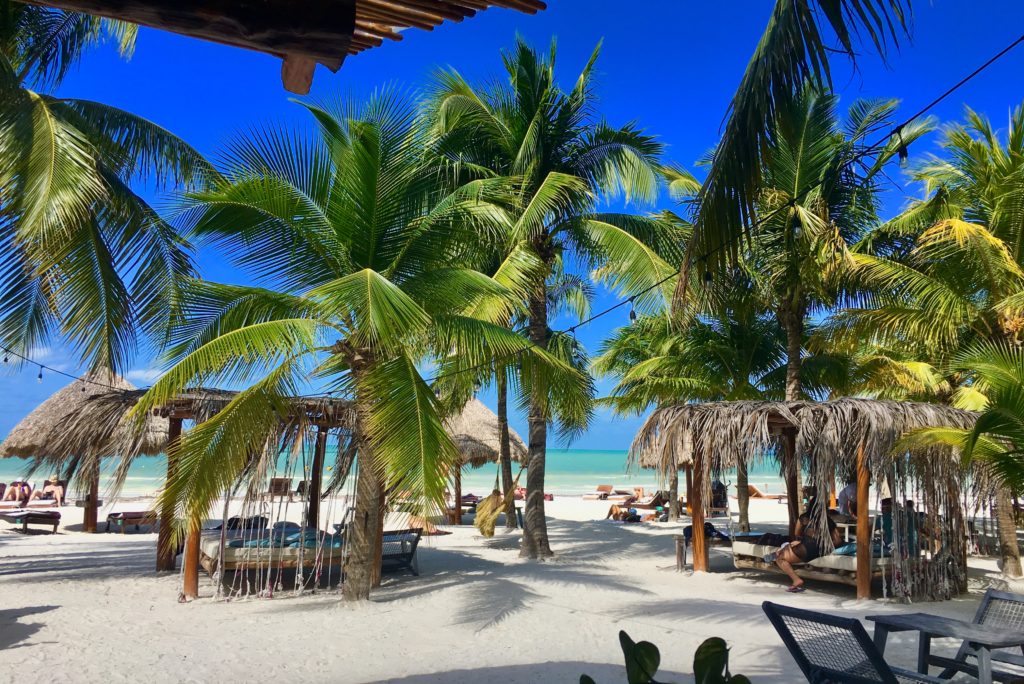 Where to stay on Isla Holbox
Where you stay in the island is going to affect your stay. For example the blue area on the right of the map has the best beaches and the light blue in the center is close to all the restaurants and you can walk everywhere.
To use the map below, click on each color section and see what it is known for. This will give you a general idea of what it is like. We will also use these areas to select the best hotels to recommend for you.
Orange section- Port area and central Holbox Town
There are a few hotels here that offer tourists a stay on Holbox. There are no ocean views here, but you are close to everything.
Mis Sueños Holbox $
This is a small newer hotel with a pool and nicely designed rooms for the price. For more details and prices see the link here.
Che Holbox Hostel $
Che Hostels (yes, plural) have a good reputation for being trendy and lively for those that want a hostel to stay at. There are other Che Hostels in Tulum and Playa Del Carmen. The Che Hostel on Holbox is no exception. There are dorm and private rooms available here. A pool and kitchen are available for guest. Enjoy Holbox Island with young people from all over the world!
Light blue center of town
The town of Holbox is really not that big and walking from the ferry to beach takes only about 12 minutes. This central area is the heart of town. This can be a more affordable area to stay. Some of the oldest and original hotels are here. Younger people on a budget tend to stay in this area.
Hotel El Pueblito $$
This hotel is the heart of Holbox. It is in a strong wooden building that has shops and cafes on the lower level. Here you can get a nice room with pool and walk out the door and find everything a block or two away. For prices and info on Hotel El Pueblito, see the link here.
Alcobas Del Mar $$
Design, design, design, this is the theme here. Nice looking rooms and good value for your stay. This is also a newer hotel on the island. Book here before the prices go up. Newer hotels that start getting a good following and good ratings often start raising rates.
Yellow beachfront area of Holbox
This was the original beachfront area of Holbox. The iconic octagonal house is here with the small pier. You will see the fishermen coming ashore here and have access to the center of town. There are some nice places to stay, but in general the more luxury hotels are in the dark blue section to the east. The western end of this section has the better beaches because they are wider and the water is more clear.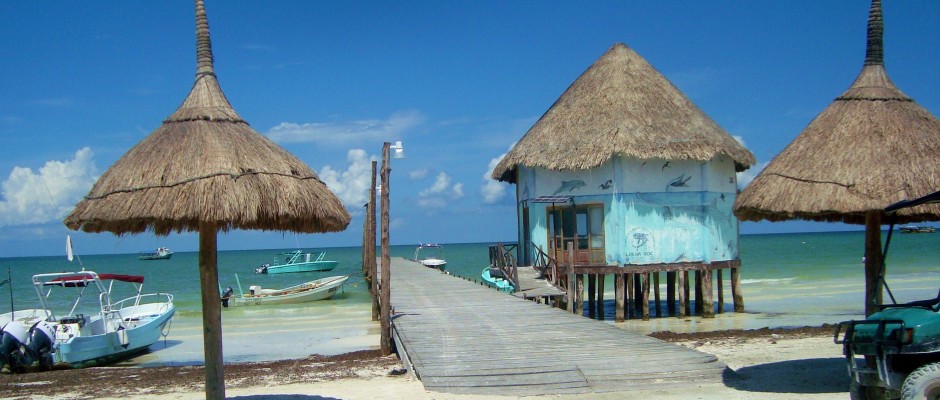 Beachfront Hotel La Palapa – Adults Only $$$
This hotel has a nice beach and good overall feel of the hotel. If you are staying on Holbox for 2-4 days this hotel can be a nice place to crash and read on the beach. For prices and booking see here.
Tribu Hostel $
This was one of the original hostels on Holbox Island and they have maintained it to be one of the best places to stay on Holbox. You are almost beachfront here and have a selection of private rooms or dorms. For booking here, see link.
Holbox Dream Hotel $$$
This is a larger hotel with several small pools in the courtyard. There is also a beach club in front with a beautiful beach. The rooms are close together, but this large hotel offers things like a restaurant. For more details, click here. You can also see our full review here of the Holbox Dream Hotel.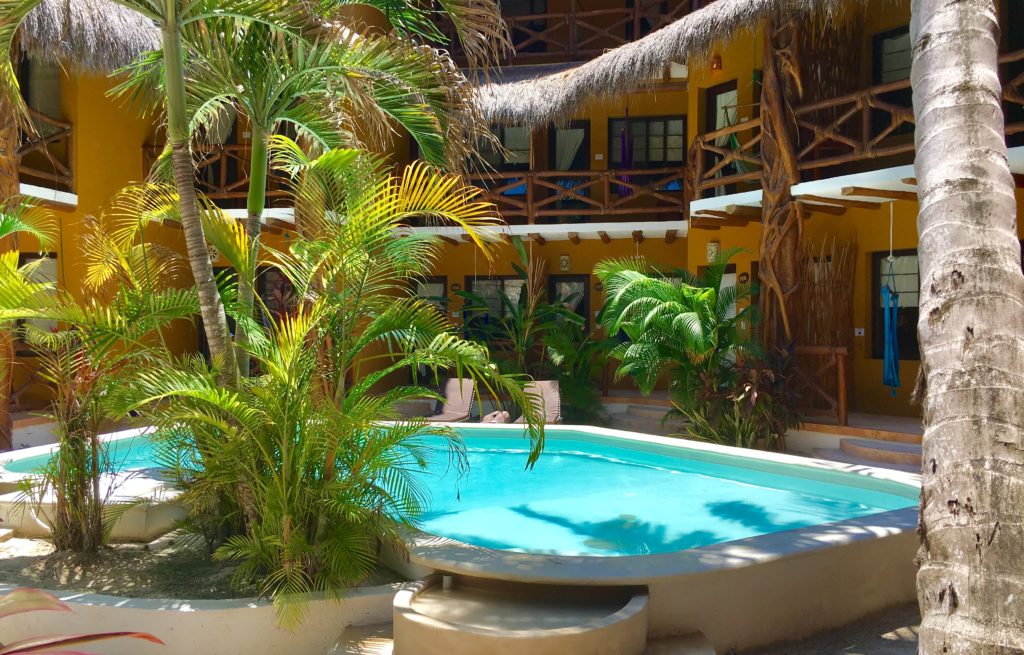 Blue section -prime area to stay in on Isla Holbox
This area is out of the center of town, but has a direct road leading to it. The beach in this area has the best sand, meaning it is not muddy. The beach is also wide and the water is very shallow. This area has most of the nicer hotels and is continuing to be developed. If you do stay in this area, you will need to take a golf cart taxi here and use a golf cart to go into town.
Villas Caracol $$$
This hotel is decorated nicely and offers a good level of service to it's guest. This hotel is good for stays from 3-7 days on the island. The property is also landscaped nicely. For booking Villas Caracol and photos see the link here.
Villas HM Palapas del Mar $$$
This is a larger hotel on Isla Holbox, but it does not feel like it. The property is spread out and some rooms have their own dip pools for privacy. Tip: book all inclusive, if you want to chill on this property and not worry about anything else. To book this property, click here.
Frequency Hotel $$
Talk about funky and cool! This hotel features domes to stay in. This adds some kind of whimsy to your stay on Holbox. Click here for more info.
Aldea Kuká $$$
This is one of the most expensive hotels on Holbox Island. You will have a large room and great views toward the ocean. For a trip of a lifetime, this hotel is the place to stay on Holbox. For details, click here.
Pink section-quiet beachfront area
This area has fewer hotels and is more spread out. The beach is ok, but not stunning like the other end. If you want a small house or small guest house to relax in, read a book on the deck, then this area might be good for you. It should be noted that you will need to walk a ways into town or rent a golf cart to get into town for restaurants and supplies.
Holbox Casa Punta Coco $$$
Part of the charm of this hotel is being far away from everyone else yet on the beach with good views. At this hotel they have spent a lot to make it look good and it is not just a hotel with no soul. To see photos and prices see the link here.
Green area with more bugs
As bad as it sounds, there are a few good places to stay in this area if you are on a budget and don't need beachfront. It is just that this area does have more marshy areas, and that means bugs and sometimes biting flies. There is also the airport in this area, but don't worry, there are very few flights that arrive here. The ones that do, are small six passenger planes.
Boox Casa $$
This is another newer hotel on Holbox Island. There is a calm vibe with nice décor here. There is a small pool here and upper level seating area that is nice. For details about staying at Boox Casa, see the link here.
Hotel Map for all of Isla Holbox
Our video of visiting Isla Holbox
If you are going to be staying on Isla Holbox, here is a video of what you can expect.
Conclusion
Isla Holbox is a great place to visit for a few days or a week. It is very different than other parts of the Riviera Maya and even the Yucatan State side of the peninsula. We hope if you go here, you have a great time and stay at one of these great hotels. If you have an questions or comments, let us know below.
If you like our where to stay at guides, we have more!