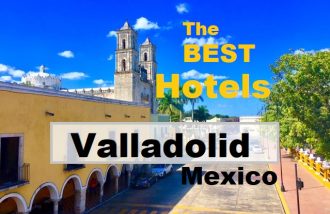 The Best Hotels to Stay at in Valladolid Mexico
Valladolid is a charming colonial city in the middle of the Yucatan Peninsula. In the past few years, it has grown in size due to its proximity to Chichen Itza and Ek Balam ruins. It has also grown because it is in the center of the peninsula and in the route of tourists transporting between the Riviera Maya and Merida. The colonial charm of Valladolid and authentic flavor has attracted more visitors to this area and more hotels have opened to accommodate them.
Because there are more hotel options for you, we wanted to boil it down for you. You can find some exceptional value in rooms in Valladolid because it is not a big city, however quality of the different hotels and guesthouses varies a lot. We have stayed in Valladolid many times and stayed in many different hotels and we wanted to share our recommendations for the area so you can enjoy your time there.
Where to stay in Valladolid, Mexico
First off we would like to present a map to you on what areas are good to stay in. Valladolid is a compact city, so it is not too hard to stay in the areas that are close to the main tourist attractions. Each marker is a hotel or hostel we recommend in Valladolid plus there is a booking link in each tab if you want to book or see more.
Best Hostels in Valladolid
Hostel Candelaria
One of the first hostels in Valladolid was Hostel Candelaria. They saw the potential of the town and wanted to offer guests on a budget an exceptional place. Each year they maintain a top notch hostel and keep adding details. Here you can get dorm beds for about $12 USD and private rooms for about $25-40 USD. What you might miss is the fact they included a full breakfast! This is a $5-8 USD value per person. So don't judge a hostel just on the price.
The vibe here is relaxed and gets a nice range of ages. The garden in the back offers guest a place to relax after a day out exploring. Often people find themselves booking a long stay than expected. This hostel is often booked full, so it is best to book in advance here.
Guesthouse Hostal Mamacha
This hostel is newer on the scene and was made with considerable design and thought given to guests. You will like you are staying in a style Yucatecan home here. Open since 2017, this hostel has gotten great reviews from guests. It is also very central in Valladolid. Dorm beds go for about $12 USD here. For more about booking here at Hostal Mamacha, see our link.
Hostal Catrina
Opened in 2018, this newer addition offers guest a creative place to stay. you can find everything from tree houses to a cave here. It is a little further out of the center but can make for a nice stay. Breakfast is included in your stay here as well. For beds go for about $10 USD and private rooms are about $32 USD. For more information on Hostal Catrina, click here.
Our Budget Hotel Recommendations
Hotels in general in Valladolid don't cost that much. So you might consider many of the hotels there "budget". This is where you can extend a stay in Mexico easily since decent hotels can cost only $40-$50 USD a night.
Hotel Zaci
This is an old standby hotel. It has been in Valladolid for years and it is a standard fixture for guests looking for a hotel. This is not a boutique or modern hotel, but still offers good value, central location, a pool and a professional hotel feel. It is also good for groups since they have a lot of rooms here. You can stay here for about $42-$50 USD a night. For more about Hotel Zaci, click here.
Hotel La Aurora
This is a nice budget hotel that offers a clean place to stay, central location, parking, small pool and rooftop restaurant for breakfast (for purchase). This hotel is good for a single night stopover in town. You usually can get a room for about $44-55 USD a night. For more about La Aurora Hotel, click here.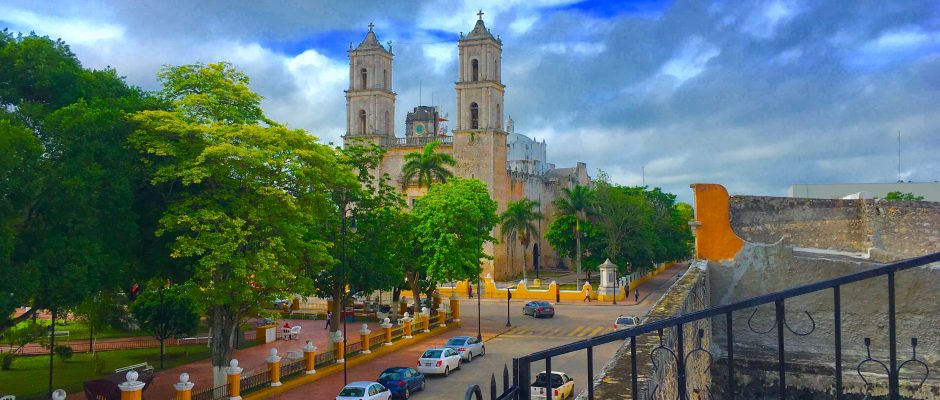 Mid-range Hotels in Valladolid Mexico
Hotel Fundadores
Opened in 2019, this hotel offers a new look at colonial charm. It offers air-conditioned rooms, cable TV and a pool. Nice tile hallways and new construction welcome guest. Prices per night range from about $50-$60 USD a night. For photos and information about this hotel in Valladolid, click here.
Casa Valladolid Boutique Hotel
Opened in the past few years, this calm hotel is close to the center of town. Once you enter the office you pass into a courtyard flanked by rooms. This hotel offers a modern and new feel with just the right amount of conveniences like air conditioning and TVs. You can usually find a room for two people for about $50-80 USD a night. Click here to read more about this hotel and check prices.
Casa Quetzal Boutique Hotel
A favorite in Valladolid, Mexico because it has character, this hotel is good for a couple of nights stay. This hotel is out of the direct center, but still near things like the Convent. It has a nice lush courtyard with pool. The rooms are large and decorated with items from Mexico. You can get good value here for a night costing about $60-$80 USD. Click here for more details about Casa Quetzal Boutique Hotel.
Hotel Meson del Marques
This is the main hotel in Valladolid. It sits right on the main square and is the location where most people stayed for years. It is a larger hotel and is good for groups. You do get what you pay for here, meaning, the cheap rooms are like motel 6 and the nice picture rooms are the upper end ones.
Honestly, this hotel is a little over rated and some of the other hotels not on the main square offer more charm and a unique feel. Hotel Meson del Marques does have a restaurant that offers colonial candlelit charm for dinner, but this is also open to the public if you don't stay here.
We would be amiss if we did not mention this iconic hotel. It does offer great location and it is a large hotel that can offer things like, parking, pool, views, restaurant and room service. Room rates range from about $60-$150 USD a night.
Deluxe Hotels in Valladolid
Colonte Hotel Origen
You might swear you are in a $400 dollar a night hotel in Tulum, but you are not. Wake up in this super stylish hotel in Valladolid. A new addition, this hotel will give you class to your stay and make you want to spend a few days exploring the area. Enjoy the décor and the value of this well designed hotel.
Prices range from about $125-$180 USD a night. Click here for photos and current prices.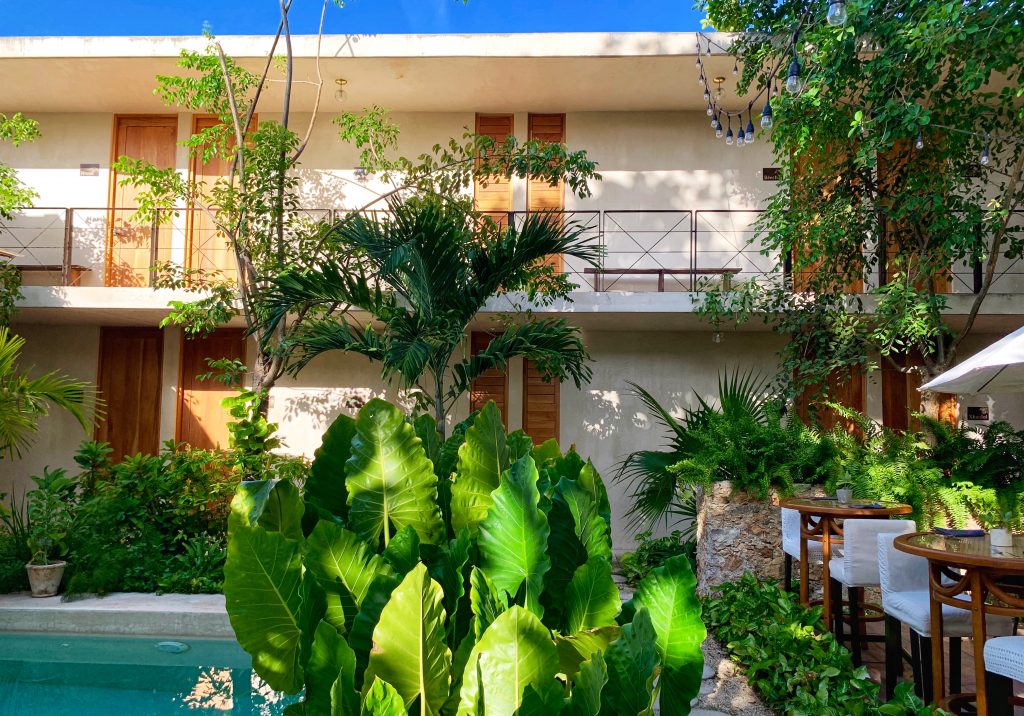 Hotel Verde Morada
This is another boutique hotel option in Valladolid. This small and luxurious hotel is on Calzada de los Frailes, the most charming street in Valladolid leading to the Convent. This hotel has a lot to offer guests since it has an in house restaurant, many amenities in the rooms and a pool. This hotel makes for a nice base for exploring the area and it would be amiss if you only stayed one night here. Rooms go for about $190 USD a night. Click here for booking and more information about Hotel Verde Morada.
Zentik Project Hotel
The Zentik Project Hotel is something different. What makes this hotel so special is the underground cave pool. It is very Instagramable! The entire property has two pools, a restaurant, yoga area and just a few rooms. This all adult hotel offers a unique place to stay. Prices per night are about $165-$190 USD. To see current prices and more photos, click here.
See our video review of the Zentik Project Hotel
We stayed here at this hotel and made this video for you.
Hotel Mason del Malleville
If you want to epitome of luxury, this would be your hotel in Valladolid. This hotel is like having a French Chateau plunked down in the Yucatan. If you have the time to slow tour the Yucatan Peninsula and want to slowly enjoy the old world charm, plus you can afford it, this would be a dream place to stay.
Room prices range from about $350-$400 USD a night. To see more about Hotel Mason del Malleville, click here.
Hotel map and prices in Valladolid
Other guides on our website you might enjoy
If you like our style of guides you might also like:
If you are also out exploring, see our map below with all the tourist sports. Each marker has a link to an article on our website, with more information on each location.
What is your favorite hotel in Valladolid, Mexico? Let us know in the comments below. We would love to hear from you.