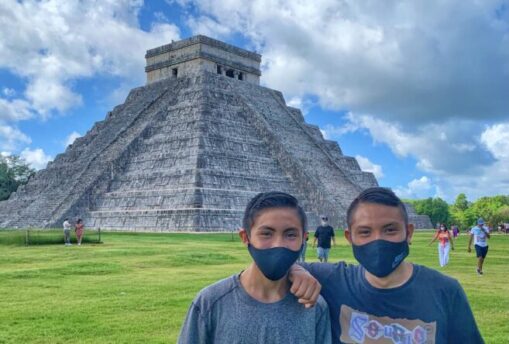 Visiting Chichen Itza during the pandemic
A lot has changed this year for travel. The Riviera Maya started to open in June and has continued to open more and more as time has progressed. The other side of the peninsula ( Yucatan State) has been slower to open. This has meant that places like Chichen Itza have been closed for a good part of the year. Chichen Itza is open now for visitors. So what is it like to visit now? See our brief video and details below.
New protections for visitors to the ruins
Here are some of the new standards in place for those visiting.
Fenced off entrance for spacing out visitors.
Masks are mandatory for all visitors.
Hand gel for all people arriving.
Temperatures and scanned automatically and shown on a TV screen.
Clear plastic dividers between sinks in the bathrooms.
Updated things about visiting Chichen Itza in 2020
Chichen Itza is a little different this year, but it is surprising how organized and calm it is. There are still many people coming every day to visit. We were very pleased to see how everyone was complying with new sanitary procedures and how adaptive everyone has become to the new normal. You should not expect less people to be traveling there, but there are some differences that you should know about before going.
Tours
Tours are limited in the amount and in size this year due to social distancing. For this season, it is good to book in advance so you can reserve a spot. This not only helps tour operators plan, it will guarantee your visit during your vacation time in Mexico. Here are some recommended tours from the Riviera Maya to Chichen Itza.
Information on driving to Chichen Itza
Most people take a tour to visit the ruins. This eliminates having to drive there and all that entails. However, if you are going to drive yourself to the ruins, there are some things you need to know about.
Parking at Chichen Itza cost 80 pesos per car. The parking lot does tend to fill up by mid morning. Before, you could park along the entrance road, hence skipping paying for parking. Now, there are trees, shrubs and concrete post along the side of the road. The auxiliary parking is on the main road nearly a kilometer away. Parking cost 60 pesos there. There is not transportation between the lot and the entrance. If you need to drop someone off, you can do this and there is limited handicap parking near the entrance.
More people are driving this year to Chichen Itza. More people prefer to drive and explore the area. Since more people are self driving, below are some tips.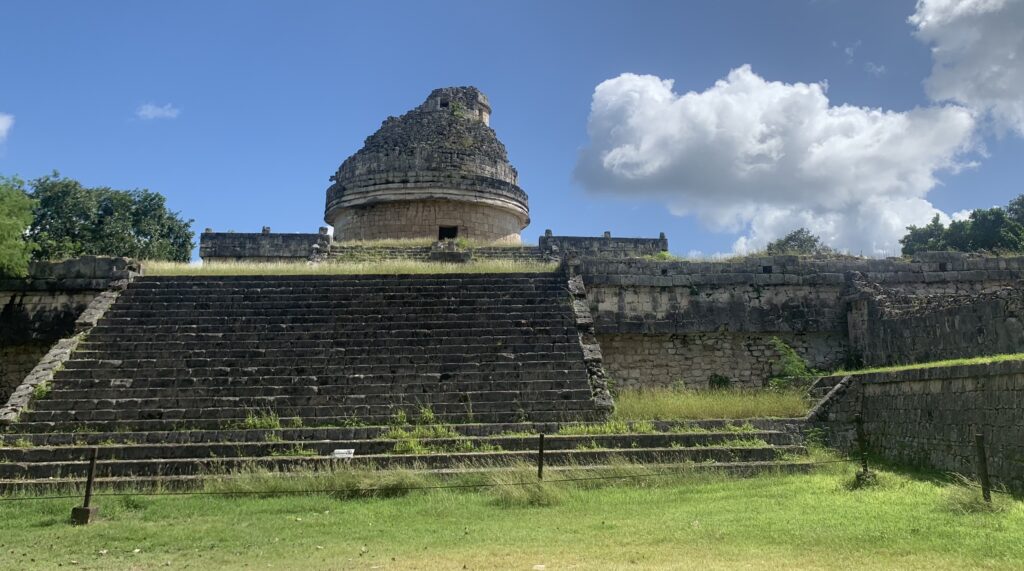 Tips for self driving to Chichen Itza
If you are planning to drive to Chichen Itza from the Riviera Maya, see our guide here about driving there. In this guide we have some routes and places to stop.
We do mention that the colonial city of Valladolid is a nice place to visit. You might even want to spend the night or two here. There are a lot of attractions in this small town. Prices for most things are a very good value, including hotels and eating out. In the later half of 2020, things have begun to open up in this area. Since September there are more things open and we can recommend going now.
If you do plan on stopping in Valladolid, we have these guides for you:
Staying in Piste, Yucatan
The closest town to Chichen Itza is Piste. It is more of just the location where people live that sell souvenirs and a few buffets for bus tours. There are a few good hotels in the area. Some are more upscale that allow you to enter the ruins early. Overall though, we prefer Valladolid since there are more dining options. It is pretty quiet around Piste in the evening. Note: As of November 2020, not all hotels have opened in Piste. It is important to check online to make sure it is open.
Time difference between Quintana Roo and Yucatan States
Since this is not much of an issue with tours, we will mention this for those driving from the Riviera Maya to Chichen Itza. In the winter months, Quintana Roo does not change the hour. So Yucatan State is one hour behind. This can mean you will arrive one hour earlier for the opening and this can help you beat some tourists arriving from other areas.
What is our opinion about visiting Chichen Itza now?
Things are running pretty smoothly at the archeological site. You won't miss out on much by only following the safety protocols. You can still make a trip here and make the most of your day. There are also enough things open in the area to make a tour or a trip here by driving yourself worthwhile. Don't miss out on this famous site if you are wanting to visit.
Our video guide of Chichen Itza from 2019
Since we only covered updated travel information for visiting Chichen Itza in 2020 in this article above, we have a more detailed guide here with tons of tips for your visit. We hope you find it helpful.
Thank you for reading our article about visiting Chichen Itza this year. Let us know if you have any further questions in the comments below. If you are looking for any other information on traveling this year to the area, be sure to use our search box, we have hundreds of articles and guides to the area to help people find everything they are looking for.