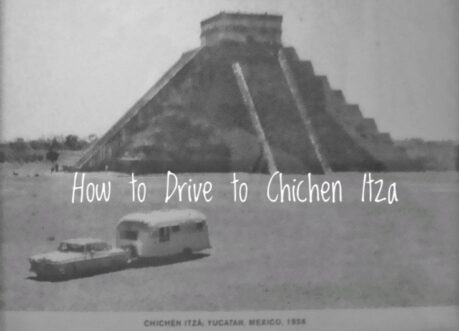 Driving to Chichen Itza for a Day Trip
If it is one of your dreams to visit Chichen Itza, you might want to attempt driving to Chichen Itza by a car while on vacation. Chichen Itza is an easy day trip from Playa Del Carmen and other points in the Riviera Maya. However, there are some important tips to know about so your fun trip to Chichen Itza does not turn into a road trip of disappointment. We will also give you some insider details and places to go on your day trip so you can explore a little off the beaten path and really get the most out of your time.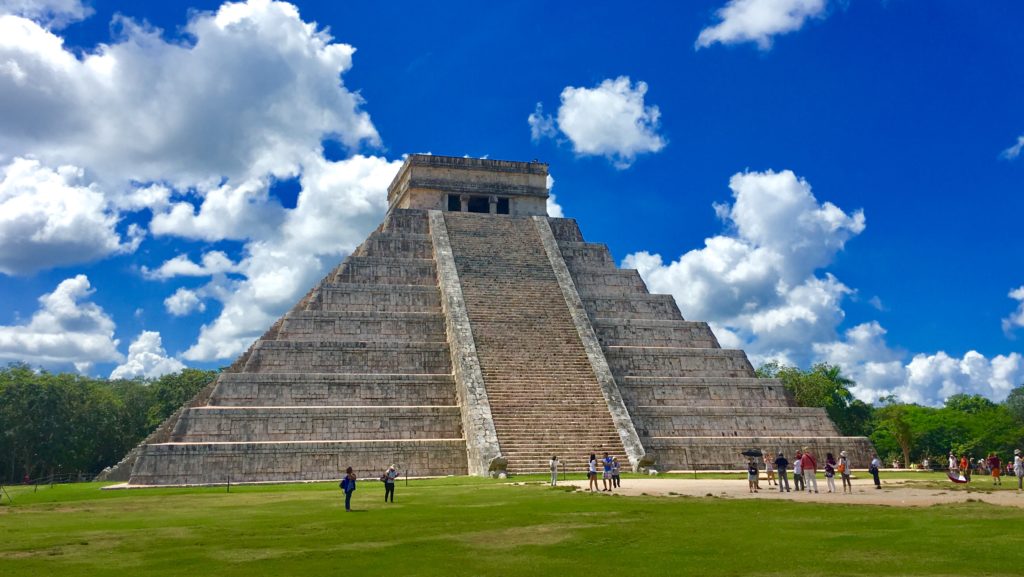 Road Trip Map For the Perfect Trip
Lets first start with a map of the trip with some highlighted sections. Below you can see the fairly direct route from Playa Del Carmen to Chichen Itza ruins. Along the way you see points of interest markers. Click on these to see what is there and get more details.
The drive will take you about 2 hours and 20 minutes to get there and, if you follow our itinerary, you will come back via Valladolid. Overall the driving part of the day is close to 5 hours, but it is broken up so you can enjoy your adventure.
Road Trip to Tips for Chichen Itza
Here are the really important things to know first. We will expound on some of these below and talk about other aspects of your trip.
The Car Rental
Since you will out of your home country, here are a few tips about renting a car in Mexico. The first one is where to look. There is a lot of cheap rentals online that look like they are just a few dollars a day. Is this possible? Not really. Insurance and fees are added to these low prices. A good average price for a rental is about $35-$50 USD a day and will depend on how many days you are renting.
Liability insurance in Mexico is necessary. This does not just counting on your credit card to cover it. It is usualy best to buy local coverage for your rental.
One really good car rental company that our readers like is this one. You can get fully insured cars and extra good service from here.
Know Your Roads
Two of the biggest mistakes that people make are:
Thinking the local 180 is about the same as the toll 180. This is a big no! The local road is much slower with many speed bumps. This day already has enough driving and you don't want to be in the car longer than you need to be. Note: If you follow our route, you will take part of the local non toll 180 from Chichen Itza to Valladolid. This is the only section we recommend.
Not having money for tolls. We often drive these roads and see cars stopped on the side because they don't have enough pesos or even pesos to pay the toll. There are no ATM machines and no credit cards accepted. You musrt pay cash and in pesos. There are two toll segments each way.
Another thing to mention about driving in Mexico is the amount of speed bumps you will find everywhere. They are on major roads at the entrances and exits of towns, by schools, and crosswalks. Be sure to read our guide about driving so you can know about some of the things to look out for.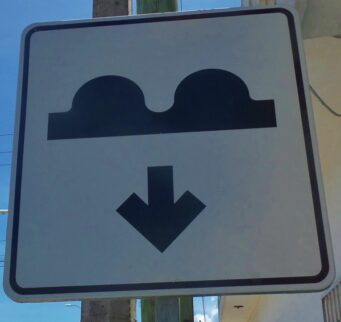 Once you arrive at Chichen Itza ruins
Here are our best tips in video form so you can get the most out of your trip to Chichen Itza.
Have a Lunch Plan
Since a day trip to Chichen Itza will require a good part of the day, you will need to plan somewhere for lunch. There are only very generic cafes at the ruin site and nothing even worth mentioning. The closest town to Chichen Itza is Piste. This is a not the most charming of towns. Piste is more or less supported by cheap tourist bus buffets and people making crafts to sell within the archeology site of Chichen Itza. You can find somewhat decent restaurants and even a buffet or two that will be open to non bus groups. However, there are some better options.
Option 1 for lunch
If you are going back to the Riviera Maya you can take 180 local road (non toll) toward Valladolid. This is a well maintained road that has two good options for lunch.
La Tia Poloc Restaurant is a cute roadside restaurant located in the middle of what appears to be nowhere. We like this place because it is set in a nice garden and offers good value, local taste, and pleasant people. You can have chicken with rice and handmade tortillas or other local dishes. They also serve cold beer and alcohol. Look for this on the right side of the road as you head to Valladolid. There is a large sign on the road for it.
Hacienda Selva Maya. This is a one stop for everyone type of place. In the past few years it has gotten much more popular and has expanded. There is a buffet restaurant with local dishes, a hacienda design and a very nice cenote you can swim in.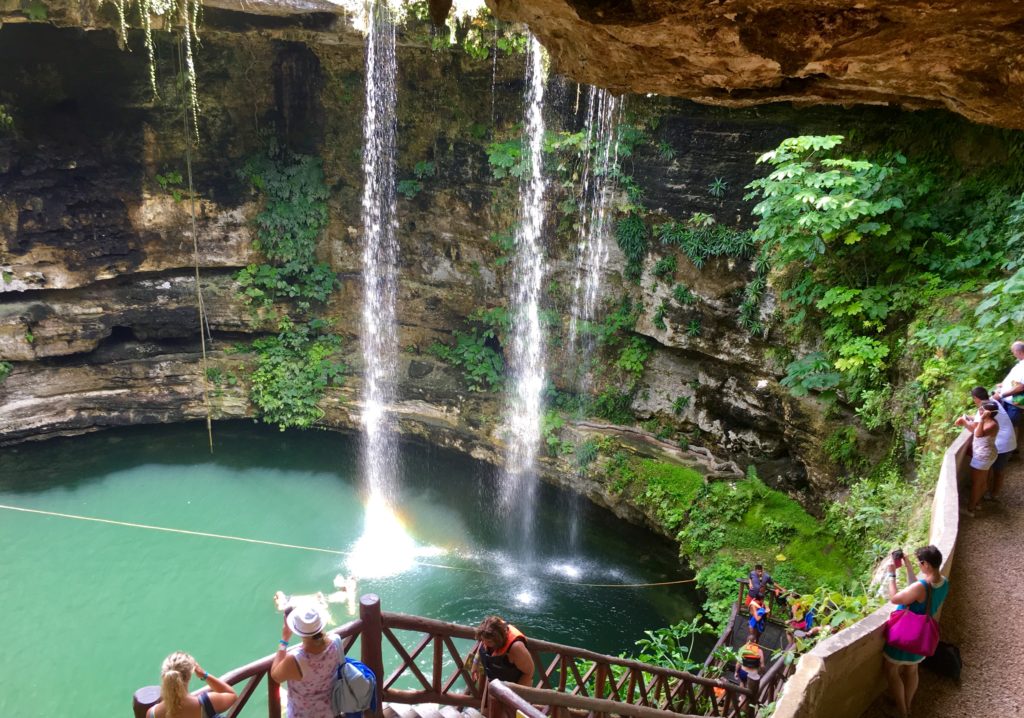 Option 2 for lunch
If you want to stop in Valladolid, which is a charming colonial city in the center of the peninsula, there are a lot of good options there. See our full recommended restaurant guide here. This is a good option if you are more selective with your food, want more options, and are interested in stopping in Valladolid.
Calculate the Cost
Making a trip on your own is a great way to explore, but you also might think you are saving a bunch of money. Let's break it down so you know the facts.
Car Rental-about $45 USD a day.
Gas-about $25 USD.
Tolls round trip-about $36 USD round trip, but if you take our route you will save one of the 4 tolls you will need to pay.
Lunch per person-about $8 USD.
Entrance cost- about $28 USD per adult.
Parking-about $4 USD.
Entrance to a cenote- about $8 USD per person.
So for a family of four with two younger children you are looking at about $249 USD for the day. So sometimes with a basic tour you can actually pay about the same and have someone drive for you. Of course. this takes away the family trip aspect and a sense of adventure and freedom.
If you do decide to take a tour or want to see some of the recommended ones, we have a section below about these tours.
Explore a Little Beyond Chichen Itza
Here are some easy side trips to your day trip to Chichen Itza. Since Chichen Itza is such a large site, we don't recommend mixing it with other ruins. It is normally done with a cenote or other historical site. Cenotes are cool because you can swim and cool off and they are part of the natural landscape.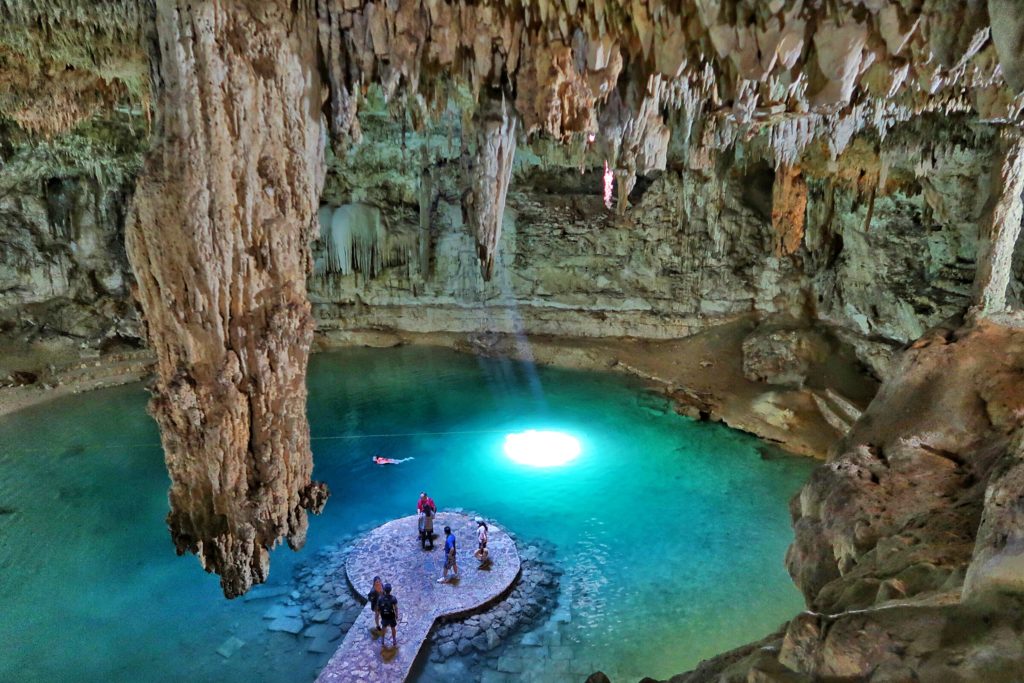 Is a road trip a little too much for you?
If you are worried about driving, figuring out directions and cost, you might consider a tour to Chichen Itza. Here are some details about tours to Chichen Itza.
Most decent tours will cost about $70 USD and up per adult person. These tours normally will include pick up from your hotel, lunch, certified guide, entrance fees and a second stop somewhere.
For the best recommended tours and videos, see our article here.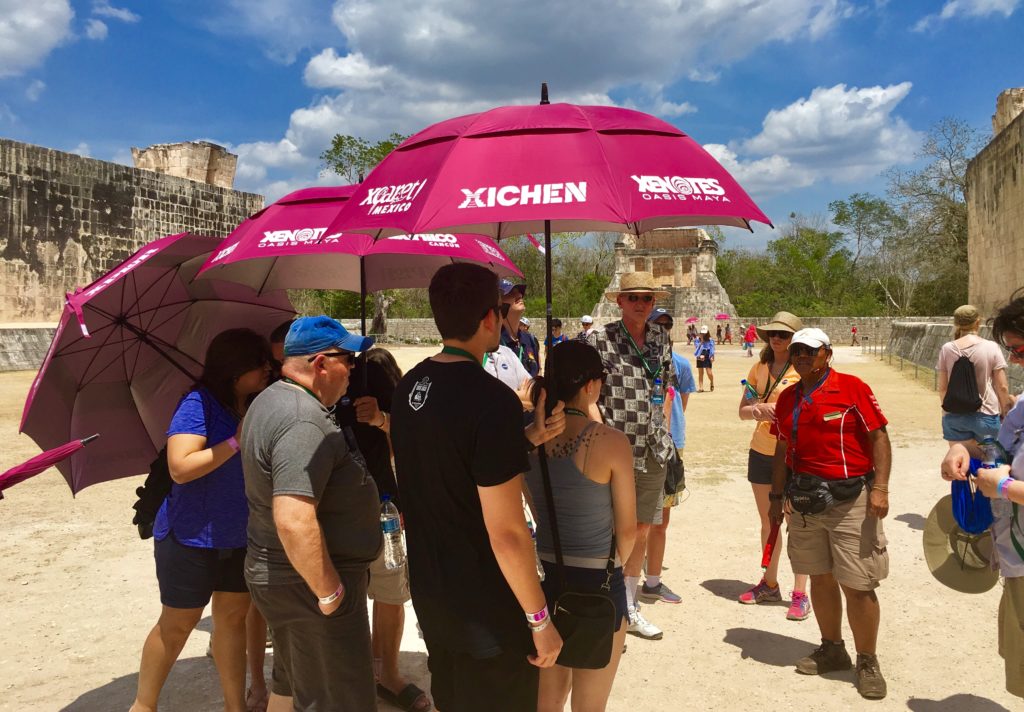 Thank you for reading our article about driving to Chichen Itza. We hope that if you get to go, you have a great time! If you have any other tips you would like to add, please do so below in the comments.