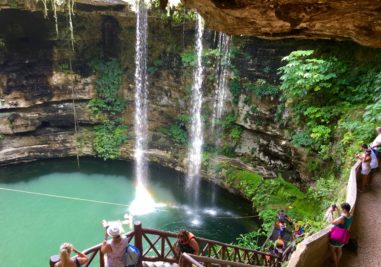 Hacienda Selva Maya and Cenote Saamal
For people that are doing a self driving tour to Chichen Itza or exploring the Valladolid area, Hacienda Selva Maya with it's Cenote Saamal is a good place to stop. You can enjoy a buffet with regional food and entrance to the cenote all in one price.
The setting is an old cattle ranch in the Yucatan. The grounds have beautiful large trees and older remnants of colonial buildings. In fact the restaurant is an old colonial style stone building with a new roof. The fan cooled dinning hall will give you a nice feel of what the Yucatan is like and make for a memorable stop.
Gaining in popularity
Many tours stop at Cenote Ik Kil after visiting Chichen Itza. Ik Kil is very well recognized because of the amounts of photos taken there and the photogenic location. However it does get crowded with big bus tours. Hacienda Selva Maya is gaining in popularity because the buffet is much better than the food at Cenote Ik Kil. Now some smaller tours are taking people to this restaurant and cenote. Still if you drive here yourself, you can enjoy it.
Cenote Saamal is smaller and not quite as grandiose than that of Ik Kil but still a beautiful cenote to visit.
The restaurant at Hacienda Selva Maya
The Hacienda Selva Maya Restaurant is open daily from 12:00 noon to 5:00pm. This is a buffet style restaurant with regional foods.
You can find handmade tortillas, spaghetti, regional meat dishes like poc chuc, roasted squash, rice, beans, chayitas, fresh fruit, desserts.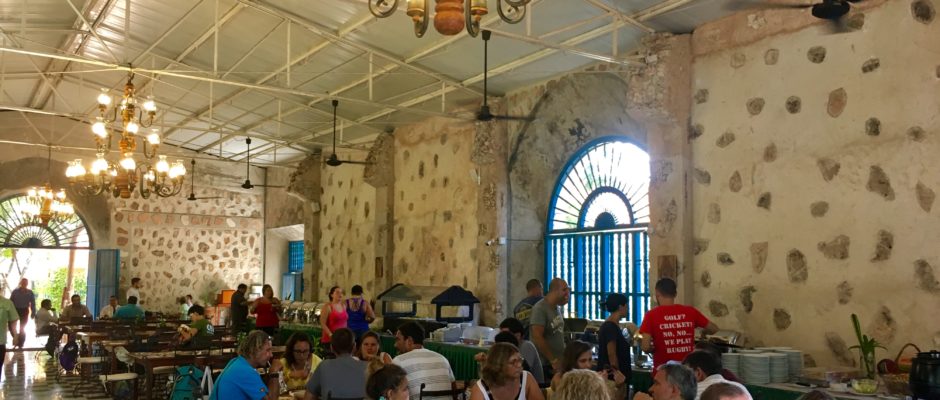 New and improved for shopping
If you have not been to Hacienda Selva Maya in 2018 you will be surprised at the new additions like the photo below. Since Hacienda Selva Maya is getting more popular they have been expanding the property. There now is a large gift shop and paved parking lot to welcome visitors to this experience.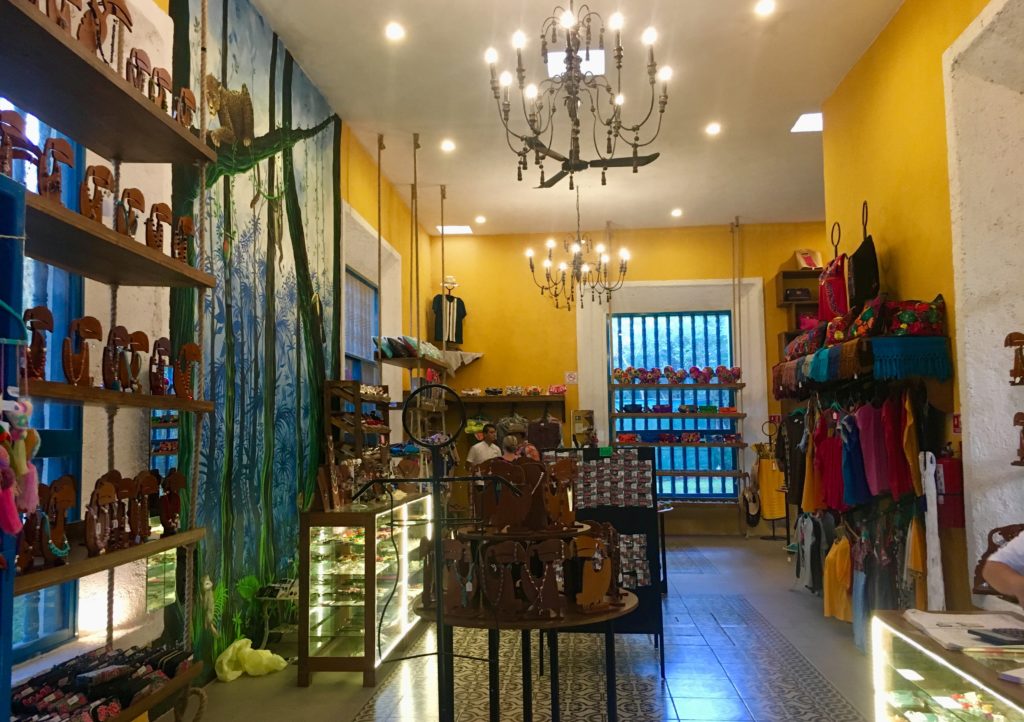 Cenote Saamal
Cenote Saamal is a beautiful cenote that is open with a manmade waterfall going into it. You will need to descend down stone steps. There are multiple viewing platforms to take photos from.
It is mandatory to wear a life jacket in the cenote. These are provided for you. You will also need to rinse off in the outdoor showers to get sunscreens and lotions off your body. This helps keep the fresh ground water clean.
Changing rooms and lockers are available free of charge. Just don't loose the key because there is a large fee for key replacement.
There is one jump that is about 3 meters or 15 feet high. If you are not jumping there are multiple entrances down wooden steps into the cenote. Cenote Saamal has no shallow parts. There is a lifeguard on duty.
What are the prices for Hacienda Selva Maya and swimming in the cenote?
The package of buffet and cenote is 169 pesos. Children are 110 pesos. Drinks are extra.
Entrance to just the cenote if you do not want to eat is 80 pesos for adults.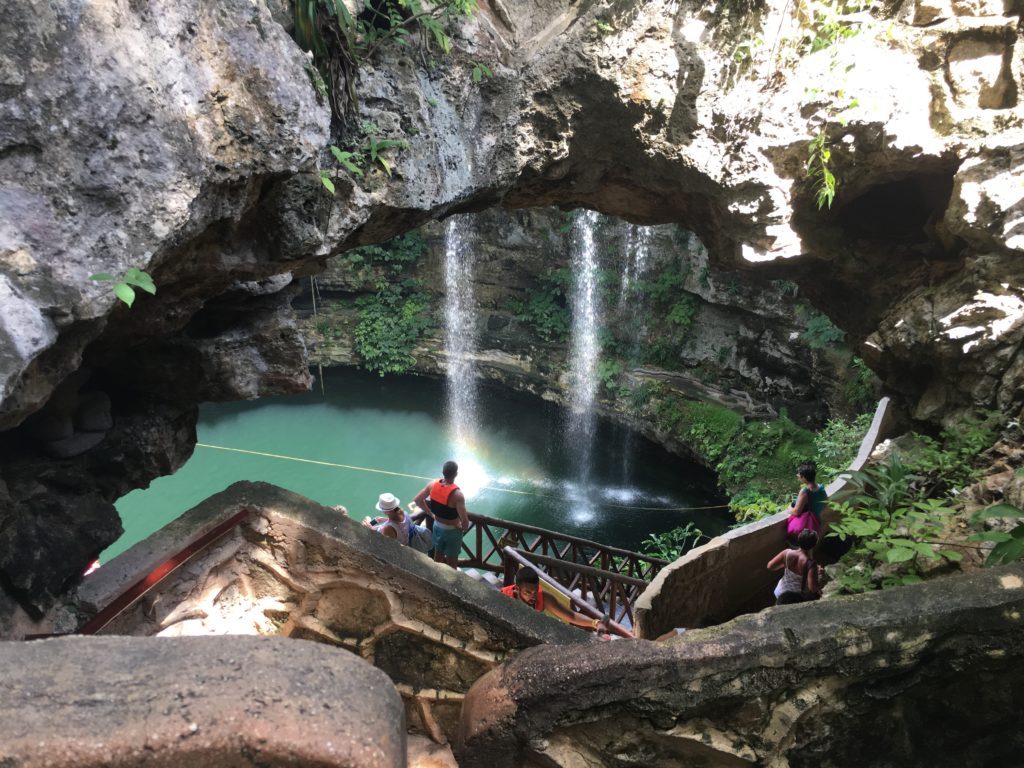 Where is Hacienda Selva Maya?
Hacienda Selva Maya is just 5 minutes outside of Valladolid on the old 180 road. To get here from Chichen Itza you simply leave the parking lot and return to the 180 local road (not toll 180). It is 35 minutes east toward Valladolid.
If you are looking for more cenotes in the area, see our article and Cenote Xkeken and Cenote Samula which are just down the road from Hacienda Selva Maya. If you are looking for a tour to Chichen Itza check out our article on the best Chichen Itza tours to go on. Also if you are driving in the area, you might have a chance to see the Chichen Itza light show at night.
Have you been to Hacienda Selva Maya and Cenote Saamal? What did you think? Let us know in the comments below. We would love to hear from you.