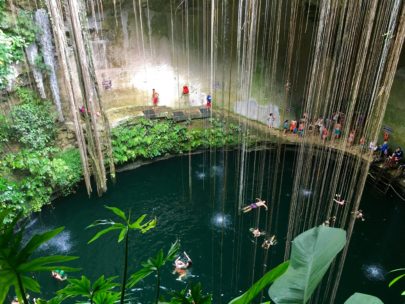 Cenote Ik Kil
No doubt you have seen photos of Cenote Ik Kil. This is one of the most photographed cenotes in the Yucatan Peninsula of Mexico. It is well liked because it looks like some deep tropical hidden paradise. There are vines and roots that hang down into the water and verdant plants around the lip of the entrance to this cenote. So what is it like to visit this location?
It is a beautiful spot but that might not be why you see so many photos of this place. Cenote Ik Kil is a major stop for many bus tours to Chichen Itza. Thousand of people daily visit Chichen Itza Mayan ruins and many people do so by bus tours. There are not enough restaurants at Chichen Itza to accommodate all these people at the ruins. Tours look to add on a visit to a cenote with a meal for their guest. This large eco park like place fits the bill for many tours. So during the day many bus groups visit this place. With all those people there, and the fact it is so unique, you see many photos on Instagram and Facebook.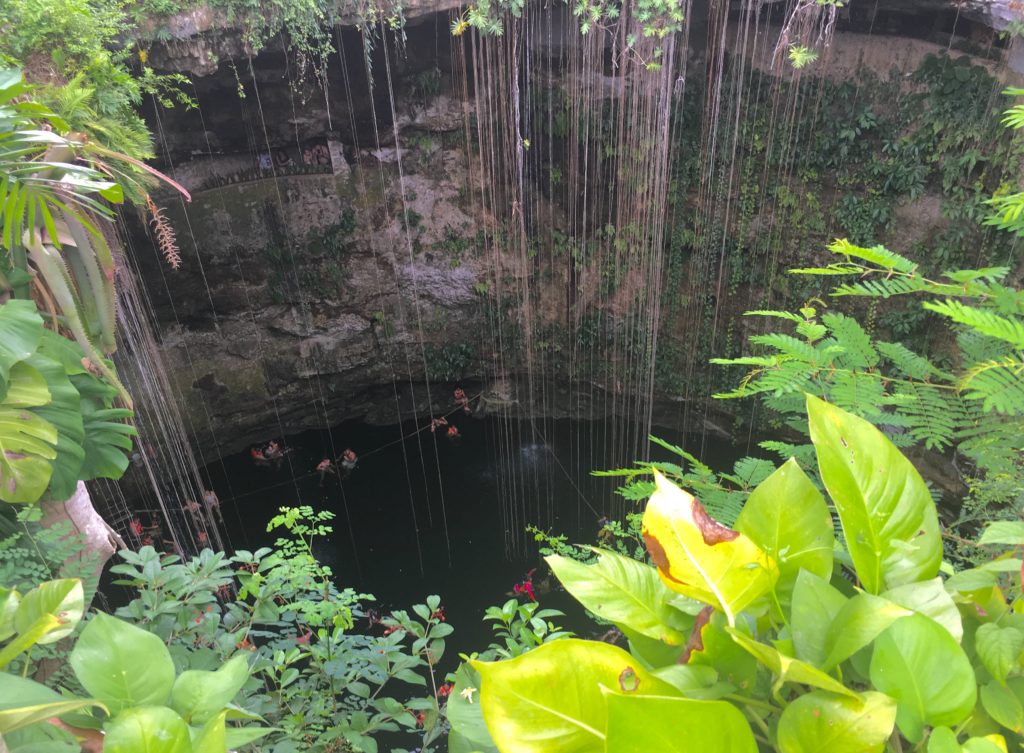 Our brief video introduction to visiting this cenote
See what it is like to take a swim or jump into this cenote.
How much is the entrance to Cenote Ik Kil?
The entrance for just the cenote is 80 pesos. ost tours include this in the price of the tour but it is possible to come here by yourself and pay the entrance.
There are life vest and lockers at an additional fee. There are many lockers and lifejackets available. Changing rooms are available. After you change you are required to take a brief shower. This takes chemicals off your body like sun creams. This is important to keep the water in the cenote clean. This is a delicate eco system.
How do you get to Cenote Ik Kil?
Most people will come here with a tour. This is a major tourist attraction for tours going to Chichen Itza. One tour that you might like to look into if you are staying in Cancun or the Riviera Maya is the Xichen Clasico tour.
If you are looking to drive here yourself, the map below will help you give you the location and relative location to the ruins of Chichen Itza.
From Cancun it will take you about 2 hours and 16 minute to get to the cenote. From Playa Del Carmen it will take just over 2 hours. Driving from Tulum it will take just under 2 hours.
What is the buffet like at Cenote Ik Kil?
Since there are not many restaurants in the area and many bus tours, buffets like this one accommodate guest in the area. This buffet is for budget minded travelers. There are about 11 options on the menu for the main course and fruit and a gelatin dessert option. Many of the options are starchy. For example there is batter fried fish, rice, rolls, potato salad and a pasta dish.
If you come here without a tour the buffet is 160 pesos. Most tours include the price of the buffet in the tour. Drinks are extra and not just beer and alcohol. Drink options are mostly 35 pesos. Unlike other cenotes with buffets, this one does not include a free entrance with the meal. So if you have the buffet, a drink and visit the cenote you can expect to pay 275 pesos.
The dinning room has shared tables. There is an indoor option with air conditioning and an outdoor options on the porch. There is a second buffet outside with the same options.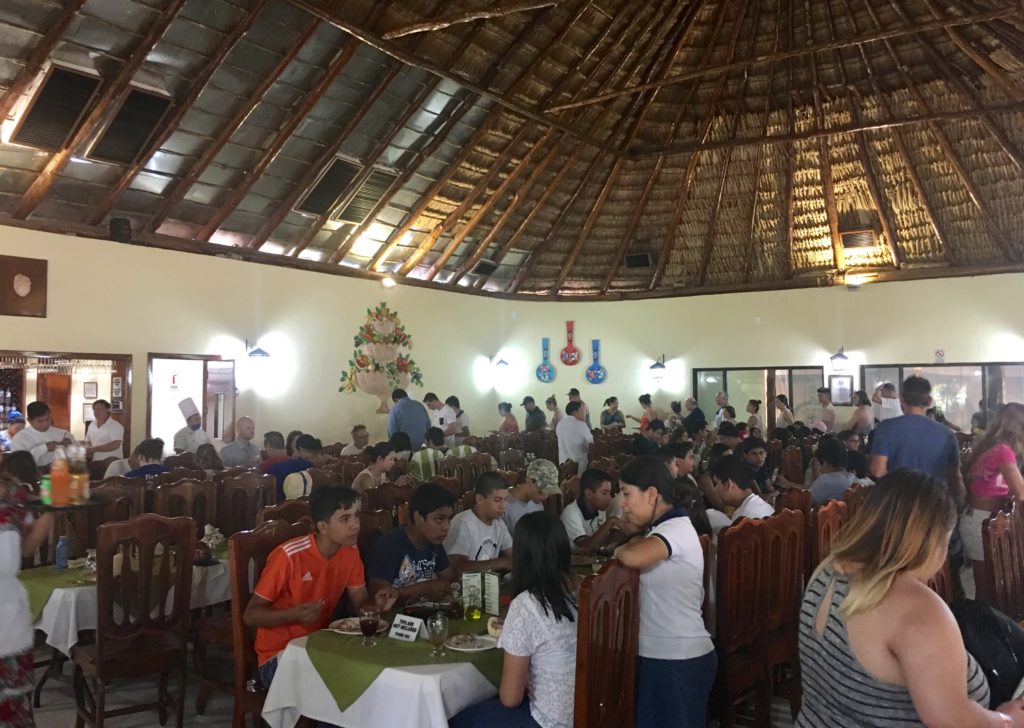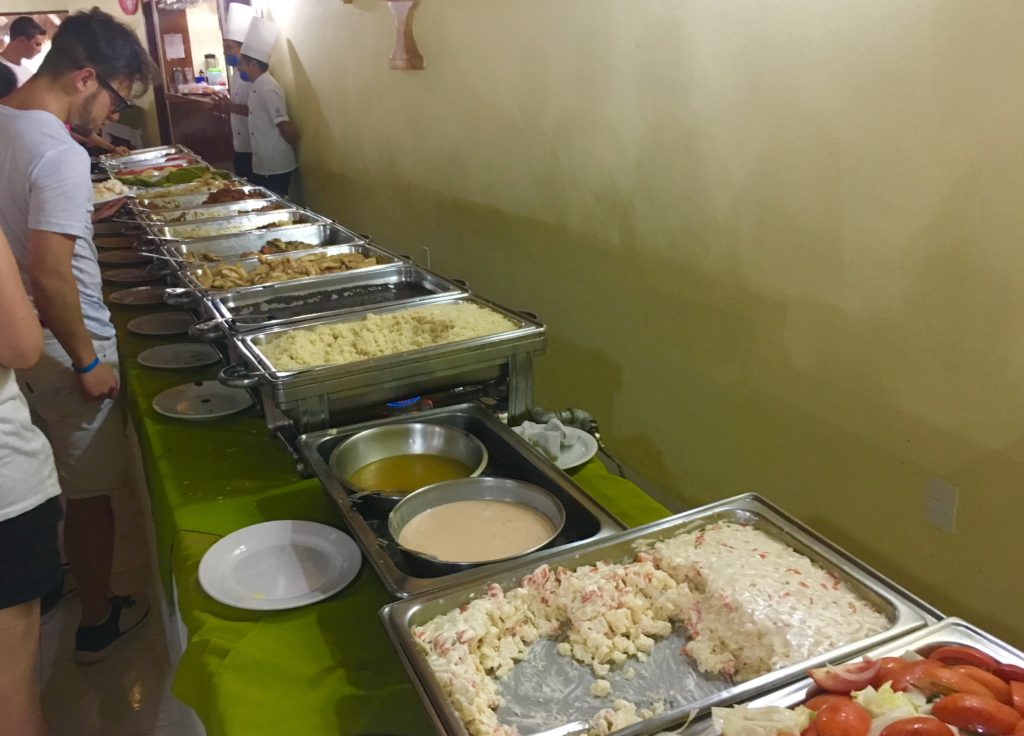 Swimming in the cenote
After you change and rinse off in the shower, you will decend down the stairs that were carved in the stone next to the cenote. On your way down there are two overlooks to the cenote. These make for great places to take photos.
Once down at the water level you can swim or jump. There are lifeguards on duty to keep the amount of people safe especially from people getting in the way of people jumping.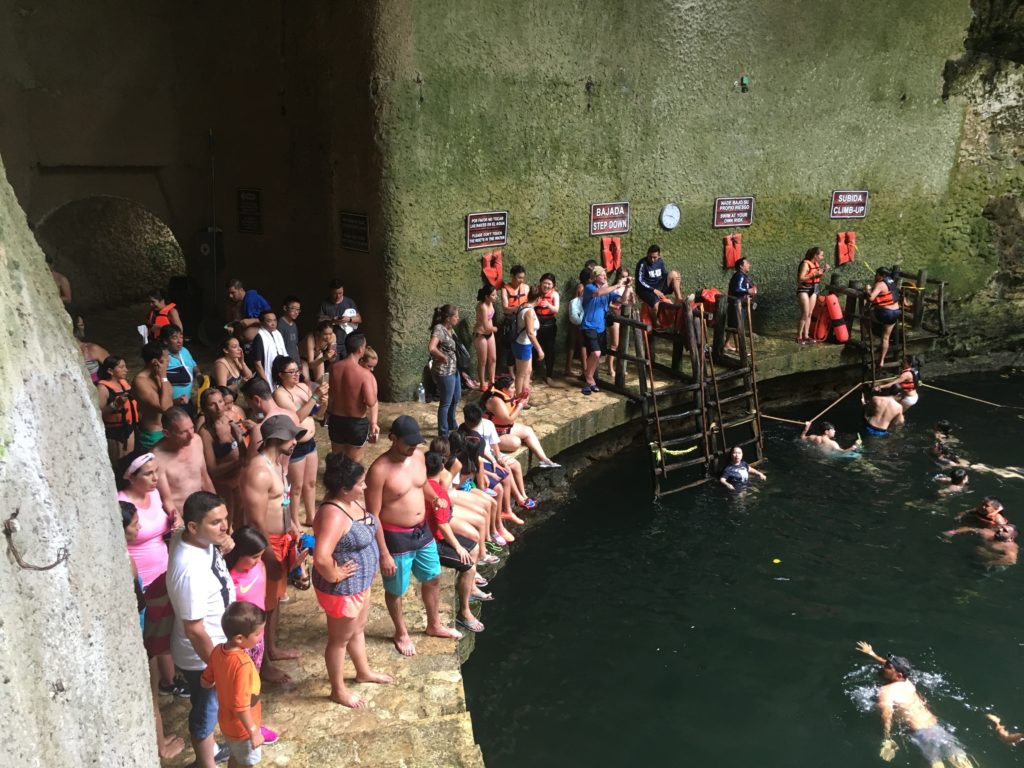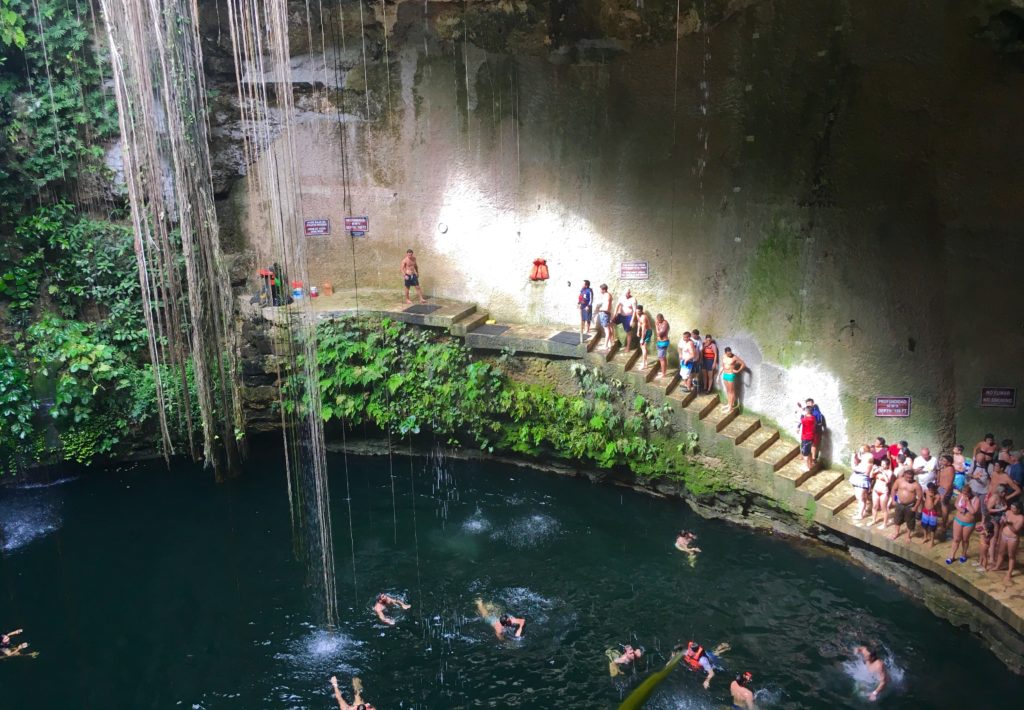 If you like visiting cenotes you will love our guide to many other cenotes you can visit in the Riviera Maya and beyond.
If you are also spending some time in this part of Mexico, we have a large map with all the great places to visit here in our Playa Del Carmen tours and places to go article.
If you are driving yourself from Chichen Itza you might like to stop at Hacienda Selva Maya where there is a quieter cenote and better buffet.
Have you been to Cenote Ik Kil before? What did you think? We would love to hear from you in the comment section below.