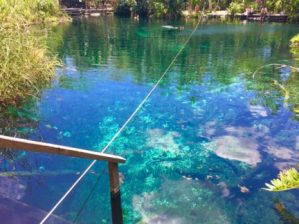 Cenotes in Tulum or near Tulum
Cenotes are something that make this area special. These are fresh water swimming holes where the ground water has worn away the limestone. Some cenotes are open and some are still with roofs in caverns. To many, this is one of the best things to do in Tulum. The best thing is, there are a lot of good options to choose from while in the area. Here are the best cenotes in Tulum and the area to visit.
Map of cenotes near Tulum to visit
Cenote Encantado
Cenote Encantado is right in the Hotel Zone of Tulum and might get overlooked. This Tulum cenote is tucked into the mangrove area and is a large place to go swimming. The water is darker and this a deeper cenote. This cenote is not the most popular but can be a nice place to cool off in fresh water in the Hotel Zone. See our article here on Cenote Encantado here for more information.
Grand Cenote in Tulum
This is one of the most popular cenotes not only near Tulum but also in the Riviera Maya. It is popular because the water is crystal clear and the setting is gorgeous. You can swim near tropical plants and even see some small turtles here.
Entrance is 180 pesos and it is open daily from 8:00am-4:00pm. This cenote is close enough to Tulum to be biked to.
Cenote Cristal and Escondido
Cenote Cristal and Cenote Escondido are two cenotes across from each other just south of Tulum. Both of these cenotes are open, meaning not in a cavern. Around the two cenotes you can find tropical plants and places to lay in the sun.
It is possible to bike to these cenotes if you don't mind the two lane road leaving Tulum. The one entrance price of 120 pesos gets you into both cenotes.
To read more about Cenote Cristal and Cenote Escondido, see our article here.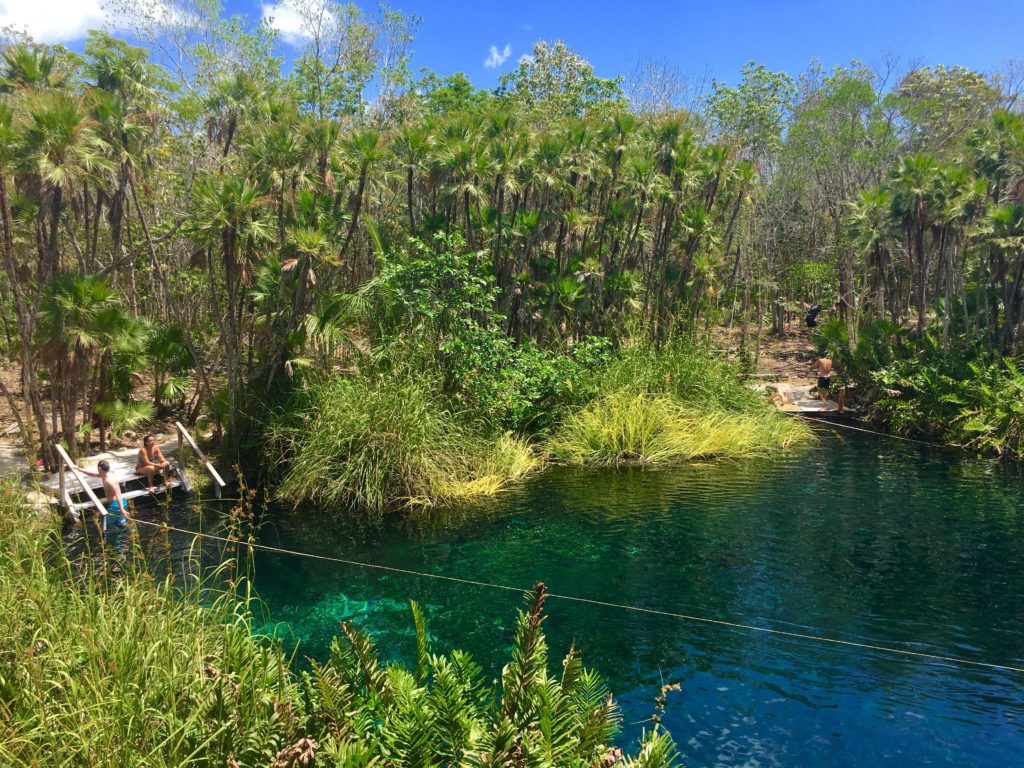 Cenote Angelita
This deep cenote just south of Tulum is mainly for divers to explore. It is however open to swimming and if you are looking for a nice quiet place, this can be it. To know more about Cenote Angelita see our article here.
Casa Cenote
Casa Cenote is north of Tulum off the 307 Highway. This cenote is worth mentioning because it is crystal clear waters, nice to swim and snorkel in and is close to the ocean. Casa Cenote is large enough to have kayaks, so this is another activity you can do here.
A nice thing about this cenote is the fact the ocean is right across the street. There is a restaurant that you can go to and enjoy the views in this tranquil part of the Riviera Maya.
For more about visiting Casa Cenote see our article here.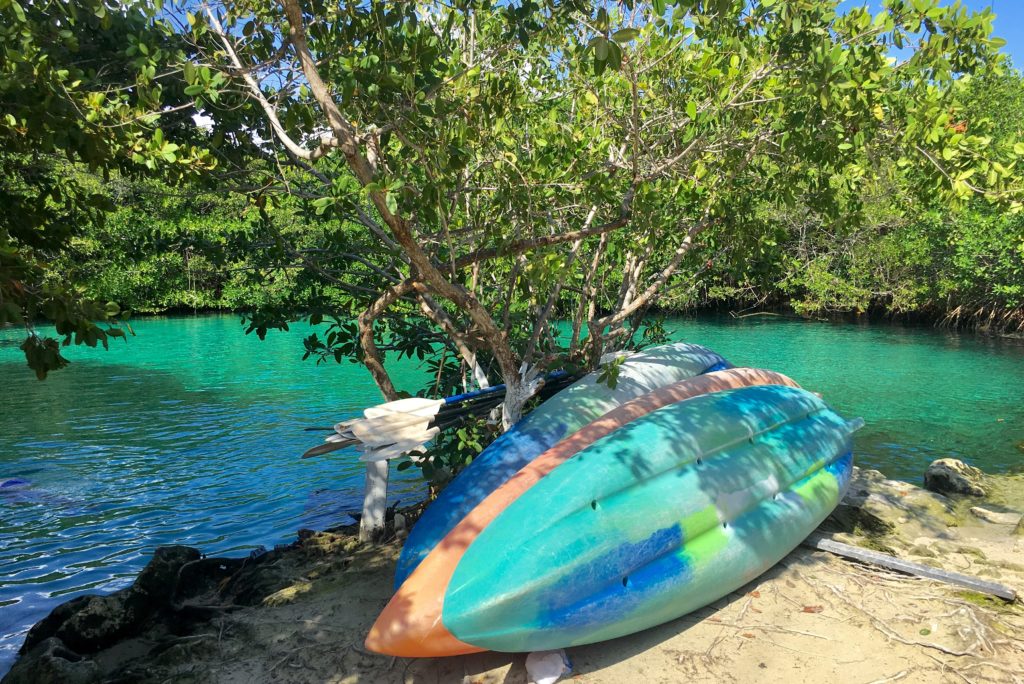 For more about visiting cenotes in the area, we have a great map showing where cenotes are in the entire local area and articles about visiting each one.
Cenotes and inlet park for snorkeling near Tulum
If you like snorkeling and exploring the beautiful places along the Riviera Maya near Tulum, you might like Xel Ha. This is a large eco park where you can snorkel and swim all day.
Xel Ha is an inlet where the ground water flows out to the ocean. Here the water mixes and this special place allows guest a large space to snorkel. You will see a lot of tropical fish here other animals. This is an all day experience and we recommend coming when they open and staying until they close.
On the south side of the park are a few cenotes in the woods. You can swim in some of them and others you can just enjoy looking at.
Tickets and how to get to Xel Ha from Tulum
What is nice about Xel Ha is the fact that all food and drinks (including alcohol) are included in the price of admission.
Xel Ha is easily reached by taking the colectivos from Tulum for both ways, driving or taking a taxi.
If you are interested in going to Xel Ha, you can click below to book ahead on the official website and get the best price possible. Booking 21 days in advance will save you 15% off entrance and 7 days in advance will save you 10%.

What are your favorite cenotes near Tulum? Let us know in the comments below. We would love to hear from you.
For more on what things there are to do in Tulum, see our article here.